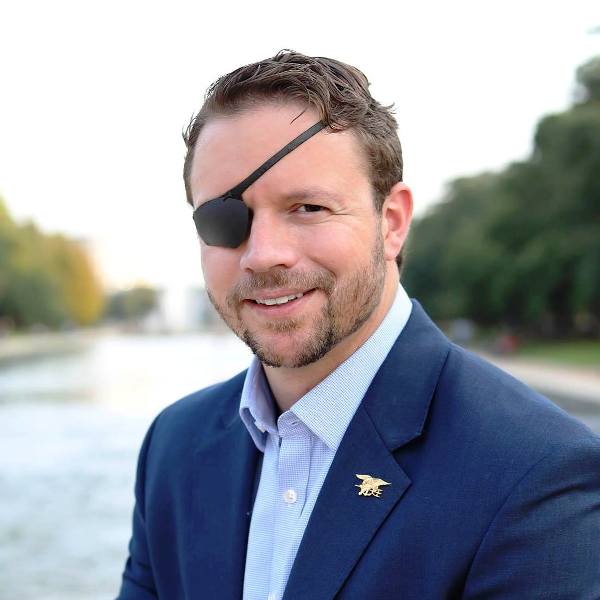 Dan Crenshaw is an American Congressman, member of the Republican Party, social activist, businessman, author, and a retired lieutenant commander of the United States Navy SEALs. Crenshaw is known for wearing a patch on his right eye that he lost while he was deployed in Afghanistan in 2012. He has served as a Congressman three times.
Wiki/Biography
Daniel Reed Crenshaw was born on Wednesday, 14 March 1984 (age 39 years; as of 2023) in Aberdeen, Scotland. His zodiac sign is Pisces. He spent his initial years growing up in Texas.
Dan attended schools in different countries as his father was in a transferrable job. He completed his schooling in 2002 at Colegio Nueva Granada in Bogotá, Colombia. Since he spent a lot of time in South America while growing up, Dan became fluent in speaking Spanish. After completing his schooling, Dan came back to the US, where he enrolled at Tufts University in Boston, Massachusetts. There, he earned a bachelor's degree in arts in international relations in 2006. While studying at Tufts, Crenshaw joined the Naval Reserve Officers Training Corps (NROTC) program of the US Navy. After completing his studies at Tuft, he underwent officer's training at the Officer Candidate School (OCS) at Naval Station Newport in Rhode Island. He earned a master's degree in public administration at the Harvard Kennedy School, also known as the John F. Kennedy School of Government, in Cambridge, Massachusetts, in 2017. [1]Havard Kennedy School
Physical Appearance
Height (approx.): 5′ 10″
Weight (approx.): 65 kg
Hair Colour: Dark Brown
Eye Colour: Dark Brown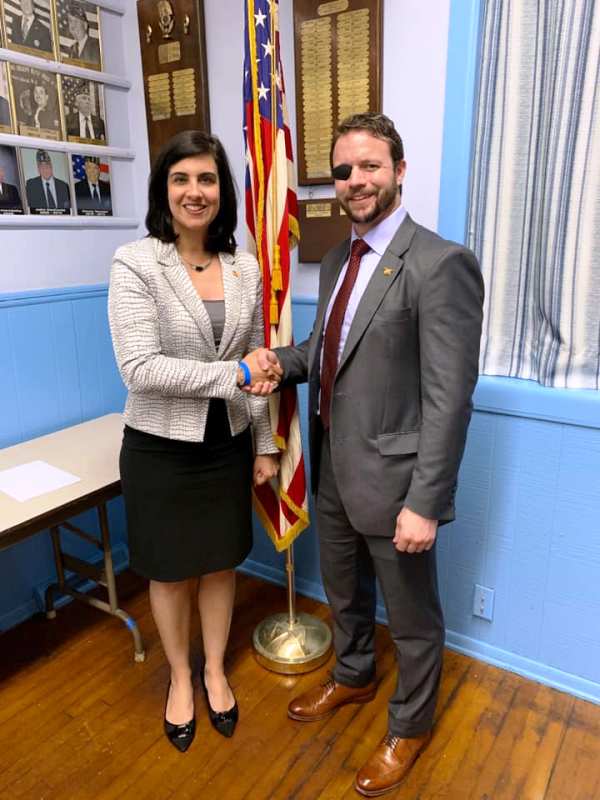 Family
Parents & Siblings
His father, Jim Crenshaw, is a petroleum engineer, who worked on numerous oil rigs in and outside of the US.
His mother's name is Susan Carol Crenshaw. She passed away due to breast cancer when Dan was ten years old. He has a younger brother. His stepmother's name is Carmen.
Wife & Children
His wife, Tara Blake, is a social activist. He got married to her on 1 April 2013.
Other Relatives
His grandfather, Bill Breckwoldt, served in the United States Army during the Second World War.
Relationships/Affairs
Dan Crenshaw met Tara for the first time while he was undergoing training to become a US Navy SEAL in Conorado. Soon after, they entered into a relationship and dated each other for several years before exchanging vows in 2013.
Religion
Dan Crenshaw is a Methodist Christian. [2]Pew Research Center
Signature/Autograph
Career
US Navy SEAL
After completing his officer's training at Rhode Island, Dan attended the Basic Underwater Demolition/SEAL training (BUD/S) class 264 at Naval Amphibious Base Coronado to become a US Navy SEAL. Thereafter, he reported at the United States Army Airborne School, also known as Jump School, in Fort Moore, Georgia, where he underwent basic paratrooper (military parachutist) training. He later underwent SEAL Qualification Training (SQT) for 26 weeks. In June 2008, he successfully finished SEAL qualification training and was designated as a Naval Special Warfare Officer with the code 1130 and received the Special Warfare Insignia. In an interview, he talked about his training phase and said,
It was hard – some days really kicked us hard. We were basically their dummies. There was lots of hand-to-hand combat, it meant getting shot at, too. They also used real guns but replaced the lead with paint, which hurt. It's kind of hard to explain why I wanted to do it – there's a lot of reasons. I used to read books about it in middle school. I guess I really like the need to compete and be the best. There's definitely a patriotic sense to it, too."
Military Deployments
After completing his SEAL training, Dan Crenshaw was sent to Fallujah in Iraq, where he became a part of the SEAL Team Three. At Fallujah, he undertook counter-terrorist operations and assisted the coalition forces (consisting of the NATO forces and the Iraqi military).
Thereafter, he was sent to Afghanistan, where he took part in US-led Operation Enduring Freedom against the Taliban. In 2012, Dan was deployed to the Helmand Province in Afghanistan, where he was assisting the US Army in conducting anti-terrorism operations. During a patrol mission, Dan was severely injured after the enemy fighters detonated an Improvised Explosive Device (IED), which sent Dan into a coma.
The explosion left Dan with multiple body fractures and caused significant damage to his vision, resulting in the loss of his right eye and partial impairment in his left eye due to retinal damage. After spending months in hospital, Dan reported back to duty. According to sources, Dan, a right-handed person, had to learn to use a rifle from his left hand as he could not see from his right eye, making it difficult for him to aim his weapon. After making a recovery from the injuries he sustained, Crenshaw was sent to the Middle East in 2014. Two years later, he was sent to South Korea after which he took retirement from active service from the rank of lieutenant commander. In his ten years of service, Dan was awarded numerous medals by the US Navy including two Bronze Stars (one with valour), one Purple Heart (for the injuries he sustained in Afghanistan), and the Navy Commendation Medal with Valour. While giving an interview, Dan said that he did not want to leave the military but had to leave due to the injuries he sustained in Afghanistan. He also said that he struggled to stay in the SEALs after his injuries. Talking about it, he said,
I certainly miss [the military]. I never wanted to leave. I was injured in 2012 and fought the system to stay in for at least two [more] deployments, and that ended up being an impossible hill to climb. Just because of the medical waivers that you need from the top echelons of the Navy in order to continue to deploy without it being questioned every single time."
After Retirement
Social Service
After leaving military service, Dan got involved in social work and joined many NGOs to assist the mentally and physically disabled US Armed Forces veterans. In 2017, he volunteered to assist the people affected by Hurricane Harvey, which caused massive destruction in the US. He also assisted the people in rebuilding their homes that were destroyed by the hurricane.
Politics
After completing his post-graduate studies in 2017, Dan Crenshaw became a member of the Republican Party. In November 2017, he announced his intent to contest the 2018 United States House of Representatives elections. In 2018, he contested the Republican Party's primary elections in Texas in which he secured the second position by receiving a total of 12,679 votes. Thereafter, he contested the Republican primary runoff elections in which he emerged victorious over his rival Kevin Roberts by a margin of 11,562 votes. In the same year, he contested the United States House of Representatives elections from Texas' 2nd congressional district and emerged victorious by receiving 52.8% of total votes. During his election campaign, Dan focused on two primary concerns: managing immigration and implementing policy changes to decrease unlawful border crossings occurring at the Texas-Mexico border. In an interview, he talked about running for Congress and said,
I am running for Congress to continue fighting for the country I love. I am running because our country needs leaders, not politicians. I fought and bled for ten years as a Navy SEAL in Iraq, Afghanistan, and South Korea, because I know the importance of service before self."
He was re-elected as a Congressman from Texas' 2nd congressional district in 2020 and 2022. Dan's 2020 Congressional electoral campaign is considered the most expensive campaign ever, with an expenditure of around $11 million. [3]Houston Chronicle
As a Congressman, he has served on numerous committees and subcommittees including the Committee on Energy and Commerce, Subcommittee on Environment and Climate Change, Subcommittee on Health, Committee on the Budget, Committee on Homeland Security, Subcommittee on Emergency Preparedness, Response and Recovery, House Permanent Select Committee on Intelligence, Central Intelligence Agency Subcommittee, National Intelligence Enterprise Subcommittee, as well as Subcommittee on Oversight, Management and Accountability (ranking member). Dan is also a member of the Republican Study Committee.
Political Stand
Dan Crenshaw has gained significant attention for his viewpoint and stand concerning topics such as abortion and firearm regulations. In 2019, he opposed the legalization of abortion in the United States by criticizing the 1973 Roe v. Wade Supreme Court decision, claiming that it contradicted American conservative principles and insisting that abortion rights should be determined at the state level. In the same year, Dan supported the existence of liberal gun laws in the US and gave a statement against the decision of the US government to ban the sale and purchase of semi-automatic firearms. In 2023, he opposed the Bipartisan Background Checks Act, which aimed to prohibit arms sales by manufacturers until a buyer's background was thoroughly checked. Crenshaw has often opined against the implementation of the Patient Protection and Affordable Care Act, which is also known as Obamacare. On 24 May 2019, Crenshaw collaborated on a bill aimed at extending the deadlines for claims made under the September 11th Victim Compensation Fund Act. In June 2019, Wahajat Ali, a journalist, accused Dan of not backing the Victim Compensation Fund Act. However, Dan refuted these allegations on Twitter (now X), saying that he was a co-sponsor of the bill and advised the journalist to verify the facts. Thereafter, the journalist deleted his tweet and issued an apology to Dan. [4]Fox News Even though he is a member of the Republican Party, Dan has often criticised Donald Trump for his policies and statements.
In 2019, he voted against the two articles of impeachment brought against Trump in the House of Representatives. Dan is also known for his pro-Israel stand. He has often voiced his opinion on not only continuing but increasing the military and financial grants given to Israel by the US. He has often criticised the politicians in the US for not supporting Israel and speaking against it. In an interview, Dan talked about his support for Israel and said,
As a long-time supporter of Israel, I will ensure that our alliance does not waver, and that America continues to support Israeli security, advocate for her on the international stage, and contain the threat from Iran and terrorism across the region. If you're criticizing Israel, but you're doing it in a way that implies that the Jewish people in America have a dual loyalty, that's anti-Semitism. It's more than just criticizing Israeli policy."
Following Joe Biden's victory in the 2020 presidential election and Donald Trump's refusal to acknowledge the outcome, Crenshaw, along with 125 other Republican House of Representatives members, filed an amicus brief backing the lawsuit Texas v. Pennsylvania in the United States Supreme Court to challenge the election results.
Business
Before running for the United States House of Representatives elections in 2018, Crenshaw started an online store to sell different types of merchandise to support his electoral campaign. According to the information on the website, the donations collected are also used for assisting the poor and the needy as well as for the development of the community.
Books
Dan Crenshaw published his first book Safety Off: Life Lessons for an Unpredictable and Unsafe World in 2019. In 2021, Dan published his second book titled Fortitude: American Resilience in the Era of Outrage; the book went on to become the New York Times bestseller. He authored another book titled Fame, Blame, and the Raft of Shame, which was published in 2021.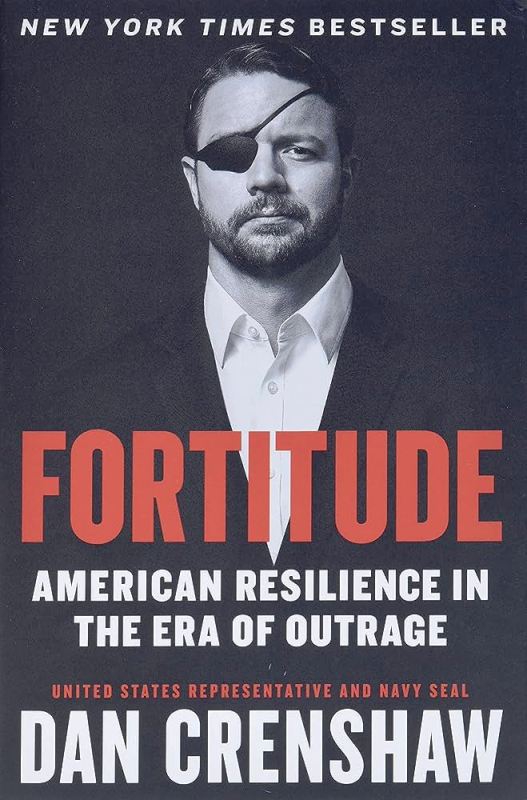 Controversies
Accused of Dicredditing Sexual Assault Reports Filed By A US Navy Officer
In September 2019, a retired United States Navy officer and Democratic committee staffer Andrea Goldstein filed a complaint with the Veterans Affairs Police. In her complaint, she accused a male VA staffer of sexually assaulting her by groping her while she was visiting a VA hospital in Washington, D.C. Later, reports emerged in which VA Secretary Robert Wilkie was accused of running a "Smear Campaign" against Andrea. According to the reports, Wilkie was assisted in doing so many senior VA officials. Following the accusations, the VA Office of the Inspector General (OIG) began its investigation into the matter. During the investigation, it was revealed that Wilkie had told Former VA Deputy Secretary James Byrne that Andrea, while in service, had filed six "fake" sexual assault cases against service members. James also claimed that the information to the Secretary was "supposedly" given by Dan Crenshaw, who knew many high-ranking officials in the Department of Defence (DoD). However, Wilkie denied receiving any such input from Dan. When the OIG sought permission from Dan to interview him, he denied the request. Dan also refused to comment on the issue in the media. [5]VA Office of Inspector General In December 2020, hundreds of retired US Armed Forces personnel wrote a letter to Dan demanding his resignation. The letter accused him of abusing his powers as a representative. The letter read,
His abuse of power as an elected member of Congress to smear a fellow veteran who works as a staffer in the same halls is disgraceful and unethical. As an elected member of the U.S. House of Representatives, Dan Crenshaw has failed to act in a manner that reflects credibly on the House and has broken the public trust necessary to represent his constituents and fellow veterans."
Dan, however, refuted the claims made in the letter and called it "partisan garbage." He also said that he had no intentions of getting involved in the investigations and that he stood with Andrea. [6]Houston Chronicle
Dan Crenshaw vs. Eddie Gallagher
Eddie is a former US Navy SEAL who was accused of violating human rights during his deployment in Iraq. Later, Eddie was put in jail in the US and was tried for war crimes. However, he was acquitted in 2019. After Gallagher was released, he went on record revealing information against Dan. According to him, while he was in jail, over fifty representatives signed a petition requesting Eddie's release from prison, allowing him to constitutionally defend himself. The only representative who abstained from signing was Crenshaw. Eddie also claimed that Crenshaw did not allow his brother to meet him to discuss the matter. He further claimed that after his release, he was told by many representatives that Crenshaw actively worked against him, seeking a life imprisonment sentence, which Eddie believed was done for political gain. [7]YouTube – Jamesons Tavels However, Eddie's account was contradicted by reports suggesting that Dan was amongst seventeen other Congressmen who wrote a letter to the Secretary of the Navy, urging him to let Gallagher out on parole to allow him to fight for his innocence. [8]Fox News The letter read,
Chief Gallagher is a decorated warfighter who, like all service members, is entitled to the presumption of innocence while awaiting court-martial. We have received reports that Chief Gallagher's access to counsel and access to food and medical care may have been restricted. As a result, we respectfully request that you review the Navy policies governing pretrial confinement for Chief Gallagher and other service members to ensure compliance with the Uniform Code of Military Justice."
Military Decorations
Two Bronze Star Medals (one with a "V" device for valour)
Navy and Marine Corps Commendation Medal with Valour
Salary
As a Congressman, Dan Crenshaw earns an annual salary of $174,000 + other allowances. [9]United States Senate
Facts/Trivia
Dan is an avid dog lover, and he owns two pet Kokonis.
He is a good friend of the retired US Navy SEAL lieutenant and Congressman Morgan Luttrell. Dan endorsed Morgan's 2022 Congress elections.
In 2018, comedian Pete Davidson of Saturday Night Live (SNL) faced backlash from viewers for mocking Dan's eye patch, comparing his appearance to that of an adult film hitman. Pete, however, apologised for the jokes and said,


I made a joke about Lieutenant Commander Dan Crenshaw, and on behalf of the show and myself, I apologize. I mean this from the bottom of my heart. It was a poor choice of words. The man is a war hero, and he deserves all the respect in the world."

During a comedy show, exclusively aired on Netflix, Pete asserted that he did not see anything wrong in his joke about Dan and claimed that he only apologized as people threatened to shoot him. [10]The Washington Post
After losing his right eye, Dan began using various coloured glass eyeballs. In 2019, he showed a unique glass eye with the Captain America logo.
In 2020, Dan was featured in the Fortune Magazine's 40 Under 40 in the "Government and Politics" category.
In the same year, Dan began hosting Hold These Truths under which he has conducted podcasts with well-known people.
In 2021, Dan Crenshaw was invited by the Homeland Security Investigations – Houston to take part in their training.
In the same year, Dan had emergency surgery to repair a detached retina in his left eye, causing him to lose vision in that eye for a month.
Dan, through an Instagram post, criticised the Joe Biden-led administration for pulling out American troops from Afghanistan in 2021. He accused the government of haphazardly planning the withdrawal. He said,


Biden botched this withdrawal beyond belief. Their exit strategy was about optics instead of ground truth. But the problem runs even deeper than that: a widespread belief that foreign policy be dictated by a single, emotional slogan: no more endless wars!"
In his 2021 tweet, Dan Crenshaw criticised the use of Electric Vehicles (EVs) due to lack of feasibility; however, in 2022, reports emerged that he had invested a large sum of money in the EV industry. [11]

Business Insider
Dan has criticized the US government's decision to make COVID-19 vaccination mandatory numerous times, especially for those serving in the US Armed Forces.
In March 2022, he signed a resolution seeking to revoke Russia's membership in the United Nations Security Council (UNSC) due to its aggressive actions in Ukraine.
Dan Crenshaw has been invited to numerous talk shows, one of which is the Jocko Podcast, hosted by Jocko Willink.