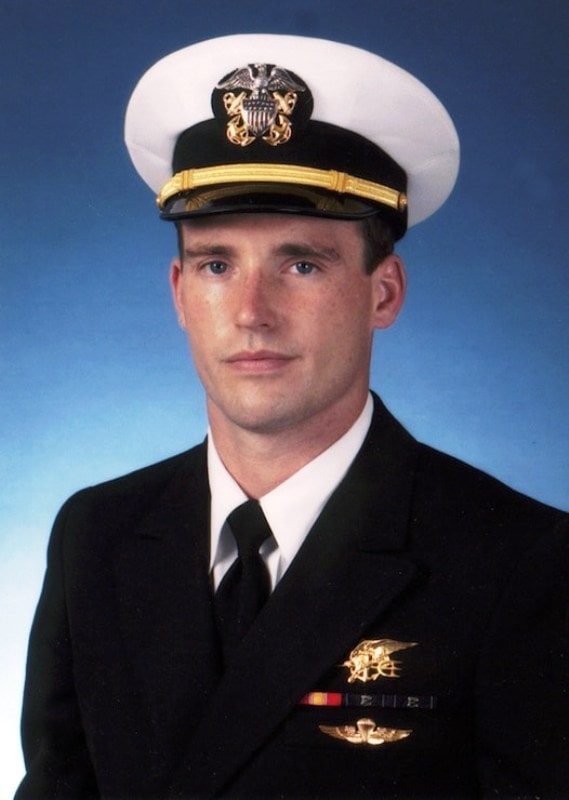 Michael P. Murphy (1976-2005) was an American US Navy SEAL lieutenant who was the team commander of the SEAL Delivery Vehicle Team One (SDVT-1), which was involved in Operation Red Wings in Afghanistan in 2005. In June 2005, Murphy lost his life while participating in Operation Red Wings as a result of which he was posthumously awarded the Medal of Honor. This distinction made him the first member of the US Navy to receive the prestigious award since the end of the Vietnam War.
Wiki/Biography
Michael Patrick Murphy was born on Friday, 7 May 1976 (age 29 years; at the time of death) in Smithtown, Suffolk County, New York, United States of America. His zodiac sign is Taurus. Michael left Smithtown and moved to Patchogue, New York, along with his parents and brother when he was a child and enrolled at the Saxton Middle School, where he used to play soccer and pee-wee football. Thereafter, he enrolled at the Patchogue-Medford High School in New York, where he completed his schooling in 1994.
While studying at Patchogue-Medford High School, Murphy used to work as a lifeguard during summer vacations. Later, he enrolled at The Pennsylvania State University, where he graduated with dual degrees (honours) in political science and psychology in 1998. [1]LT Michael P. Murphy Memorial Scholarship Foundation
After completing graduation, he got admission calls from various law universities in the US; however, Murphy decided to join the US Navy for which he enlisted at the United States Merchant Marine Academy, Kings Point, New York. In September 2000, he was selected as an officer candidate and underwent naval training at the Officer Candidate School (OCS) at Naval Station Newport in Rhode Island. On 13 December 2000, he got commissioned into the US Navy as an ensign.
Physical Appearance
Height (approx.): 5′ 10″
Weight (approx.): 60 kg
Hair Colour: Dark Brown
Eye Colour: Blue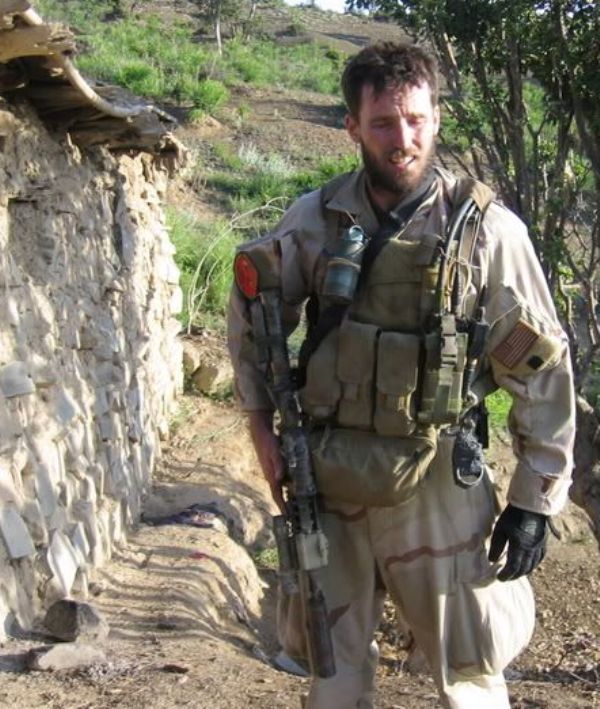 Family
Michael P. Murphy belongs to a Christian family in the United States of America.
Parents & Siblings
His father, Daniel J. Murphy, is an attorney and a Vietnam War veteran, who received a Gold Star for his actions while serving in the military. His mother, Maureen T. Murphy, has served on the board of the LT Michael P. Murphy Navy SEAL Museum and Sea Cadet Training Facility. His brother, John D. Murphy, is the president of the LT Michael P Murphy Navy SEAL Museum and a police officer in the New York State University Police.
Fiancée
At the time of death, he was engaged to Heather Duggan. They were supposed to get married in November 2005; however, Murphy passed away in June 2005.
Relationships/Affairs
Before getting engaged to Duggan, Murphy dated her for five years. Reportedly, the duo met each other while studying at Pennsylvania State University.
Religion
He followed Christianity.
Career
Becoming a United States Navy SEAL
In January 2001, Michael P. Murphy attended the Class 236 of the Basic Underwater Demolition/SEAL (BUD/S) in Coronado, California, to become a US Navy SEAL. He finished the BUD/S training program in November 2001.
Thereafter, he reported at the United States Army Airborne School, also known as Jump School, in Fort Moore, Georgia, where he underwent basic paratrooper (military parachutist) training. He later underwent SEAL Qualification Training (SQT) for 26 weeks. After completing the SQT, he went under training at the SEAL Delivery Vehicle (SDV) school.
In July 2002, Murphy completed his SEAL training module and obtained the SEAL Trident (a badge given to the US Navy SEALs after the successful completion of their training period) and joined SEAL Delivery Vehicle Team One (SDVT-1) stationed at Pearl Harbor, Hawaii.
After Becoming a US Navy SEAL
Michael P. Murphy served as the liaison officer for Exercise Early Victor in Jordan in October 2002. There, he was deployed with SEAL Delivery Vehicle Team One (SDVT-1)'s Foxtrot Platoon. After completing his assignment with SDVT-1 in Jordan, Murphy was sent to Florida to join Special Operations Command Central (SOCCENT) and later deployed to Qatar to support Operation Iraqi Freedom. Following his return from Qatar, he was sent to Djibouti to assist in the strategic preparation for upcoming SDV missions. Murphy was deployed to Afghanistan in 2005, where he assumed the role of the commanding officer of the Alpha Platoon of SDVT-1. This platoon operated as part of SEAL Team 10 and carried out missions in support of Operation Enduring Freedom (name of the counter-terrorist operation undertaken by the NATO forces in Afghanistan).
Operation Red Wings
In June 2005, Murphy's platoon was tasked with gathering intelligence and killing/capturing a high-ranking Taliban leader named Ahmad Shah who was reportedly hiding in the Kunar Province of Afghanistan.
On 28 June 2005, a four-man SEAL team, consisting of Lieutenant Michael P. Murphy, Petty Officer Second Class Danny Dietz, Petty Officer Second Class Matthew Axelson, and Petty Officer Second Class Marcus Alan Luttrell, was deployed on the mountains near the Pakistan-Aghanistan border. However, their mission was compromised when they were discovered by a group of local goat herders.
According to the book Lone Survivor: The Eyewitness Account of Operation Redwing and the Lost Heroes of SEAL Team 10, written by Marcus Alan Luttrell, the team faced a critical decision whether to kill the herders and continue their mission or release them and abort. Choosing the latter, they let the herders go, but soon after, they were ambushed by a large Taliban force after the herders informed the Taliban about the presence of the SEALs as soon as they were let go. By the time the firefight ended, Murphy, Dietz, and Axelson were killed in action. Marcus Luttrell survived, but he was severely injured. Marcus' account of the goat herders informing the Taliban was refuted by Mohammad Gulab Khan, a resident of the Salar Ban village, Kunar Province, who saved the injured Luttrell from the Taliban. According to Gulab, the sound of the rotors of the helicopter that dropped the 4-man SEAL team in the mountains warned the enemy fighters in the mountains. Talking about it, in an interview, Gulab said,
The militants, like many others in the area, heard the helicopter drop the Americans on the mountain, Gulab claims. The next morning, they began searching for the SEAL's distinctive footprints. When the militants finally found them, the Americans were deliberating about what to do with the goat herders. The insurgents held back. After Marcus Luttrell and the company freed the locals, the gunmen waited for the right moment to strike."
Military Decorations
Medal of Honor (22 October 2007)
Joint Service Commendation Medal
Navy and Marine Corps Commendation Medal
National Defense Service Medal
Afghanistan Campaign Medal with 1 campaign star
Global War on Terrorism Expeditionary Medal
Global War on Terrorism Service Medal
Navy Rifle Marksmanship Medal with expert device
Navy Pistol Marksmanship Medal with expert device
Honours & Legacy
In 2007, his name was inscribed in the Pentagon's Hall of Heroes.
On 7 May 2007, Lake Ronkonkoma Park and a post office in Patchogue, New York, were renamed after Michael in his honour.
In the same year, his brother and parents started LT Michael P. Murphy Memorial Scholarship Foundation through which they provide scholarships to college and school-going students.
In honour of him, the US Navy designated a guided missile destroyer of the Arleigh Burke class, named USS Michael Murphy (DDG-112), on 7 May 2008.
On 9 July 2009, at the Naval Station Newport, Rhode Island, an L-shaped combat training pool with eight lanes was named after him. The pool has a capacity of around 3,47,000 gallons of chlorinated water.
In honour of Michael and the other soldiers who lost their lives in Operation Red Wings, the 2011 graduates of Penn State University constructed a memorial and dedicated a veterans plaza within the university campus.
Penn State University has created the Lt. Michael P. Murphy Award in Geospatial Intelligence to acknowledge the accomplishments of a graduate student from Penn State who has served or is currently serving in the U.S. Armed Forces or the country's intelligence agencies.
After receiving the Medal of Honor, Lieutenant Murphy's name was added to a memorial plaque at the United States Veterans Hospital in Northport, Long Island, New York. This plaque commemorates all the Medal of Honor recipients who have resided on Long Island.
In April 2014, the Patchogue-Medford High School decided to designate its campus as the "Navy (SEAL) Lt. Michael P. Murphy Campus."
The Sea Cadet group based in West Sayville, New York, is called the "Lt. Michael P. Murphy Division" and has organized and supported events as a tribute to Murphy.
The room at Fort Hamilton MEPS, where recruits from different branches pledge their service, has been designated with the name "Murphy." Within this room, there is a commemorative wall specifically dedicated to Murphy.
The "Lt. Michael P Murphy Distinguished Citizen Award" has been constituted by the Central Pennsylvania Council of the Navy League of the United States as a tribute to Lt. Michael P Murphy.
In West Sayville, New York, a dual-purpose LT Michael P. Murphy Navy SEAL Museum/Sea Cadet Training Facility has been constructed in his memory.
Death & Reception of the Medal of Honor (MOH)
Michael P. Murphy was killed in action during Operation Red Wings in Kunar Province, Afghanistan, on 28 June 2005. Based on his Medal of Honor citation, Murphy, amid a battle with the enemy, had to leave the protected cover of the mountain rocks and risk being targeted by enemy fire to establish communication with a nearby US base for reinforcement. He had to climb to a higher location to radio the base because the radio signals were unable to penetrate the steep mountains, where he was positioned. While trying to reach the higher grounds, Murphy was shot over fourteen times; however, he succeeded in notifying the base that the mission to capture Ahmad Shah had been compromised before taking his final breath. His citation reads,
Moving away from the protective mountain rocks, he knowingly exposed himself to increased enemy gunfire. This deliberate and heroic act deprived him of cover and made him a target for the enemy. While continuing to be fired upon, Murphy made contact with the SOF Quick Reaction Force at Bagram Air Base and requested assistance. He calmly provided his unit's location and the size of the enemy force while requesting immediate support for his team. At one point he was shot in the back causing him to drop the transmitter. Murphy picked it back up, completed the call and continued firing at the enemy who was closing in. Severely wounded, Lt. Murphy returned to his cover position with his men and continued the battle." [2]Michael P. Murphy's citation
In the ambush, out of the 4-man SEAL Team, only Marcus Luttrell survived as he managed to evade the Taliban forces. Michael's body was found on 4 July 2005 by a team of US Army Rangers who were conducting a search and rescue operation in Kunar Province.
On 13 July 2005, he was laid to rest with complete military honours at Calverton National Cemetery in Suffolk County, Long Island, New York.
On 22 October 2007, Michael was awarded America's highest gallantry award, the Medal of Honor (MOH), for his actions in the operation from President George Bush.
Facts/Trivia
His family members and friends affectionately referred to him as Murph and Mikey.
During his time at Patchogue-Medford High School in New York, Murphy got into a physical altercation with a bully who was targeting a student with special needs. As a result of his inclination to protect others, he was given the nickname The Protector.
He was also called Mike Murphy.
Michael was an equestrian.
During his time serving in combat missions, Murphy became known among his fellow SEALs for wearing a Fire Department of the City of New York (FDNY) Engine Co. 53, Ladder Co. 43 patch on his uniform. He put on the patch as a way to honour the individuals who were affected by the 9/11 terrorist attacks, particularly his friend, who tragically passed away during the attacks.
After his death, Murphy's friends presented a plaque in Murphy's honour to the New York fire department. Since then, the station has developed a unique bond with the SEALs. Military personnel on break in the vicinity are invited to spend the night at the station even if they belong to different branches of the military. The captain in charge of the station during that period expressed that the station's gesture is a demonstration of gratitude towards the soldiers.
Murphy was known to be physically very robust. As a SEAL, he devised a personalized fitness regimen called "Body Armor," which incorporated activities such as running, pushing, pulling, and lifting, all performed while wearing a 16.4 lb (7.4 kg) bulletproof jacket, similar to the body armour he wore during combat operations. Following Murphy's demise, the Body Armor exercise routine started gaining popularity among SEAL teams due to its flexibility in being performed in various locations and its minimal equipment requirements. The workout was shared by Greg Glassman, the creator of CrossFit, on his website on 17 August 2005 as the designated Workout of the Day (WOD). This workout is frequently carried out on Memorial Day at various CrossFit affiliates, military bases, and Navy ships. The exercise routine that consists of running one mile, doing 100 pull-ups, 200 push-ups, 300 air squats, and running another mile, all while wearing a body armour vest, is called the "Murph Challenge."
In his book Lone Survivor: The Eyewitness Account of Operation Redwing and the Lost Heroes of SEAL Team 10, Marcus Luttrell wrote that Lieutenant Murphy thought of shooting the Afghan herders who unexpectedly encountered the SEAL reconnaissance team in June 2005. However, his claim has faced severe criticism and has been widely rejected as a work of fiction. Lieutenant Steve Ruh, a spokesperson for the Navy Special Warfare Command, said that "the most senior person ultimately possesses the absolute authority" to make decisions in the field. He further expressed, "This is the first instance I've come across where a decision was subjected to a vote. Throughout my 14 years of experience in the Navy, such a practice has never been witnessed or heard of." Lt Murphy's father also criticised Luttrell and rejected his claims. [3]

Democratic Underground In an interview, Murphy's father talked about it and said,


That directly contradicts what he told Maureen, myself and Michael's brother John in my kitchen. He said that Michael was adamant that the civilians were going to be released, that he wasn't going to kill innocent people … Michael would not put that up for a committee. People who knew Michael know that he was decisive and that he makes decisions."
In 2013, a Hollywood film titled Lone Survivor, starring Mark Wahlberg, was released. In the film, actor Taylor Kitsch portrayed Michael P. Muphy's role.
In the same year, a documentary titled MURPH: The Protector was released in his honour.