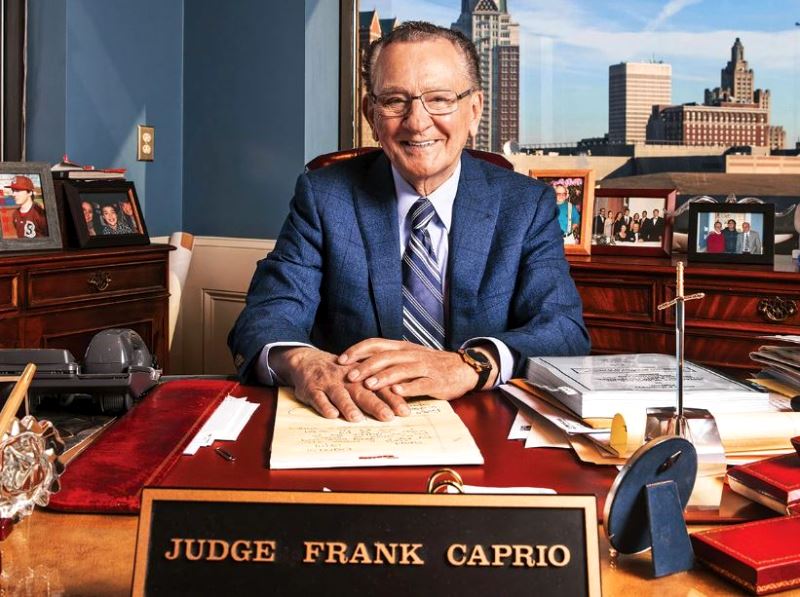 Frank Caprio is an American lawyer and politician who is a member of the Democratic Party. Frank served as the Chief Judge of the Municipal Court of Providence from 1985 to 2023. He gained worldwide recognition with the top-rated nationally syndicated television show 'Caught in Providence,' which features his judicial work. Apart from that,  he also made appearances in the American reality television series Parking Wars on A&E. Earlier, he served as a Member of the Providence City Council (1962-1968).
Wiki/Biography
Francesco Caprio was born on November 24, 1936 (age 86 years; as of 2022) in Federal Hill, Providence, Rhode Island, U.S. His zodiac sign is Sagittarius. His mother was born in Providence and was one of eight children of her parents, who hailed from Naples. Frank's father immigrated to Providence from Teano, Italy, and was one of the ten children of his parents. Born during the Great Depression before World War II, Frank grew up with his two brothers in a close-knit Italian-American immigrant community. They had a humble background and lived in a cold-water flat in a three-story, six-unit tenement on Federal Hill, Providence.
As there was no hot water at home, they used to go to the bathhouse down the street in order to take a hot shower. On one cold day, while sitting around a potbelly stove, Frank's father said,
Someday, you are going to be a lawyer. You're a good talker, and you can help people. But remember one thing: You cannot charge poor people. You'll make it up with the rich people."
That day, Frank determined to become a lawyer after growing up. His father, Antonio, who worked as a milkman, would take his sons out with him and tell them that if they didn't want to do the same thing, they had to find a way to get to college. Antonio's efforts instilled the value of hard work, the importance of education, and a commitment to service in Frank. Frank too pursued various odd jobs like shining shoes, delivering newspapers, and working on a milk truck in his teens.
Frank learned his compassion from his father, who would settle milk bills for customers struggling financially, despite his own family residing in a modest apartment with limited resources. Frank was an all-state wrestler in high school and was voted "Most Energetic" by his Central High School class.
Thereafter, he enrolled at Providence College, a Catholic College in Rhode Island, where he pursued a Bachelor of Arts. [1]The University of Rhode Island He worked three jobs to pay off his tuition at Providence College. Talking about the same in an interview, he said,
I washed dishes, I polished cars and I'd get up at two o'clock in the morning on Sundays and work at the Journal subbing, which was what they called putting the paper back together."
Next up was law school. Caprio worked as an American history and civics teacher at Hope High School to sustain himself through his law degree at Suffolk University's evening program. While he taught school and attended law school, he also coached wrestling and was a member of the Rhode Island Army National Guard from 1954 to 1962 in the 876th Combat Engineer Battalion. While serving in the National Guard, he was assigned to Camp Varnum located in Narragansett, Rhode Island, as well as Fort Indiantown Gap in Pennsylvania. He earned a Doctor of Law (JD) from Suffolk University Law School in Boston in 1965. [2]Suffolk Law Magazine
Physical Appearance
Height (approx.): 5′ 10″
Hair Colour: Gray
Eye Colour: Black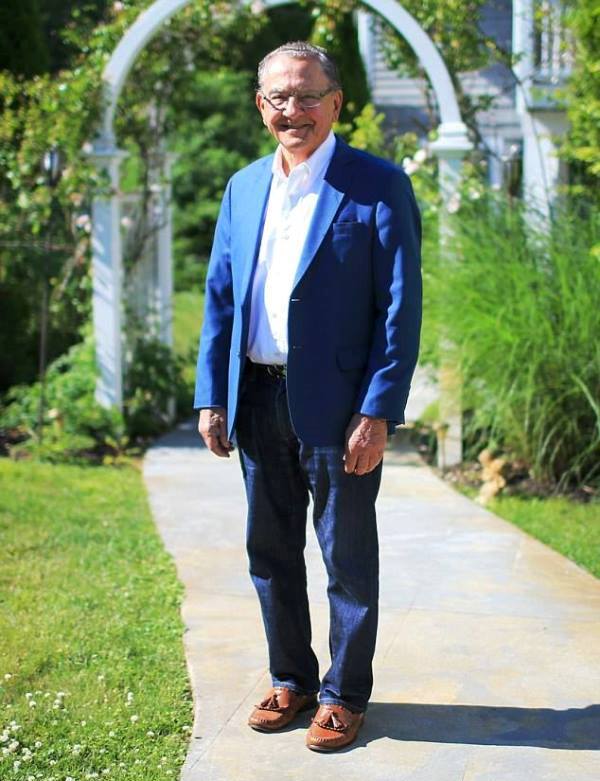 Family
Parents & Siblings
His father, Antonio Caprio, worked as a fruit peddler and milkman. His mother, Filomena, was a homemaker.
Frank is the middle child and has two brothers, Antonio Jr. (deceased) and Joseph Caprio (also known as Joe Caprio and Uncle Joe). Joe is thirteen years younger than Frank. He is the executive producer of Caught in Providence.
Wife & Children
While attending the Suffolk University School of Law in Boston, Frank Caprio got married to Joyce (Tibaldi) Caprio.
Together, they have five children, four sons, Frank T. Caprio, David Caprio, Paul Caprio, and John Caprio, and a daughter, Marissa Caprio Pesce. Their eldest son, Frank T. Caprio, is a banker, lawyer, and politician. He is a member of the Democratic party. He served as the 29th General Treasurer of Rhode Island from 2007 to 2011. Frank T. Caprio was the Democratic nominee in the 2010 Rhode Island gubernatorial elections, but he lost to the Independent candidate Lincoln Chafee.
David Caprio is a businessman, investor, lawyer, and politician, who served as a member of the Rhode Island House of Representatives from District 34 from 2003 to 2011.
Marissa Caprio Pesce was married to John R. Pesce, who died in February 2018.
Religion
Frank Caprio belongs to a Catholic family and follows Christianity. [3]Providence College
Signature/Autograph
Career
Inspired by John F. Kennedy's call to public service, Frank Caprio decided to run for Providence city councilor in 1962 and won.
He served as a Providence city councilor until 1968. He contested the election for Attorney General of Rhode Island in 1970 but lost to Republican Richard J. Israel.  Frank began his legal career in 1965. He established the Caprio Law Firm, which he later ran alongside his sons Frank Jr. and David Caprio.
He was elected as a delegate to the Rhode Island Constitutional Convention in 1975 and was subsequently elected as a delegate to five Democratic National Conventions. He was a Democratic candidate for Rhode Island for mayor of Providence in 1978. After he established his legal career, he started serving as a Providence Municipal Court Judge in 1985, hearing mostly non-criminal cases. Thereafter, he was re-appointed Providence Municipal Court Judge six times by the mayor of Providence and the city council. A few years later, Frank's brother Joe began filming the proceedings of Frank's court when he gained time on local access television. It was Frank's wife, Joyce, who suggested they use the time to film her husband in court. Later, Joe turned them into the TV show Caught in Providence, which originated on PEG access television in Rhode Island and was first picked up by ABC station WLNE-TV in 2000, with a stint on ABC 6. The critically acclaimed show depicted real cases heard in his Providence Municipal courtroom.
In 2017, when Frank was 80, he became an internet sensation when videos of him passing judgment with a mix of compassion and humour went viral on Facebook. The videos were posted to social media, like Facebook and YouTube, by Sociable's John Methia, who is also Citylife Production's senior producer. In 2017, the videos caught the attention of Debmar-Mercury, a television syndication company, which set in motion the national spotlight on Caught in Providence by premiering episodes twice during weekdays on Fox. He was seen as a kind and compassionate judge, who took all circumstances into consideration when determining the outcome of cases. It was the video featuring a woman named Andrea Rogers who had racked up tickets and fines of $400 which led to Frank's popularity, earning more than 1.7 billion views on the Internet. In the video, the woman breaks down as she mourns her murdered son, who was stabbed to death. The kind-hearted judge dismissed the tickets of the troubled woman. He often called children to come up on the bench to help pass judgment on their parents and made high schoolers promise to attend college in return for dropping tickets. During one particular case, Caprio extends an invitation to a seven-year-old boy to assist him in determining whether his father should be fined $90, $30, or face no charges for a parking violation. The young boy opts for the $30 option, and the judge later forgives the fine on one condition: the father must treat his child to a pancake breakfast. This video clip gained immense popularity, accumulating thousands of views after going viral.
Caught in Providence was nominated for a Daytime Emmy Award in 2021, 2022, and 2023. After 38 exemplary years on the bench, Frank Caprio retired as Chief Judge of the Municipal Court of Providence on January 13, 2023. Apart from serving as Chief Judge of the Municipal Court of Providence, he is also a real estate investor and co-owns an oceanfront restaurant named Coast Guard House in Narragansett, Rhode Island. He bought the landmark restaurant in 1978 with 2 friends. It was originally used as a US Lifesaving Station from 1889 to the 1940s. It survived Hurricane Bob in 1991, and Superstorm Sandy in 2012.
For ten years, he served as Chairman of the Rhode Island Board of Governors for Higher Education, which is the governing body for the University of Rhode Island, Rhode Island College, and Community College of Rhode Island. Apart from Caught in Providence, Frank also appears on the show Cooking (at Home) with the Caprio's! along with his son, David Caprio.
Community Service
He founded the Antonio "Tup" Caprio Scholarship Fund at Suffolk University School of Law. Named after Frank's father, the scholarship is awarded to Rhode Island students who are committed to improving access to legal services in underserved neighborhoods. He has also established scholarships named in honor of his father at Providence College and Providence's Central High School. He has also been associated with the Boys Town of Italy, the Nickerson House Juvenile Court, and the Rhode Island Food Bank. In 1983, he co-chaired the Rhode Island Statue of Liberty Foundation, where he raised funds for the restoration of the Statue of Liberty and Ellis Island. Caprio served as a member of the Board of Regents of Elementary and Secondary Education and the Governor's Pre-K through 16 Council on Education. He was on PC's Providence President's Council for 20 years. In 2021, Caprio started the Filomena Fund, bearing his mother's name, to provide financial assistance and support to people facing difficulty in paying their traffic fines. The fund was started after a single mother from Indiana reached out to Caprio with a heartfelt letter and a modest donation. After Caprio shared the letter on television, he began receiving similar contributions from people worldwide.
Awards, Honours, Achievements
In 2003, he became the first recipient of the Enrico Caruso Award from the Providence Opera for his major contributions to the arts.
Judge Caprio received an Honorary Doctorate of Law from Suffolk University School of Law in 1991 and Providence College in 2008. He was also honored with an Honorary Doctorate of Public Service from the University of Rhode Island in 2016. In 2022, Bishop Hendricken High School gave an honorary degree to Frank, which was presented to him by two alumni, his sons Frank T. and David.
Judge Caprio's contributions to his home state led to his inclusion in the Rhode Island Heritage Hall of Fame.
The University's Multicultural Center presented the judge with its "Lifetime Diversity Award" for his part in helping the concept of the Multicultural Center become a reality.
In August 2018, he received the Producer's Circle Award at the Rhode Island International Film Festival.
Facts/Trivia
Frank's father, Antonio, studied only till seventh grade. He was a hard-working man who got up at 4 am in the morning to provide for his family. He was nicknamed Tup-a-toffee after an event when he refused to stop working on a freezing winter day. In the bitterly cold weather, he wheeled his produce cart to a local diner to have a hot cup of coffee, but his face was so frozen that he was unable to articulate the words "cup of coffee" and uttered "tup a toffee" instead.
In an interview, Frank talked about his father's influence on his life. During his childhood, his father wrote him a very inspiring  letter which read,


The street is wide the road is long and very bumpy and very tough going. But I know you will proceed honorably and with your head held high to the end of the highest learning."

Antonio signed the letter as though it were an official document.
Although he was accepted at Boston University, he didn't have the money to go; hence, he opted to attend Suffolk University Law School in Boston, but still, he didn't have tuition money. There were no scholarships or college loans back then. In an interview, he remembered the moment when he told his mother that he was going to put off law school to work. Listening to her son's decision to drop a year, Filomena handed him over three bank books filled with weekly deposits of tiny amounts from 50 cents to $5. She said,


Dad never made much money, but never a week went by that I didn't put some money away. Take these and go to school."

Frank did not take the money, but he promised her he would go to law school at night and try to get a teaching job to pay on his own.

Once President Donald Trump's ex-wife, Marla Maples, stayed in Caprio's guesthouse.
Frank's son John Caprio dated American singer Paula Abdul.
He was the commencement speaker for Boston University School of Law's Class of 2020.
He is the permanent director of the Aurora Club Civic Association in Providence Federal Hill, where he has been a member for more than fifty years. Caprio modernized the Aurora Club by admitting the first woman member and made it more inclusive with diverse religions and ethnicities represented.
Frand is an avid fan of the professional baseball team Boston Red Sox. On 25 July 2019, Caprio threw the ceremonial first pitch at Fenway Park, when the Red Sox played the New York Yankees.
An avid dog lover, Frank Caprio owned 6 St. Bernard dogs named Caesar over a span of 50 years. He had the first around 1973.
His favorite dessert is Chocolate Cream Pie.