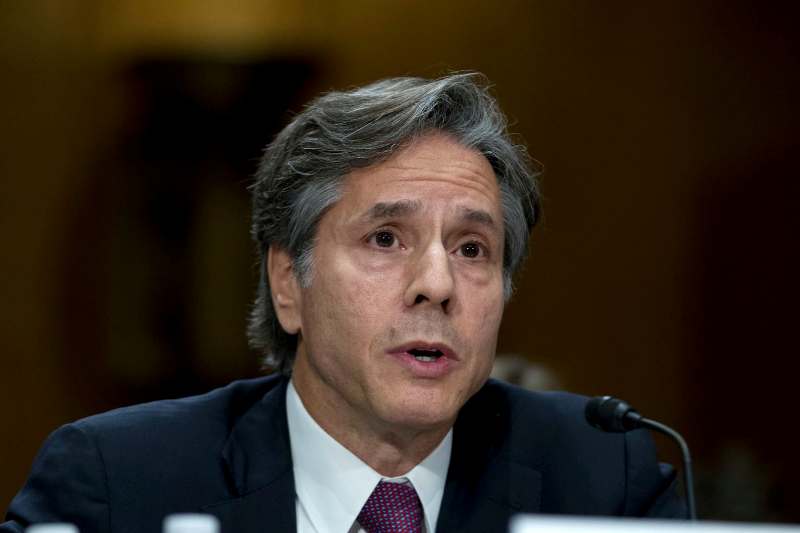 Antony Blinken is the 71st United States Secretary of State who served as the Deputy Secretary of State of the United States from 2015 to 2017. Prior to that, he held many key positions in the Obama administration, including Deputy National Security Adviser, Deputy Assistant to the President, and National Security Adviser to Vice President Joe Biden. In November 2020, Mr. Blinken emerged as the top choice for Secretary of State of the United States in Joe Biden's administration.
Wiki/Biography
Antony John Blinken was born on Monday, April 16, 1962 (age 58 years; as of 2020), in Yonkers, New York City, New York, U.S. While growing up in New York City, Blinken attended the prestigious Dalton School. [1]The Washington Post In 1971, he moved to Paris, France along with his divorced mother and her new husband, Holocaust survivor and lawyer, Samuel Pisar. Blinken spent most of his teenage days in Paris where he attended École Jeannine Manuel, a private co-educational day school. [2]École Jeannine Manuel Facebook Page A photograph of Blinken in his high-school yearbook is inscribed with the Pink Floyd lyrics,
just another brick in the wall"
According to Blinken, during adolescence, he was torn between pursuing the arts and politics, and he went on to earn a Bachelor of Arts degree from Harvard University where he joined The Harvard Crimson, the daily student newspaper of Harvard University, as a freshman and ultimately edited the paper. [3]Jewish Virtual Library While in Harvard, Blinken also edited the weekly art magazine, What Is To Be Done, with the highly regarded New York political reporter Errol Louis. After graduating from Harvard, Blinken briefly reported for The New Republic, an American magazine of commentary on politics, contemporary culture, and the arts; before attending Columbia Law School from where he earned his J.D. degree in 1988. [4]Jewish Virtual Library Blinken's Harvard senior thesis, "Ally vs. Ally: America, Europe and the Siberian Pipeline Crisis," was published by Praeger in 1987. [5]Jewish Virtual Library In the summer of 1987, Blinken worked as a summer associate in the law offices of Rogers & Wells in New York, and later, he also practiced law in Paris. [6]The Washington Post
Physical Appearance
Height (approx.): 5′ 10″
Eye Color: Dark Brown
Hair Color: Salt & Pepper
Family & Ethnicity
Antony John Blinken belongs to a Jewish family in New York City. [7]The Washington Post
Parents & Siblings
Antony Blinken was born to Judith Pisar of Paris and Donald M. Blinken of New York. His father, Donald M. Blinken, retired as a director of E. M. Warburg Pincus & Company, the investment bank in New York, and was also the board chairman of the State University of New York from 1978 to 1990 and later ambassador to Hungary.
His mother, Judith Pisar, is the president of Arts France-USA, a nonprofit organization that promotes French-American cultural relations.
Antony Blinken is the stepson of Vera Blinken and of Samuel Pisar.
Blinken's stepfather, Samuel Pisar, is a Polish-born American lawyer, author, and Holocaust survivor, who had survived both the Auschwitz and Dachau camps. His mother met Samuel Pisar at a New York soiree in 1968. Antony's parents divorced in 1970, and his mother, Judith, married Pisar the following year and relocated to France with Antony. Samuel Pisar, at the age of 86, died of pneumonia on July 27, 2015, in Manhattan.
Relationships, Wife & Children
Antony Blinken, at the age of 39, got married to Evan Maureen Ryan, then a 30-year-old colleague from a D.C.-area middle-class, Irish Catholic family, and a daughter of Mr. and Mrs. Anthony J. Ryan Jr. of Alexandria, on Saturday, March 2, 2002, at 3:00 p.m, in a bi-denominational ceremony officiated by both a rabbi and priest at Georgetown's Holy Trinity Roman Catholic Church in Washington. [8]Washington Life
According to Rabbi Harold White, who co-officiated with a Catholic priest,
At first his mother was quite skeptical about it."
With guest Hillary Clinton in attendance at his wedding, Antony Blinken said,
I'm thankful to the 40-odd million people who voted for Bill Clinton because without them I would never have met Evan at the White House."
Evan Ryan is also a public servant who served as Assistant Secretary of State for Educational and Cultural Affairs (ECA) from 2013 to 2017. Prior to that, she served as the assistant for intergovernmental affairs and public liaison for Vice President Joe Biden. Mr. Blinken first met Ms. Ryan in 1995 at the White House, where he was a special assistant to President Bill Clinton and the senior director for speechwriting, and Ms. Ryan was "special assistant" to Mrs. Clinton's chief of staff.
Career
Bill Clinton and George W. Bush Administrations
Over two decades in Clinton and Bush administrations, Antony Blinken held many key foreign policy positions, such as the United States National Security Council staff at the White House (from 1994 to 2001), Special Assistant to the President and Senior Director for Strategic Planning and NSC Senior Director for Speechwriting (from 1994 to 1998), and Special Assistant to the President and Senior Director for European and Canadian Affairs (from 1999 to 2001). Reportedly, while Blinken was working at a white-shoe New York law firm, a friend of his stepfather, Samuel Pisar, suggested Blinken apply for an opening at the State Department, and Blinken was hired by Stephen Oxman, then the assistant secretary of state for European and Canadian affairs. [9]The Washington Post It was Robert Boorstin, then White House speechwriter, who lured Antony Blinken to the National Security Council staff, where he eventually became the president's chief foreign policy speechwriter. In an interview, while talking about it, Berger, then the deputy national security adviser, said,
I was looking for somebody who both could write speeches for President Clinton and think a little bit more broadly about where we were headed more strategically."
Apart from foreign policy, Blinken also got himself engaged in cultural pursuits, and in 1995, he was an associate producer of Abel Ferrara's "The Addiction," a gritty New York vampire movie starring Lili Taylor and Christopher Walken. [10]The Washington Post In 2000, when George W. Bush became the President, Blinken was sidelined in the government, and he became a senior fellow at the Center for Strategic and International Studies. In 2002, he became staff director for the U.S. Senate Foreign Relations Committee, a post that he kept until 2008, and during this time, Blinken worked on issues related to wars in Iraq and Afghanistan, relations with Pakistan, and nuclear disarmament. Reportedly, it was during this time that Blinken came close to Joe Biden for the first time, and Blinken went on to actively campaign for Joe Biden's presidential campaign in 2008; however, after Biden's unsuccessful run, Blinken became a member of the Obama-Biden presidential transition team.
Obama Administration
During Obama's presidential run in 2008, Obama chose Biden as his running mate, and after Obama became the president, he gave Biden a broad portfolio that included the portfolio to oversee the administration's Iraq policy. While talking about Blinken's valuable contribution to the Iraq policy, Biden says,
We would not have gotten out of Iraq in a way that left the government with a fighting chance to make it without Tony Blinken's hard work. He was the go-to guy. He still is the go-to guy."
Later, Blinken became close to Obama, and Obama inducted him into an integral part of a small circle of national security experts.
While serving as Deputy Assistant to the President and National Security Advisor to the Vice President (from 2009 to 2013), Antony Blinken helped craft U.S. policy on Afghanistan, Pakistan, and the Iranian nuclear program. On November 7, 2014, Antony Blinken replaced the retiring William Joseph Burns as the Deputy Secretary, and on December 16, 2014, he was confirmed as Deputy Secretary of State by the Senate.
Blinken was a key member of Obama's 2011 decision to kill Osama bin Laden. In an interview, while talking about Obama's decision to kill Osama Bin Laden, Blinken said,
I've never seen a more courageous decision made by a leader."
Reportedly, Blinken was also instrumental in drafting Syria policy, and he was also pivotal in the Obama administration's response to the 2014 Crimean Crisis. During a speech given at the Brookings Institution in June 2014, Blinken became critical of Russian President Vladimir Putin's inner circle and the Russian public at large, he said,
The first prong is necessary to deter oligarchs from risking American-based assets, while the latter prong is necessary to demonstrate to the Russian people that there is a very hefty fine for supporting international criminals like Putin."
While talking about Blinken's stint in the Obama administration, Nick Burns, who has known Mr. Blinken since the Clinton administration, says,
He was at the table for all of the important meetings in the Obama administration for eight years and has unique insight into the full range of national security issues."
Biden Administration
In Joe Biden's 2020 presidential campaign, Antony Blinken worked as a foreign policy advisor. On November 22, 2020, many media houses including The New York Times and Bloomberg News reported him as Joe Biden's presumptive nominee for Secretary of State. On January 26, 2021, he was sworn in as 71st United States Secretary of State.
Private Sector
In 2017, Antony Blinken, along with Michèle Flournoy, Sergio Aguirre, and Nitin Chadda, founded a political strategy advising firm – WestExec Advisors. Later, he became a partner of Pine Island Capital Partners, a private equity firm; however, to serve as a senior foreign policy advisor with the Biden campaign, Blinken recused himself from the firm. He is also a member of the Council on Foreign Relations.
Favorite Things
Food: Pizza, Smoked Salmon
Author(s): Philip Roth, Milan Kundera, Michael Chabon, David McCullough, Evan Morris
Fictional Character(s): Phil Dunphy, Jack Bauer
Music Band: Beatles, Pink Floyd
Motto: "There's such a fine line between clever and stupid" from Spinal Tap
Facts/Trivia
Reportedly, when Blinken was interviewed at Dalton school as a kindergartener, the teacher asked him what he thought of a painting on the wall, and Blinken replied,


Some people would call it a painting, but I would call it a picture."
According to Blinken's friends, when he was torn about whether to pursue a career in the arts or in politics, he did an internship at The New Republic, where he wrote critical pieces of Reagan administration and Republican hedging on apartheid. [12]

The Washington Post
When he graduated from Harvard in 1984, it was the year of the Los Angeles Olympics, which he attended with his stepfather, Samuel Pisar, who was the then general counsel of the International Olympic Committee.
Reportedly, Blinken had filmmaking ambitions, and during his stay in Paris, he organized a film festival, and he also wanted to organize a short film festival in Paris. While talking about Antony's filmmaking ambitions, his father, Donald Blinken, says,


Everyone age 21 wants to make films."
Since adolescence, Blinken was a democrat supporter, and during the 1988 presidential campaign, he helped his father raise money for Michael Dukakis's 1988 presidential run. According to Robert Farmer, the campaign's finance director, Blinken was bartending at fundraisers at his Brookline home. [13]

The Washington Post
Reportedly, Blinken first started promoting American values during his stay in Paris as a  high school student. According to Robert Malley, the head of International Crisis Group who was Mr. Blinken's high-school classmate,


Tony was an American in Paris – and both terms are key. He was very conscious of being an American and he believed in Us values. But he also understood how US policy affects the rest of the world because he lived overseas and witnessed how others view America. At that time, the US was not particularly popular in Europe, and in France in particular. Tony navigated those two universes." [14]Financial Times
During his presidency, Bill Clinton appointed Blinken's uncle, Alan, as ambassador to Belgium, and then, he named his father, Donald M. Blinken, as ambassador to Hungary.
In an interview, Blinken's father said that Blinken was not religious; however, thoughts of the Holocaust always lingered. [15]

The Washington Post
According to his stepfather, Samuel Pisar, while growing up, Blinken would often ask him to share his experience surviving Auschwitz and Dachau. In an interview, Pisar said,


He Wanted to know. He took in what had happened to me when I was his age, and I think it impressed him and it gave him another dimension, another look at the world and what can happen here. When he has to worry today about poison gas in Syria, he almost inevitably thinks about the gas with which my entire family was eliminated."
Antony Blinken is a music lover, and during his stint at the White House, he would often dust off his guitar to jam the blues and Beatles covers with White House press secretary Jay Carney and other Washington pals. Blinken has also uploaded two of his songs on Spotify. [16]

Financial Times
Blinken is also a soccer enthusiast, and even to this day, he loves to play the game. [17]

Financial Times
Reportedly, Blinken is considered so close to Joe Biden that some see him as his "alter ego." [21]

Financial Times