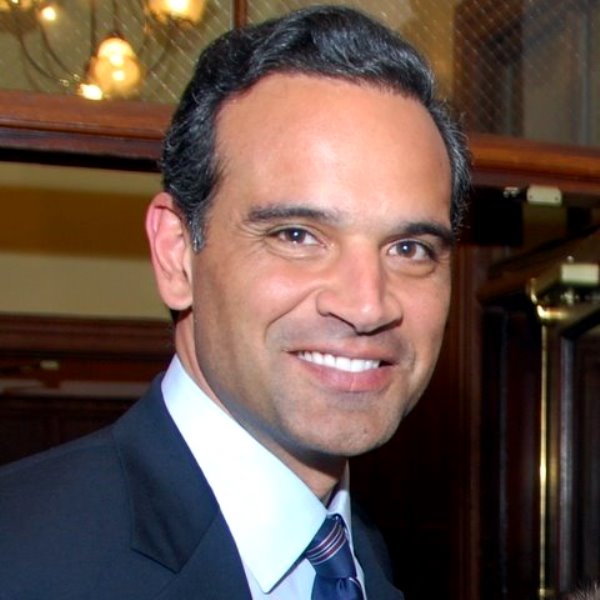 Frank T. Caprio is an American banker, lawyer, and politician. He is a member of the Democratic party. He served as the 29th General Treasurer of Rhode Island (2007-2011). He is the eldest son of Frank Caprio, who is known for the TV show Caught in Providence.
Wiki/Biography
Frank T. Caprio was born on Tuesday, May 10, 1966 (age 57 years; as of 2023) in Providence, Rhode Island, U.S. He grew up in the Federal Hill Neighborhood. He attended Bishop Hendricken High School in Warwick, RI from 1980 to 1984.  In 1991, he earned a Doctor of Law (JD) from Suffolk University Law School. He pursued a bachelor's degree in Economics at Harvard University (1984-1988). [1]Frank T. Caprio – LinkedIn Athletic since childhood, Caprio was captain of the Harvard baseball team and a player of the Harvard football team. He was an All-Eastern League outfielder in 1988 and an All-Ivy League defensive back on the championship Harvard football team in 1987.
Family & Ethnicity
Frank T. Caprio belongs to an Italian-American Catholic family. [2]Providence College [3]Rhode Island Monthly
Parents & Siblings
His father, Frank Caprio, is a lawyer and politician who served as the Chief Judge of the Municipal Court of Providence from 1985 to 2023. Frank Caprio is known for the nationally syndicated television show 'Caught in Providence,' which features his judicial work. His mother's name is Joyce Caprio.
He has four younger siblings, three brothers, David Caprio, Paul Caprio, and John Caprio, and a sister, Marissa Caprio Pesce. David Caprio is a businessman, investor, lawyer, and politician, who served as a member of the Rhode Island House of Representatives from District 34 from 2003 to 2011.
Marissa Caprio Pesce was married to John R. Pesce, who died in February 2018.
Wife & Children
On 3 August 1996, he got married to Gabriella Caprio. Together, they have a daughter, Ashley Caprio, and a son, Frankie.
Others
Frank T. Caprio's grandfather, Antonio Caprio, immigrated to Providence from Teano, Italy to America. He worked as a fruit peddler and milkman.
Career
At 21, while he was still a senior at Harvard, Caprio was elected a delegate from Rhode Island's Congressional District 2 and attended the 1988 Democratic National Convention in Atlanta. In 1990, during his time in law school, Caprio won a seat in the Rhode Island House of Representatives for District 14 in Providence. He successfully managed the dual responsibilities of being a state representative and a law student. He would commute by train between his classes in Boston during the mornings and his legislative sessions in Providence during the afternoons. After his two terms in the Rhode Island House of Representatives, Caprio spent the next 12 years serving in the Rhode Island Senate. During this period, he took up the role of chairperson for the Senate Finance Committee in 2001–2002. In this capacity, Caprio played a pivotal role in safeguarding a crucial $5 million annual affordable housing program from being eliminated by the governor in 2001. Subsequently, he put forth and executed a strategy to double the initial $5 million budget to $10 million by utilizing an affordable housing bond. Furthermore, in 2006, he collaborated on a legislative initiative to elevate the annual $10 million bond to a substantial $50 million fund for affordable housing. This proposal received approval from voters in 2006. In 1991, he became a Member of RI and Massachusetts State and Federal Bars. In his legal career, Caprio specialized in matters related to corporations, taxation, and finance. He held the position of in-house counsel at Cookson Group plc, a publicly-traded company listed on the London Stock Exchange. On 7 November 2006, Caprio, as a candidate of the Democratic Party, was elected General Treasurer of Rhode Island. He won by a larger margin, 73% of the vote, than any candidate for a contested statewide office on the Rhode Island ballot in 2006. Frank T. Caprio was the first political candidate in the United States to use multimedia broadcasts to reach voters. He was also one of the first candidates to launch an Internet TV channel for use in a political campaign in 2006. His TV documentary, titled "Caprio, the Biography," was available for free viewing to Rhode Island residents through Cox Communications' On-Demand service. Additionally, he also launched one of the US' first campaign internet TV channels. He served as the State Treasurer of Rhode Island till 2010. He was the Democratic nominee in the 2010 Rhode Island gubernatorial elections, but he lost to the Independent candidate Lincoln Chafee. After learning that President Barack Obama would not endorse him in the gubernatorial elections, Frank said that President Barack Obama could "shove it" for withholding his endorsement in elections while talking on WPRO-AM radio. The comments were deemed as "insulting" by many. It was implied that Obama must have refrained from endorsing Caprio as a sign of respect for Lincoln Chafee, the Independent candidate who had supported Obama in the 2008 election. Thereafter, President Bill Clinton campaigned in Rhode Island for Frank.
In 2011, he became a Limited Partner at the mezzanine finance firm Chatham Capital, which has offices in Atlanta, Dallas, and Providence. Later, he also became the Managing Director of Chatham Capital. He runs the Caprio Law Firm, along with his father, Frank Caprio, and brother David Caprio. He contested the 2014 elections as the Democratic nomination for General Treasurer but lost to first-time candidate Seth Magaziner.
Since 2017, he has worked as a part-time Adjunct Professor of Finance at Providence College School of Business. In January 2020, he became a Founding Partner in the investment management film Caprio Brothers.
Facts/Trivia
He played against American baseball pitcher Roger Clemens in a 1987 exhibition game and was scouted by Boston Red Sox legend Ted Williams.
In 2009, he was inducted as a Member of Bishop Hendricken Sports Hall of Fame.
In 2022, Bishop Hendricken High School gave an honorary degree to Judge Frank Caprio, which was presented to him by his sons Frank T. and David Caprio, high school alumni.