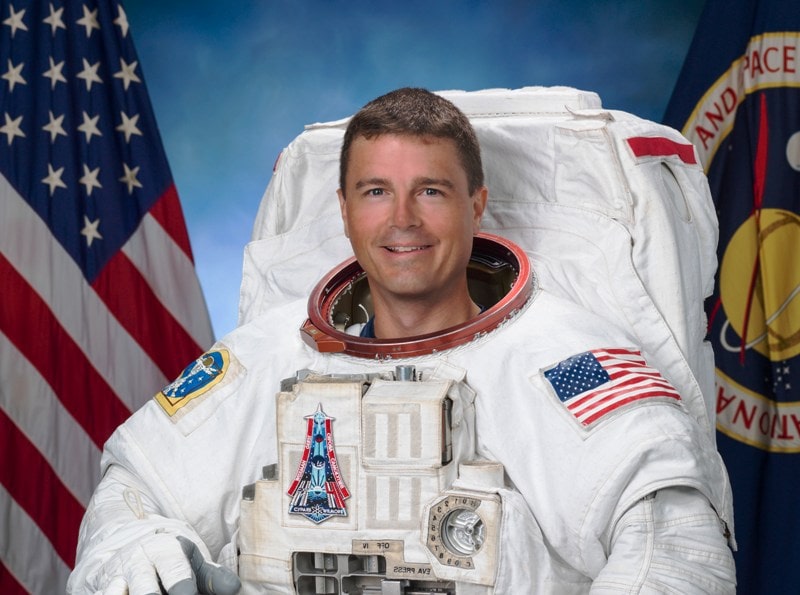 Gregory R. Wiseman is an American astronaut and a naval aviator who came to the limelight in April 2023 after NASA selected him along with Victor Glover, Christina Hammock Koch, and Jeremy Hansen for the second manned mission to fly by the moon. The mission is supposed to take place in November 2024.
Wiki/Biography
Gregory Reid Wiseman was born on Tuesday, 11 November 1975 (age 47 years; as of 2022) in Baltimore, Maryland, the United States of America. His zodiac sign is Scorpio. He completed his schooling at Dulaney High School in Timonium, Maryland in 1993.
Thereafter, he applied for the Naval Academy but was not selected. In 1997, Reid earned a bachelor's degree in science in computer and systems engineering at Rensselaer Polytechnic Institute in Troy, New York. There, Reid joined the Naval Reserve Officer Training Corps (NROTC) program. At Johns Hopkins University in Baltimore, Maryland, Reid earned a master's degree in science in systems engineering in 2006. In 2008, he completed a certification course in space systems at the Naval Postgraduate School in Monterey, California.
Physical Appearance
Height (approx.): 5′ 10″
Weight (approx.): 65 kg
Hair Colour: Brown
Eye Colour: Hazel Grey
Family
Parents & Siblings
His father, Bill Wiseman, was a lawyer in Baltimore County. His mother's name is Judy Wiseman (deceased). He has an elder brother named Bill Wiseman, who is a United States Navy SEALs officer.
Wife & Children
His wife's name is Carroll (Taylor) Wiseman. She passed away due to cancer in May 2020. Reid Wiseman has two daughters.
Religion
Gregory R. Wiseman follows Christianity.
Address
He resides at 2436 Mountain Falls Ct, Friendswood, Texas-77546, the United States of America.
Signature/Autograph
Career
US Navy
After completing graduation in 1997, Gregory R. Wiseman reported to the Naval Aviation Schools Command (NAVAVSCOLSCOM or NASC) in Florida, where he underwent training for flying fighter jets. He completed his training and became a naval aviator in 1999. In an interview, Reid revealed that he developed the passion to become a naval aviator in childhood as he often attended aerial acrobatic shows conducted by Blue Angels of the US Navy. In the same year, he was posted to the Naval Air Station in Oceana, Virginia in Fighter Squadron 101. There, he learnt to fly a Grumman F-14 Tomcat. In 2000, he was transferred to Fighter Squadron 31 in Oceana. Later, he was deployed in the Middle East, where he undertook combat air missions under Operations Southern Watch, Operation Enduring Freedom, and Operation Iraqi Freedom; against Saddam Hussein's regime in Iraq. In 2003, Reid was sent to the United States Naval Test Pilot School (NTPS) at Naval Air Station Patuxent River in Maryland, where he underwent a test pilot training course till June 2004. After the completion of the course, he was posted to a Naval Air Station in Maryland as a test pilot and project officer at Air Test and Evaluation Squadron Two Three (VX-23). In 2006, Reid was selected as one of the test pilots of the Lockheed Martin F-35C Lightning II, which is a United States fifth-generation fighter aircraft. Thereafter, Gregory R. Wiseman was selected to test pilot the new variants of the McDonnell Douglas F/A-18 Hornet and the McDonnell Douglas T-45 Goshawk.
Later, he was posted as the strike operations officer at the Carrier Air Wing Seventeen, attached to the USS Nimitz aircraft carrier, and sent on deployment to South America. In 2009, he was posted as a McDonnell Douglas F/A-18F Super Hornet pilot in the Strike Fighter Squadron 103, stationed onboard the aircraft carrier USS Dwight D. Eisenhower (CVN 69). By 2009, Gregory had become a lieutenant commander in the Navy. Later, he was promoted to the rank of captain.
National Aeronautics and Space Administration (NASA)
Gregory R. Wiseman's name was recommended to NASA by the US Navy in 2009, and he was among nine people selected for the 20th NASA astronaut class in June 2009. In an interview, while talking about his selection at NASA, Reid said,
Complete disbelief. It still hasn't sunk in. During my two rounds of interviews, I always felt like I didn't belong among the interviewees — everyone had far more amazing backgrounds and stories than I had. It was great to be among a group of people so thoroughly motivated to follow their dreams. I suppose when I fly home from my current deployment in a few weeks, the emotion will finally set in."
From August 2009 to May 2011, he underwent astronaut training at the Johnson Space Center in Houston, Texas. Later, he was selected as a flight engineer for the International Space Station (ISS). On 29 May 2014, he reported at the Baikonur Cosmodrome in Kazakhstan from where he was shuttled to the ISS.
There, he undertook spacewalks twice for maintenance purposes and conducted more than three hundred experiments, setting up a record of conducting research for 82 hours a week. He served on the ISS till 10 November 2014.
In 2016, NASA appointed him as the commander of the NEEMO21 mission, which took place at the Aquarius Reef Habitat off the Islamorada coast in Florida. Later, he served under Patrick Forrester, an astronaut, as his deputy chief at the Astronaut Office. On 18 December 2020, he relieved Patrick Forrester and assumed the post of Chief of the Astronaut Office. He served as the chief till 14 November 2022. On 4 April 2023, NASA announced Gregory R. Wiseman as the commander of NASA's second manned moon flyby mission, Artemis II, which will take place in November 2024. Astronauts Christina Koch, Victor Glover, and Jeremy Hansen will serve under him on the Artemis II mission.
Awards & Honours
Military Decorations
Air Medal with Combat V (five awards).
Navy and Marine Corps Commendation Medal with Combat V (four awards).
Navy and Marine Corps Achievement Medal.
Note: For participating in military campaigns in the Middle East, Gregory R. Wiseman was awarded several medals.
Civilian Honour
Hero Pin by the Baltimore County Executive Kevin Kamenetz (2014).
Facts/Trivia
Gregory R. Wiseman is also known as REED WISE-man in NASA.
He likes to play golf and go for a run. While talking about his hobbies, in an interview, Gregory said that sailing for a prolonged period had reduced his interest in the hobbies he previously had. He said,


Since I have spent the last five months at sea, my hobbies have been greatly reduced. I have always loved golf, education, woodworking and running. Now that I have two daughters, they have become the central focus in my life; there is nothing finer than being a dad."
While studying in school, Gregory R. Wiseman started a lawn mowing business with his classmate.
He takes a keen interest in Go-kart racing.
Gregory R. Wiseman is a member of numerous organisations and societies including the Association of Space Explorers, Tailhook Association, Rensselaer Polytechnic Institute Alumni Association, Tau Beta Pi Engineering Honor Society, and Society of Experimental Test Pilots. He has also served as a board member on the Texas Triangle Executive Council and the advisory board of the Limitless Space Institute.