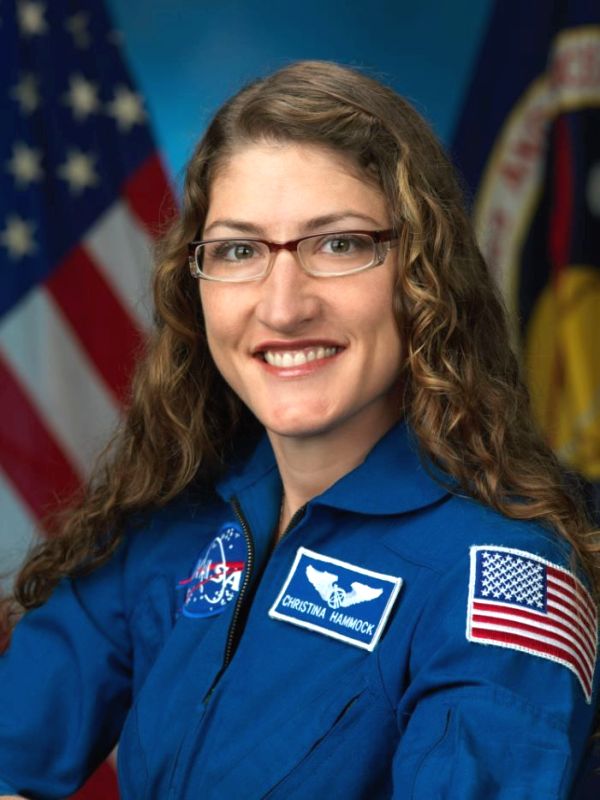 Christina Hammock Koch (or Christina M. Hammock) is an American engineer and NASA astronaut. In 2019, Christina Koch and Jessica Meir became the first women to participate in an all-female spacewalk. She holds the record for the longest single spaceflight by a woman, with 328 days in space and six spacewalks. [1]NASA On 3 April 2023, she made headlines for being selected as part of the crew for the Artemis II flight, which intended to circle the Moon in 2024.
Wiki/Biography
Christina Hammock Koch was born on Monday, January 29, 1979 (age 44 years; as of 2023), in Grand Rapids, Michigan, US. Her zodiac sign is Aquarius. Her family moved to Dearborn, Michigan when she was an infant. Later, the family relocated to North Carolina when Christina was a young girl. Growing up, she would often visit Grand Rapids for a few weeks each summer and stayed at her grandparent's farm in Sparta. Koch dreamed of becoming an astronaut since childhood. It was a summer at Space Camp in Huntsville, Alabama, that fueled her passion to become an astronaut. She attended White Oak High School in Jacksonville and then North Carolina School of Science and Mathematics in Durham from where she graduated in 1997.
Thereafter, she pursued a Bachelor of Science in electrical engineering and physics and then a Master of Science in electrical engineering at North Carolina State University, Raleigh, N. C. In 2001, Koch graduated from the NASA Academy at Goddard Space Flight Center.
Physical Appearance
Height (approx.): 5′ 4″
Hair Colour: Light Brown
Eye Colour: Light Brown
Family
Her mother hails from Frederick, Maryland, and her father hails from Jacksonville, NC. Her roots come from West Michigan. [2]MLive.com
Parents & Siblings
Her father, Ronald Hammock, is a urologist. Her mother's name is Barbara (Homrich) Johnsen. She has four siblings. She is the eldest daughter among them. Her younger sister's name is Deaveon Johnsen.
Husband & Children
Her husband's name is Robert Koch.
Others
Her maternal grandparents' names are Walter Homrich and Dolores Homrich. The Homriches are farmers and owners of the popular Under the Pines fruit market on Alpine Avenue NW in Comstock Park. The Homrich family farm, Under the Pines, is owned by Walter and Dolores Homrich, and run by Christina Hammock's uncle Dave Homrich.
Career
Koch started her career as an electrical engineer at NASA's Goddard Space Flight Center in Greenbelt, where she worked on space science instrument design. Simultaneously, she also served as Adjunct Faculty at Montgomery College in Maryland and led a Physics Laboratory course. From 2004 to 2007, she worked as a research associate with the United States Antarctic Program, completing several deployments including a yearlong stay with a winter-over at the Admunsen-Scott South Pole Station, experiencing minus-111 degrees Fahrenheit (-79.4 C), and a season at Palmer Station. In this capacity, she served as a member of the Firefighting and Search and Rescue Teams. She then returned to space science instrument development as an electrical engineer at the Johns Hopkins University's Applied Physics Laboratory (2007-2009), where she contributed to missions such as the Juno probe to Jupiter. She then returned to her work at remote scientific research stations, including sessions as a field engineer in the Arctic. Before enrolling in NASA's 2013 astronaut class, she served as chief of the National Oceanic and Atmospheric Administration (NOAA) Station in American Samoa.
She was selected in 2013 as one of eight members of the 21st NASA astronaut class and completed Astronaut Candidate training in 2015. On March 14, 2019, she launched to the International Space Station (ISS) on Soyuz MS-12 from Baikonur Cosmodrome in Kazakstan. She served as a flight engineer on the ISS for Expedition 59, 60, and 61, contributing to numerous experiments in biology, Earth science, human research, physical science, and technology development. On October 18, 2019, Koch and Jessica Meir became the first women to participate in an all-female spacewalk to replace a down power control unit located outside of the ISS. Koch conducted six spacewalks, including the first three all-women spacewalks, totaling 42 hours and 15 minutes. On December 28, 2019, Koch broke the record for the longest continuous time in space by a woman with a 328-day long stay at ISS, surpassing Peggy Whitson's 289 days long stay. She returned from space on February 6, 2020.
After her spaceflight, Koch served as Branch Chief of the Assigned Crew Branch in the Astronaut Office. She is currently serving in a rotational position as the NASA Johnson Space Center Director's Assistant for Technical Integration. In 2017, NASA established the Artemis program, along with three partner agencies—the European Space Agency (ESA), the Japan Aerospace Exploration Agency (JAXA), and the Canadian Space Agency (CSA). The robotic and human Moon exploration program was launched to reestablish a human presence on the Moon for the first time since the Apollo 17 mission in 1972. The first spaceflight of NASA's Artemis program, Artemis 1, was an uncrewed Moon-orbiting mission that was launched on November 16, 2022. On April 3, 2023, Koch was selected as part of the crew for the Artemis II flight, along with Gregory R. Wiseman, Victor Glover, and Jeremy Hansen. Artemis 2 is the first crewed lunar mission since Apollo 17 in 1972, which will perform a lunar flyby test and return to Earth. If the mission is successful, Christina Hammock Koch would become the first woman to orbit the moon.
Awards, Honours, Achievements
Neil Armstrong Award of Excellence, Astronaut Scholarship Foundation, 2020
Astronautics Engineer Award, National Space Club & Foundation, 2020
Global ATHENA Leadership Award, ATHENA International, 2020
NASA Group Achievement Award, NASA Juno Mission Jupiter Energetic Particle Detector Instrument, 2012
Johns Hopkins University Applied Physics Laboratory, Invention of the Year nominee, 2009
United States Congress Antarctic Service Medal with Winter-Over distinction, 2005
NASA Group Achievement Award, NASA Suzaku Mission X-ray Spectrometer Instrument, 2005
Facts/Trivia
In an interview, she revealed that she has studied abroad, in Ghana, West Africa.
Koch enjoys backpacking, rock climbing, paddling, surfing, running, traveling, and doing yoga, community service, and photography in her leisure time.
In December 2020, Koch was awarded an honorary Doctor of Sciences degree from her alma mater, North Carolina State University.
She has motorcycled solo across the US, from North Carolina to Montana.