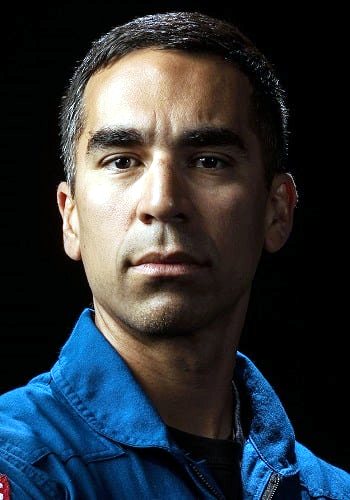 Raja Chari is an American test pilot and an astronaut at The National Aeronautics and Space Administration (NASA). As of 2021, he is ranked as the Colonel of the United States Air Force (USAF). Raja Chari is of Indian descendant.
Wiki/Biography
Raja Jon Vurputoor Chari [1]Rediff was born on Friday, June 24, 1977 (age 45 years; as of 2022), in Milwaukee, Wisconsin, U.S. He was brought up in Cedar Falls, Black Hawk County, Iowa, United States. His zodiac sign is Cancer. In 1995, he completed his schooling at Columbus High School, Waterloo, Iowa, U.S. In 1999, he graduated with a Bachelor of Science in Astronautical Engineering and Engineering Science (Minor in Mathematics) at the United States Air Force Academy in Colorado Springs, Colorado. In 2001, he completed Masters of Science in Aeronautical and Astronautical Engineering from the Massachusetts Institute of Technology in Cambridge, Massachusetts, as a Draper Fellow. [2]LinkedIn- Raja Chari [3]Wikipedia After completing his graduation, he received Undergraduate Pilot Training at Vance Air Force Base, Oklahoma. He also attended F-15E Strike Eagle training at Seymour Johnson Air Force Base, North Carolina.
Physical Appearance
Height (approx.): 5′ 10″
Weight (approx.): 75 kg
Eye Color: Black
Hair Color: Black
Family
Parents & Siblings
His father, Sreenivas V Chari, was born in Telangana and worked as an engineer in the U.S. His mother, Peggy, is an American nurse and teacher. He has a younger brother named Krishna Chari.
Wife & Children
Raja is married to Holly Schaffter Chari, and the couple has three children. In an interview, while talking about his wife, Raja said,
 She kept our family going, kept me going and basically the whole squadron and the whole unit and then also was doing her job for the VA day in and day out. She's an amazing part of my life. Obviously, the best decision I ever made and I was lucky to find her."
Religion
In an interview, Raja shared that he was brought up as a catholic and followed the Hindu traditions as well. [4]Rediff He said,
From a religious standpoint, I was brought up Catholic. Much to my dad's credit, it didn't strike me that I was any different from anyone else. I think they did a great job of saying this is totally normal. When I was growing up, it took a while for me to realise that my father wasn't Catholic too. He was Hindu. Never practiced it. Never baptised in church. He always went with us (to church). We always went as a family… My dad never got rid of his Hindu roots. I didn't realise, till I was older, that he wasn't Catholic and that the church we were growing up in, wasn't the church he grew up in."
Career
In November 2003, he was selected as F-15E Pilot in 90th Fighter Squadron at Elmendorf AFB, Alaska, Pacific Air Forces. In 2006, he was designated as F-15E IP in 494FS, RAF Lakenheath, England, UK, followed by US Naval Test Pilot School, Maryland (as an Air Force Exchange Officer) in 2007. In December 2008, he joined The United States Air Force (USAF) as F-15 Experimental Test Pilot, 40 FTS, Eglin AFB. In December 2012, he joined USAF as SAF/RCO Program Manager, and in June 2015, he was appointed as the Title 461st Flight Test Squadron Commander/F-35 Integrated Test Force Director. In June 2017, he joined the National Aeronautics and Space Administration (NASA) as an astronaut candidate.
He then worked as Joint Test Team Director at Commerical Crew Program in 2019, and in June 2020, he started working as the Title SpaceX Crew3 Mission Commander. He was selected as a part of the Artemis Team, a group of astronauts, in December 2020. The team was formed to make way for the lunar missions to send the first woman and the next man who will walk on the lunar surface in 2024. In the same year, he was selected from the NASA astronaut group 'Group 22' for a space mission 'SpaceX Crew-3' conducted on November 11, 2021. He commanded the mission and was accompanied by Kayla Barron and Tom Marshburn of the United States and Matthias Maurer of Germany.
Medals
While he was in the United States Air Force, he received various medals including:
Defense Meritorious Service Medal
Meritorious Service Medal
Air Force Commendation Medal
Air Force Achievement Medal
Korean Defense Service Medal
Nuclear Deterrence Operations Service Medal
Facts/Trivia
Since childhood, he had an interest in aircraft. In an interview, while talking about it, he said,


I got it in my head that I really wanted to fly an aircraft… Through high school my goal was essentially getting in the Air Force Academy. To accomplish that goal of flying. I became more educated about the idea of being a test pilot and that you can do both of those things. I loved being a test pilot. It is everything I thought it would be. I get to live my passions and do what I love doing. Once I became a test pilot that's the first time it struck me — holy cow — becoming an astronaut is in the realm of the possible. It is actually not something that is just a lofty goal, but something that I can try to achieve. That's when I started to meet people associated with NASA."
While talking about Raja's love for airplanes in childhood, his mother said,


When he was about 9 or 10 he took some drapery hooks I wasn't using and bent them into different shapes… He would take them out to sell to the kids in the neighbourhood telling them they were different types of planes. The other kids always bought them and then they'd all play together."