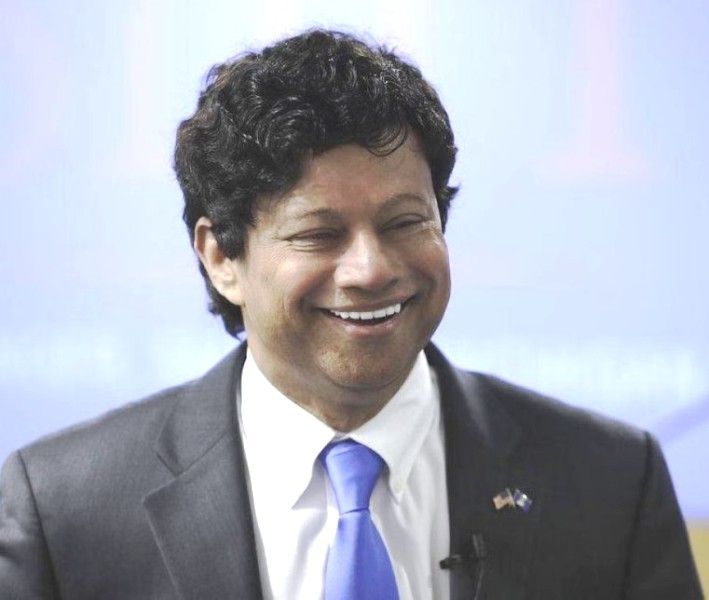 Shri Thanedar is an Indian-American entrepreneur, scientist, and politician who rose above his modest upbringing to attain remarkable accomplishments. He has won the Entrepreneur of the Year Award three times and made history as the first person of Indian origin to represent Michigan's 13th congressional district which includes the city of Detroit, Grosse Pointe and Downriver.
Wiki/Biography
Shri Thanedar was born on Tuesday, 22 February 1955 (age 68 years; as of 2023) in Chikkodi, Bombay State (now in the Belagavi district of Karnataka), India. His zodiac sign is Pisces. He attended Chintamanrao High School in Shahapur, Belagavi, Karnataka, and then completed his Bachelor of Science in Chemistry from Govindarama Seksaria Science College, Belagavi, Karnataka, in 1973. In 1977, he received his Master of Science in Chemistry from the University of Mumbai. He moved to the USA in 1979 and earned his PhD in Polymer Chemistry from the University of Akron, Ohio, in 1982. He then completed his Post Doctoral from the University of Michigan between 1982-84 and received an MBA from Fontbonne University Clayton, Missouri, in 1987.
Physical Appearance
Height (approx.): 5′ 7″
Weight (approx.): 60 kg
Hair Colour: Black
Eye Colour: Black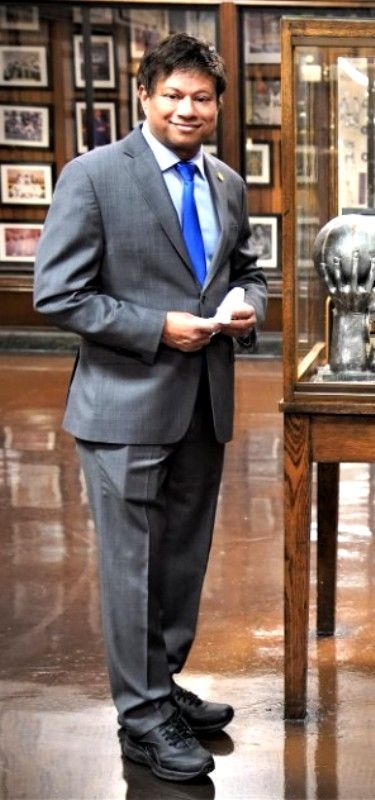 Family
Shri Thanedar belongs to a lower-middle-class Brahmin family in Karnataka, India.
Parents & Siblings
His father worked as a clerk in a court and his mother, Sulochana, was a homemaker. Thanedar has five siblings, four sisters named Rajni, Veda, Veena, and Vandana, and a brother named Ravi. He has two step-sisters.
Wife & Children
Shri got married to Shamal, a neurologist, in May 1984. She was struggling with severe depression and unfortunately passed away by suicide in 1996. Together they had two sons, Neil, and Samir. On 7 August 1999, Shri got married to Shashi; Shashi is a homemaker.
Relationships
Shri Thanedar was in a relationship with Merlyn whom he met during his PhD in the USA. He then dated 2-3 girls including one of his students named Virginia. [1]The Blue Suitcase
Religion
Shri Thanedar is a follower of Christianity.
Caste
His caste is Deshastha Brahmin. [2]The Blue Suitcase
Address
Shri Thanedar resides with his family at 19460 Lowell DR Detroit, Michigan, USA, 40203. He relocated to Washington DC after becoming a congressman from the 13th district of Michigan, USA.
Signature

Career
Entrepreneur
In 1984, Shri got his first job in America as a Polymer Synthesis Chemist and Project Leader at Petrolite Corp St. Louis, Missouri. In 1990, Shri joined Chemir Polytech Laboratories to learn the business. In 1991, he took a loan to buy Chemir for $75,000 and enhanced the sales multifold in the first year with just three people working in the company. Chemir Analytical Services primarily specialized in chemical and material analysis. It operated as a troubleshooting resource for companies experiencing product failures and technical difficulties.
By 2005, 160 people were working in the company and its revenue rose to $16 million; Chemir was listed in the FAST-50 list of the fastest-growing companies between 1998-2005.
In the quest to create an empire, Shri borrowed $24 million from the Bank of America to acquire seven entities and pledged everything he owned at that time. Among seven, one was Azopharma, which did early-stage development for drug companies. In 2003, at the time of acquisition, Azopharma's revenue was $2.2 million which Shri raised to $50 million by 2008. In 2008, the business was offered for sale and received 21 offers ranging from $90 million to $132 million.
In 2008, a financial crisis hit the USA in the form of the Great Recession and Azopharma lost 70% of its revenue, eventually declaring bankruptcy. The Bank of America sold Azopharma for $2 million to recover the loan amount. Discussing this in an interview, Shri said,
I worked 18 hours a day and kept telling the bank to give me time and we'll get enough money for all of us."
After a short break, in 2010, Shri founded Avomeen Analytical Services in Ann Arbor, Michigan; Avomeen was a full-service chemical testing laboratory specializing in deformulation, emergency testing services, investigative analysis, product innovation, and expert witness testimony.
In 2015 and 2016, Avomeen was listed in the INC 5000 list of fastest-growing US companies. In December 2016, Shri sold around 60% of Avomeen's shares to High Street Capital, Chicago, a private equity firm, and then gave around $1.5 million as a Christmas bonus to his 50 employees in the form of a reward for making the company profitable. [3]MLive
Politician
In 2018, Shri retired as a businessman and scientist and pursued public service. He filed his nomination for the gubernatorial (Governor) election of Michigan as a Democrat candidate. Despite spending $10 million in campaigning Shri lost to Gretchen Whitmer and stood third. Though he earned a name among Michigan people, now they knew him and his story of 'Rags to Riches.'
In 2019, Shri Thanedar submitted his candidacy for State Representative of Michigan's 3rd district. He won the general election for Michigan House of Representatives District 3 with 93% of the votes, defeating opponents Anita Vinson and Stephen Boyle. [4]Ballot Pedia He served on the appropriations committee and helped secure millions of dollars for his Detroit-based district.
In 2022, Shri Thanedar gave up his District 3 Michigan House of Representatives seat to run for Michigan's 13th congressional district. Around 70% of people cast their vote in favour of Shri and he won the election by defeating the state senator Adam Hollier.
He assumed office on 3 January 2023 and will serve the people of Michigan for two years. He is a member of the Committee on Homeland Security and the Committee on Small Business.
Author
Shri Thanedar has penned his autobiography in Marathi and English languages. In 2004, he published 'Hi Shri Chi Ichha' and 'The Blue Suitcase: Tragedy and Triumph in an Immigrant's Life' in 2008.
Controversies
Business Fraud
A buyer of Avomeen Holdings LLC filed a lawsuit against Thanedar in November 2017 in the U.S. District Court in Detroit. The buyer claimed that Thanedar made false and misleading statements about his company's finances when he sold a majority stake in November 2016. Thanedar refuted these claims and stated that the company's revenues are expected to surpass those of previous periods. [5]The Detroit News
Abandoned Animals in Laboratory
In April 2010, After Azopharma went bankrupt, they abandoned many animals including macaques and beagles at AniClin, one of Azopharma's research facilities. Shri Thanedar came at the centre of the criticism when animal rights activists took cognisance of the issue. Though Shri denied the allegation of abandoning the animals, he said,
The lab was under the control of Bank of America, which seized it when I declared bankruptcy. I have no knowledge of how well the bank took care of the animals. We adhered to all the necessary rules and regulations of the U.S. Department of Agriculture and other government agencies. No animal was harmed or subjected to any harmful conditions. No electric experiments were conducted when we were operating the lab."
Awards, Honours, Achievements
2023 – Rising Star of the Year at the 12th Congressional Global Community Oscars Gala
2017- CORP Magazine Entrepreneur Award
2016 – Entrepreneur of the Year, Ernst & Young, Michigan region
2016 and 2015 – Inc. 5000 Company List for Avomeen Analytical Services
2007 – Entrepreneur of the Year, Ernst & Young in Missouri business region
1981- Outstanding Teaching Assistant Award by the University of Akron
Car Collection
Shri Thanedar owns a Ferrari.
Salary
As of 2023, Shri receives an annual salary of $1,74,000 as a Democrat Representative of the 13th congressional district of Michigan, USA.
Net Worth
According to his financial disclosure, his net worth was $17,636,184 in 2017. [6]Scribd
Favourites
Role Model: Mahatma Gandhi, Martin Luther King Jr
Facts/Trivia
His complete name is Dr Shrinivas Thanedar.
Shri's mother gave him the nickname Prasad which means an offering to God because he was born many years after his parent's marriage.
Shri's mother, Sulochana, was just 17 years old when she got married to his father who was a widower and 14 years older than her.
Shri's family had spent their lives in extreme poverty. His mother used to travel a long distance to bring water in pots.
Shri was 14 years old when his father retired at 55. To make ends meet Shri did many odd jobs, including as a janitor in school. He used the money he earned to buy extra food from the store. Discussing it in an interview, he said,


I belonged to a Brahmin class and menial work was considered beneath us so I did not tell my family I was doing janitorial work. My father always thought I was a good bargainer."
While pursuing PhD, Shri Thanedar bought his first car, a sky-blue Chevy Impala, from a Chinese student. Though he didn't know how to drive a car at that time.
While pursuing his PhD in America, Shri worked as a Teaching Assistant for a monthly salary of $300. He regularly sent $75 of his earnings to his family in India.
During summer vacation when classes were off at the university, Shri didn't receive his paycheck and due to immigration rules, he was not allowed to work off campus so he took a job as an extra waiter and served at banquets and receptions whenever the campus dining hall was rented by a group. [7]

The Blue Suitcase
After running out of money in America and being unable to pay his rent and electricity bill, he resorted to sleeping in his Chevy Impala car.
After his M.Sc, Shri Thanedar worked as a scientist at Bhabha Atomic Research Centre Mumbai for a brief period.
Shri Thanedar is vocal about the rights of the LGBTQ+ community, and immigrants. He prioritizes quality education, mental health, the environment, and gun safety. As a representative of Michigan's 3rd district, he helped pass the largest per-pupil funding increase for public schools in Michigan's history. [8]

Shri
He has two grandsons, Ajay, and Kai.
Shri Thanedar escorted the Indian Prime Minister Narendra Modi on 22 June 2023 when he addressed the joint session of the United States Congress.
Shri Thanedar likes to cook. He often cooks food for his family in his free time.
His hobbies are gardening and playing chess.
Shri follows a non-vegetarian diet and consumes alcohol occasionally.