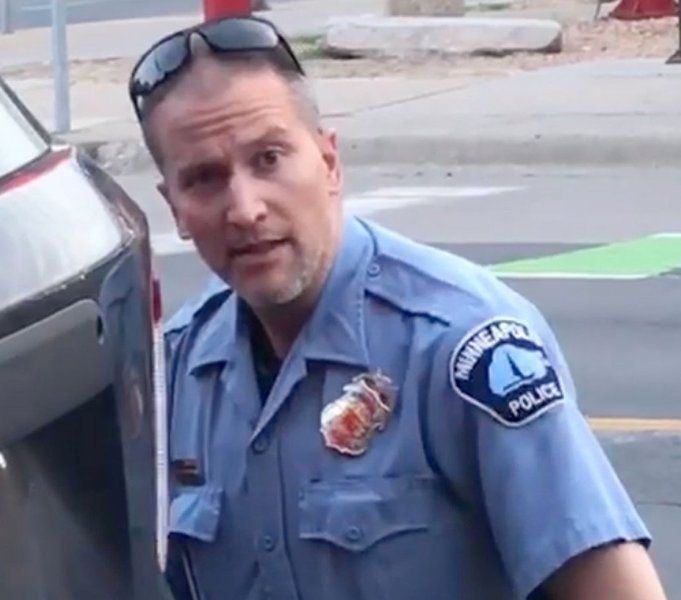 Derek Chauvin is an ex-Minneapolis cop who is charged with second-degree unintentional murder, third-degree murder, and second-degree manslaughter in the death of George Floyd, an African-American man who died in police custody in the south Minneapolis during an encounter on May 25, 2020. The video of Floyd's encounter went viral on social media in which Floyd was seen suffocating under the knee of Derek Chauvin who reportedly pinned down George Floyd's neck with his knee for 8 minutes and 46 seconds. Following George Floyd's death, several demonstrations and protests developed in over 100 cities throughout the United States and worldwide.
Wiki/Biography
Derek Michael Chauvin was born On Friday, March 19, 1976 (age 45 years; as of 2021) in Oakdale, Minnesota, United States. He grew up in the St. Paul area and attended Park High School in Cottage Grove, Minnesota. Although Chauvin didn't graduate, he obtained a High School Equivalency Certificate. Thereafter, Chauvin attended several community colleges and Metropolitan State University in Minnesota. In 2006, Chauvin graduated from Minnesota's Metropolitan State University with a bachelor's degree in law enforcement. [1]Business Insider He also attended a technical college where he studied food preparation and took classes like 'pantry food preparation,' 'job-seeking skills,' and 'stocks, sauces and soups.' Later, he took the job of a cook at McDonald's. He also worked at Tinucci's Restaurant where he made ribs and chicken. [2]The New York Times Besides doing the job of a cook, Chauvin also worked as a security guard at El Nuevo Rodeo, the Latin nightclub where George Floyd was also employed as a security guard.
Family & Ethnicity
Derek Chauvin belongs to a white American family. His wife, Kellie, is a Laotian immigrant who has two children from a previous marriage. [3]Business Insider They got married on June 12, 2010, in Washington County. [4]Star Tribune
Kellie is also the first Hmong winner of the Mrs. Minnesota pageant. [5]MPR News
Career
At the age of 25, Derek Chauvin joined the Minneapolis Police Department in 2001. Earlier, he served the US Army as a military police officer from 1996 to 2000 and was stationed in Rochester, Minnesota, and Hohenfels in Germany. [6]Insider Chauvin served the Minneapolis Police Department for 19 years until he was fired after George Floyd's death.
George Floyd's Killing
On the evening of May 25, 2020, at around 8:08-8:28 pm, Minneapolis police arrested George Floyd because they had mistaken him as someone who attempted to pass off a counterfeit $20 bill at a store in Minneapolis to buy cigarettes. A video of his arrest shows Floyd on the ground with his hands cuffed behind his back. Officer Derek Chauvin is seen with his knee on Floyd's neck while Floyd complaining he cannot breathe. Reportedly, Chauvin kept his knee on Floyd's neck for 8 minutes and 46 seconds.
Reportedly, on the evening of May 25, after responding to a call from a grocery store that claimed Floyd had used a forged check, officers Chauvin and Thao approached George Floyd and handcuffed him, and when Floyd resisted arrest, they dragged him from his car and pinned him to the ground. [7]The Sun
Arrest & Trial
On May 26, 2020, the officers involved in George Floyd's alleged arrest and encounter were placed on leave. Later in the day, all the four officers (Derek Michael Chauvin, Tou Thao, Thomas K. Lane, and J. Alexander Kueng) were fired. On the same day, the FBI announced to review the incident.
On May 28, 2020, the United States Department of Justice and the FBI issued a joint statement to investigate into Floyd's death by giving it "a top priority." In the statement, they said,
A comprehensive investigation will compile all available information and thoroughly evaluate evidence and information obtained from witnesses … If it is determined that there has been a violation of federal law, criminal charges will be sought."
On May 29, 2020, Derek Chauvin became the first white officer in Minnesota to get arrested on charges of a black civilian's death. Chauvin was charged with third-degree murder and second-degree manslaughter. Later, the charge against Chauvin was elevated to second-degree from third-degree. [8]NBC News On June 29, all four men (Derek Michael Chauvin, Tou Thao, Thomas K. Lane, and J. Alexander Kueng) appeared in court.
Judge Peter A. Cahill of Hennepin County District Court set the next hearing for September 11, 2020, and a trial date of March 8, 2021. [9]People Reportedly, three of the four ex-Minneapolis police officers facing charges in George Floyd's fatal encounter were later released from jail. Only Derek Chauvin remains in custody at the jail, with his bail set at $1.25 million. [10]People Later, Chauvin was also released on bail. On April 20, 2021, Chauvin was found guilty of all three charges of second-degree murder, third-degree murder and manslaughter by a 12-member jury, after considering three weeks of testimony from 45 witnesses, including bystanders, police officials, and medical experts; Chauvin was handcuffed immediately after the verdicts were read, and he was taken into custody.
Reportedly, he was sent to the State's maximum-security prison in Oak Park Heights. After the verdict, President Joe Biden, in televised remarks, said,
It was a murder in the full light of day and it ripped the blinders off for the whole world to see the systemic racism. This can be a giant step forward in the march toward justice in America."
Outside the courthouse, a large number of protesters celebrated the verdict. While speaking at a news conference with several family members, George Floyd's brother Philonise said,
We are able to breathe again."
On June 25, 2021, Chauvin was sentenced to 22 and half years in prison; earlier, the sentencing guideline range was of 10 years and eight months, which has been exceeded to 15 years for the first time in Minnesota. [11]CNN While pronouncing the sentence, Judge Peter Cahill said that he wanted to –
acknowledge the deep and tremendous pain that all of the families are feeling, especially the Floyd family."
According to Minnesota Department of Corrections spokesperson Sarah Fitzgerald, Chauvin will remain in a restricted housing unit, a separate unit from the general population, at the Minnesota Correctional Facility- Oak Park Heights.
Divorce Petition by His Wife Kellie
Shortly after Derek's arrest, Kellie intended to divorce him, and they separated three days after Mr. Floyd's killing. [12]The New York Times Reportedly, she also requested to change her last name. [13]Insider Kellie and Derek Chauvin had been married for almost 10 years. [14]The New York Times While describing Derek Chauvin, Kellie told a local paper,
Under all that uniform, he's just a softie. He still opens the door for me, still puts my coat on for me. After my divorce, I had a list of must-haves if I were ever to be in a relationship, and he fit all of them." [15]Insider
On May 31, 2020, the 45-year-old Kellie Chauvin filed a divorce petition in Washington County District Court. Reportedly, she also asked for the couple's two homes in their divorce. While talking about it, Jack De Walt, an 18-year family law attorney, said,
Homes are only one part of a marital estate, and without understanding what the other person is being awarded outside of the homes, [the divorce petition] is not actually telling you whether this person is asking for more than 50 percent." [16]Star Tribune
Kellie Chauvin, a former Realtor, was unemployed when she filed the divorce petition. While filing the petition, she requested a "fair and equitable division" of personal property, vehicles; and all bank, retirement, and investment accounts. Reportedly, Kellie neither sought nor offered alimony payments. She also asked for sole ownership of their primary home in Oakdale and a townhouse in Windermere, Fla. The Oakdale house was bought by them in 2017 for $260,000, which is now valued at $273,800. In 2011, they bought the Florida townhouse for $210,900, which is now valued at $226,282. [17]Star Tribune
Other Controversies
Facts/Trivia