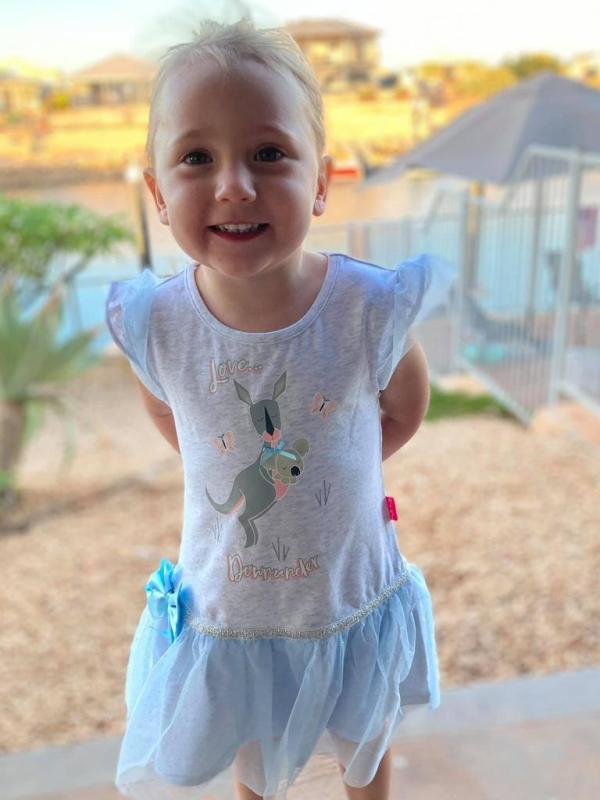 Cleo Smith is a four-year-old Australian girl who was abducted from her family's camping tent at the Blowholes campsite in Macleod, Western Australia on October 16, 2021. After eighteen days of her disappearance, the girl was rescued from a locked house in the town of Carnarvon by police.
Wiki/Biography
Cleo Smith was born in 2017 (age 4 years; as of 2021) in Carnarvon, Western Australia, where she lived with her parents and a sister before she was abducted in October 2021.
Physical Appearance
Hair Color: Blonde
Eye Color: Hazel Brown
Family
Parents & Siblings
Cleo Smith was born to Ellie Smith and Daniel Staines (her biological father).
Later, her parents separated, and her mother married a person named Jake Gliddon (Cleo's stepfather).
Cloe has a baby sister named Isla Mae Gliddon, who was born on March 3, 2021.
Disappearance from Campsite
In the early hours of October 16, 2021, Cleo Smith disappeared from her family's camping tent at the Blowholes campsite in Macleod, Western Australia, about 30 miles (48 kilometers) north of the home in Carnarvon. The family had arrived there the night before. Reportedly, it was their first camping trip as a family of four. On the night of October 15, 2021, around 8 pm, Cleo went into her sleeping bag, lying just feet away from her mother, stepfather, and baby sister Isla. Reportedly, In the tent, Cléo and her younger sister stayed in a separate compartment from their parents. [1]Al Jazeera According to her mother, Ellie Smith, Cleo had woken at 1:30 a.m. and asked her for a drink of water before going back to sleep, and when Smith woke again at 6 a.m., she discovered that Cleo was missing along with her sleeping bag. [2]CNN While narrating the police about this, Smith said,
I checked on Isla, made sure Isla was OK I got back in bed and that was it really, we went back to sleep, woke up to Isla wanting a bottle. As we passed the divider, I went into the other room and the zipper was open. Cleo was gone and that was about it for Saturday morning until everything started."
Intensive Search
Across the nation, concerns were raised over her disappearance, prompting a frantic search involving 100 officers in the air, sea, and on the ground. In addition to police using human intelligence, surveillance footage, and forensic analysis to find the girl, scores of volunteers combed nearby bushland for clues. When the family didn't find her after they briefly searched the area, they informed the police at 6:23 a.m. on October 16, 2021. While talking about this, Smith said,
The tent was completely open. It was about 30cm from open. We grew up here, we literally grew up 100 meters from where we stayed at the same age. So we just looked everywhere that we went as kids and we couldn't find her. We realized we had to call the cops because she wasn't here."
Soon, police swarmed to the scene, and drones and helicopters scanned the rugged terrain near the campsite, just a short walk from the coast where waves smash up against the cliffs. Justin Borg, from Coral Coast Helicopter Services, deployed a team to scan the area. The team searched for three days. According to Justin Borg, it was slow-moving terrain, the type of terrain that made walking slow and difficult. He said, 
It's soft sand and prickly underfoot."
When Borg's team didn't find her in the first two hours, they concluded that the girl had been abducted. Borg said,
When we hadn't found her by the first hour or two, then we were automatically thinking that she's been taken."
Cleo's sleeping was also missing, and the zip on the tent was at an awkward height, which led the police to conclude she had been abducted. An emotional Ellie Smith was adamant who claimed that Cleo had not left by herself. [3]The Guardian Smith said,
She would never leave us, she would never leave the tent. We hold hope that she's here [near the campsite] because if I think about her being taken … a million other things cross our mind."
Public Appeals by Cleo's Parents
After Cleo Smith's disappearance, Ellie Smith and her partner, Jake Gliddon, made public appeals for help to find Cleo. In one of the public appeals, an emotional Ellie Smith described her daughter as beautiful and delicate with "the biggest heart." Smith said,
Everyone asks us what you need — all we really need is our little girl home."
Smith added,
Every day she wants to wear a princess dress. She's so sweet — everything you'd want in a little girl."
In another appeal, Smith said,
It doesn't matter if it's small or big or if you're sure or not … we want our little girl home. We sit and watch the sand dunes and we just think she's going to run down it and back into our arms, but we're still waiting."
$1 Million Reward
Within the first week of the search operation, a reward of 1 million Australian dollars ($750,000) was offered by the Western Australia government for information leading to Cleo's discovery; the reward was announced by the Premier of Western Australia Mark McGowan on October 21, 2021, after the police announced that Cleo had been abducted. [4]ABC News Numerous hoardings and banners were displayed, showing the picture of the girl with a reward of 1 million Australian dollars. As information poured in, more than 200 reports of possible sightings of the girl were made; however, all of which were unconfirmed as being Cleo. [5]CNN
A Massive Campaign on Social Media
Amid the public appeals made by Cleo's parents and an intensive search operation by police, a massive campaign started on social media to find Cleo. Volunteers created a Facebook page, Bring Cleo Smith Home, and called businesses to request stickers, flyers, and posters, showing Cleo's face, and about 50,000 were printed and displayed throughout Carnarvon and across the state. Soon, the page had more than 65,000 members worldwide, including in the United States, the United Kingdom, and Europe. While talking about this, Evelyn Fowkes, a mother in Perth who has never met the family and who started the Facebook page, says,
If that was my child I would want someone to do the exact same thing."
Police Investigation
Amid some reports of the involvement of Cleo's family in her abduction, Cleo's family was repeatedly ruled out of involvement in her disappearance by the police throughout the investigation. Police started their investigation based on the few leads, which came from witnesses who reported that they had spotted a car heading south on the main road from the campsite to Carnarvon at around 3 a.m. on October 16, 2021, following which police urged the driver and occupants of the vehicle to come forward. During the investigation, police also sorted through hundreds of trash bags collected from the campsite where Cleo went missing, and they also visited a number of homes in the Carnarvon area, looking for any sign of the girl. [6]CNN
Rescue
On November 3, 2021, Cleo Smith was found alive in healthy condition alone inside a locked Carnarvon house; the house is only a few minutes away from her family home. Subsequently, the police arrested a 36-year-old man and took him into their custody following which Cleo was reunited with her family the same day. Just after midnight on November 3, 2021, when police in Western Australia broke down the door of a locked home in the small town of Carnarvon, it ended an extensive 18-day search for the missing Cleo Smith. When an officer picked up the girl and asked her, "What's your name? She replied,
My name is Cleo."
Cléo Smith was found more than two weeks after disappearing from the tent she was sharing with her family at Quobba Blowholes, a popular tourist location on the coast about 950 kilometers (590 miles) north of Perth. According to police, evidence pointed to the home, which was a short drive from her parent's home where they had been anxiously awaiting news about the investigation for weeks. While talking about the rescue of Cleo Smith, Deputy Police Commissioner Col Blanch told 6PR radio –
We were looking for a needle in a haystack and we found it, which led us to what happened at 12:46 a.m. this morning."
According to Blanch, when officers entered the locked home, they found Cleo sitting alone in one of the rooms. Blanch said,
When she said 'My name is Cleo,' I don't think there was a dry eye in the house."
Blanch added,
I have seen seasoned detectives openly crying with relief. I am speechless which is very rare … this is something we all hoped in our hearts, and it has come true."
The moment Cleo was rescued 👏 pic.twitter.com/arusYi9kCa

— WA Police Force (@WA_Police) November 3, 2021
While talking about how they zeroed in on that particular house where they found Cleo, Police Commissioner Chris Dawson said that they had been determined they "were not going to leave any stone unturned." [7]Al Jazeera He said,
We had been following a lot of the forensic leads and it led us to a particular house."
Cleo's mother, Ellie Smith, took to Instagram to share the news about Cleo's rescue. She wrote on Instagram –
Our family is whole again."
Following Cleo's rescue, Prime Minister Scott Morrison thanked the police for finding her and supporting her family.
The Suspect
After police raided a locked Carnarvon house, they arrested a 36-year-old local man with "no family connection." According to the police, he was not in the house at the time of the raid. Police also denied the involvement of anyone else in the case. [8]CNN
Timeline
Friday, October 15, 2021
6 pm: Cleo Smith arrives at Blowholes campsite, about 48 km north of Carnarvon along with her mother Ellie, baby sister Isla, and stepfather Jake Gliddon.
Saturday, October 16, 2021
1:30 am: Ellie Smith is woken by Cleo who asks for some water. After giving her water, they go back to sleep.
6 am: Ellie and her partner, Jake Gliddon, wake to find Cleo missing.
6: 23 am: Ellie Smith calls triple-0.
7:10 am: The first police vehicle is spotted at the Blowholes with the second arriving shortly afterward.
8 am: Relatives and friends of Cleo's parents arrive at the scene to help. Carnarvon detectives begin searching the family home in South Carnarvon to look for signs of Cleo before they head to the Blowholes to stop vehicles in the area. Helicopters and drones conduct a full-scale search of the Blowholes and surrounding area.
11 am: Homicide detectives from the major crime division leave for Carnarvon from Perth by road.
That night: Search suspended for a while, but efforts continued with the Australian Maritime Safety Authority's jet doing nighttime patrols.
Sunday, October 17, 2021
Early morning: Searches resume both on land and sea.
1:30 pm: Inspector Jon Munday delivers a statement that police are "gravely concerned" for Cleo's safety. Ellie Smith and her partner, Jake Gliddon, give their first interview in which they quote Cleo wouldn't have wandered off and plead that "we need our little girl home."
Monday, October 18, 2021
Mid-morning: The marine search is scaled back to find Cleo.
1:30 pm: Police release an image of the red and grey sleeping bag Cleo was in and that was also missing from the family's tent along with Cleo.
Tuesday, October 19, 2021
Morning: Police release the photo of the pink jumpsuit Cleo was wearing at the time of her disappearance.
Wednesday, October 20, 2021
8 am: Police reveal that 20 registered sex offenders are living in the Carnarvon area where Cleo went missing.
3:30 pm: Inspector Munday admits that it was not possible for Cleo to have reached the tent zipper, and he confirms detectives from Perth are involved in the investigation.
Thursday, October 21, 2021
7:30 am: CCTV audio from a shack near to the tent of Cleo's family confirms Cleo was at the campsite.
12:30 pm: Premier Mark McGowan announces a $1 million reward for any information that may help the investigators find the missing Cleo.
Friday, October 22, 2021
12:30 pm: Police appeal for all dashcam and CCTV footage within a 1000km radius from where Cleo disappeared.
5 pm: Task Force Rodia leader Det-Supt Rod Wilde says that there are still some people yet to come forward who stayed at the camping site from where Cleo is missing.
Saturday, October 23, 2021
11 am: Forensic police search for fingerprints and examine the outside of Cleo's South Carnarvon home throughout the day.
Sunday, October 24, 2021
1 pm: A breakthrough comes into the investigation when two witnesses say they saw a sedan that turned right from Blowholes Road and headed south along the North West Coastal Highway between 3 am and 3:30 am on the day Cleo went missing.
Monday, October 25, 2021
6 pm: Cleo's parents give their second televised interview in which Cleo's mother, Ellie pleads –
Just bring our girl home safe — give her back to us."
Tuesday, October 26, 2021
2:30 pm: Forensic police and detectives return again to search the inside of the family home in South Carnarvon. Detectives leave about 6 pm.
10:30 pm: After spending almost eight hours, Forensic police finally leave the family home.
Wednesday, October 27, 2021
1 pm: Forensic police again inspect inside and outside the family house. They also collect ashes and burnt firewood from camping sites at the Blowholes campground.
Thursday, October 28, 2021
1 pm – 4 pm: Superintendent Wilde arrives at Carnarvon and the Blowholes campsite for the first time after which he reveals that there have been more than 200 reported sightings of the little girl but all have proved wrong.
Sunday, October 31, 2021
Amid the allegations that Cleo's parents are involved in her abduction, Premier McGowan pleads with trolls to lay off Cleo's parents, while Superintendent Wilde tells the Sunday Times-
We want to make it clear — they are not suspects in this investigation. They have been helping us."
Monday, November 1, 2021
All-day: Geraldton and Perth police create a detailed map of the area around where Cleo was last seen using drones, and they start sorting through trash collected from the campsite for clues.
Tuesday, November 2, 2021
Police Commissioner Col Blanch confirms that according to his officers' working theory, Cleo was likely still in WA.
Wednesday, November 3, 2021
12:45 am: Police officers find Cleo in a room after they break into a locked house in Carnarvon, and they arrest a 36-year-old man a few minutes later near the home. Soon after her rescue, Cleo is reunited with her parents.
Facts/Trivia
Cleo Smith loves to paint, and her mother often shares photos and videos of Cleo's painting hobby on Instagram.
In an Instagram post, Cleo's mother revealed that Cleo loved eating avo and toast.
A massive police search was launched after the girl vanished, initially covering several square kilometers around the site, then extending nationwide as alerts were issued for sightings.