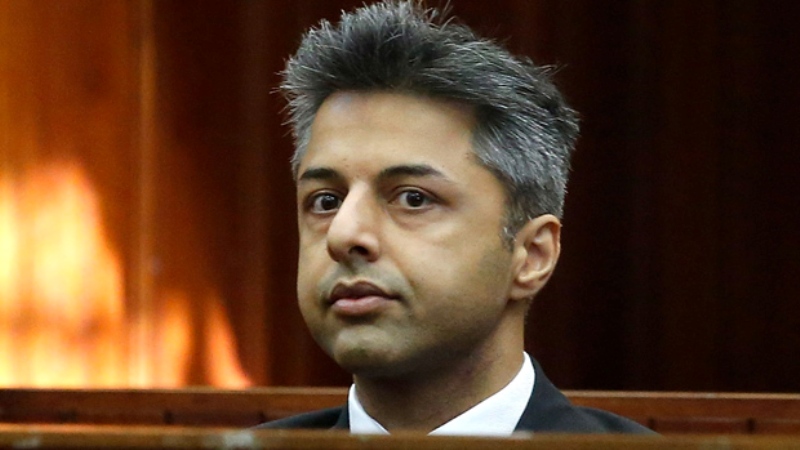 Shrien Dewani is a millionaire businessman of Bristol, United Kingdom. He was accused of the murder of his wife Anni Dewani in November 2010. Anni was killed by the two gunmen after the taxi that they hired was hijacked on 13 November 2010 on their honeymoon in South Africa.
Wiki/Biography
Shrien Dewani was born on Saturday, 29 December 1979 (age 41 years; as of 2021) in Bristol, United Kingdom. His zodiac sign is Capricorn. He attended Bristol Grammar School in Bristol, England for his school education. He then went to the University of Manchester in England to earn a graduate degree in Economics. [1]The Guardian
Physical Appearance
Hair Colour: Salt and Pepper
Eye Colour: Black
Family
Parents & Siblings
Shrien Dewani's father's name is Prakash Dewani, and he is the founder of PSP Healthcare, a home care company based in the United Kingdom. His mother's name is Snila Dewani. His brother's name is Preyen Dewani, and he has a sister named Preyer Dewani.
Wife & Children
Shrien Dewani got married to Anni Dewani on 29 October 2010.
Relationships/Affairs
Shrien Dewani was in a relationship with Anni Dewani from 2009 to 2010.
In 2018, Shrien Dewani was committed to Gledison Lopez Martins, a London-based Brazilian photographer.
Family Background and Career
Shrien Dewani belongs to a well-reputed and rich business family of Bristol, United Kindom. His father, Prakash Dewani, was a diligent pharmacist with great expertise in commerce founded the home care facility organisation named 'PSP Healthcare' in the United Kingdom soon after shifting to the UK from Kenya. Shrien Dewani's mother was from Uganda. Shrien Dewani and his siblings were born and raised in Bristol. At Bristol Grammer School, as an elite student, Shrien was very gregarious and talented. Shrien Dewani began working in a multinational company named Deloitte in London immediately after earning his graduate degree in Economics from Manchester University. However, his father called him back to join their family business in Bristol, and soon, he quit the job.
Relationship with Anni Dewani
The mutual friends of Shrien Dewani and Anni Hindocha arranged their meeting on 20 May 2009 in London. Soon after meeting Anni, Shrien Dewani got strongly attracted to her and disclosed his feelings to his friends that he liked Anni's bubbly and cheerful personality. On the other side, Anni Hindocha also accompanied Shrien to elite places such as Starbucks, the musical the Lion King, and the Asia de Cuba restaurant. At that time, Shrien was living in London, and Anni was a product engineer in Sweden. Both maintained a long-distance relationship. According to their mutual friends, both of them were headstrong and often indulged themselves in heated arguments and fights for small things. They also added that in January 2010, Anni backed out of the relationship, but soon, sorted out the issues.
Marriage with Anni Dewani
Anni Hindocha's parents went to bristol to meet the parents of Shrien Dewani in May 2010. They mutually fixed their engagement ceremony in Paris in the same month. However, according to the friends of Anni and Shrien, behind the happy scenes, there were issues and tensions in their relationship. Meanwhile, it was also disclosed that Shrien had low hormones levels that affected his ability to become a father, and this was mutually decided by Shrien and Anni that Shrien would get the problem treated, despite severe side-effects, as they both wanted the children. Soon after their betrothal, Shrien and Anni Dewani planned their dream home in Bristol and holiday place in London. But, again due to some misunderstandings between the duo, Anni Hindocha backed out from the wedding in September 2010. Soon, their friends patched up their relation mutually. Shrien and Anni entered the wedlock on 29 October 2010 in the presence of their family members. Soon after the wedding, the newlywed couple and the entire Dewani family went back to Bristol to celebrate the Diwali festival according to Hindu rituals and to spend time with the bride.
Honeymoon and Murder
Shrien Dewani chose South Africa as their honeymoon destination when they were at their residence in Bristol. He liked the coincidence that the initials of their names SA pointed to the country, South Africa. On 7 November 2010, they landed at the International Airport of Capetown in South Africa. The taxi of the cabbie 'Zola Tongo' was hired by them to drop them at the Cape Grace Hotel, South Africa. In Zola Tongo's taxi, they visited the places such as BBQ restaurant (Mzolis) at Gugulethu, and then they went to the Strand resort town in Western Capetown. On 13 November 2010, they had their meals and left for Gugulethu again. The taxi of the couple was hijacked when they turned on the main road to Gugulethu. The two men at the gunpoint hijacked the taxi and started driving the vehicle after ejecting the cabbie Zola Tongo out of the car after driving for some time. After driving the car for twenty minutes, Shrien was also ejected out of the car by the gunmen. His money, wallet, designer watch, and mobile telephone were all robbed by the gunmen. A passerby helped Shrien to contact the police. Anni Dewani was kidnapped by the robbers. On 14 November 2010, her body was found in the back seat of the taxi by the Western Captown police.
She was murdered by a gunshot to her neck that was passed by her hand. The precious things on her body such as Giorgio Armani wristwatch, a white-gold and diamond bracelet, her handbag, and her BlackBerry mobile telephone were missing. The post-mortem report of Anni disclosed that there were bruises on her leg, and she struggled a lot before being murdered. It was also revealed that she was not physically assaulted by the gunmen. The Western Capetown police handed over the body of Anni Dewani to her family members including Shrien Dewani on 17 November 2010. They submerged the remains of the Anni Dewani into the Vänern lake near her home in Sweden. According to her family members, this lake was her favourite place to visit.
Arrests and Trials
One of the gunmen named 'Xolile Mngeni' was arrested by the Western Capetown police on the basis of palm prints on 16 November 2010. He also named his partner in crime 'Mziwamadoda Qwabe' for his involvement in kidnapping and murder. Soon, Xolile Mngeni admitted during the police interrogation that Anni Dewani was killed by Mziwamadoda Qwabe during a struggle between the two for Anni's handbag. Mziwamadoda Qwabe was soon arrested by the police, and he confessed during his police trials that the taxi was hijacked with the intention to rob the tourists. On the same day, Mziwamadoda Qwabe changed his statement after five hours of cross-questioning of police and stated that Shrien, the husband of Anni Dewani plotted the murder of his wife. Soon, the middle man of the plot named Monde Mbolombo was arrested by the police on 18 November 2010. Meanwhile, CCTV footage was also recovered by the police in which Monde Mbolombo was having a conversation with the cabbie Zola Tongo.
Monde Mbolombo was the one who arranged the two gunmen to the taxi driver Zola Tongo to hijack the taxi. Zola Tongo also confessed that Shrien Dewani who paid them £1,400 was the mastermind of the kidnapping and murder of his wife. [2]Mirror Mziwamadoda Qwabe was sentenced to 25 years imprisonment in February 2011.
Xolile Mngeni, the second gunman, was awarded life imprisonment, but he died on 18 October 2014 due to a brain tumour in the Goodwood Centre of Excellence jail.
The cabbie was awarded 18 years imprisonment at Malmesbury.
In 2014, Shrien Dewani was acquitted by the court of the murder charges of his wife Anni Dewani. There was no solid proof presented in the court against him to declare him guilty of the murder.
On 19 November 2015, Monde Mbolombo was released by the Western Capetown court and was warned by the Director of Public Prosecutions under the provisions of Section 204 of the Criminal Procedure Act that not to arrange any criminal acts in future. [3]ENCA
Shrien's New Love
In August 2018, the pictures of Shrien Dewani and his new boyfriend 'Gledison Lopez Martins' were floating on google news. The pictures were uploaded by Shrien Dewani on his social media accounts while holidaying in India.
Documentary
The over-the-top streaming platform 'Amazon Prime Video' released a documentary film titled 'Anni: The Honeymoon Murder' in November 2021 which was based on the hijacking, robbery, and murder of a newlywed bride 'Anni Dewani.'
Facts/Trivia
Soon after the murder of Anni, during the court trials of Shrien, it was revealed by his lawyer that Shrien was bisexual. Shrien Dewani admitted that he had relationships with the Birmingham male prostitutes before getting married to Anni. He also accepted that these prostitutes worked under a German Master named Leopold Leisser with whom Shrien had links. He stated this in the Western Capetown courtroom. [4]

The Guardian He said,


I have had sexual interaction with both males and females. I consider myself to be bi-sexual. My sexual relations with males were mostly physical experiences or email chats with people I met online or in clubs, including prostitutes such as Leopold Leisser. My sexual interactions with females were usually during the course of a relationship which consisted of other activities and emotional attachment.' [5]Henri Le Riche

During his court trials in 2011, Shrien Dewani caught post-traumatic stress disorder and was not feeling well due to increased health problems. Consequently, he was referred to the Priory Hospital in Bristol for treatment. On the orders of the court, he was kept in the Fromeside Clinic under the Mental Health Act.
In 2014, after getting clearance from the Western Capetown court, Shrien Dewani was released from the court trials. On this occasion, the family members of the victim Anni Dewani said in the media conference outside the court that the right to know the truth was taken away from them. They said,


We came here looking for answers and the truth and all we got was more questions. We waited patiently for four years to hear what really happened to Anni… All we wanted was to hear all the events and the hope of actually finding that out has kept us, as a family, going. Unfortunately we believe that right has now been taken away from us."
One of the cousin sisters of Anni Dewani stated to the court during the court trials of Shrien that before the funeral of Anni Dewani, Shrien mishandled the corpse of Anni Dewani. [6]

Daily Mail She said,


He didn't look to me like someone who was grieving. He was trying to squeeze bangles on her. I wanted to say to Anni, "don't worry, I'm here now. I won't let him hurt you" and I told him to stop. I said to him, "you're hurting her". I heard him say to his father, "my shoulders are very stiff, I need to get a massage".'
Vinod Hindocha, Anni's father, narrated in an interview with a media house that Shrien hide the fact that he was bisexual not only from Vinod's family members but also from his daughter Anni. He further narrated that Shrien shamelessly went on a trip to Mumbai with his boyfriend where Shrien got married to Anni Dewani. Vinod stated that Shrien was browsing the gay websites in the hotel when they went to South Africa to take Anni's dead body. He said,


He kept his gay secret from my daughter and from her family. How could he have had it in his heart to do that? It was an utter disgrace. Now I learn that he has fallen for another man. That is no surprise. I am not against gay people in any way at all. Just this man. He has been to Mumbai with his boyfriend and that hurts us greatly. That was the place that Anni married him. I would have thought that he would keep that place in his heart especially for that memory. But no. He goes there with his gay lover and parades him around. I hate that day he married her. And I'll never be able to see Mumbai with the same eyes. He was even looking at gay websites while I sat in the hotel having gone to South Africa to help him and bring Anni's body home."