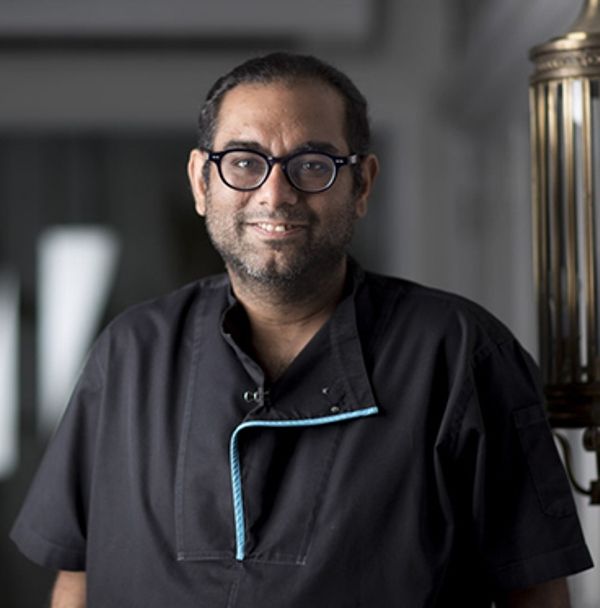 Gaggan Anand is an Indian chef who is known for being the owner and executive chef of the Indian restaurant 'Gaggan' in Bangkok, Thailand.
Wiki/Biography
Gaggan Anand was born on Wednesday, 21 February 1979 (age 42 years; as of 2021) in Kolkata. [1]Hindustan Times His zodiac sign is Pisces. He did his schooling at Higgins School, Kolkata and for his graduation, he went to the Indian Institute of Hotel Management and Catering Technology, Trivandrum. [2]Gaggan Anand- Official Website
When he was young, he was more interested in becoming a drummer than a chef. Before he became a chef, he worked at some local rock bands. He cooked his first dish at the age of six. He cooked instant noodles and cried after making them as they did not look as it was shown on the package. [3]Gaggan Anand- Official website
Physical Appearance
Height (approx.): 5′ 11″
Weight (approx.): 80 kg
Hair Colour: Black
Eye Colour: Brown

Family
Gaggan Anand was born to a Punjabi family. [4]Hindustan Times
Parents & Siblings
His father`s name is Baldevraj Anand and the name of his mother is not known.
Wife & Children
Gaggan got married in 1998 (the name of his wife is not known). His marriage lasted till 2008. He then married Tripradap Pui and has a daughter named Tara with her. He split with his second wife as well.
Relationships/Affairs
Currently, he is dating Mint Pattarasaya.
Career
Cooking
Gaggan started his training with the Taj group after completing his diploma. He started his own catering company in Kolkata after leaving the Taj Group but his company failed. [5]Gaggan Anand- Official website He then started giving home delivery services in the Tollygunge area. In 2003, he started working in a cafeteria of a telecom company in Kolkata. In 2007, he began working with a restaurant named 'Red'. [6]Hindustan Times This restaurant was specialised in Indian cuisine. In November 2010, Gaggan opened his own restaurant named 'Gaggan.' [7]Gaggan Anand- Official Website He was inspired by Rajesh Kewalramani who met Gaggan in 2009 in Spain and like his cooking style. [8]Hindustan Times
His restaurant 'Gaggan' was listed in 'The World's 50 Best Restaurants.' Gaggan was also the first Indian to work with Ferran Adrià's research team at ElBulli. In 2014, 'Gaggan' was ranked 17th on the Global level. It became the best restaurant in Thailand in 2015, 2016 and 2017. It appeared on the list of Asia's 50 Best Restaurants and won the award.
It was on number 10th, 23rd, 7th and 4th in the list of The World's 50 Best Restaurants in 2015, 2016, 2017 and 2019. It is the only Indian restaurant to appear in the Top 50. In 2016, Gaggan became a part of episode 6, season 2 of 'Chef`s Table' which was telecasted on Netflix. On July 23, 2019, he left the restaurant due to a brawl with his partners. He then opened his own restaurant named 'Gaggan Anand' in Bangkok on November 1, 2019. In 2021, his restaurant became No.5 in 'Asia's 50 Best Restaurants. In 2020, Gaggan announced that he was planning to close the restaurant and open a restaurant in Japan that will only have seating for 10 people and will open on weekends. He has opened two other restaurants- Meatlicious and Sühring.
Awards
'Gaggan' restaurant won Asia's 50 Best Restaurants award.
Car Collection
He owns a BMW 3 series 320d sport.
Facts/Trivia
Gaggan owns a pet dog and its name is Ms Pimai.
His eating habits include eating non-vegetarian food. He drinks alcohol occasionally.
Gaggan always wanted to become a musician but chose cooking over it. Giving the reason he said in an interview,


I always wanted to be a musician. I dreamt of being a professional drummer in a band, but one day, as a teenager, I realized that my economical situation would never improve pursuing my dream as a musician, so I went to the next thing I knew best, which was cooking. I was admitted to IHMCT Kovalam in 1997, about as far away from home as one could be, and I never looked back. I never saw a horizon without the view of a kitchen with it."
In an interview, Gaggan tells about the fight with his partners. He said,


While I was away on a family vacation after the negotiations, my ex-partners tried to buy my team from me, bribing them with bonuses and flowery promises. One of the most powerful moments of my life was finding that my team of 65 rebels defied the promises of money and instead chose love and loyalty. They defied greed and from this we were given the strength to follow our passions."
Gaggan was seen on Episode 1 of Season 1 of 'Somebody Feed Phil' which was telecasted on Netflix.
He shared his experience of the journey to Bangkok and said,


When I arrived in Bangkok, I noticed there was no fine dining scene here, and I wanted to be the first. I always wanted to do something different. I worked with and followed the chefs in Europe who were elevating the world of fine dining, starting with Ferran Adria, he showed me that the whole world was into this heightened, playful dining culture. My mother always said "don't play with your food" but that's all we want to do now. It's a taboo. Asia was just opening its eyes to the new dining world and it was by luck we found ourselves in the right place at the right time so we took the opportunity."
According to Gaggan, he was in depression during the lockdown. To make himself feel better, he started working out.
Gaggan went International to open start his career. Giving reason for not opening a restaurant in India, he said,


The problem in India is that we think the customer is always right. Chefs will modify their dishes according to what the guest wants. We are too pampered. My cuisine is not meant to pamper, it is to understand and enjoy. We cook what Gaggan wants to cook. That's why I had to get international recognition before coming back to India. If I had started here as a nobody, I don't think it would have worked."
On Valentine`s day, Gaggan posted about his toxic relationship with his first wife and wrote,


The true reason I left India was that no one would believe but today I am not scared to say that I ran from my first wife .. she was my first love we were together from 1998.. I ran from her becoz after 7 years of toxicity I had no love left although funny enough I gave her second chance we lived in thailand together 2007-2008. She was the most Abusive person I met .. mentally ill or maybe I always thought I wasn't good enough…we separated legally and I forgave her but the scars remain .. and this is life many times relationships happed love happened and things change love is healing today I have love and happiness becoz I believe in love and rebel in life .. Don't accept and loveless life in a toxic relationship being free and happy is most important thing. Happy valentines to all of u .. real love heals !! 14 years back I ran to freedom."