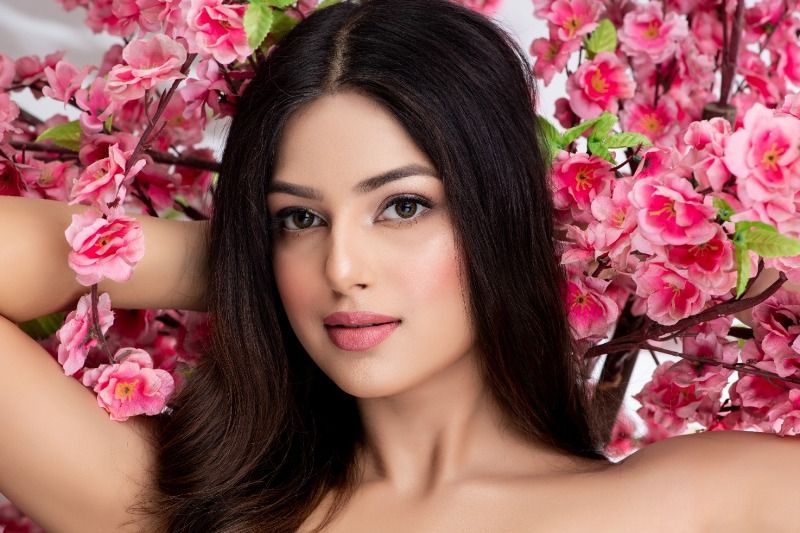 Harnaaz Sandhu is an Indian model who holds the title of Miss Universe 2021. She is also the title holder of Femina Miss India Punjab 2019 and Miss Diva Universe 2021.
Wiki/Biography
Harnaaz Kaur Sandhu [1]Instagram-Harnaaz Sandhu was born on Friday, 3 March 2000 (age 23 years; as of 2023) in Kohali village of Gurdaspur district in Punjab. Her zodiac sign is Pisces.
Harnaaz Sandhu, when she was 6, went to England with her family, but later, in 2008, she shifted back to India and settled in Chandigarh. She attended Shivalik Public School, Chandigarh for her primary and secondary education. Later, she got herself enrolled at the Post Graduate Government College for Girls, Chandigarh to earn a bachelor's degree in Information Technology.
Physical Appearance
Height (approx.): 5′ 9″
Weight (approx.): 50 kg
Figure Measurements (approx.): 34-26-34
Hair Colour: Dark Brown
Eye Colour: Black
Family
Parents & Siblings
Harnaaz Sandhu was born in a Jatt family in Punjab. [2]Hindustan Times Her father, Pritampal Singh Sandhu, is a real estate realtor. Harnaaz's mother, Rabinder Kaur Sandhu (Ruby), works as gynaecologist. Harnaaz Sandhu has an elder brother, Harnoor Singh Sandhu. He works as a musician and a video editor.
Career
Harnaaz Sandhu began her modelling journey during her school days. She participated in a number of modelling events held in her city. Her first major achievement was when she won the title of 'Timesfreshface Miss Chandigarh 2017.' In the same year, she also earned the title of 'Miss Chandigarh 2017.'  Next, in 2018, she participated in Miss Max Emerging Star India in which she showcased her modelling as well as acting and dancing skills. During the finale, which was held at Infiniti Mall in Malad, Mumbai, Harnaaz Sandhu, along with Imtiaj Haque, was announced as the winners of 'Mr. Max Emerging Star 2018.'
In 2018, Harnaaz Sandhu participated in 'Femina Miss India 2019.' She was among the top three contestants selected to represent Panjab at the Miss India beauty pageant. Harnaaz ended up being in the top 12 contestants of the competition. In 2021, Harnaaz Sandhu participated in the Miss Diva 2021 and secured a place in the top 20 contestant list by competing with 49 other beauty titleholders from all across the country. Harnaaz introduced herself as the competition as
From a young girl with fragile mental health who faced bullying and body shaming to a woman who emerged like a phoenix, realising her true potential. From an individual who once doubted her own existence to a woman who is aspiring to inspire the youth. Today, I stand proudly in front of the Universe as a courageous, vivacious and compassionate woman who is all set to lead a life with a purpose, and to leave behind a remarkable legacy."
Harnaaz Sandhu won a number of beauty titles during her Miss Diva 2021 journey, inclduing 'Miss Beautiful Skin,' 'Miss Beach Body,' 'Miss Beautiful Smile,' 'Miss Photogenic,' and 'Miss Talented.' 'Global Warming and Climate Change' was the topic she was given to speak in the final round, responding which she delivered,
One day, life will flash before your eyes, make sure it's worth watching. However, this is not the life you want to watch, where the climate is changing and the environment is dying. It is one of the fiasco that us humans have done to the environment. I do believe that we still have time to undo our irresponsible behaviour. Earth is all we have in common and our small acts as individuals when multiplied by billions can transform the whole world. Start now, from tonight, switch off those extra lights when not in use. Thank you."
Harnaaz Sandhu represented India at the 'Miss Universe 2021,' 70th Miss Universe pageant, held on 12 December 2021 at Universe Dome in Eilat, Israel. She aced every round including the displays of national costumes, evening gowns, and swimwear.
Harnaaz Sandhu left everyone amazed with her answer during the public speaking round. The question she was asked during that round was,
What advice would you give to young women watching on how to deal with the pressures they face today?"
She replied to this by saying,
The biggest pressure the youth of today is facing is to believe in themselves. To know that you are unique makes you beautiful. Stop comparing yourselves with others and let's talk about more important things that are happening worldwide. Come out, speak for yourself, because you are the leader of your life. You are the voice of your own. I believed in myself and that is why I am standing here today."
Harnaaz Sandhu secured a place in the top 3 of the Miss Universe 2021 with her remarkable answer and was eventually declared the winner of the Miss Universe 2021 beauty pageant. Harnaaz Sandhu was crowned as the 'Miss Universe' by her predecessor Andrea Meza from Mexico.
Soon after Harnaaz Sandhu was declared the Miss Universe 2021, she received innumerable calls, congratulatory messages, and a massive outpouring of love from the nations across the globe, especially from her home country, India. Former Indian Miss Universe Sushmita Sen and Lara Dutta congratulated her through a social media post.
Several other Bollywood celebrities including Priyanka Chopra, Kareena Kapoor Khan, Neha Dhupia, Neil Nitin Mukesh, and Kangana Ranaut also congratulated Harnaaz Sandhu by posting social media stories and posts. Prime Minister Narendra Modi also took to Twitter to congratulate Harnaaz Sandhu on her historic win.
Congratulations to Harnaaz Sandhu on being crowned Miss Universe. Best wishes to her for her future endeavours.

— Narendra Modi (@narendramodi) December 13, 2021
Harnaaz Sandhu posts her Miss Universe win thanked her well-wishers for their congratulatory messages. During the media interaction, she said,
All this is still unbelievable to me. The only word that comes to my mind to describe how I am feeling is unbelievable. To hear the name of my country 'India' on that platform (when the winner was being announced) was the feeling I would never be able to put in words. I cried and everyone around me cried. We waited for this day for 21 years and I could not believe that it was all actually happening. It is still unbelievable to me."
Controversy
On 4 August 2022, she was sued by film producer Upasana Singh in a Chandigarh court. According to Upasana Singh, Harnaaz Sandhu breached the contract by not making herself available during the promotion of the film Bai Ji Kuttange in which she played the lead role. The film producer, through a civil suit, asked for damages from Sandhu. [3]NDTV
Favourites
Food: Makki di roti with sarson da saag
Quote: "Great things happen to those who don't stop believing, trying, learning, and being grateful."
Song: 'Smile' by Katy Perry
Facts/Trivia
Harnaaz Sandhu's mother during a media interaction told her fans that Harnaaz is a very religious person. She finds peace in visiting Gurudwara. Her mother said,


Harnaaz is also very religious. We will surely visit the Golden Temple in Amritsar to thank God for her success. After this, I will not force her to do anything but she loves working with underprivileged kids and I will encourage her to do this and speak out on women empowerment."
Harnaaz Sandhu along with her mother and brother Hid it from her father that Harnaaz wanted to contest in beauty pageants. They kept it a secret until Harnaaz won her first beauty contest. Harnaaz' father narrated the story as,


When she participated in her first pageant, her mother and brother hid it from me. It was only after she won that they told me of this interest of hers. I immediately told my daughter that there was no need to hide her interests. Times have changed and she must do what she is good at."
Harnaaz Sandhu has acted in two Punjabi movies which will be released in 2022. 'The Kapil Sharma Show' fame actress Upasana Singh revealed that she has signed Harnaaz for two Punjabi movies. Upasana Singh and Harnaaz Sandhu shares a close bond. Harnaaz used to stay with Upasanawhile preparing for the Miss Universe competition. According to Upasana, Harnaaz Sandhu called her after winning the crown and promised her to come at her place as soon as she lands in Mumbai. Upasana said,


She called me after winning the crown and shouted that she fulfiled her promise. I could feel her happiness on the phone. In fact, I got really emotional talking to Harnaaz and couldn't stop crying. It felt as if my child had done something. Whenever Harnaaz comes to Mumbai, she stays with me. When her training started after Miss India, we housed her for five days. She was saying that as soon as she comes to Mumbai (from Israel), she will come to my house first."
Harnaaz Sandhu, in one of her interviews, revealed that she was bullied and body shamed for being chubby in childhood. Her friends used to tease her by referring to her as "Kaddu." [4]

YouTube BBC News
Her hobbies include cooking and dancing.
In March 2022, following a heavy troll on social media over her body weight gain, she revealed in an interview that she had been suffering from celiac disease for a long time; the disease is caused by gluten sensitivity. [5]

India Today She said,


I'm one of those individuals who was first bullied that 'she's too skinny' and now they bully me saying 'she's fat'. Nobody knows about my celiac disease. That I can't eat wheat flour and many other things."