Larissa D'Sa is an Indian YouTuber. She is also a lifestyle, travel, fashion & beauty influencer. She is an official GoPro advocate and creator. Larissa has approximately 600 thousand followers on her Instagram account with millions of viewers of her YouTube content. In her content, she presents beauty tips videos and lifestyle blogs.
Wiki/Biography
Larissa D'Sa was born on Saturday, 19 December 1992 (age 29 years; as of 2021) in Mumbai, Maharashtra, India. Her zodiac sign is Sagittarius. She received her school education at Holy Cross Convent High School, Mumbai. Later, she went to L.S. Raheja School of Art and Visual Communication to pursue General Graphic designing and Visual Communications, Mumbai, Maharashtra. [1]Larissa's LinkedIn Account
Physical Appearance
Height (approx.): 5′ 7″
Weight (approx.): 60 kg
Hair Colour: Black (Dyed Brown & Blonde)
Eye Colour: Brown
Figure Measurements (approx.): 34-28-36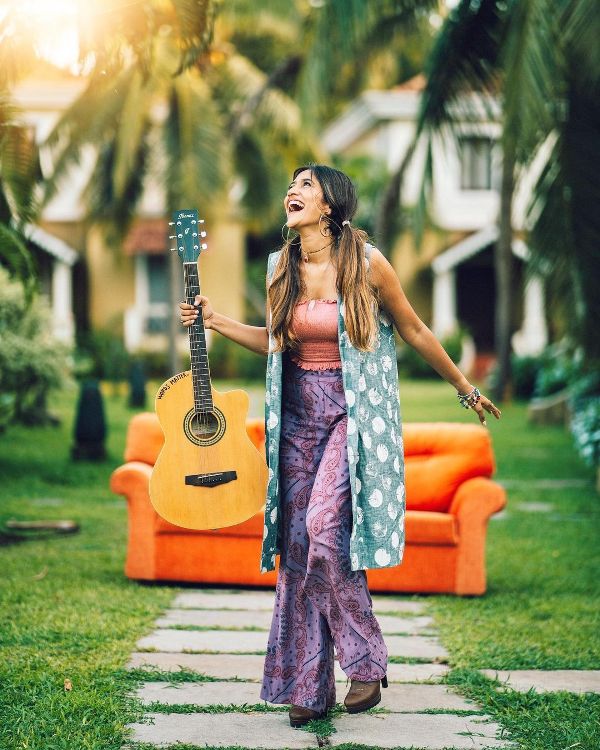 Family
Parents & Siblings
Her father's name is not known. Her mother's name is Lucy D'Sa. Larissa has a brother named Ryan D'Sa.
Her brother is married to Lauretta Lobo.
Relationships/Affairs
Larissa D'Sa is in a relationship with Siddarth Kerkar. He is an artist.
Career
In 2014, Larissa began her career on Facebook by creating an e-commerce page titled "We Love Custom-made." She made DIY things to sell them online on her Facebook page.
Soon, she started working with MCN and left this job in 2015. Soon after quitting the job, she began working as a YouTuber. Her first video on YouTube was "WHAT'S IN MY FAT BAG ? and soon, she posted six more new videos.
At the same time, she also began working as a graphic designer and a professional tattoo artist. Larissa also worked as a senior graphic designer at MissMalini Publishing Private Limited for some time.
Larissa D'Sa is a successful YouTuber. She posts her beauty and travelling videos daily on YouTube. Her popular YouTube videos are "PERIOD STRUGGLES EVERY INDIAN GIRL CAN RELATE TO", "QUICK 1 MIN HAIR BUN", "HOW TO: HIGH PONYTAIL IN 1 MINUTE! NO TEASING, NO SPRAY!", "DIY: EASY FRIENDSHIP DAY GIFT IDEAS." 534 thousand subscribers follow her account on YouTube and 518 thousand on Facebook.
In an interview with TellMeNothing magazine, Larissa D'Sa was asked about the challenges she faced while making the videos on YouTube. She then replied,
I see some things then I combine those things making my own stuff. Obviously not like an entire replica but there is someone somewhere who has those same ideas already on YouTube. And then people start accusing you of stealing someone's ideas or something. Doesn't really happen with me all the time but once or twice it has happened. Its very annoying because you come up with something and people blame you for copying and thats very bad."
Larissa also promotes various beauty products on her social media account.
She is also a travel influencer.
Larissa D'Sa also runs an online art & stationery store, Feliz Land.
Favourites
Singers: Sia, Adele, Criss Issak
Holiday Destinations: London, Thailand & Bali
Coolest spots to take a photo: The Tower Bridge, Winter Wonderland during Winters, the London Tube, St. Paul's Cathedral
The best place to have a coffee: Pret for the local style, Peggy Porchen for the luxe traveller
The best place to grab a drink:  Mercato Metropolitano
Museum or art gallery: Tate Modern, White cube gallery:
Activity: Axe throwing at Vauxhall
Car Collection
Larissa D'Sa owns a white Jaguar XF 2. OD and a BMW.
Facts/Trivia
She follows a non-vegetarian diet.
Kukri and Cookie are Larissa's nicknames. She is called by the nickname 'Mulla' by her father. [2]

Larissa's YouTube Account
Larissa loves to drink alcohol.
In her leisure time, she adores painting, travelling, shopping.
In a conversation with TellMe Nothing Magazine, she was asked that what else she liked to do besides work. She then answered,


When I'm not working that is something thats never happened. But most of the times I am not working…. I am shopping, Cooking, and I really love nature trails."
She received the Cosmo Travel Influencer of the Year award in 2020-21.
She engraved a tattoo titled 'Ohana' on the inner side of her left forearm.

She also inked 'There is Hope, Should Oceans Rise, Mountains Fall, and He Will Never Fail' signs on the left side of her upper waist.

She tattooed a Palm Tree on her right-hand ring finger.
According to Larissa, her best memorable moment was when her article got published in The Times of India newspaper. In a conversation with a media house, she recalled,


The best memory is when there was quite a big article of mine printed on the 4th page of Times Of India. That was pretty huge for me. That is one important thing and then there were 2 or 3 more newspaper edits of mine. Now as a blogger and YouTuber I am getting to work with really huge brands like Samsung and Colgate and other brands."
Larissa is an animal lover. She often posts pictures of her pet dogs named Tarzan and Chiquita on her social media account.
In a conversation with the Times of India, Larissa D'Sa revealed her daily routine. She narrated,


I started posting photos in the first week of May, online. I am loving how my mind and body has been responding to it. And that's why I wanted others to know about how important it is to wake up earlier than your usual 6am is helpful. My point is, when you wake up earlier than your usual time and sleep for an hour in the afternoon, your day is much more productive."

She further added her workout routine,

By 5.30am I'm out on my walk and run. It helps being in Goa. I can actually see the break of dawn, mentally it's very calming and gives you a different kind of a high. My mental and physical health has shot up. Since I started posting this on my story, many people started asking me. So I started putting up tips and benefits of it. And slowly people started joining in. And now I have an online 4am club on Dicord, where there are over 4000 people, in just a month."
Larissa is also a TEDx speaker. Several leading magazines like Huffington Post and Vogue featured her on their cover page.
In an interview with HOLR media house, she disclosed her favourite travelling places to get photographed. She exclaimed,


My trips to Varanasi and Scotland have been my favourites at the moment. Nagaland gave me a serious culture shock too. I also loved the Maldives for its blue horizons and underwater life. Would love to visit it every year.
According to Larissa, she read a lot of blogs before travelling to different places. She explained in an interview, how she planned to travel and eat while getting photographed. She expressed,


I read a lot of blogs before I travel. I make a list of the things I must visit and eat at. I'm not that big a foodie, but I make sure I taste the local foods. I do not miss my Indian food on my trips at all. As I said, I like to blend in the culture and food is a part of travel."

She further added that travelling gave her a lot of experience in life. She told,

Everything is temporary: your problems, your worries, even happiness for that matter, and also the people. It sounds wrong, but I perceive it in the most positive way. It's taught me that travel can give you the experience nothing else can."