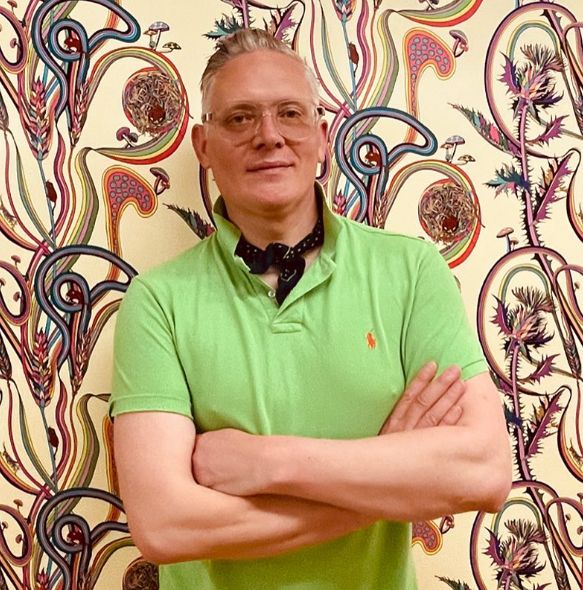 Gilles Deacon is a British fashion designer, and creative director and has founded his own fashion label, Giles Deacon group.
Wiki/Biography
Gilles Deacon was born in 1969 (age 54 years; as of 2023), in Darlington, UK, and grew up in Ullswater in the Lake District. He completed his school at Barnard Castle School in County Durham. After failing his chemistry A-level in order to become a marine biologist, he did an art foundation course at Harrogate College of Arts. [1]Telegraph UK Later, he completed his formal education at Saint Martins College of Art in London.
Physical Appearance
Height (approx.): 6′ 1″
Weight (approx.): 85 kg
Hair Colour: Blonde
Eye Colour: Green-hazel
Body Measurements (approx.): 44-34-38
Family
Parents & Siblings
Deacon's father David is an agricultural salesman. His mother Judith is a housewife. He also has an older sister.
Wife & Children
He is unmarried.
Relationships/Affairs
In the past, Giles has dated Katie Grand (founder of Dazed & Confused and Pop Magazine and fashion stylist) and former model Sophie Dahl.
He has been dating British actress Gwendoline Christie since early 2013.
Career
As a Deisgner and Enterpreneur
After graduating in 1992, he teamed up with his friend Fi Doran to create the 'Doran Deacon' label, while also contributing illustrations to the British style magazine, Dazed & Confused. He collaborated with notable designers such as Jean-Charles de Castelbajac, Bottega Veneta, and Tom Ford. Later on, he obtained a loan to establish his own label, GILES, which he launched in 2003. His debut collection, styled by his friend Katie Grand, premiered at London Fashion Week in February 2004. In April 2010, he was appointed as the creative director of the French fashion brand Ungaro. Deacon unveiled his first collection for Ungaro in October 2010, which was widely anticipated. However, he ended his collaboration with the brand in 2011. In 2016, Deacon introduced his first couture collection.
TV Shows
As a judge, Deacon made an appearance on Britain's Next Top Model in 2010. He also participated in the Channel 4 entertainment series, New Look Style the Nation, starting in June 2011.
Jewelry Collection
Deacon has collaborated with various companies, such as Sky, Converse, and Evoke. The partnership with Evoke also resulted in the development of his debut jewelry collection in 2008.
Fashion Style
Deacon is recognized for his unconventional approach to women's fashion and frequently incorporates bold prints and references to pop culture in his creations. He characterizes his designs for GILES as provocative, humorous, and alluring, and emphasizes the importance of diversity among his garments. According to Deacon, his dresses are intended for women of all ages, including both young and mature audiences. His trademark "structured big-entrance" dresses are designed to capture attention and make a statement. In May 2011, Deacon declared that his designs are not for the faint-hearted and that his collections would always be distinctively British, quirky, and offbeat.
Awards, Honours, Achievements
Best New Designer at the British Fashion Awards (2004)
Young Designer Award at Elle magazine's Style Awards (2005)
British Fashion Council's Fashion Forward Award (2006)
British Fashion Designer of the Year at the British Fashion Awards (2006)
Best British Designer at Elle Style Awards (2007)
French ANDAM Fashion Award's Grand Prix (2009)
GQ magazine's Designer of the Year (2009)
Car Collection
He does not own a car and likes to ride his bike. Giles Deacon has a custom-made bike from the 14 Bike Co. [2]Australian Fashion Week – YouTube
Properties
He has his family home in Islington, London, and his apartments in Paris and Italy.
Favourites
Album: Hacienda acid-house classics
Book: Ways of Seeing by John Berger
Clothing: Happy colorful socks and Tom Ford boxer shorts
Art Piece: Works of Irving Penn
Building: Sir John Soane's Museum in Lincoln's Inn
Own Collection: Swan Collection (2012)
Facts/Trivia
Giles began drawing at the young age of three, often seeking inspiration from nature in the hills. His drawings were referred to as "funny little garden drawings". [3]

Style.com – YouTube
During his childhood, Giles' love for animals and insects led him to dream of becoming a zookeeper or a marine biologist, although he was unsuccessful in the relevant examination. [4]

Independent UK
Giles designed the 2020's Oscars outfit for the American Actor Billy Porter.
Giles' notable collaborations include his partnership with the fashion chain New Look. He launched his collection, Gold by Giles, in March 2007 and featured actress Drew Barrymore in its initial ad campaigns. Subsequently, British model Agyness Deyn became the face of the collection's key pieces for Giles' fourth collection.
In late 2015, Giles created a women's clothing collection for Debenhams, which was modeled by Daisy Lowe and named Giles Deacon's Edition.
Giles was responsible for designing the dress that Cate Blanchett wore at the 2015 Cannes Film Festival, which was named the best dress of the festival that year and the second-best dress of all time, behind Grace Kelly's. [5]

GT Bank – YouTube
In 2005, Givenchy offered Giles a job but required him to give up his own label. Giles refused and instead chose to continue designing independent collections for London Fashion Week. (Source: Unknown)
Giles' passion for chocolate led him to collaborate with Cadbury's Caramel Nibbles in 2013. He designed a strapless white tulip Nibbles dress, featuring a chocolate polka-dot print, ruffle details, and a bold pussy-bow necktie for the Caramel Bunny. Additionally, he created a limited-edition scarf that included the bunny's eyes, colored chains, and pink bows.
Giles collaborated with British fashion brand Mulberry for two seasons and launched a line of accessories named "Mulberry for Giles".
While studying at Central St Martins, Giles shared a classroom with renowned designers such as John Galliano, Georgina Godley, Calvin Klein, Alexander McQueen, and Luella Bartley.
Giles Deacon designed outfits for notable celebrities such as Victoria Beckham and The Spice Girls at the 2012 Olympics Closing Ceremony.
He had his contract with Bottega Veneta terminated after a year when Gucci acquired the company, resulting in the hiring of German designer Tomas Maier.
In 2002, due to an infected salivary gland, Deacon had to leave Gucci after only one season.
His clients include Thandiwe Newton, Princess Beatrice, Scarlett Johansson, Cate Blanchett, and Kerry Washington donning his dresses at various red-carpet events.
Pippa Middleton's wedding dress was also designed by Deacon in May 2017.
In 2008, during the London Fashion Week, Deacon showcased a futuristic-themed collection, drawing inspiration from the 1980s arcade game Pac-Man. The collection featured several dresses with the Pac-Man character and models wearing oversized Pac-Man helmets.
Deacon considers drawing to be a calming and therapeutic activity, which he engages in daily for at least thirty minutes. He carries four different drawing books with him and also enjoys using a potter's wheel.
Cooking, however, is not one of his passions, as he finds the food products in his fridge uninspiring.
Deacon's hobbies include swimming, hiking, macramé, and gardening.
He has also designed some statement outfits for celebrities like Cara Delevigne, Kendall Jenner, Pink, and Lily Allen among others.
His sources of design and style inspiration include Elsa Schiaparelli, Miuccia Prada, Coco Chanel, Mr. J.M. Millet, and Yves Saint Laurent.