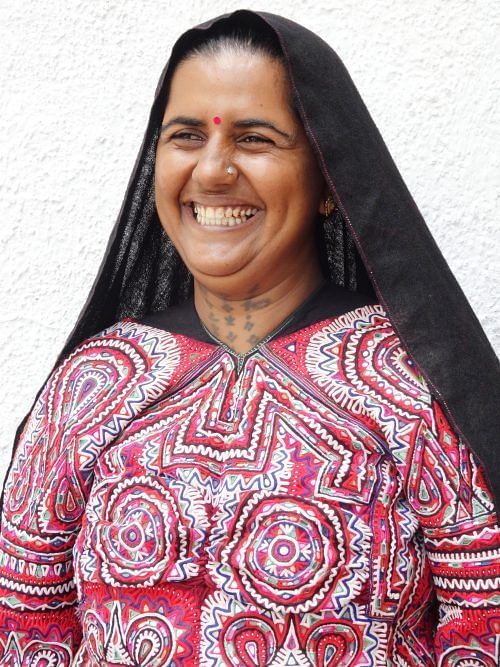 Pabiben Rabari is an Indian entrepreneur who is known for her Artisan brand Pabiben.com, based in Bhadroi village in Anjar taluk of Kutch district.
Wiki/Biography
Pabiben Laxmi Rabari [1]Artisans' Centre was born in 1984 (age 36 years; as of 2020) in Kukadsar village of Mundra taluka of Kutch district of Gujarat. She did her schooling only till class four and dropped out of school because she could not afford to commute to school in the other village despite education being free. [2]Indian Express At an early age, she started learning traditional Rabari embroidery from her mother and grandmother.
Physical Appearance
Eye Colour: Black
Hair Colour: Black
Family & Caste
She belongs to the Dhebariya community, related to Rabari Tribe (also known as Rewari or Desai), a tribal caste of nomadic cattle and camel herders and shepherds. [3]The Better India
Parents & Siblings
When she was five years old, her father, Mobhi, passed away. Her mother's name is Tejuben. She has two younger sisters.
Husband & Children
When she was 17 years old, she got married to Laxman Bhai Rabari, who lived in the jungles of Chattisgarh where he reared cows and buffaloes. After her marriage, she went to live with her husband, but when she couldn't adjust there, she convinced her husband to return to her homeland and settled with her husband in Bhadroi village of Gujarat. There, her husband worked at a grocery store in Anjar Market, which he soon left to help Rabari in her business. She has two sons.
Career
In her community, there was a custom followed in which women used to take embroidered pieces as dowry to her husband's home. This often led girl's to stay at her parents' home to finish the dowry pieces; sometimes, girls stayed at her parents' home till she got 35 years old. When elderlies in the village realized that the custom is leading to late marriages, they banned embroidery in the 90s. Pabiben wanted to keep the tradition alive, and started working with Bhuj-based Kala Raksha Trust, an organization working for the preservation of art; she worked with them for 12 years. In 1998, joined a Pabiben joined a Rabari women's group in which she soon came to be known as the master artisan.
To keep the traditions alive, she connected women of her community and invented a new art form with the machine application of ready-made element called 'Hari Jari,' which later became popular as 'Pabi Jari.' The first accessory that she made of it was a shopping bag, an instant hit that came to be known as 'Pabi Bag,' which was created at Kala Raksha Trust.
Judy Frater, founder-director of Somaiya Kala Vidya (an organization serving traditional artisans from Kutch, Gujarat), who has worked with Pabiben, recollects,
One day, when l was about to take a trip to the US, I told Pabiben that some day she should make a bag for me. She made it before my departure so I took it with me. People loved it so much that we decided to produce and market more such bags. I named it the 'Pabi Bag', and the rest is history."
After the 2001 Bhuj earthquake, Kutch saw a rise in its economy as many companies started investing there. Tourist activities increased during the White Rann Festival, which gave a boost to traditional attire and handicrafts. Soon, she started getting work from traders, who would provide her with materials and designs to stitch. After gaining experience, she began making her own products and set up her own brand and website 'Pabiben.com,' which has customers from India and around the globe. To gain a bigger reach, she travelled from one city to another in various exhibitions. Her first big order was of 70,000 from a store in Ahmedabad. Later, she also received grants from the Gujarat Government in 2015. Pabiben is working alongside women artisans in her community to produce products like purses and bags, toiletry kits, dhurries, files, quilts, cushion covers, etc. Her designs have been featured in Bollywood films like Luck by Chance (2009) and Hollywood movies like The Other End of The Line (2008).
In 2013, she became one of the 3,000 artisans from across the world to be invited to the Santa Fe Folk Art Festival, Santa Fe, USA. However, she couldn't get a visa to visit the festival. She has also participated in the International Buyer Seller Meet in Ahmedabad, Design Workshop with Vietnamese artisans in Delhi, and exhibition at India International Centre, New Delhi. In 2019, Pabiben.com recorded a turnover of over Rs. 25 lakh. [4]Deccan Herald As of 2020, she has employed 160 families of her community. Pabiben.com has won international clientele including US-based Smithsonian Institution, Vastra, Taj Group of Hotels and Resorts apart from museums, heritage shops, and designers.
Awards
&
Honours
Quality Mark Women Award by Ahmedabad-based trust at Mahatma Mandir in Gandhinagar in 2016
IMC Ladies' Wing Jankidevi Bajaj Puraskar in 2016
National Award for Outstanding Performance in Rural Business in 2018
Mahila Shakti Award By ASSOCHAM in 2018
International Craft Award at India Craft Week in 2019
Honoured with a memento by Gujarat's Chief Minister Vijay Rupani for her outstanding contribution in the field of handicrafts in 2020
Honoured with an award for her special achievements in the field of handicrafts by Wings Group Gandhidham in 2020
Swayam Siddha award by GCCI
Best Rural Entrepreneur by Ministry of MSME, Government of India
NABARD Excellence in Business Initiative Award
Nari Shakti Award by Gujarat Government
Mahila Udhyami Award by Hari Om Ashram
Facts/Trivia
After her father's death, her mother became the bread-earner for the family. To alleviate her mother's burden, she started fetching water for the villagers for Re 1. Gradually, Pabiben started to earn more by working in the salt pans and doing 'lippan' clay art. At the same time, she learned embroidery from her mother and began making clothes for herself and shawls for men.
Her husband was most supportive of her idea to work and earn. When she first started working, women weren't even allowed to go out of their home, selling items outside of the village was few and far between. Many people ridiculed her husband. Her husband did not pay heed and continued to support her. As she became popular, the people who once gave her an earful, started praising her feeling proud of her achievements. Talking about it in an interview, her husband said,


Initially, people would badger me saying 'Your wife will leave the community', but I would retort, 'I trust her.' Today, those same people are proud of her success and the changes she has brought to our community."

Talking about it in an interview, Pabiben said,

Giving up was never an option for me, no matter how hard the circumstances. Each of us is fighting our own battles. But as long as we are determined to remain steadfast, we will reach our goal. My husband has been a pillar of support in my life. In a community where women are not supposed to step outside the home, he stood with me as I chased my dream. They say that behind every successful man is a woman, but in my case, it is clearly my husband who deserves this credit"
According to Pabiben, she has a lucky bag, which she carries along with her wherever she goes.
The book 'Millionaire Housewives: From Homemakers to Wealth Creators' (2017) by Rinku Paul and Puja Singhal on the success stories of twelve female entrepreneurs who overcame challenges and gain success, features the story of Pabiben.

She is a part of Kaarigar Clinic, an initiative by Nilesh Priyadarshi that helps artisans to promote their art and making them successful in their business. The initiative includes Pabiben Rabari, Jabbar Khatri (a traditional block printer), Rajiben Vankar (a traditional weaver from Kotay village), and Jyotsanaben (a skilled painter, capturing textile art of Mata Ni Pachhedi). During the COVID-19 pandemic, the clinic introduced The Local Gift Boxes that helped the artisans during the economic recession in India.
Belonging from the Rabari community, she has traditional tattoos of symbols on her neck, breast, and arms.
In 2018, she was a part of the promotion of the Bollywood film 'Sui Dhaaga.'
In 2021, she appeared in Kaun Banega Crorepati's Karamveer Special alongside Anupam Kher. The show airs on Sony TV and is hosted by Amitabh Bachchan.