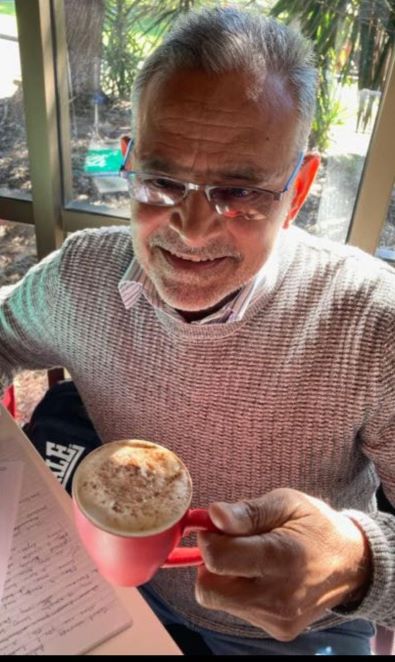 Abbas Ramsada is a retired Gujarat government Class-II employee who served the Food and Supply Department in Gujarat for a long time. In June 2022, he came into the limelight when his name was mentioned by Indian Prime Minister Narendra Modi in one of his (Modi) blog posts. On 18 June 2022, Narendra Modi was celebrating the 100th birthday of his mother and wrote a heartfelt note on his blog while remembering his childhood memories linked with his mother.
Wiki/Biography
Abbas Ramsada was born in 1958 (age 64 years; as of 2022) in Kesimpa village in Mehsana, Gujarat. He attained his school education at BN High School in Vadnagar, Gujarat.
Physical Appearance
Hair Colour: Salt and Pepper
Eye Colour: Black
Family
Parents & Siblings
There is not much information about his family.
Wife & Children
He is married and has two sons. Reportedly, his younger son lives in Sydney, and Abbas lives with him. His elder son lives in tehsil Kheralu, district Mehsana in Gujarat.
Career
Abbas Ramsada worked as a Class-II employee of the Gujarat government in the Food and Supply Department for a long time. In 2021, he superannuated from his service.
Childhood Friendship with Narendra Modi
Narendra Modi wrote a blog post on 18 June 2022 and remembered his childhood friend Abbas, who lived for two years with Modi's family when they were small children. Modi wrote,
After the untimely death of my father's close friend who stayed in a nearby village, my father brought his friend's son, Abbas (Ramsada), to our home. He stayed with us and completed his studies. Mother was as affectionate and caring towards Abbas as she was towards all of us siblings. Every year on Eid, she prepared his favourite dishes."
Modi further added the memories of his Vadnaga village and their small house which did not even have a window. Modi stated,
A tiny house in Vadnagar, "which did not even have a window, let alone a luxury like a toilet or a bathroom. We used to call this one-room tenement with mud walls and clay tiles for a roof, our home."
Narendra Modi mentioned that his mother used to find happiness in the joy of others and she was not guilty of having a small house. She welcomed everyone at her house with love and respect. He penned,
Our house may have been small, but she was extremely large-hearted."
In his blog, Narendra Modi mentioned the name of his friend Abbas whose home was a little far away in another village. Modi wrote that his friends used to come to his house at festivals and his mother enjoyed making special dishes for them. He wrote,
On festivals, it was commonplace for neighbourhood kids to come to our house and enjoy Mother's special preparations."
In a media conversation, Narendra Modi's brother stated that Abbas Miyanjibhai Ramsada Momin used to live at Kesimpa village in Mehsana, Gujarat and was like a family to them. Narendra Modi's brother, Pankajbhai, added in the same interview that Abbas used to study in his class. Pankajbhai stated the nature of Abbas during the conversation. He said,
A noble human being who would perform namaaz five times a day and also did the Haj."
Pankajbhai further narrated that Abbas came to live at their home when he was in eight-ninth class. He lived with them for two years and used to celebrate all the festivals with them. Pankajbhai said,
Abbas's father and my father were friends. There was no high school in his village and he was about to quit studies after his primary education…Abbas finished his Class 8-9 staying with us."
Pankajbhai said that Abbas used to wear a black shirt of him on the occasion of the Muharram festival. He said,
Abbas was like a family member. On festivals my mother would cook food for him. I remember on Muharram when Muslims mourn and wear black… I had a black shirt which Abbas would wear."
Indian Prime Minister Narendra Modi wrote in his blog post that his father was a fast friend of Abbas's father, but Abbas's father died untimely, and this incident halted the further studies of Abbas at his village. Keeping the future of Abbas in mind, Modi's father bought him to their village in Vadnagar and kept him at his house so that he could continue his further studies. The family members of Abbas were convinced by Modi's father, Damodardas so that they could send Abbas with him to stay with him. Modi wrote,
In a way, Abbasbhai stayed and studied in our house.. Like all of us children, mother used to take great care of Abbasbhai too. On Eid, mother used to prepare dishes of his choice for Abbasbhai."
In a media conversation, Prahlad Modi, another sibling of Narendra Modi, stated that Abbas completed his matriculation studies at their home and stayed at their house for two years. Soon after finishing his tenth class, Abbas left their home. Prahlad Modi said,
Abbas stayed with us for a few years and left after matriculation. He was my brother Pankaj's classmate."
Facts/Trivia
Apart from being a retired Gujarat government employee, Abbas is also an author of a book in which he mentioned Narendra Modi and his family. He wrote in his book that Modi's family played an essential role in resolving his life and career after the death of his father.
According to some media sources, Abbas finished his SSC exams in 1973-74. During this time, Narendra Modi shifted from Vadnagar to Ahmedabad where he joined RSS as its full-time preacher. Narendra Modi's brother Pankajbhai and Abbas used to work together in the Gujarat government. Pankajbhai served in the information department and Abbas worked in the civil supplies department of the Gujarat government.
Kamlesh Trivedi, the trustee of the BN High School in Vadnagar, stated in a media conversation that Narendra Modi and Abbas used to study together in the BN High School in Vadnagar and were very close to each other. Their friendship was popular during school days. Kamlesh further added that Narendra Modi and Abbas often visit the school together to attend its functions and programs.
In June 2022, soon after Abbas's name went viral in the media, several media reporters paid a visit to the ancestral village of Abbas. At his village, the media reporters met Abbas's maternal uncle and the Gram Panchayat member, Gula Haider, who remembered that Abbas's father was a very close friend of Damodardas. They used to run small tea shops, which were installed side-by-side in the Vadnagar market. Gula Haider stated that Abbas's father used to sell tea while Narendra Modi's father was popular for selling Bhajiya. He said that Damodardas took Abbas with him from Casimpa to Vadnagar when Abbas's father died suddenly. He said,


Seeing this, Damodar Kaka (Modi's father) kept Abbas in his house, taught. His mother used to treat Hiraba Abbas like her own children."