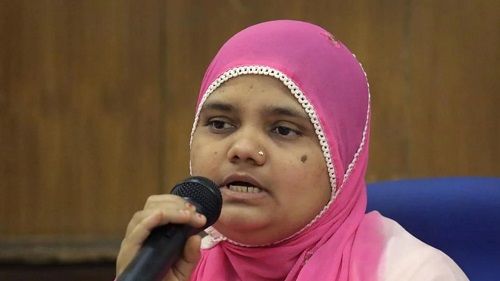 Bilkis Bano is an Indian rape survivor. She was brutally raped by a mob during the Gujarat riots in 2002.
Wiki/Biography
Bilkis Yakub Rasool [1]The Wire was born in 1981 (age 41 years; as of 2022) in Village Radhikpur, District Dahod, Gujarat. Later, she shifted to Devgadh Baria, Gujarat.
Physical Appearance
Hair Colour: Black
Eye Colour: Black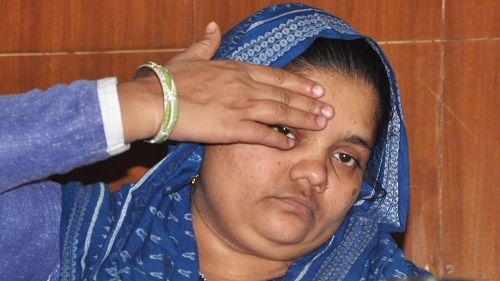 Family
Bilkis belongs to a Muslim family. [2]The Indian Express
Parents & Siblings
Her father, Abdul Ghachi, had a milk-selling business. Her mother and sisters were brutally killed in the Gujarat Riots in 2002.
Husband & Children
Bilkis is married to a man named Yakub Rasool. The couple has three daughters. Their first daughter named Saleha was killed in Gujarat Riots (2002). In her memory, they named their third daughter Saleha.
2002 Godhra Riots Rape Victim
On the morning of 27 February 2002, a coach of Sabarmati Express was attacked by a mob of Muslims. The train was heading from Ayodhya to Godhra carrying Hindu passengers. The mob ignited the train and around 59 Hindus were burnt in the train.
As soon as the news spread that the attackers were Muslims, a rage started among the Hindus of Gujarat. The mobs of Hindus started attacking Muslims across the state. They started looting, killing, and even raping the Muslims. Many Muslim families were killed in the attack. Bilkis Bano and her family were among those Muslim families who were attacked by the Hindu mobs. When Bilkis got the news that the Hindu mobs were attacking Muslims, she decided to escape with her family to some safer place. During an interview, while remembering the incident, Bilkis said,
I was in the kitchen making lunch, when my aunt and her children came running. They said their homes were being set on fire and we had to leave immediately. We left with just the clothes we were wearing, we didn't even have the time to put on our slippers."
Bilkis (5 months pregnant at that time), her daughter, mother, siblings, and a few other family members then hide at the sarpanch's house in the village. They then took shelter at a school in their village, and later, moved to a mosque. During this time, one of her cousins who was 9 months pregnant delivered a baby girl. Bilkis and her family members tried to escape to different places, but on 3 March 2002, they were spotted by the Hindu mob. The Hindu mob of around 20-30 people attacked Bilkis and her family members. A man from the mob snatched Bilkis' daughter from her and smashed her on a stone after which her daughter died. Later, the mob brutally raped Bilkis, her siblings, and her mother. Out of her 17 family members, 8 were killed and others went missing. After the brutal attack, Bilkis was left unconscious, the mob thought that she was dead, so they left her there. Reportedly, she came into her conscious after almost three hours. She covered her naked body with a petticoat lying nearby and then escaped to a hillock. On the next day, when she woke up, her throat was drying, so she searched for water nearby. She then spotted a handpump where an Adivasi lady gave her some clothes to wear. Bilkis saw a police officer there, she requested him to help her. He then took her to the Limkheda Police Station in a police jeep. At the police station, she gave her statement to the Police Head Constable, Somabhai Gori. Bilkis was the only witness left who knew the names of the culprits as most of the men were her known and from her village. The head constable denied registering her complaint and sent her to a relief camp. At the camp, she met her husband who was missing after the incident. During an interview, Bilkis' husband talked about the incident. He said,
I put everything aside—the riots, the family we had lost. I spoke to her with love, I tried to bring her out of the pain she had endured.' Since then, I have heard Bilkis testify a million times, to NGO workers, to lawyers, to journalists, but I have never asked her—what happened to you? Who did what? You have heard the words too, but every time, I have felt them in my heart."
In the camp, Bilkis had a medical examination, and immediately her case was taken by the National Human Rights Commission (NHRC). Later, the Supreme Court of India transferred her case to the CBI. Initially, the CBI tried to find the dead bodies of her family members, but they failed to do so as the bodies were beheaded by the mob. Bilkis then requested the Supreme Court to transfer her case outside Gujarat as she was receiving death threats and had to shift to 20 different apartments. The Supreme Court accepted her plea and in August 2004, the apex court shifted her case from Gujarat to a special court in Mumbai. In court, a case was filed against 19 men including six police officers and a government doctor. Bilkis' case was then taken by the Indian lawyer Shobha Gupta.
On 21 January 2008, in Bilkis' rape case, 13 men were convicted of rape charges, out of which 11 were sentenced to life imprisonment. The special court said that Jaswantbhai Nai, Govindbhai Nai, and Naresh Kumar Mordhiya (deceased) had raped Bilkis, and Shailesh Bhatt had killed her daughter. While other convicts in the case were Radheshyam Shah, Bipin Chandra Joshi, Kesarbhai Vohania, Pradeep Vohania, Bakabhai Vohania, Rajubhai Soni, Nitesh Bhatt, Ramesh Chandana, and Head Constable Somabhai Gori. In May 2017, the apex court upheld the decision of the Mumbai special court. In 2019, the Supreme Court of India directed the Gujarat government to pay a compensation of Rs 50 lakhs to Bilkis, but she refused to take any compensation. Later, a panel was set up by the Gujarat government which gave a green flag to the application of remission of life imprisonment to the convicts. On 15 August 2022, the convicts were released from the Godhra sub-jail. On releasing the convicts, the Additional Chief Secretary (Home) Raj Kumar said,
The remission application was considered because the convicts had completed 14 years in jail, and factors such as "age, nature of the crime, behaviour in prison and so on."
During an interview, Bilkis talked about releasing her convicts. She said,
The decision to free the men was 'unjust.' It has 'shaken' my faith in justice. When I heard that the convicts who had devastated my family and life had walked free, I was bereft of words. I am still numb. How can justice for any woman end like this? I trusted the highest courts in our land. I trusted the system, and I was learning slowly to live with my trauma. The release of these convicts has taken from me my peace and shaken my faith in justice. I appeal to the Gujarat government to 'undo this harm' and "give me back my right to live without fear and in peace."
When Bilkis' husband was asked about the same, he said,
We have been left numb, shocked and shaken. The battle we fought for so many years has been wrapped up in one moment. A sentence of life imprisonment given by the court has been curtailed in such a manner… We had never even heard of the word 'remission'. We didn't even know that such a process exists."
The video and photos after the release of the convicts received huge criticism on social media, as the convicts were welcomed with sweets and garlands.
A few photos from the event went viral in which RSS felicitated the convicts.
In an interview, while talking to the reporters, one of the convicts Shailesh Bhatt said,
We were victims of politics. Singor is a small village. All the convicts belong to this village. We were all victims of politics. I was a farmer and also an office-bearer of the district unit of the Bharatiya Janata Party (BJP) while my brother worked as a clerk at Panchmahals Dairy when we were arrested. We were arrested in 2004 and remained in jail for more than 18 years. It feels good to be home with my family members. Everybody is happy that we are back. My son was eight or nine years old then, now he is an adult and works with Panchmahal Dairy. I am happy for him."
Later, a petition was filed against the release of the victims of Bano. The petition was filed by CPI(M) Politburo member Subhashini Ali, Trinamool Congress MP Mahua Moitra, and women's rights activists. The bench head by the Chief Justice of India N V Ramana agreed to hear the petition on 25 August 2022. In the hearing, the apex court issued a notice to the Gujarat government to give its response in the accused release case.