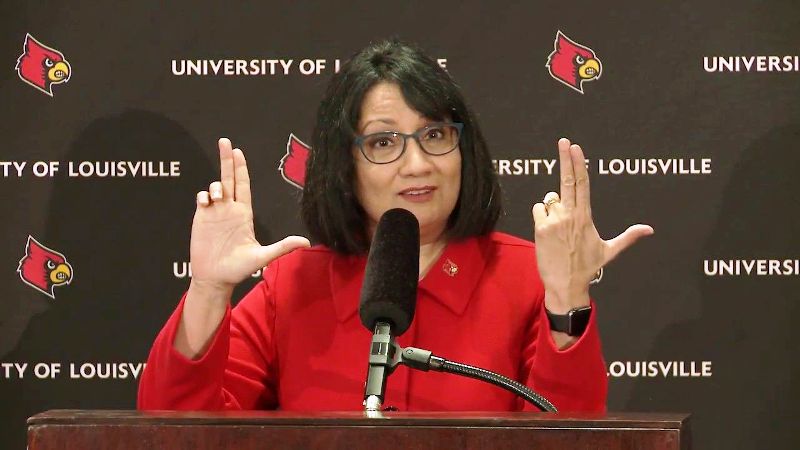 Neeli Bendapudi is an American professor of the Indian-origin. In December 2021, she created history by being named the first female and first person of colour to earn the title of the president of America's prestigious Pennsylvania State University, which she will hold in the spring of 2022. Currently, Neeli is the 18th president of the University of Louisville, which also makes her the first female and non-white person to sit at the position.
Wiki/Biography
Neeli Bendapudi was born in 1963 (age 58 years; as of 2021) in Visakhapatnam, Andhra Pradesh, India. She earned her bachelor's degree in English in 1983 and MBA degree in 1985, both from the Andhra University in India. Next year, Bendapudi moved to the U. S. to pursue her doctorate in marketing from the University of Kansas, which she completed in 1994. [1]Penn State
Physical Appearance
Hair Colour: Black
Eye Colour: Black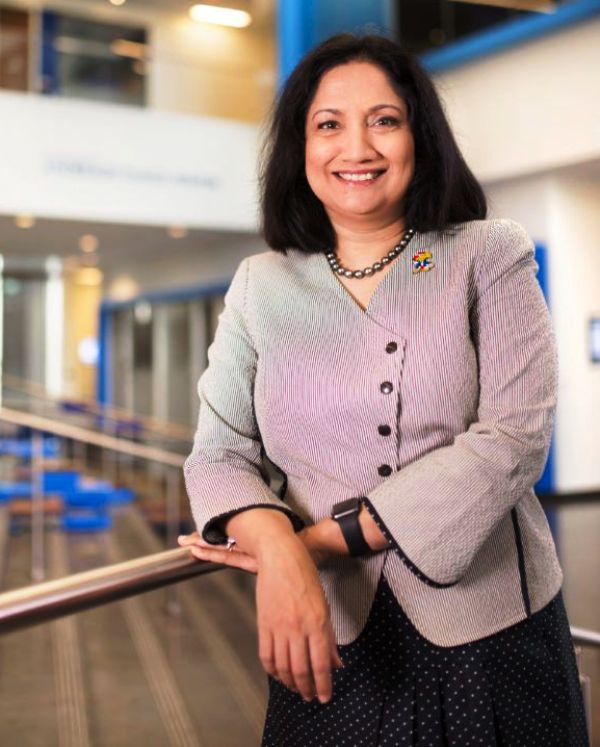 Family
Parents & Siblings
Her father, late Ramesh Dutta, was in the Kansas Jayhawks men's basketball program of the University of Kansas.
Neeli has two sisters.
Husband & Children
On 8 February 1984, Neeli got married to Venkat Bendapudi, who is a senior lecturer in Kansas University's School of Business.
They have a daughter, Sirisha Bendapudi, who got married to Kyle Ladd in 2015.
Career
Early Career
Dr Bendapudi has been an Assistant Marketing Professor at Texas A&M University from 1994 to 1996 and Assistant Marketing Professor at Ohio State University from 1996-2002. She was then promoted to Associate Professor at Ohio State University before assuming full professorship from 2008 to 2011. She has also served as chief customer officer and executive vice president of The Huntington National Bank, which was a top-30 US bank at the time in 2007-2008. She also has consulted for some of the world's largest companies and organisations including AIG, Proctor & Gamble, and the US Army. [2]Penn State
University of Kansas
In 2011, the Indian-origin professor returned to her alma mater, KU, and served as the dean and H.D. Price Professor of Business at the KU School of Business for five years. In July 2016, Bendapudi formally began her job as the Provost and Executive Vice-Chancellor at the U of K, where she served till 2018. [3]University of Louisville
University of Louisville
In May 2018, Bendapudi wrote history by becoming the first female and person of colour to be appointed the 18th president of the University of Louisville by its Board of Trustees. [4]University of Louisville She succeeded James Ramsey, who resigned in 2016 after a controversy. Under her presidency, the University enrolled its largest and most diverse freshman class, improved four-year graduation rates, reached record enrollment levels, and increased annual sponsored research by nearly 80%. During her tenure, U of L became a national leader in diversity, equity and inclusion, and it was also named as one of only three universities among the top 101 public universities to receive an "A" for the creation of access for African American and Latinx students. [5]Penn State
Pennsylvania State University
Dr Neeli Bendapudi, on 10 December 2021, was appointed the 19th president of the prestigious Pennsylvania State University. She will take over after the current president Eric Barron will retire, which is sometime before 1 July 2022. The decision by taken by Penn State's Board of Trustees unanimously. [6]WPSU Penn State In her acceptance speech, Bendapudi said,
I do recognize the appointment's symbolic value. But to me, what I truly hope it does is that it inspires others to pursue the highest office in their chosen field, no matter who they are… It's a day for tremendous joy for me, but it's also one for realism. I recognize that I – that we have a lot of work to do as the higher education landscape continues to shift."
Controversies
Bendapudi's Response to Papa John's Racial Slur
On July 13, 2018, Bendapudi immediately responded to Papa John's Pizza founder John Schnatter's use of a racial slur, who admitted to using the n-word at a conference call, by announcing that Schnatter's name would be removed from the University of Louisville's football stadium's name. Within 48 hours, Neeli officially changed the name of Papa John's Cardinal Stadium to "Cardinal Stadium," effective immediately. [7]Centre Daily Times She wrote in a formal statement,
These comments were hurtful and unacceptable, and they do not reflect the values of our university. By taking this action, we renew our community's commitment to speaking up when it matters, doing what is right, and coming together as one team – our Cardinal family – to heal and move forward. The brightest days for this university are still ahead."
Called Out For Not Being Transparent
In December 2021, a media report called out Neeli's hypocrisy of not being transparent in her official decisions. According to the report, [8]Courier-Journal
On consecutive days, the president of the University of Louisville [Neeli Bendspudi] declined to explain how a board meeting met the legal requirements to be conducted behind closed doors and why athletic director Vince Tyra's non-compete clause was waived to facilitate his taking a job with an Atlantic Coast Conference competitor."
The article criticised her because earlier at the time of her appointment as the president, Bendapudi had said in her speech that she "hoped to set the tone that she had to be transparent."
Awards, Honours, Achievements
In 1993, Bendapudi was honoured with the University Distinguished Teaching Assistant Award, University of Kansas.
In 1998, Neeli received the Pace Setters Undergraduate Teaching Award from the Fisher College of Business, The Ohio State University.
In 1998 and 1999, Bendapudi was honoured with the OSU American Marketing Association Marketing Professor of the Year Award from the Fisher College of business, Ohio State University.
She was felicitated with the 2001 Alumni Distinguished Teaching Award, which is the highest teaching award at Ohio State University.
She received the Academy of Marketing Science Outstanding Marketing Teacher Award in 2003.
For her contribution to MBA, she was honoured with the Outstanding Elective Professor Award in 2000, 2001, 2005, 2006, 2007, and 2009. She was also named the Best MBA Core Professor in 2005.
In 2009, Neeli's contributions were recognised by James Ginter Outstanding Marketing Professor Award.
Salary
Bendapudi's annual pay as the President of Univesity of Louisville was $725,000 and her annual bonus was $150,000 in 2019. [9]The Philadelphia Inquirer
Facts/Trivia
When Neeli was around 5 years old, her father went to the US for three years to complete his doctorate at KU. When he returned to India, her father taught English at a university in the country. [10]

Lawrence Journal-World Neeli said in an article, [11]

Lawrence Business Magazine


My father was in the mystical land of Kansas. He would tell us all about this beautiful place called Lawrence and send us these great pictures of things called Jayhawks. I was five or six and already enamoured with KU."
Neela and her husband, both are natives of India who had moved to the United States to pursue doctoral degrees at KU. They both lived in an apartment at Stouffer Place that at the time and were chosen by then-Chancellor, Gene Budig, to be the university host couple. [12]

Lawrence Journal-World
Bendapudi specializes in the study of consumer behaviour in service contexts. In her nearly 30-year career in academia, she has taught at the undergraduate, MBA, Executive MBA and PhD levels, and she has been honoured with several college, university, and national teaching awards.
Neeli's research has been published in the Journal of Academic Medicine, Journal of Marketing, Journal of Marketing Research, Harvard Business Review, Journal of Retailing, Journal of Service Research, and in the proceedings of various national and international conferences. Her work has also been featured by several popular media outlets including The New York Times, CNN, Fox News Network, CNBC, MSNBC, and WebMD. [13]

University of Louisville
Bendapudi is also a highly sought-after keynote speaker, who has addressed national and international audiences for many organizations and companies. [14]

University of Louisville
Neela is also a former Leadership Foundation Fellow of the International Women's Forum and Women Corporate Directors, one of 27 women chosen globally. Other than this, she is also a member of several non-profit organization boards, including Louisville Healthcare CEO Council,  Internet 2.0, American Council on Education, and MRIGlobal, an independent research institute. [15]

Penn State Currently, she sits on the Board of Directors of Lancaster Colony Corporation. [16]

University of Louisville
As the President-elect of Pennsylvania State University with a five-year contract with the University, Bendapudi will receive a base salary of $950,000, annual supplemental compensation contributions of $350,000, and a completion payment of $1,250,000 at the end of the contract term. She will also receive two transition payments of $100,000 each in 2022 and 2023. [17]

WPSU Penn State