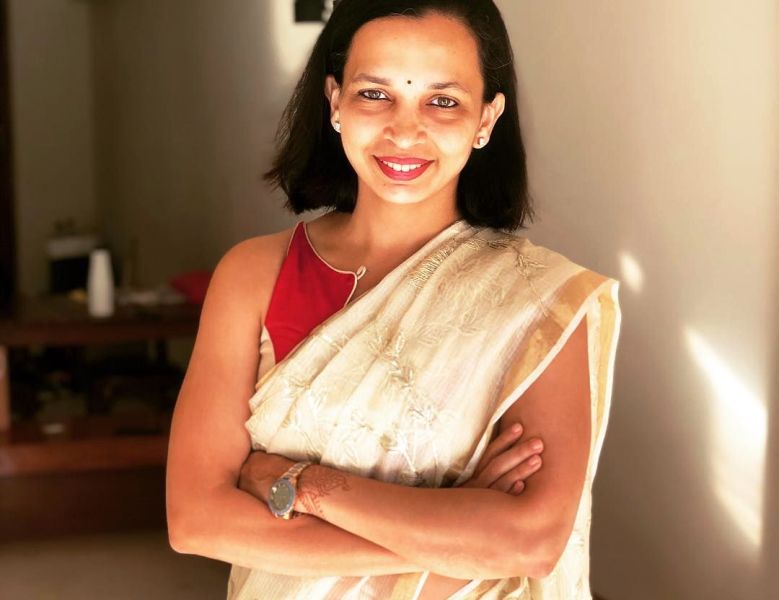 Rujuta Diwekar – the famous nutritionist behind Kareena Kapoor's body transformation to "size zero," is one of the most renowned sports science and nutrition experts in the Bollywood industry. The nutritionist of the "rich and famous," Rujuta is also a well-known health and wellness speaker, and she has a massive following on social media. The nutritionist also has nine books to her name and she boasts of being a best-seller in the "fitness and diet" section. Diwekar is one of the most sought after fitness professionals who also often remains in the news for her extreme and different views on the subject. [1]The Associated Press The nutrition expert is most commonly known for her advice:
Cook Indian food the way our grandmother cooked them."
Wiki/Biography
Rujuta Diwekar was born on Friday, 5 October 1973 (age 48 years; as of 2021) under the zodiac sign Libra. Born and brought up in Mumbai, Rujuta completed her B.Sc. in Industrial Chemistry from Ramnarain Ruia College of Mumbai in 1995, and she pursued her post-graduation diploma in Sports Science and Nutrition from the S.N.D.T. College in Mumbai in 1999. Diwekar then went to Uttarkashi to enrol in Sadhana Intensive and Teacher training courses at the Sivananda Yoga Vedanta Academy. In 2010, she moved to Australia for a five-year course on Sports dietitians from the Australian Institute of Sports in Canberra, and for further education, Rujuta took a "Future of Foods" from the University of Potsdam in Germany in 2015. [2]Rujuta Diwekar official website [3]Mint
Physical Appearance
Height (approx.): 5′ 3″
Hair Colour: Black
Eye Colour: Brown
Family
Rujuta belongs to an upper-caste, middle-class Maharashtrian family. [4]Rujuta Diwekar official website
Parents & Siblings
V. P. Diwekar, Rujuta's father, is an engineer who runs an engineering company in Mumbai that manufactures machinery for cosmetic and coating industries, while her mother Rekha Diwekar is a retired Chemistry professor from the Sathaye College in Mumbai. She is also an author and oversees the Sonave community farming project. Rujuta has a sister, Ankita Diwekar Kabra, who is the co-founder of the Fountainhead School and Fountainhead Preschool in Gujarat.
Husband & Children
In 2012, Rujuta married an engineer and author, Gaurav Punj, who is also the owner of Connect with Himalaya. Apparently, the two got married when they had gone on trekking from Kashmir to Manali. Rujuta revealed in an interview that they had quite a simple impromptu wedding at a local seventh-century Krishna temple in Manali with just 15 guests and a pandit to bless their union. [5]Hindustan Times She added,
I had already decided not to pay any more than Rs 25,000 for our wedding. The priest, who organised the ceremony, chai, lunch and sweet dish, did it for Rs 5,000. I was stumped. We closed the deal, went down to the German Bakery; I had a cup of cappuccino and GP called our parents, sisters and close friends."
It is not confirmed if Rujuta and Gaurav have any children.
Career
Early Years (1992-2000)
Rujuta's health-conscious family inspired her to start her career as an aerobics warm-up instructor while she was still studying in college. This led her to pursue post-graduation in Sports Science and Nutrition. [6]Uppercrust India As soon as Rujuta completed her PG diploma, she opened her own gym "Urja," which she set up with the help of a loan of Rs. 5 lakhs. [7]India Today [8]Sheroes
Claim To Fame
In 2000, Rujuta stepped into the Bollywood fitness industry after she started working as a fitness instructor for actor Varun Dhawan's mother, Lally Dhawan. She began working with Dhawan soon after she completed her PG in sports nutrition and was training as a fitness instructor at Talwalkars Gym. [9]Rediff Diwekar first shot into the limelight four years after her she began working with celebrity clients. In 2004, the celebrity nutritionist took up the task of training Anil Ambani to run the Tata Mumbai Marathon. She helped the Indian tycoon lose one-third of his body weight. Her association with Ambani gave birth to her nutrition brand "Rujuta Diwekar."
In April 2008, Rujuta's popularity knew no bounds. She claimed fame after her custom diet helped Bollywood actress Kareena Kapoor Khan in her iconic body transformation to achieve a "size zero" for the movie Tashan. Rujuta soon began to be known as "Kareena Kapoor's personal dietician," and Diwekar started acquiring many more celebrity clients.
Celebrity Clientele
In more than 20 years of her career, the Mumbai-based nutritionist has maintained a global presence with clients spread across around 50 countries. In India too, Rujuta is a renowned fitness expert known especially for working with Indian celebrities, actors, and business tycoons. Her clientele includes Karisma Kapoor, Kareena Kapoor Khan, Saif Ali Khan, Shahid Kapoor, Rohit Shetty, Alia Bhatt, Daler Mehndi, Varun Dhawan, Anil Ambani, Anupam Kher, and many more. [10]The New Indian Express Indulge
Actor Anupam Kher, one of Diwekar's clients, admitted that he dropped 14 kgs (30.8lb) of his body weight, and his health parameters improved significantly under the nutritionist's guidance. [11]Al Jazeera
Other Endeavours
In 2005, Rujuta initiated India's first marathon training program called "Run With Rujuta." In October 2016, the nutritionist also took responsibility to ensure the fitness of the Mumbai police. For the endeavour, Rujuta targeted eight police stations in Mumbai and asked all the police personnel there to fill out certain forms that included details about their daily activities. Reportedly, Diwekar's team then started addressing the officers' morning parades to deliver a simple health and nutrition tip every day. Mumbai police then compiled a Marathi booklet of all the tips given by Rujuta and her team, and on 8 March 2017, the Mumbai Police Commissioner Datta Padsalgikar published the booklet. [12]News18 In an interview, when Rujuta was asked about her initiative to make the Mumbai cops fit, she said,
It is not that they don't want to bring changes in fitness and health. They just don't have the right information."
On January 1, nutritionist Diwekar launched "The Fitness Project 2018," which was a 12-week health programme. Rujuta's team began the programme with an overwhelming 75,000 registered participants from 20 countries. Eventually, the project transformed into a mass movement, thanks to the celebrity nutritionist's huge following on social media. [13]The Hindu Rujuta said in an interview,
I was expecting 500 people to sign up; but within the first 2 minutes, we hit 500 registrations. In 15 minutes, we got to 5,000. We closed at 25,000."
Publications
2020: Eating in the Age of Dieting
2020: The 12-Week Fitness Project
2018: Notes for Healthy Kids
2017: Pregnancy Notes: Before, During & After
2016: The PCOD – Thyroid Book
2014: Don't Lose Out, Work Out!
2011: Women and The Weight Loss Tamasha
2009: Don't Lose Your Mind, Lose Your Weight
With 9 books to her name, Diwekar became a best-selling author. Her debut book, published in 2009 by Random House Books has maintained its number one position in the list of India's top-selling books in the "fitness and diet" section even after 13 years of its publication. Rujuta's one of the other books is the second best-selling book for the past 10 years in the same list. [14]Al Jazeera
Controversies
Recommended Mangoes For Diabetics
On 30 April 2018, the nutritionist shared advice on Twitter that people who have diabetes can eat mangoes as the fruit is safe for them. Her claims; however, infuriated the medical professionals across the country, and many of them lashed out at Rujuta for circulating apparently "dangerous" advice. Rujuta's massive following on social media sprang in her defence, which sparked a debate on social media. Later, Rujuta clarified that her statements were based on available research. [15]The Print [16]Mumbai Live
Tweeted "Tea With Milk and Sugar Rare Thing"
A month after the "mangoes" debate, Rujuta found herself in another controversy on Twitter. This time she took a dig at the way people consumed tea in the country that angered most of the Indians, and they extensively trolled Diwekar on social media. [17]The Indian Express
Tweet Associating Women Liberation With "Making Chutney"
The nutritionist is an active social media user. In July 2020, Rujuta's controversial tweet received flak from the netizens in which Diwekar said that 'making chutney makes a woman liberated.' Her remark was strongly criticised and called "demeaning and insulting for women" by many; however, again Rujuta's strong social media presence came to her rescue, and some of her followers tried to justify her stance. [18]Outlook India
Awards, Honours, Achievements
In 2010, Rujuta won the 'Nutrition award' by the Asian Institute of Gastroenterology of Hyderabad, and in the same year she was also featured amongst the only 3 Indians in the CNN Asia-Hotlist: 'People to watch out for.'
Rujuta was voted as the '50 most powerful people in India' by People magazine in 2012.
Next year, Diwekar won two awards. She was awarded the 'Mukta Sanman' from IBN-Lokmat and the 'Mata Sanman Youth achiever award' by Maharashtra Times.
In 2016, the nutritionist was nominated among the top six for coveted 'India's Most Promising Face in Diet and Nutrition' at the 9th Annual Pharmaceutical Leadership Summit and Pharma Leaders Business Leadership Awards held at the Satya Brahma-founded annual healthcare meet.
Diwekar was listed in 'Under 35 achievers of India' and the 'Change Makers of Mumbai' by India Today magazine.
Rujuta was has been invited as a special guest speaker, and to conduct workshops in China, Singapore, and Nepal for the events of the Embassy of India.
She has also been invited by the Government of India to conduct workshops at IAS, CAG, Judicial, and police academies.
Favourites
Food: Traditional Maharashtrian food.
Net Worth
Rujuta Diwekar's annual net worth is approximately Rs. 1-1.4 crores. [19]Mint
Facts/Trivia
According to Rujuta, she got interested in yoga and nutrition after being influenced by her family. She revealed on her website that her entire family practised yoga that led her to take a course on Yoga, Vedanta, and Ayurved from Sivananda Yog Vedanta Forest Academy in Uttarkashi. [21]

Rujuta Diwekar official website
The nutritionist loves trekking, and she spends two months every year in the Himalayas or in the US. Rujuta also does yoga to stay fit, and she is a Bharatanatyam dancer in her free time. [22]

India Today
Rujuta refers to herself as "among the world's most-followed nutritionists," and she has built an online community of around 3.6 million followers across her handles on four different social media platforms. [26]

Al Jazeera
The "Rujuta Diwekar" nutrition brand is run by five women from a small office in Mumbai's Khar; however, a few years ago, Rujuta and her team had their office in Andheri.
Rujuta is not a next-door affordable nutritionist. Her 12-month programme costs $20,000 (around Rs. 14.5 lakhs) in which the client can meet Rujuta for half an hour, twice a month. This takes the hourly cost to $1,666 (above Rs. 1 lakh). Also, clients are required to book their session two months in advance as there is a waiting list to get in. [27]

Al Jazeera
Her debut book sold over two lakh copies and earned her a following that went beyond the Bollywood celebrities, and included common people. [28]

India Today
In October 2019, Diwekar was invited to attend FENS 2019, one of the most prestigious nutrition conferences in the world, in Dublin, Ireland. Her 12-week fitness project was selected to be presented at the conference. [29]

Instagram – Rujuta Diwekar
References

↑

1
The Associated Press

↑

2,

↑

4,

↑

21
Rujuta Diwekar official website

↑

3,

↑

19
Mint

↑

5
Hindustan Times

↑

6
Uppercrust India

↑

7,

↑

22,

↑

28
India Today

↑

8
Sheroes

↑

9,

↑

20,

↑

24,

↑

25
Rediff

↑

10
The New Indian Express Indulge

↑

11,

↑

14,

↑

26,

↑

27
Al Jazeera

↑

12
News18

↑

13
The Hindu

↑

15
The Print

↑

16
Mumbai Live

↑

17
The Indian Express

↑

18
Outlook India

↑

23
Deccan Herald

↑

29
Instagram – Rujuta Diwekar