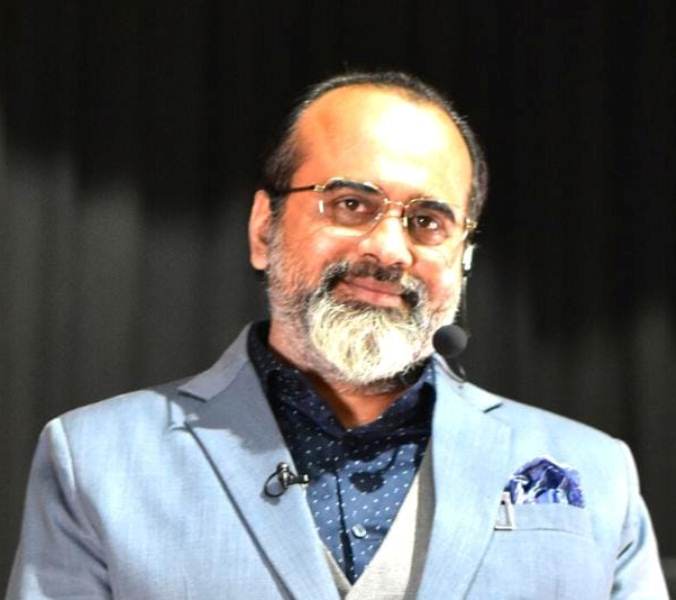 Acharya Prashant is an Indian author and Vedanta teacher. He is known for teaching seventeen forms of Gita and sixty forms of Upanishads. He is the founder of the non-profit organization 'PrashantAdvait Foundation.'
Wiki/Biography
Acharya Prashant was born as Prashant Tripathi on Tuesday, 7 March 1978 (age 45 years; as of 2023) in Agra, Uttar Pradesh. His zodiac sign is Pisces.
He pursued B. Tech at the Indian Institute of Technology, Delhi. He completed his MBA at the Indian Institute of Management, Ahmedabad, Gujarat in 2003. [1]LinkedIn – Acharya Prashant
Physical Appearance
Height (approx.): 5′ 9″
Hair Colour: Salt & Pepper
Eye Colour: Black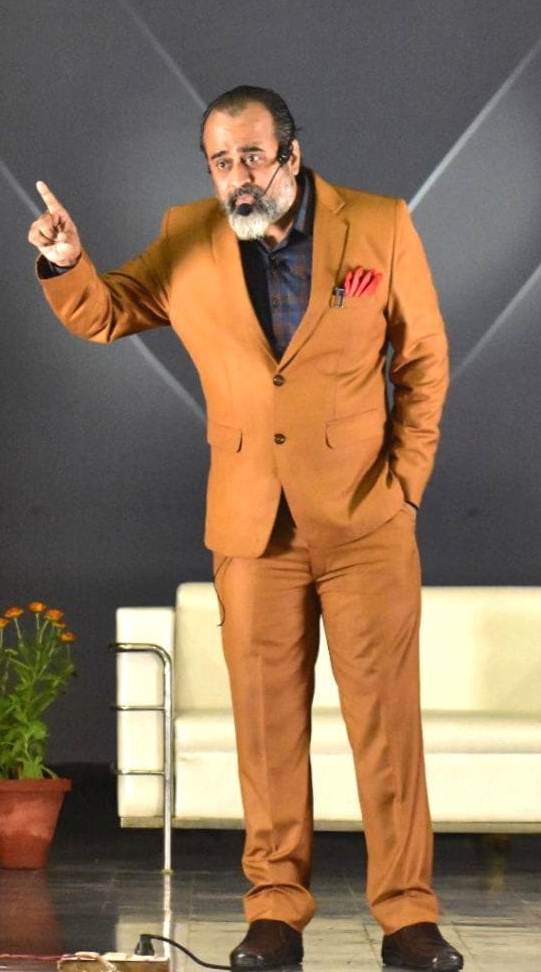 Family
Parents & Siblings
His father, Gaurishankar, was an administrative service officer, and his mother, Savitri, was a housewife.
Wife
He is unmarried.
Career
Corporate Job
Acharya Prashant started his career in 2003 as an assistant manager at GE Capital, a company in Gurgaon. In 2004, he joined ECS Private Limited in Gurgaon, where he worked as a Senior Consultant for more than one year. The following year, he was appointed as Senior Manager at the media company 'Bennett Coleman and Co. Ltd' in New Delhi. After working there for one year, he resigned his job in October 2006. 
In 2006, Acharya Prashant started a private limited company named 'Advait Life Education' through which he introduced 'Life Education Courses' in various educational institutions located in different cities and states. He also introduced 'Student Development Programmes' (SDP) and 'Management Development Programmes' (MDP) to his students. In an interview, he revealed that he faced many difficulties when he started the company. He further added that when he realised that his teaching faculty was unable to meet his desired objectives, he took it upon himself to personally deliver lectures at the host colleges for which he kept on travelling for almost five years, as his host colleges were situated in different cities and states. He took his first interactive lecture in 2008 and later continued conducting open seminars. In 2011, he started recording his live sessions and started uploading on his YouTube channel.
PrashantAdvait Foundation
In December 2015, he established a non-profit socio-spiritual organization, 'PrashantAdvait Foundation.' He founded the organisation with the aim of eliminating falsehoods present within individuals and society as a whole. Its goal is to foster a scientific and spiritual approach towards self and life. Through this organisation, he started conducting online courses on Advaita Vedanta (a Hindu sadhana) in which he taught 17 forms of Gita and 60 forms of Upanishads. In addition to offering Vedanta courses within its own organization, Acharya's non-governmental organization (NGO) is actively engaged in partnerships with prestigious engineering and management institutes in India. They are offering Vedanta classes to the students of these institutes free of charge, without any expectation of fees or donations. The organization has successfully organized online classes on Vedanta by Acharya in renowned Indian institutions such as IIT Delhi, IIM Ahmedabad, IIT Kanpur, IIT Bombay, NIT Jamshedpur, and Banaras Hindu University.
Publications
He has written articles for various renowned newspapers. He has written more than 85 books on spirituality. His book, "Karma: Why Everything You Know About It Is Wrong," achieved remarkable success in August 2021, as it reached the top position on Nielsen Bookscan's bestseller list and in October 2021, it secured the eighth position on the bestseller list published by The Asian Age.
Some of his other notable books include 'Advait in Everyday Life,' 'Karmayoga,' 'Ghar Ghar Upanishad,' 'Jaaka Gala Tum Kaatiho,' and 'Maya.' 
Awards
In 2022, Acharya Prashant was presented with the 'Most Influential Vegan' by PETA India.
He received the Karya Siddhi Award at the iMD Awards 2022, organised by Purush Aayog on the occasion of  International Men's Day.
Facts/Trivia
In an interview, Acharya revealed that he was fond of reading since childhood. He revealed that he started reading about the Blue Star Operation when he was five years old. He further added that he started reading classical and spiritual books at a very young age.
While working in the corporate sector, he used to teach a self-designed course called 'Perspective in Leadership through Literature' at MBA institutions on weekends.
Acharya Prashant made the decision to resign from his job as an Administrative Service Officer (Indian Railways Personnel Officer) in order to guide the younger generation towards spirituality and bring about social reform.
In 2000, he qualified for the CAT and UPSC exam. He was later also selected for the IRPS Services, which he left to teach Vedanta to the younger generation.
Apart from teaching, Acharya Prashant assumes various other responsibilities. He actively promotes veganism, advocates for environmental causes, supports scientific endeavours, campaigns against superstitions, and champions the importance of fundamental human freedom.
He often delivers lectures on TEDx.
He also has an app called "Acharya Prashant' on which wisdom quotes, posters, short videos, long videos and articles by Acharya are available.
He follows a vegan diet. In an interview, he talked about veganism and said,


Veganism is nothing but the logical culmination of vegetarianism. Where does vegetarianism come from? The feeling that I will not kill the animal—I don't want to harm the animal. That same feeling finds its final expression in veganism."