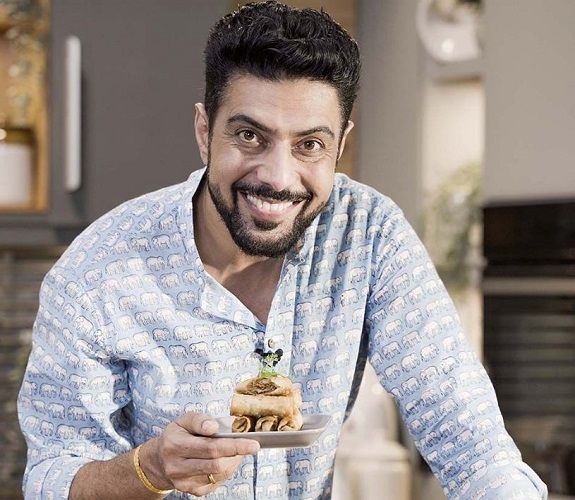 Ranveer Brar is an Indian celebrity chef, restaurateur, author, TV show judge, and food columnist. He has judged three seasons (seasons 4, 6 & 7) of the cooking reality TV show MasterChef India.
Wiki/Biography
Ranveer Singh Brar [1]News 18 was born on Wednesday, 8 February 1978 (age 45 years; as of 2023) in Lucknow, Uttar Pradesh, India. His family hails from Kotla Raika, Punjab. His zodiac sign is Aquarius. He did his schooling at H. A. L. School, Lucknow. He did a diploma in Hotel Management from the Institute of Hotel Management, Lucknow. [2]Facebook – Ranveer Brar [3]LinkedIn – Ranveer Brar In childhood, he used to accompany his grandfather to the gurdwara. There, he used to love watching people make langar. Once, while he visited the gurdwara with his grandfather he was asked by one of the cooks to accompany him in cooking sweet rice for langar. Slowly he started assisting in communal cooking. In an interview, while sharing how he developed an interest in cooking. He said,
One thing led to another, and by the age of 17, I had discovered that there was much more to food than what I had been introduced to within my community and neighbourhood. Having spent many idle hours discovering old Lucknow with my friends, in Nakhas and Akbari Gate, I began to enjoy the legacy, the respect, and the stories that were interwoven with food. I worked with a kebabwala for 8-9 months."
In an interview, he shared that the local kebab vendors in Lucknow inspired him to become a chef. However, his family wanted him to make a career in engineering, medicine, or defence services. He even cleared the NDA entrance exams, but when he started assisting one of the vendors named Munir Ustad in Lucknow, he decided to make his career as a chef. Initially, his family was not happy with his decision. Gradually, they started supporting him and enrolled him in IHM, Lucknow, to earn a degree in hotel management.
Physical Appearance
Height (approx.): 5′ 10″
Hair Colour: Black
Eye Colour: Brown
Family
Ranveer belongs to a Jatt Sikh family of farmers. [4]Facebook – Ranveer Brar [5]YouTube – Neelesh Misra
Parents & Siblings
His father, Ishwar Singh, worked at Hindustan Aeronautics Limited. His mother's name is Surinder Kaur. He has a sister named Shalu.
Wife & Children
On 14 July 2013, he got married to the Indian chef Pallavi. The couple met for the first time at a hotel's kitchen where Ranveer was an executive chef and Pallavi was a chef. Soon, they became friends and fell in love with each other. Ranveer proposed to Pallavi for marriage while having dinner (cooked by Ranveer) at Marco Island, Florida. The couple had a Maharashtrian wedding. The couple has a son named Ishaan Brar.
Signature
Career
Chef
In January 1999, he started working as a head trainee for Taj Management Training Program. After working there for almost two years, he worked as a sous-chef at the Taj Group of Hotels in New Delhi. He worked there for two years. While he was working with the Taj Group of Hotels, he started and operated two restaurants named Il Camino (Italian restaurant) and Morisco (international seafood restaurant). In 2003, he joined Radisson, Noida, as an executive chef. While he was working at Radisson, he launched two speciality restaurants, a coffee shop, a pastry shop, and a bar. In 2005, he left his job at Radisson and started working at Claridges Hotel, Delhi, as an executive chef. At Claridges, he started two food and beverage outlets Sevilla (an indoor-outdoor Med-inspired restaurant) and Senate (a business lounge with an exclusive restaurant). He renovated two restaurants named Jade (Chinese Speciality restaurant) and Pickwicks (24-hour eatery). He worked there for two years, and in 2007, he started a restaurant named BANQ in Boston, and he also worked there as an executive chef. His restaurant was voted the best new restaurant worldwide by Wallpaper magazine and voted best by local publications like Improper Bostonian and Stuff. Later, the restaurant was closed permanently. He then started working as a corporate chef with One World Cuisine Hospitality Group in Boston. After working there for around three years, he started working as a senior executive chef at the hospitality company Accor. He worked there till December 2014. He has also worked at Oberoi hotels.
Restaurants
In December 2016, he started a vegetarian restaurant named TAG – GourmArt Kitchen in South Mumbai. In 2017, he started another restaurant named Mayura in the Greater Toronto Area, Canada, which was later closed.
Host
TV Show
Ranveer has hosted many Indian cooking shows such as The Great Indian Rasoi Rasoi (seasons 1 & 2; 2019-2020), Health Bhi Taste Bhi (2019), Northern Flavours – Meethi Masti (2020), and Food Tripping (along with Chef Gautam Mehrishi) (2022).
In October 2018, he hosted the travel and food show 'Station Master's Tiffin' aired on Living Foodz.
In 2019, he worked as a host in the TV show 'Himalayas the Offbeat Adventure,' in which the cuisine of local tribes was showcased. The show was aired on Zee TV Middle East.
He has also hosted three seasons of the cooking show 'Thank God It's Fryday' (2014–2016), aired on Zoom channel.
Ranveer has also worked as a judge in seasons 4, 6, and 7 of the cooking reality TV show MasterChef India.
A few more cooking and eatery shows hosted by Ranveer are Rasoi ki Jung Mummyon Ke Sung (2017) and Raja Rasoi Aur Andaaz Anokha (2019).
Digital Series
Ranveer has also hosted many cooking-based digital series such as Ranveer on the Road (2016; Twitter), Maa ki Baat With Ranveer Brar (2019; YouTube), and Home Made Love (2019; TLC).
Author
In 2016, he released his autobiography titled 'Come Into My Kitchen.' In 2017, he authored a recipe book titled 'A Traditional Twist.'
Other Work
Ranveer has been working as a mentor at 4 Indian universities including the IIHM group of institutions for a very long time. He has curated menus for various sought-after restaurants like Alila Fort Bishangarh, FLYP @ MTV, Thomas Cook, and Royal Caribbean. In 2015, he launched an artisan line of meal kits in association with Haute Chef. Ranveer has hosted various cooking workshops organised by Ranveer Brar Culinary Academy in association with Luxe Drive Live campaign. In 2016, he launched a premium patisserie 'English Vinglish' in Mumbai.
Awards & Honours
2017: Indian of the Year Award for Chef and TV Host of the year
2018: LFEGA 'Food Entertainer of the Year' Award
2021: Outstanding Contribution towards the Food & Beverage Industry Award at the Food Connoisseurs India Awards
2022: People's Choice Culinary Icons of the Year Award
2022: Pinkvilla Style Icons Award for Super Stylish Chef
Salary/Income
In 2019, his income was Rs 4.99 crores. [6]Forbes India
Favourites
Food: Kebabs, Biryani, Khichdi, Murgh Choley, Dahi Phulki
Cooking Ingredient(s): Ghee, Coriander Leaves
Cuisine(s): Italian, Lucknowi
Quote(s): "The greatest happiness of life is the conviction that we are loved — loved for ourselves, or rather, loved in spite of ourselves" by Victor Hugo and "The wise are wise only because they love. The fool are fools only because they think they can understand love" by Paulo Coelho
Facts/Trivia
Ranveer's father lovingly calls him Langri. In an interview, he shared the story behind the name. [7]

Facebook – Ranveer Brar He said,


Having been brought up in a Sikh family, I was used to the Sunday "langar" culture. Maybe it was the fun of communal cooking that got me excited or maybe the perpetual asking for help by the priest that got me to assist him with cooking. Whatever it was, in a few years I was cooking the small communal langar on my own, causing my dad to nickname me a Langri (which means a temple cook)."
Ranveer loves to eat street food in Banaras, Lucknow, Kolkata, and Thailand.
The first bike that he owned was Bajaj Caliber.
He once ate 100 kinds of Sandesh, a Bengali sweet while he was having lunch at Nakur in Kolkata.
He has also launched a range of cookware, bakeware, serving props, dishes, and trays.
He is also associated with the home appliances brand Home Centre.
In an interview, Ranveer shared that cooking food for the former Prime Minister of India Atal Bihari Vajpayee was one of his best cooking experiences. [8]

MensXP
He once became an honorary member of the James Beard Foundation (recognised by the same for his culinary contribution).
He has been recognised by several institutions such as AIWF, AICA, and the Mayor of Boston for his contribution to various cuisines.
He became India's youngest executive chef at a five-star hotel at age 25. [9]

Forbes India
In an interview, he talked about his signature dish. He said,


I'd rather call it the most intriguing dish I love to cook, it's the Dora Kebab. It has a delicate balance of flavour and aroma, the kebab is held together by a silk thread (Dora) and the thread must be deftly pulled out in a single stroke. Lucknawi cuisine will always be close to the heart, followed by the food of Kolkata. In the international arena, Italian is my favourite – to eat and cook."
He has been associated with various brands such as Mercedes-Benz India, Bertolli Olive Oil, Gadre Marine Export Pvt Ltd, Philips India Kitchen Appliances, and Victorinox.
Ranveer Brar has uploaded his recipes on his official website and self-titled YouTube channel. In 2019, he launched his mobile app in collaboration with Hungama Digital Media.
He is an avid animal lover and once had a pet dog named Bo.
In 2022, the prison department of the Lucknow government and the National Institute for Entrepreneurship and Small Business Development (NIESBD) roped in Ranveer to provide tips for cooking meals in jails across Uttar Pradesh. [11]

The Times of India
In his leisure time, he loves to read books, watch movies, and hang out with his family.
In 2022, he worked as an actor in the Amazon Prime Video 'Modern Love: Mumbai' in the episode 'Baai.' In the series, he played the role of Rajveer, a gay character.