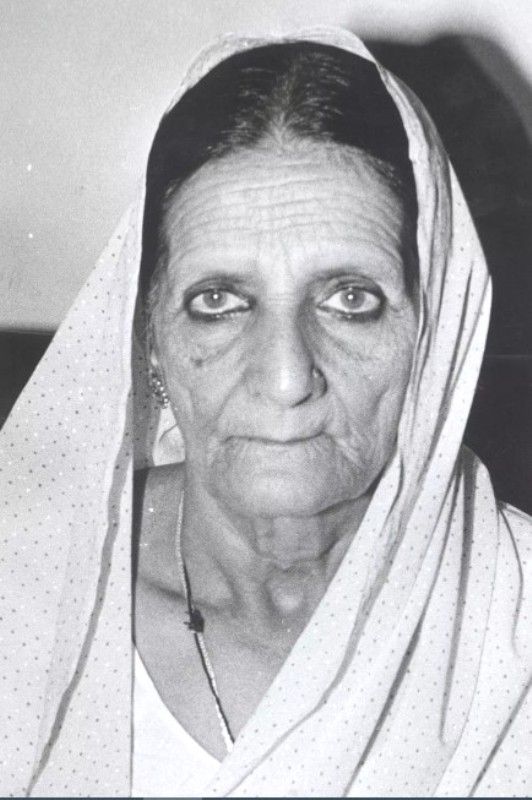 Shah Bano Begum (1913-1992) was an Indian Muslim woman who choose to fight the atrocities of patriarchal society and discriminatory laws. In the mid-1980s, the famous Shah Bano case gave voice to many vital issues including triple talaq and Uniform Civil Code.
Wiki/Biography
Shah Bano Begum was born in 1913 (age 79 years; at the time of death) in Madhya Pradesh, India.
Physical Appearance
Height (approx.): 5′ 3″
Hair Colour: Black
Eye Colour: Hazel Green
Family
Shah Bano Begum belonged to a Muslim family in Madhya Pradesh, India.
Parents & Siblings
There is not much information about Shah Bano's parents and siblings.
Husband & Children
Shah Bano Begum got married Mohammed Ahmad Khan in 1932. Ahmad Khan was a lawyer in Indore, Madhya Pradesh. The couple had five children, three sons, and two daughters. Their sons' name is Hameed Khan and Jameel, and their daughters' is Siddiqua and Fatima.
Religion
Shah Bano Begum was a follower of Islam.
Address
Shah Bano Begum resided in the locality of Khajrana, Indore, Madhya Pradesh, India. [1]The Indian Express
Mohd. Ahmad Khan v. Shah Bano Begum And Ors
In 1932, Shah Bano married Ahmad Khan and they had five children together. However, after 14 years of marriage, in 1946, Khan married another woman, Halima Begum. Shah Bano and Halima lived together for some time, but eventually, in 1975, Ahmad divorced Shah Bano when she was 62 years old and asked her to leave the house with the children. In April 1978, Ahmad stopped giving her a monthly allowance of Rs 200.  Unable to support herself and her children, Shah Bano filed a criminal suit against her husband in a local court in Indore under section 125 of the Code of Criminal Procedure (CrPc), seeking a maintenance amount of ₹500 for herself and her children; Section 125 of CrPc requires a man to provide for his wife during and after marriage if she is unable to support herself.
However, in November 1978, following the Islamic Law Ahmad divorced Shah Bano irrevocably (Talaq-e-bidet), stating that she was no longer his wife and he had no obligation to provide for her. However, in August 1979, the local court ruled in Shah Bano's favour and ordered Ahmad to pay her Rs 25 per month as maintenance. Shah Bano then filed a revisional application in the Madhya Pradesh High Court to increase the amount. On 1 July 1979, the Madhya Pradesh high court ruled in her favour and increased the maintenance amount from Rs 25 to Rs 179 per month.
In 1981, Ahmad Khan filed a  petition to appeal before the Supreme Court, claiming that he was no longer responsible for Shah Bano and that the Muslim Personal Law (Shariat) in India only required him to provide maintenance for the iddat period (Iddat is the waiting period a woman must observe after the death of her husband or divorce before she can remarry. The length of the iddat period is circumstantial, usually three months, or until childbirth if the woman is pregnant).
The All India Muslim Personal Law Board supported Khan's argument, stating that courts cannot interfere in matters laid out under Muslim Personal Law and that it would violate The Muslim Personal Law (Shariat) Application Act, 1937. According to the Act, courts were to give their decisions on divorce, maintenance, and other family issues based on Shariat. A 2-judges bench referred the case to a larger bench of 5-judges; the 5-judges bench comprising Chief Justice Y.V. Chandrachud, Justices Ranganath Misra, D.A. Desai, O. Chinnappa Reddy and E.S. Venkataramiah upheld the decision of the High Court that gave orders for maintenance to Shah Bano under section 125 of CrPC and increased the maintenance sum.
Justice Y.V. Chandrachud said in his decision,
Section 125 was enacted in order to provide a quick and summary remedy to a class of persons who are unable to maintain themselves. What difference would it then make as to what is the religion professed by the neglected wife, child or parent? Neglect by a person of sufficient means to maintain these and the inability of these persons to maintain themselves are the objective criteria which determine the applicability of section 125. Such provisions, which are essentially of a prophylactic nature, cut across the barriers of religion. The liability imposed by section 125 to maintain close relatives who are indigent is founded upon the individual's obligation to the society to prevent vagrancy and destitution. That is the moral edict of the law and morality cannot be clubbed with religion." [2]The Indian Express
The Supreme Court's statement caused chaos in the Muslim community.
In 1984, Rajiv Gandhi became Prime Minister after his mother Indira Gandhi was assassinated. Under pressure from Muslim hardliners, PM Rajiv Gandhi enacted a law in Parliament to appease the Muslims and overturned the Supreme Court's judgment in the Shah Bano case. The 1986 Muslim Women (Protection on Rights of Divorce) Act diluted the Supreme Court judgment and allowed maintenance to a divorced woman only during the period of iddat i.e., till 90 days after the divorce.
In 1986, Rajiv Gandhi called Shah Bano to meet him in Delhi. Recalling the meeting Shabano's son Jameel in an interview said,
'Pradhanmantri  Ji said, the situation was very critical, serious. We have to find a way.' I told him (I'd since read up on Shariat directives about marriage and maintenance) there was no provision for maintenance, except for money to be paid during iddat and mehr (money to be paid at the time of divorce). I told him the law should be amended. He, in turn, asked us to announce that we were refusing the maintenance." [3]Hindustan Times
After this meeting, Shah Bano refused to take the maintenance money. She held a conference in Indore and said,
I thought if we didn't backtrack now, azaab (grief) would be on us. Since it was a matter of religion, I didn't want us to become a precedent."
Death
Shah Bano was suffering from high blood pressure and frequent illnesses. In 1992, she died due to a brain haemorrhage. [4]Hindustan Times
Facts/Trivia
Shah Bano Begum was the first cousin of Mohmmed Ahmad Khan from his maternal side.
After the Muslim Women (Protection of Rights on Divorce) Act, of 1986, triple talaq cases rose manifold between 1986 to 2019. According to the data, 22,801 triple talaq matters were registered in Madhya Pradesh and 51,800 in West Bengal. After declaring triple talaq illegal in 2019, these cases went down to 29 and 200 in Madhya Pradesh and West Bengal respectively.
Ahmad Khan's second wife, Halima Begum, was his cousin from his paternal side.
Ahmad Khan had a degree in Law from the University of Bahrain and had practised in High Court and the Supreme Court.
At the time of divorce, both daughters of Shah Bano, Siddiqua and Fatima were married. [5]

The Indian Express
With the Shah Bano case, the matter of the Unifrom Civil Code came into the limelight when the apex court ruled that government should endeavour to implement the Uniform Civil Code which is a desired goal mentioned under Article 44 in the Directive Principles of State Policy. Supreme Court also raised the matter of the Uniform Civil Code in the Sarla Mudgal case (1995) and the Paulo Coutinho vs. Maria Luiza Valentina Pereira case (2019).
Uniform Civil Code aims at replacing personal laws regarding marriage, divorce, adoption, and succession, based on religions, customs, and traditions with one common law for everyone irrespective of religion, caste, creed, sexual orientation, and gender.
In 2019, the Shah Bano case played a vital role in passing the Muslim Women (Protection of Rights on Marriage) Act, 2019, which declared triple talaq (talaq-e-bidet) illegal.