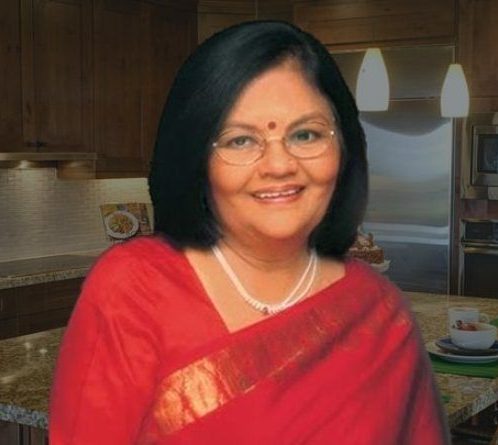 Tarla Dalal is a chef, food writer and cooking shows host. She became the only Indian female to be awarded Padma Shree in 2007.
Wiki/Biography
Tarla Dalal was born on Wednesday, 3 June 1936 (age 85 years; as of 2021) in Pune, Maharashtra. Her zodiac sign is Gemini. She has done graduation in Economics in 1956. She was the eldest daughter of her family. Her interest in cooking started when she was a child. She used to help her mother with cooking food at the age of 12. Tarla completed her graduation in 1956 and got married to Nalin Dalal in 1960. [1]Tarla Dalal`s official website She shifted to Bombay (now Mumbai) after marriage. Around 1966, her friends advised her to teach cooking to girls who wanted to learn. She agreed to it and started by giving classes to six students. She became famous in less time and all mothers in Mumbai wanted their daughters to learn cooking from Tarla. After this, she started writing down her recipes and her husband helped her in editing them. [2]Tarla Dalal`s official website She taught people how to cook foreign cuisines. She also taught them how non-vegetarian dishes can be made in a vegetarian manner. She used many social media platforms such as YouTube, Twitter, Facebook and Instagram.
Physical Appearance
Height (approx.): 5′ 2″
Weight (approx.): 65 kg
Hair Colour: Black
Eye Colour: Black
Family
Tarla Dalal belongs to a Vaishnav family. [3]Tarla Dalal`s official website
Husband & Children
Tarla Dalal got married in the year 1960 to Nalin Dalal. She has two sons- Sanjay Dalal and Deepak Dalal.
Her daughter`s name is Renu Dalal.
Career
Cooking
In 1974, her first book 'Pleasures of Vegetarian Cooking' was released. There were 1.5 million copies of the book that were sold.
In 1988, her books were converted into Dutch, Russian, Hindi, Gujarati, Marathi and Bengali languages. Tarla became the most sold cookbook author of India. In 1987, Tarla started her business Sanjay and Co. with her daughter`s assistance. In 1988, she introduced her own website that became the largest Indian food website. Her food mixes named Tarla Dalal food mix gained popularity in 2002. In 2007, she got the Padma Shree. [4]Tarla Dalal`s official website In 2010, she started her own YouTube channel. [5]Tarla Dalal`s Youtube Channel She also wrote the magazine 'Cooking and More'. She hosted the show 'Cook It Up With Tarla Dalal' on Sony TV. [6]The Times of India
Awards, Honours, Achievements
She won Women of the Year by the 'Indian Merchants' Chamber in 2005.
Death
Tarla died on Wednesday, 6 November 2013 at her residence on Napean Sea Road in South Bombay due to a heart attack. [7]The Times of India
Facts/Trivia
Tarla says that she had learned cooking because of her husband. In an interview, about her husband she said,


I was engaged to a man in the US. This was 50 years ago. He used to write to me saying he wanted to eat this and that; all complicated things I had never heard of. He was at Michigan University, studying Chemical Engineering. I was 20 years old and could cook only DBRS-Dal Bhat Roti Sabzi. To please her husband, a young woman will learn to cook the food he wants."
Tarla wrote the books 100 Calorie Snacks, Acidity Cook Book and Popular Restaurant Gravies.
While Tarla was in Singapore in 2010 for a vacation, one of her fans asked her the reason for not having any videos of her cooking class. When she returned to India, she started making videos and uploaded them on YouTube. [8]

Tarla Dalal`s official website
After her death in 2013, her son Sanjay remembered her and said in an interview,


She introduced Mexican, Chinese and Italian food to Indians and transformed non-vegetarian recipes to vegetarian ones; she Indianised exotic dishes, simplified cooking and could rustle up a dish in a jiff".
Sanjay`s daughter also manages her grandmother`s social media accounts and keeps posting new recipes. Tarla`s grandaughter receives criticism on social media as she uses eggs in her recipes whereas Tarla never used any egg. In an interview, Tarla`s grandaughter talked about Tarla and said,


I was 10 when my grandmother passed away and I am only understanding her legacy now. I remember going to the Kala Ghoda fair in Mumbai with my grandmother and being surprised at the attention. I was confused about why people wanted to click pictures with my grandma. Now I understand."
During the pandemic, the cooking classes were held virtually.
Tarla`s daughter Renu revealed in an interview that their mother used to cook cakes, ice-creams and mocktails during their summer vacations. In n interview, about her mother she said,


Her zest for life was unending, and she would always look forward to tomorrow, which is something I have tried to inculcate in my life as well.  It is from her that I have learned to be an independent woman. She instilled in me the seeds of compassion, encouraged me to always be helpful and to try to bring happiness to everyone around me."
Remembering her mother in an interview, Tarla`s son Deepak said,


Even when I was studying abroad, she came and stayed with me. She also visited us in Pune regularly. Last week when she was here, we had a heart-to-heart talk and great family time. Lately, what she enjoyed most was spending time with her grandchildren. She was full of energy and loved her work immensely. She went out of her way to help people. Just last week, she was here with us. After returning to Mumbai, she was scheduled to go to Singapore for a cooking class. She died with her boots on."