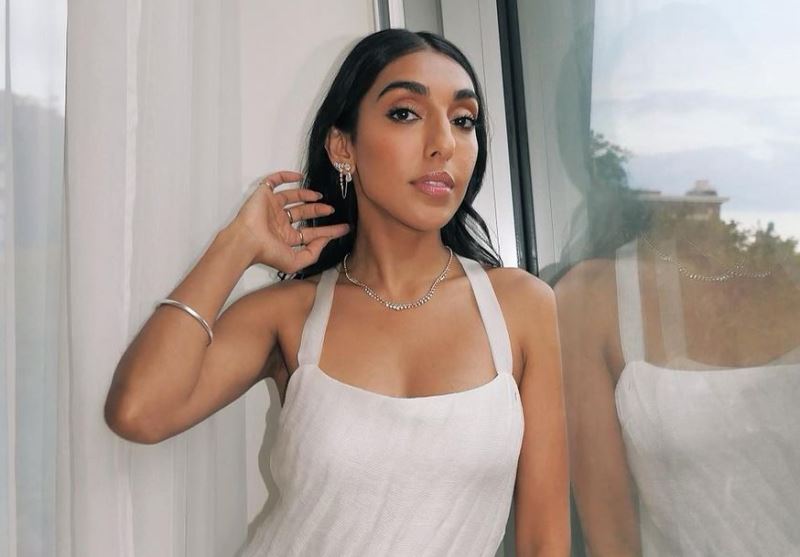 Rupi Kaur is a Canadian poet, illustrator, photographer, and author. A New York Times Best-Seller author, Rupi is known for her poetry collections Milk and Honey (2014), The Sun and Her Flowers (2017), and Home Body (2020). She is also popular for her Instapoetry on which she confronts social taboos. Her vulnerable, short but shareable verses about love, trauma, feminism, and abuse have gathered widespread fanbase.
Wiki/Biography
Rupi Kaur was born on Sunday, 4 October 1992 (age 31 years; as of 2023) in Munak Kalan village in the Hoshiarpur district of Punjab. Her zodiac sign is Libra. Her father immigrated to Canada before her birth. He was an activist who had been forced to flee India due to the violent hate crimes against Sikh men. She spent her early childhood with her mother and maternal grandparents. Rupi didn't meet her father until she and her mother immigrated to Canada when she was three.
Her family moved around for a while looking for job opportunities before settling in Toronto's Brampton neighbourhood. She had a tough childhood. She couldn't speak English fluently until the age of 10. Her father, who worked as a truck driver, earned a couple of hundred dollars a month, which was not enough to support a family of six. Growing up, she lived with her parents and three younger siblings in a one-bedroom basement flat, where they all slept in the same bed. Talking about her humble background in an interview, she said,
We couldn't afford toys growing up. My parents would take us to the thrift store, and we would buy books for a dollar each."
She attended Turner Fenton Secondary School. A voracious reader in childhood, she loved Robert Munsch's work, and some of her favourite books growing up were the Junie B. Jones series, the Harry Potter series, Ender's Game, and The Chrysalids. Her first encounter with poetry happened when she read the Sikh scriptures, which are written in poetic verse. She used to perform kirtan (religious hymns), singing and playing the harmonium. She talked about it in an interview, and said,
Sikh scripture written in poetic verse is sung when a child is born, it is recited when someone gets married, or when they pass. And so poetry was a part of my everyday life. I learned early on that poetry is how we can explain big ideas in simple ways."
A genuine vein of activism has always existed in the Kaur's body. When she was a kid, she would accompany her activist father to various human rights protests on weekends. He also signed her up for speech competitions. She began to draw and paint inspired by her mother. Her typical Indian parents encouraged her to study science and precluded her dream of attending a fashion school. Thereafter, she pursued a Bachelor of Arts in English at the University of Waterloo. [1]University of Waterloo At the university, she studied rhetoric and professional writing.
Physical Appearance
Height (approx.): 5′ 4″
Hair Colour: Black
Eye Colour: Black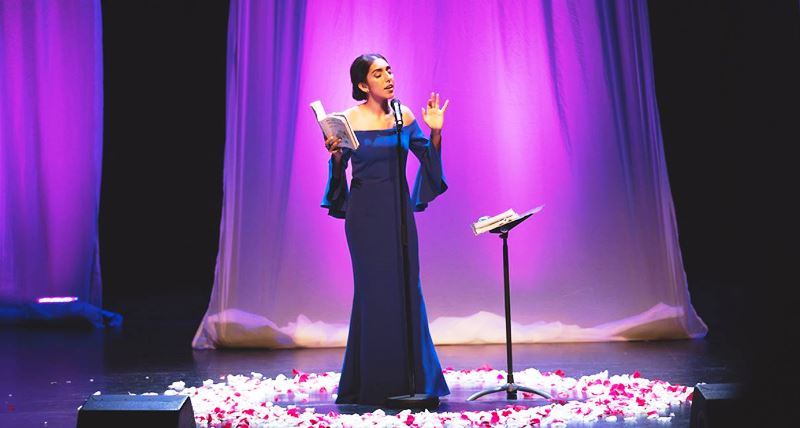 Family
Parents & Siblings
His father was a truck driver. She has three siblings, two sisters and a brother. Her brother's name is Saaheb. One of her sister's names is Prabh Kaur.
Husband & Children
She is unmarried.
Religion
She follows Sikhism. [2]Kaur Life [3]Vogue
Signature/Autograph
Career
Rupi Kaur began performing poetry in 2009. She used to perform spoken word poetry and participate in poetry slams and open mics. During her high school years, Kaur anonymously posted her writings. Around 2013, she started sharing her work without a pseudonym on Tumblr before moving to Instagram in 2014, where she added simple illustrations to her words. The first poem she posted on Instagram was about a wife coping with her husband's alcoholism. Soon, she accumulated a following. On 4 November 2014, she self-published her first poetry collection Milk and Honey through Amazon's CreateSpace platform.
In March 2015, Kaur posted a series of photographs to Instagram as a part of her university photography project, a visual rhetoric course. The pictures showed her from behind, lying on her side, with menstrual blood leaking through the crotch of her sweatpants and stains on bedsheets. She intended to challenge the societal menstrual taboos and the objectification of women. Instagram removed the image due to censorship following which she posted a viral critique on Facebook and Tumblr. [4]Rupi Kaur – Facebook She wrote,
Their patriarchy is leaking.
Their misogyny is leaking.
We will not be censored.
Later, Instagram backtracked saying that the photo had been "accidentally removed." This incident led to increased recognition of Kaur's poetry, gaining immense popularity for Milk and Honey (2014). It was then reprinted by the publisher Andrews McMeel and saw widespread commercial success. The book's theme centres around survival, feminism, relationships, immigrant experience, and overcoming sexual trauma. It sold two million copies in 25 languages and was on The New York Times Best Sellers list for over a year (77 weeks). In an interview, she shared that her favourite lines from Milk and Honey were,
you must have known you were wrong when your fingers were dipped inside me searching for honey that would not come for you"
At 22, she launched a company and hired seven people to work for her.  After self-publishing her first poetry collection, Milk and Honey, Kaur signed a two-book deal with Simon and Schuster. Her second collection The Sun and Her Flowers was published by Andrews McMeel on 3 October 2017. The book is divided into 7 sections reflecting the life cycle of a flower and it focuses on themes of love and loss, trauma and abuse, healing, femininity and the body. The book ranked second on Amazon's best-seller list a week after its release. Within the first two weeks of publication, it secured a spot among the top ten on the New York Times Best Sellers list. In 2018, she earned almost $1 million from poetry sales. [5]The Guardian By 2020, the book sold over a million copies and was translated into various languages.
In 2019, Penguin Classics asked her to write an introduction for a new version of Kahlil Gibran's The Prophet. This was in anticipation of that book entering the public domain in the United States. She also performed at the London Book Fair. In 2018, she also participated in the Jaipur Literary Festival. When COVID-19 hit, Kaur had writer's block following which she did workshops on Instagram. She published her third collection, Home Body, in 2020. The collection, published by Andrews McMeel, features illustrations from Kaur and became one of the best-selling books of 2020.
In 2021, she self-produced Rupi Kaur Live, the first-of-its-kind poetry special on Amazon Prime Video. Apart from the poetry realm, Rupi made waves in larger feminist work. On 27 September 2022, Simon & Schuster published her fourth book, Healing Through Words.
In 2023, she wrote an article titled "History shows Punjab has always taken on tyrants. Modi is no different," which was featured in The Washington Post. The same year, Kaur penned and narrated an original poem for the short film "Rise" in collaboration with Reese Witherspoon's media company, Hello Sunshine.
Inspirations
According to Shortform's website, a service that provides highly detailed book summaries, Rupi Kaur grew up experiencing oppression and abuse and it shaped her poetry. The collection of poems in Milk and Honey narrates her experiences of sexual assault, the complexity of relationships, and the healing power of self-love. She experienced years of childhood sexual abuse. [6]Elle As a child, Kaur was raped by her uncle and experienced the fallout of a distant father who demanded she stay silent. [7]Shortform At five, when she had her first kiss with a boy, he forced himself on her following which she started believing that her body wasn't her own. [8]Shortform On numerous occasions, she discussed a challenging period in her adolescence, and her poetry frequently addresses the physical and emotional consequences of sexual assault. However, in an interview, she said that her books were not completely autobiographical. [9]PBS She said,
The books are not 100 percent, like, autobiographical. There are — the emotions of it, yes, perhaps, but they're also stories that my sisters or my cousins or my mom or my aunt experience every single day. And so I have had the ability and the privilege to go and write poems about their experiences."
Reportedly, Kaur started writing in an attempt to express her personal trauma after ending an abusive relationship. Once Rupi shared that she would ignore her mom at the supermarket as a kid because she was too embarrassed by her accent. She did not like to be seen with her. The anecdote is reflected in her poetry "Broken English" in which she criticises herself and anyone else who has ever been ashamed of their immigrant mother. She wrote,
So how dare you mock your mother
when she opens her mouth
and broken English spills out.
Her accent is thick like honey,
hold it with your life,
it's the only thing she has left from home
Favourites
Conceptual Artist: Marina Abramovic
Painter(s): Amrita Sher-Gil, Frida Kahlo
Singer(s): Adele, Beyonce
Writer(s)/Poet(s): Bulleh Shah, Sharon Olds, Kahlil Gibran, Nizar Qabbani
Awards, Honours, Achievements
She was officially inducted into The City of Brampton's Arts Walk of Fame. Her induction ceremony came along with the celebration of Sikh Heritage Month in April 2018. During the ceremony, she performed a selection of poems from her second collection, The Sun and Her Flowers, at The Rose Theatre.
She was included in the 30 Under 30 – Media (2018) list.
In 2019, she was regarded as the "writer of the decade" by the New Republic due to her impact on the medium of poetry.
Facts/Trivia
In an interview, Rupi shared that her father used to write Punjabi poetry for her mother in letters when he lived in Japan shortly after their marriage. Her mother used to practice painting.
As a kid, she had a rocky relationship with her mother, who was very orthodox. When Rupi got her period at the end of eighth grade, her mother's first question was, "But you don't even eat chocolate and ketchup! How did this happen to you?." Apparently, her mother believed in these wives' tales about what brings period on sooner. Whenever Rupi was on my period, her mother would tell her to refrain from going out or riding a bike, and when Rupi didn't listen to her, she would say things like 'Your mother-in-law is going to hate you, no-one's going to marry you!.' [10]

Elle
Growing up, she suffered from Endometriosis, a disease in which tissue similar to the lining of the uterus grows outside the uterus causing severe pain. She would faint regularly and be picked up by ambulances at the university constantly because cysts would rupture.
She adopted the stage name "Kaur" because it is the common last name for all Sikh women and symbolizes the elimination of the caste system in India. She believed it would be empowering for a young Sikh girl to encounter her last name in a bookstore.
As Gurmukhi script doesn't distinguish between lowercase and uppercase, Kaur writes her work entirely in lowercase, using only periods for punctuation. Kaur writes this way to honour the Punjabi language.
English singer and songwriter Sam Smith has a tattoo of one of Rupi's illustrations, a human heart with flowers sprouting out of it from her book The Sun and Her Flowers (2017).
Kaur has faced allegations of plagiarizing the style of various black poets, such as Warsan Shire and Nayyirah Waheed, both of whom she has acknowledged as inspirations. Numerous Twitter users have accused her of plagiarizing Nayyirah Waheed, a poet who released the anthology 'Salt' in 2013 and had been sharing her poems on Tumblr. Critics argue that Kaur's poems exhibit similarities to Waheed's, including the absence of punctuation and the use of honey as a metaphor.
In 2023, Rupi made headlines when she turned down an invitation to a Diwali celebration at the White House in the United States. She chose not to participate in the event, which was scheduled to be hosted by Vice President Kamala Harris, due to the Biden administration's continued support of Israel and its bombardment of Gaza. She also encouraged her followers to join efforts against the ongoing conflict in Gaza. While talking about the same in her Twitter post, she wrote,


I decline any invitation from an institution that supports the collective punishment of a trapped civilian population—50% of whom are children."