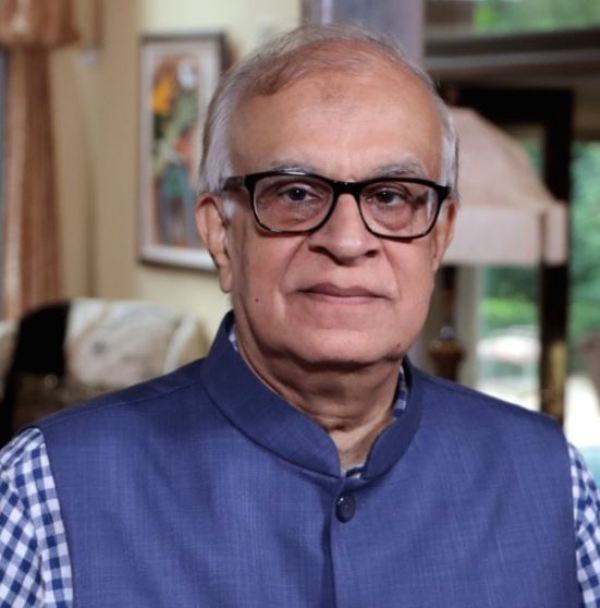 Rajiv Malhotra is an Indian American author, researcher, professor and speaker. His prominent works include Breaking India (2011), Being Different (2011), Indra's Net (2014), and The Battle for Sanskrit (2016). He is the founder of Infinity Foundation (1994) and the Educational Council of Indic Traditions (ECIT) (2000). He also wrote extensively in online groups and e-magazines.
Wiki/Biography
Rajiv Malhotra was born on Friday, 15 September 1950 (age 72 years; as of 2023) in New Delhi, India. His zodiac sign is Virgo. Rajiv Malhotra studied Physics at St. Stephen's College, Delhi. He studied Computer Science at Syracuse University, New York, United States in 1970.
There is not much information about his wife and children. The problem with a lot of Hindus, a lot
of nationalists, is that they do micro-optimisation, which means a very localised optimisation of some interest that they have. It could be a political interest, or an ethnic interest. They are optimising in a way that compromises the macro interests of India. They don't have a wide-angle lens."
Family
Parents & Siblings
There is not much information about his parents and siblings. His father was an engineer in Lahore before partition.
Wife & Children
There is not much information about his wife and children.
Career
Founder
Rajiv Malhotra served in several career fields including software development, development executive, strategic consultant, an entrepreneur in the Information Technology and Media Industries, and ran several IT companies in around 20 countries. He is a chairperson of the board of governors in the Center for Indic Studies at the University of Massachusetts, Dartmouth. Rajiv Malhotra was a panel speaker at an international conference held in July 2002 at the Center for Indic Studies, University of Massachusetts Dartmouth. Rajiv Malhotra was also a board member of the Foundation for Indic Philosophy (2001) and Culture at the Claremont Colleges. [1]LinkedIn – Rajiv Malhotra
Foundations
In 1994, Rajiv Malhotra took retirement at age 44. He established Infinity Foundation in Princeton, NJ in the same year to work in the field of philanthropy, research, and public service, which he personally liked. His foundation funded several journals like Education About Asia and the International Journal of Hindu Studies. He founded the Educational Council of Indic Traditions (ECIT) in 2000, to stand against the misconception about the ancient Indian religions and to keep a record of the contributions of Indian service. Rajiv Malhotra is a member of the Advisory Board of the Indian Institute of Advanced Studies, Shimla.
Professor
In October 2018, Rajiv Malhotra became a professor at the Centre for Media Studies at Jawaharlal Nehru University, Delhi. On 6 November 2018, he delivered his first lecture on the topic of Sanskrit non-translatable which was organized by the School of Sanskrit and Indic Studies.
Writer & Researcher
Rajiv Malhotra has authored several books based on the Theme of identity and self-discovery. His research includes the study of Western society's complex relationships with India. In particular, for the last ten years, he has been researching the Inner Sciences, Indic traditions and Western cultures.
Publications
Books
Breaking India: Western Interventions in Dravidian and Dalit Faultlines (2011), published by Amaryllis, An imprint of Manjul Publishing House.
Being Different: An Indian Challenge to Western Universalism (2011), published by HarperCollins, India.
Indra's Net: Defending Hinduism's Philosophical Unity (2014), published by HarperCollins India.
Battle for Sanskrit: Dead or Alive, Oppressive or Liberating, Political or Sacred? (2016), published by Harper Collins, India.
Sanskrit Non-Translatables: The Importance of Sanskritizing English (2020) written by Rajiv Malhotra and Satyanarayana Dasa Babaji, published by Amaryllis, An imprint of Manjul Publishing House.
Snakes in the Ganga: Breaking India 2.0 (2022), by Rajiv Malhotra and Vijaya Viswanathan, published by Occam, An imprint of BluOne Ink.
Ten Heads Of Ravana (2023) by Rajiv Malhotra and Divya Reddy, published by Garuda Prakashan House.
Academic Hinduphobia (2016) published by the Voice of India; 1st edition.
Other publications
American Exceptionalism and the Myth of the Frontiers (2009)
Invading the Sacred: An Analysis Of Hinduism Studies In America (2007)
Articles and Blog Posts
In the early 2000s, Rajiv Malhotra started writing articles where he used to criticise several writers and their works. In 2002, he put up a blog post titled 'Wendy's Child Syndrome' criticising Wendy Doniger for 'applying Freudian psychoanalysis to aspects of Indian culture'.
In 2003, in his blog post titled "Does South Asian Studies Undermine India?" at Rediff India Abroad: India as it happens, Rajiv Malhotra criticised the 'funding of South Asian Studies by Indian-American donors. In his view,


Many eminent Indian-American donors are being led down the garden path by Indian professors who, ironically, assemble a team of scholars to undermine Indian culture. Rather than an Indian perspective on itself and the world, these scholars promote a perspective on India using worldviews which are hostile to India's interests."
Projects and Theories
U-turn theory
U-Turn Theory states that a person who is a part of the dominant Western culture first learns the Indic tradition, and then projects all the knowledge gained from India and Indian culture within his own culture. The theory explains that Indians are incorporating the Western adaptations of Indian culture and reimporting them into their own country and culture. He divided the theory into 5 stages, through which the Indic Knowledge gets stolen by the West and resold in India.
Stage 1 – Discipleship
The Westerners first learn the Indic tradition and culture.
Stage 2 – Decontextualization
The Westerners decouple first and then steal all the knowledge gained from Indian tradition and culture from its authentic source.
Stage 3 – Recontextualization
Then they incorporate the decoupled knowledge into their religious frameworks like Christianity, Mind Sciences, and Cults.
Stage 4 – Arson
In stage four, they destroy and disparage the source of knowledge.
Stage 5 – Repackaging
They repackage the stolen knowledge into new English terms and resell it back to India.
HIST Series (History of Indian Science & Technology)
Infinity Foundation published a series of fourteen volumes on the History of Indian Science and technology. The project of the HIST series is modelled along the lines of Joseph Needham's famous series to make China's contributions to global knowledge known to scholars worldwide.
Sanskrit Non-Translatable
Rajiv Malhotra is building a new series of books and e-learning courses to protect the Sanskrit Non-Translatable terms. In his view, certain Sanskrit words should not be translated into English as there are no equivalent English terms, and it destroys the original essence of terms from their original language. It is important the terms in an appropriate manner.
Indian Mind Sciences
Infinity Foundation has conducted several seminars and conferences at various institutions in India like IITs, Delhi University and several others to bring the theories of Indian mind sciences in front. This led to the creation of a formal discipline of Indian Psychology in some universities in India.
New vocabulary terms
Rajiv Malhotra established several terms like Breaking India, Indian Grand Narrative, Hindu Open-Architecture, Mutual Respect, History-Centrism, Digestion, and Hinduphobia.
Controversy
Allegations of plagiarism
In July 2015, Richard Fox Young, the Associate Professor of the History of Religions at Princeton Theological Seminary and Andrew J. Nicholson, the Associate Professor of Asian and Asian American Studies at Stony Brook University, alleged Rajiv Malhotra had plagiarised the entire book titled Unifying Hinduism in his book Indra's Net and has,
twisted the words and arguments of respectable scholars to suit his own ends."
In response to Andrew J. Nicholson's allegations, Rajiv Malhotra removed all references from chapter 8 of the book Indra's Net and replaced them with references from original Indian sources. He further said,
I am going to actually remove many of the references to your work simply because you have borrowed from Indian sources and called them your own original ideas […] Right now, it is western Indologists like you who get to define 'critical editions' of our texts and become the primary source and Adhikari. This must end and I have been fighting this for 25 years […] we ought to examine where you got your materials from, and to what extent you failed to acknowledge Indian sources, both written and oral, with the same weight with which you expect me to do so.
Facts/Trivia
Rajiv Malhotra has over 1,000 video lectures available on his YouTube channel Infinity Foundation Official, around 19000 followers on Instagram, and 7 million followers on his Facebook.
Rajiv Malhotra is a Hindutva ideologue and he widely promotes his Hindu nationalism perspective of Indic cultures.
On 11 January 2023, Rajiv Malhotra tweeted against Artificial Intelligence,
Artificial Intelligence has bias against Hindu dharma. I pointed this out in my AI book 2 years ago. Note the Open AI session below. Krishna treated differently than Mohammad and Jesus. pic.twitter.com/rJY7ogeD8K

— Rajiv Malhotra (@RajivMessage) January 11, 2023
Infinity Foundation has funded Columbia University's project to translate the Tibetan Buddhist Tengyur.
In 2017, Rajiv Malhotra delivered a public lecture which was hosted by the Embassy of India, Washington, DC.
Malhotra wrote in opposition to the Western academic education of Indian culture and tradition, as he thinks that it undermines the value of India


by encouraging the paradigms that oppose its unity and integrity"
In Swarajya Magazine, March 2018, Vol 62 Issue 02, Rajiv Malhotra defined Hinduism and said,


Hinduism needs a balance. The open architecture is very inviting and new forms can come and take root in Hinduism. At the same time, it needs (an anti-virus) against those who are projecting exclusivity and being subversive. Because, by projecting exclusivity, they are not giving space to other parts of the open architecture. They are trying to hijack open architecture and make it closed. This has been an important part of my work, to show the unity and diversity of Hinduism in a manner that is responsible, that is dynamic and vibrant and stays competitive. It is not passive." [2]Swarajya Magazine
In an interview with R Jagannathan, he speaks about his theory and the dangers that Indians are facing today.


The Breaking India thesis is not something I came up with overnight. It is not a question of coining a term; it is actually my lived experience in the US for over 45 years. There were some major events in this journey. I found some African-Americans coming back from India and talking about an Afro-Dalit thing that they were part of; I came across Marxists, many of them Indians, many of them aligned with Maoist forces in India; I came across Christian missionaries sending huge sums of money to India saying it was about social work. People in India were tracking isolated data points concerning either Islam, or Marxism or Christianity, but nobody was tracking end-to-end. They were not connecting all of this to foreign forces."
Infinity Foundation has also published a 14-volume series on the History of Indian Science & Technology. [3]

Times of India
In an interview, when asked about the Christianity, Islam and Maoism-breaking forces, Rajiv Malhotra stated,


We (in India) should exploit the conflicts between Christianity and Islam and Maoism in their global nexuses because globally they are fighting each other and we are not even aware of that. Our people are not taking advantage of their fault lines. That is something we could do. Even though in India they seem aligned, globally they are at war with each other."