Karuna Ezara Parikh is an Indian author and poet. She is also a screenwriter who has worked with Ishaan Nair for his film Kaash in 2015. She is a part of the presenters' team of 'The Burlap People' that makes hand-crafted, sustainable bags from pre-washed fabrics, the perfect jeans, and earrings to sell them online. [1]The Burlap People She also worked as a Television journalist and a model.
Wiki/Biography
Karuna Ezara Parikh was born on Monday, 12 November 1984 (age 37 years; as of 2021) in Delhi. Her zodiac sign is Scorpio. She earned journalism, film & broadcasting at Cardiff University. [2]Indian Express
Physical Appearance
Height (approx.): 5′ 8″
Hair Colour: Black
Eye Colour: Black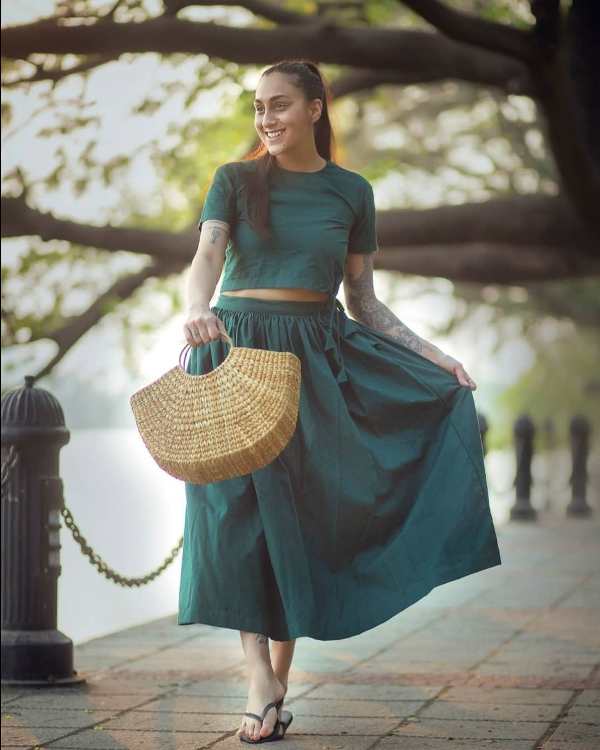 Family
Parents & Siblings
Her father's name is Rajen Parikh.
Her mother's name is Kalpana Misra. She is a writer and a teacher. She has two sisters. The name of her youngest sister is Nayantara Parikh who is a photographer. Her middle sister is an archaeologist who lives in Cambridge.
Husband
On 23 January 2019, Karuna Ezara Parikh got married to Amitesh Ray. He is a lawyer by profession. Her wedding took place at Pashupatinath Temple in Kathmandu, Nepal.
Relationships/Affairs
She was in a relationship with Amitesh Ray before getting married to him.
Career
Karuna Ezara Parikh began her career as a print journalist soon after completing her education. As a print journalist, she wrote and edited various publications. Initially, she worked on Doordarshan as an anchor of the series named 'Destination Himalaya.' Later, she joined NDTV Good Times' travel and talk show 'Life's A Beach.' She quit the show after completing almost 50 episodes at different beaches across the world. She also worked as a screenwriter and a model. She has a fashion line titled Karuna for Fashion. (https://www.fashionatclick.com) She is the writer of the book titled 'The Heart Asks Pleasure First' that was released by her in 2020. She narrated in an interview how she started writing. She said,
At first I wrote poems – note- books and notebooks full of them. But I didn't know you could "be a poet". I didn't understand how one could. I would send poems to the newspaper. No one ever wrote back of course. I think it's why I studied Journalism eventually. It was the only way I thought I could, maybe, make any money writing."
Favourites
Movies: The Dreamers, Love Me If You Dare, Almost Famous, Fight Club, Vigo, Women Talking Dirty
Books: Lionel Shriver, Salman Rushdie, Jack Kerouac, Ken Kesey, Margaret Atwood, Danny Sugarman, Nadeem Aslam, Kiran Desai, Tarun Tejpal, Pablo Neruda, Peter Carey, Tom Robbins, Tom Wolfe, Chuck Klosterman
Writers: Michael Ondaatje, Nadeem Aslam, Tolstoy, Arundhati Roy, Svetlana Alexeivich, Barbara Kingsolver, Ann Patchett, Zadie Smith, Graham Greene
Tattoos
Karuna Ezara Parikh has an inked guitar on her forearm as she loves music.
Her left arm is fully tattooed. In her blog, she mentioned the meaning of her full arm tattoo. She wrote,


I never planned for those tendrils and mandalas, the feathers and fine mesh all happened somewhat by mistake, somewhat by chance. There's a deer there somewhere because a girl I love calls me one. There's a flower that's in constant bloom. There's a bride's worth of henna tumbling down that arm in black."
She has inked an aeroplane on her wedding finger.
She has a tattoo inked on the left side of her leg and a butterfly tattoo on her left foot.
The tattoo on her ankle represents the sign (Scorpio) under which she was born.
She has a tattoo inked on the inner side of her right leg.
Facts/Trivia
Karuna Ezara Parikh enjoys consuming alcoholic beverages occasionally.
Karuna Ezara Parikh is a social media influencer with over 82k followers on Instagram.
Karuna Ezara Parikh enjoys smoking cigarettes occasionally.
In a conversation with 'Platform' media house, she asked about her inspiration to write her first book titled 'The Heart Asks Pleasure First.' This book is a romance of an Indian-Pakistani couple. [3]

Platform She told,


In 2003 I met a group of Pakistani boys and became very embedded in friendships that felt very much like home and family. Our conversations and connections over the years became the lens through which I viewed Indo-Pak relations in some sense – devoid of politics, steeped in similarities. The story began to brew at the time and I knew I always wanted to write something that dealt with the complexity of those friendships but which was rooted very much in today and not at the time of partition. Yes, it's impossible to write about India and Pakistan together without referencing 1947, but there are new stories to tell as well."

She further added,

Over the last two decades the way we view Islam has also changed, globally, and the urgency to tell my story grew. It finally fell into place when I met a man who made me question everything I knew about love. I've been told I "only write love stories" and perhaps that's true, but aren't all stories love stories? When I combined my humongous learning of love with the anger and frustration I had felt politically for so long, a story became ready to be written."

In her leisure time, she loves to do photography.
Karuna Ezara Parikh also advertises various beauty products on her social media account.
In a conversation with a media house, Karuna Ezara revealed her favourite authors. She said,


Tom Robbins, Tom Wolfe, Nadeem Aslam, Sara Suleri Goodyear, Barbara Kingsolver, Svetlana Alexievich, Joan Didion, Zia Haidar Rahman, Richard Powers, Galeano,Ondaatje… The list is quite endless."
She is a yoga enthusiast.
She is also an animal lover. She often posts pictures of her pet dog 'Clover' on her social media account.
A video of Karuna Ezara Parikh while hosting an art culture event in Singapore in 2019.
Several magazines like Elle India often features Karuna Ezara Parikh' life story in their reading content.
Various motivational, women activists and environmentalist organisations often invite Karuna to deliver motivational lectures. On 5 June 2021, she attended a motivational program organised by Simon & Schuster India and delivered a lecture on 'Life In The Age of Anxiety.'