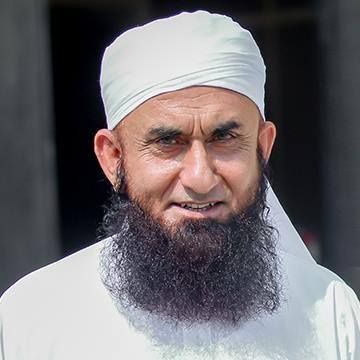 Tariq Jamil is a Pakistani Islamic television preacher and member of the Tablighi Jamaat. He is a religious writer, and scholar as well.
Wiki/Biography
Maulana Tariq Jamil was born on Tuesday, 23 June 1953 (age 70 years; as of 2023) in Mian Channu, located in Pakistan's southern Punjab. His zodiac sign is Cancer. He completed his schooling at Central Model School in Lahore. He completed his pre-medical education at Government College University, Lahore. He gained Islamic education in Sufism, Islamic jurisprudence, and Hadiths from Jamia Arabia, Raiwind. He enrolled for an MBBS degree at King Edward Medical College, Lahore. However, he left his degree midway to pursue Islamic education.
Family
Maulana Tariq Jamil belongs to a wealthy Punjabi Rajput family. His ancestors were zamindars during the rule of the Rajput ruler Prithviraj Chauhan in the 12th century. They ruled Tulamba, a town in Pakistan when Sher Shah Suri ruled in the 16th century.
Parents & Siblings
There is not much information about his parents. His younger brother Dr Muhammad Tahir Kamal Sahu is a cardiologist at Punjab Institute of Cardiology in Lahore.
Wife & Children 
He is married to Safia. The couple has three sons, Asim Jamil, Yousaf Jamil, and Ali Jamil. On 29 Oct 2023, his son, Asim Jamil, died after shooting himself right in the chest at Raisabad in Talamba. His brother, Yusuf Jamil posted a video on social media and revealed his cause of death. He said that his brother was a patient with extreme depression and was taking therapy. He took a gun from one of their guards at home and shot himself. [1]The Free Press Journal
Despite all the fake news and disinformation about asim jamil sb, here is his brother and maulana tariq jamil sb's son yusuf jamil sb explaining about his accidental demise,

May Allah give him maghfirah and grant him jannatul firdaus.#tariqjameel #tariqjamil… pic.twitter.com/aGZpBCxkGf

— Kashif Arsalaan (@KashifArsalaan) October 29, 2023
Religion
He follows Islam. He is a Sunni Muslim.
Career
Business and Social Work
In March 2021, Tariq Jamil launched a flagship clothing brand Maulana Tariq Jamil Foundation (MTJ) Brand, a non-profit organization in Tulamba, Khanewal and its headquarters are located in Karachi, Pakistan. With the revenue he generates through his brand, he uses it for social work, health, and education to build schools and hospitals for people in the country and funds his Madrassahs, an educational institute in Faisalabad, Pakistan.
Religious Preacher
Maulana Tariq Jamil has delivered several lectures related to the Islamic religion and about emphasis on self-rectification and self-accountability in Pakistan and other different countries, influencing several communities and professions like businessmen, landlords, ministers, actors, and sports celebrities. In 2023, he was ranked as the 32nd Most Influential Muslim in the world.
Controversy
Tariq Jameel blamed women for COVID-19 spread
On 25 April 2020, Tariq Jameel was invited to the Ehsaas Telethon to pray for the people and guide them to take precautions during the pandemic. He blamed the immodesty of women and the clothing choices of women for the spread of COVID-19. He said,
When a Muslim's daughter practices immodesty and the youth indulges in immorality, then Allah's torment is unto such a nation."Human rights proponents and other members of Pakistani society condemned the remarks. Human Rights Minister Shireen Mazari responded by saying "misogynistic' and 'ignorant' comments blaming women and youth for the ongoing coronavirus crisis were 'absolutely unacceptable." [2]Daily Times
Shireen Mehrunnisa Mazari, a former Pakistani politician and Human Rights Minister, reacted to Jamil's comment on Twitter. The tweet read,
We will not accept the targeting of women on the pretext of such ludicrous accusations. We in Pakistan have fought hard for claiming our rights as enshrined in the Constitution of the Islamic Republic of Pakistan.

— Shireen Mazari (@ShireenMazari1) April 24, 2020
Awards
In 2020, he was awarded the Presidential Pride of Performance, the highest national literary award of Pakistan, by the president of Pakistan, Arif Alvi, for his notable achievements.
Facts/Trivia
Every year from 2012 to 2023, Maulana Tariq Jamil has been featured in the top 500 Most Influential Muslims.