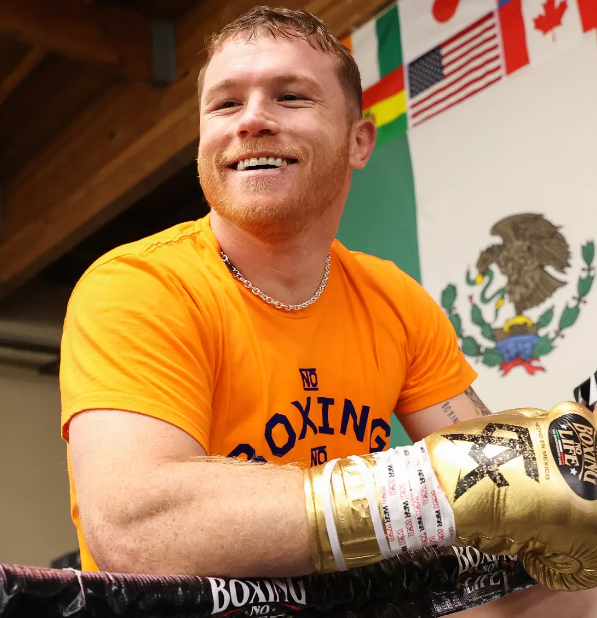 Canelo Álvarez is a Mexican professional boxer, who has clinched numerous world titles across a range of weight categories, spanning from light middleweight to light heavyweight. He is considered the only boxer in history to attain the undisputed championship in the super middleweight division. With his exceptional counterpunching and body puncher skills, Canelo Álvarez ranks among the highest-paid athletes worldwide.
Wiki/Biography
Santos Saúl Álvarez Barragán [1]Sherrod Sports Visas was born on Wednesday, 18 July 1990 (age 33 years; as of 2023) in Guadalajara, Jalisco, Mexico. His zodiac sign is Cancer. Canelo Álvarez's mother, Ana María Barrera, and father, Santos Álvarez, both originated from and were raised in Los Reyes, Michoacán, where they eventually tied the knot. At the age of five, Canelo's family relocated from Los Reyes, Michoacán to Jalisco due to financial constraints. They ultimately established their home in Juanacatlán, a town situated 60 kilometers away from Jalisco's capital, alongside the Santiago River, where Canelo spent most of his childhood. He attended a school in Juanacatlán, Jalisco, Mexico, and dropped out of school in the eighth grade. At the age of 10, Canelo received a pair of gloves as a gift from his older brother, Rigoberto Álvarez. Back then, Canelo aspired to become a soccer player. While gifting the gloves to Canelo, Rigoberto told him,
You are going to be a boxer, not a paletero."
Soon, Canelo engaged in training with his siblings and fellow residents in the garage of his small house in Juanacatlán and went on to become one of the most sought-after boxers in the world.
Physical Appearance
Weight (approx.): 75 Kg
Hair Colour: Ginger
Eye Colour: Dark Brown
Body Measurements (approx.): 46-30-15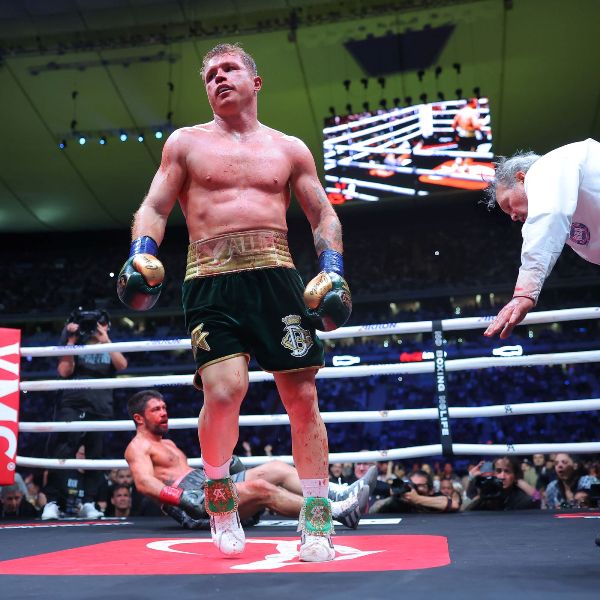 Family
Parents & Siblings
His father's name is Santos Álvarez, and his mother's name is Ana Maria Barragán. Canelo's father ran a pallet shop in Juanacatlán. When the business faced challenges in one area, Santos relocated to a different community, and the young Canelo would readily assist his father without any hesitation. In an interview, Santos talked about this and said,
I gave my children a percentage for each palette they sold to motivate them and so they wouldn't be embarrassed."
Canelo has seven siblings, six brothers, and a sister. All his brothers, Rigoberto "El Español" Álvarez (eldest), Víctor "El Matador" Álvarez, Daniel "El Conde" Álvarez, Gonzalo "El León" Álvarez, Ricardo "Dinamita" Álvarez, and Ramón "El Inocente" Álvarez, are professional boxers.
His sister, Ana Elda Álvarez, is a businesswoman. Canelo Álvarez is the youngest among eight siblings.
Wife & Children
Canelo Álvarez got married to Fernanda Gómez, a model and businesswoman, on 15 May 2021.
Canelo has four children, three daughters, and a son, from different women. His eldest daughter, Emily Cinnamon Alvarez, was born in 2007 with Karen Beltran; Caleno was 17 years old at the time. His daughter Mía Ener Álvarez was born in 2014 with Valeria Quiroz. His daughter Maria Fernanda Alvarez was born in 2017 with Fernanda Gómez. His son, Saul Adiel Sepulveda was born in 2019 with Nadia Sepulveda.
Relationships/Affairs
Marisol González
Canelo first dated Marisol González, Miss Mexico Universe 2003, and a sports reporter for Televisa Deportes. In October 2010, he got engaged to Marisol González in Mexico. [3]Boxing Scene At that moment, Canelo was 19 years old, whereas Marisol González was 26 years old.
Kate del Castillo
Canelo later dated Mexican actress Kate del Castillo who is 18 years older than Canelo.
Cynthia Rodriguez
In 2013, Canelo dated Cynthia Rodriguez, a Mexican singer and reality television personality, for a couple of months.
Shannon De Lima
In 2018, he dated Venezuelan model Shannon De Lima for a couple of months.
Nelda Sepulveda
In early 2018, he dated his business partner Nelda Sepulveda for a few months.
Fernanda Gómez
Before getting married to Fernanda Gómez in 2021, Canelo dated her for more than two years.
Religion
Canelo is a Catholic Christian.
Ethnicity
Canelo Álvarez is Spanish from his father's side and Irish from his mother's side.
Signature/Autograph
Career
Amateur Boxing
Canelo began his amateur boxing journey at the age of 13. In 2004, he competed in the Junior Mexican National Championships, which took place in Sinaloa, and he secured a silver medal. In 2005, at the age of 15, Canelo emerged victorious in the Junior Mexican National Boxing Championship, held in Tuxtla Gutiérrez. His amateur track record includes 44 wins, 2 losses, and 12 knockouts.
Professional Boxing
Turned-pro and initial bouts
When he was 15 years old, Alvarez made his debut as a professional boxer under the guidance of the father-and-son coaching duo, Chepo and Eddy Reynoso.
During his first 19 months in the professional circuit, Alvarez emerged victorious in 11 out of 13 fights, despite facing opponents who were notably older than him. Over the initial three years of his professional career, Alvarez experienced weight variations, even participating in two documented fights within the light welterweight category at 140 pounds, but he ultimately found his place in the welterweight division at 147 pounds. [4]Box Rec In the early stages of his professional career, Canelo secured notable victories, including a win against Miguel Vázquez on 20 January 2006, a dominant third-round knockout of Brian Camechis on 6 March 2010, and a successful defense of his WBC-NABF welterweight title, which he retained by defeating José Cotto on the undercard of the Floyd Mayweather Jr. vs. Shane Mosley bout on 1 May 2010. [5]Los Angeles Times
Light Middleweight
In July 2010, he secured a victory over Luciano Leonel Cuello to claim the WBC Silver light middleweight title at the Vicente Fernández Arena. As a result of this win, the renowned Mexican singer Vicente Fernández presented Álvarez with a horse, and the mayor of Tepic also gifted him a horse in celebration of his win. [6]Los Angeles Times In the same month, he won over the former WBC welterweight champion Carlos Baldomir at the Staples Center in Los Angeles, California; it was on the Shane Mosley vs. Sergio Mora undercard. With this, he became the second boxer in history to stop Carlos Baldomir and the first to score a knockout against him. Alvarez refused to accept the extra $12,000 offered by Baldomir, who had exceeded the weight limit. In California, an overweight fighter incurs a 20% purse penalty, and this penalty is typically awarded to the opponent, but Alvarez chose not to accept it. [7]Boxing Scene
Later, in the light middleweight category, Alvarez emerged victorious against several esteemed opponents. On 26 November 2011, he defeated Kermit Cintrón, a bout that attracted an average of 1.5 million viewers on HBO's Boxing After Dark. On 5 May 2012, he secured a unanimous decision victory over Shane Mosley after a twelve-round contest. On 15 September 2012, he registered a win over Josesito López, with the fight drawing an average of 1.04 million viewers on Showtime. Alvarez continued his winning streak on 20 April 2013, when he defeated Austin Trout. However, he experienced a loss to Floyd Mayweather Jr. on 14 September 2013, in front of a capacity crowd of 16,746 at the MGM Garden. [8]The New York Times
On 17 September 2016, Alvarez achieved victory over Liam Smith, recapturing a world title in the light middleweight division in the presence of an unprecedented crowd of 51,240 spectators.
Catchweight
Following his success in the light middleweight category, Alvarez moved to the catchweight category and won over several notable opponents. His initial match in this new weight class occurred on 8 March 2014 against Alfredo Angulo, which was Alvarez's first bout at a 155-pound catchweight. On 12 July 2014, he secured a victory over Erislandy Lara, though the fight's outcome generated controversy as many considered the scoring to be far too wide. On 9 May 2015, Alvarez defeated James Kirkland, marking the first fight under Álvarez's lucrative HBO contract. This fight drew the highest viewership for HBO in 2015, with an average of 2.146 million viewers. On 21 November 2015, in front of a capacity crowd of 11,274 at the Mandalay Bay Events Center in Las Vegas, he won against Miguel Cotto. On 7 May 2016, Alvarez defeated Amir Khan at the newly opened T-Mobile Arena in Las Vegas.
Canelo emerged victorious against Julio César Chávez Jr. on 6 May 2017 in a bout held at the T-Mobile Arena in Paradise, Nevada, in front of a capacity crowd of 20,510. [9]Boxing Scene While talking about this fight in his post-fight interview, Alvarez said,
Tonight I showed I could move, I could box, I showed as a fighter I can do all things. I thought I was going to showcase myself as a fighter that could throw punches, but he just wouldn't do it. I've shown I can do lots of things in the ring, anything a fighter brings, I've shown I can showcase myself."
Middleweight
Following his victory over Julio César Chávez Jr., Alvarez moved to the middleweight category. In their initial encounter, Alvarez and Gennady Golovkin battled to a split draw (with scores of 118–110 in favor of Álvarez, 115–113 for Golovkin, and a 114–114 tie) on 16 September 2017. This fight, after the Mayweather–Álvarez bout, ranked as the third highest-grossing event in boxing history. On 15 September 2018, Alvarez secured a majority decision victory over Golovkin in a rematch, although the result sparked controversy. In a post-fight interview, Alvarez termed it as a 'clear victory.' He said,
In the end, it was a victory for Mexico. And again, it was an opportunity. And I want to shout out to my opponent, the best in the sport of boxing. I am a great fighter, and I showed it tonight. If the people want another round, I'll do it again. But for right now, I will enjoy time with my family."
On 4 May 2019, he secured a unanimous decision victory over the IBF middleweight champion Daniel Jacobs in a match held at the T-Mobile Arena in Las Vegas.
Super Middleweight
In October 2018, Canelo Alvarez made a notable move from the middleweight to the super middleweight category. On 15 December 2018, he achieved a victory over the 31-year-old British boxer Rocky Fielding at Madison Square Garden in New York City, securing the WBA (Regular) super middleweight title.
He won against Callum Smith on 19 December 2020 at the Alamodome in San Antonio, Texas. On 27 February 2021, Alvarez secured a win over Avni Yıldırım at the Hard Rock Stadium in Miami Gardens, Florida, despite revealing that he had contracted COVID-19 prior to the fight. On 8 May 2021, Alvarez defeated Billy Joe Saunders at the AT&T Stadium in Arlington, Texas. On 6 November 2021, he achieved victory over Caleb Plant at the MGM Grand Garden Arena in Las Vegas. [10]USA Today
He won against Gennady Golovkin on 25 June 2022; in a press conference held in Los Angeles prior to the fight, Alvarez characterized his rivalry with Golovkin as more of a personal matter than a professional one and said,
He always pretends to be a nice guy but he's an asshole. He's an asshole person… He's talking a lot of things about me. That's why it's personal."
He then won against John Ryder on 6 May 2023 at Estadio Akron in his native city of Guadalajara, Mexico.
Light Heavyweight
On 13 September 2019, Alvarez announced his decision to move up to the light heavyweight category and challenge Sergey Kovalev, the WBO light heavyweight titleholder, on social media. On 2 November 2019, Alvarez achieved victory over Sergey Kovalev at the MGM Grand Garden Arena in Las Vegas. This accomplishment distinguished Alvarez as the only former junior middleweight champion in history to win a title in the light heavyweight category, joining the ranks of Thomas Hearns, Sugar Ray Leonard, and Mike McCallum. The Ring Magazine, ESPN, Sports Illustrated, and the Boxing Writers Association of America honored Alvarez with the title of "Fighter of the Year" for his remarkable 2019 campaign. [11]The Ring
Alvarez suffered his second professional career loss on 7 May 2022, when he was defeated by Dmitry Bivol. It was reported that Alvarez was on the receiving end of more punches than he landed in each round of the fight. In his post-fight interview, Alvarez indicated his eagerness for a rematch. He said,
I don't feel like I lost the fight… Personally, I felt he (Bivol) only won four or five rounds. We want the rematch, and we're going to do better in the rematch."
Controversies
Tested positive for a banned substance
In 2018, Canelo received a six-month suspension as a result of a positive drug test for clenbuterol, a substance known for its ability to promote the development of lean muscle and fat loss. [12]BBC
Wrapped too much tape around his wrist
In 2018, Canelo had to re-wrap his hands on a complaint by Rocky Fielding's team because Canelo had initially applied an excessive amount of tape around his wrists and hands. The practice of adding multiple layers of tape to the wrists and hands, commonly referred to as the 'stacking' technique, is prohibited in New York. [13]The Sun
Filed a lawsuit against Dazn and Oscar De La Hoya
In 2019, he initiated a civil lawsuit against his longtime promoter Oscar De La Hoya, and the emerging streaming service Dazn, in the US District Court for the Central District of California. The lawsuit was filed due to their purported failure to fulfill the commitments mentioned in a $365 million contract that Canelo had entered into in October 2018. According to the terms of the contract, Álvarez was guaranteed a total payment of $365 million for his upcoming 11 matches. [14]The Guardian
Grupo Firme row
In November 2022, Canelo reportedly asked the members of Grupo Firme to leave his daughter Emily Cinnamon's birthday celebration. Later, the boxer placed the blame on the media for the controversy surrounding the removal of Grupo Firme from his daughter's birthday party and said,
The truth is that you guys in the media make a very big mess where there's nothing, but well, that's what you live off of and that's fine." [15]Marca
Online spat with Messi
In December 2022, Canelo took to social media to make allegations against Lionel Messi, claiming that Messi had shown disrespect towards the Mexican flag after Mexico's defeat to Argentina in the 2022 World Cup. Canelo's comments were prompted by a video that seemed to depict Messi's foot making contact with a Mexican jersey lying on the ground, and Álvarez expressed his sentiments via a tweet. He tweeted,
Did you see Messi cleaning the floor with our shirt and flag????"
Alvarez added,
He better pray to God that I don't find him!!"
Later, he shared an apology note on social media. He wrote,
These last few days I got carried away with the passion and the love I feel for my country and I made comments that were out of order so I want to apologize to Messi and the people of Argentina. Every day we learn something new and this time it was me who did." [16]CNN
Bike Collection
He owns a variety of high-quality motorcycles, such as Harleys and Ducatis. [17]The Sun
Car Collections
In his garage in Guadalajara, Canelo Alvarez has a collection of luxurious cars including a Mercedes SLS AMG Black Series, Lamborghini Aventador, Mustang 500 Eleanor, Mercedes-Benz G63 AMG 6×6, Ferrari Testarossa, AMG C64 biTurbo, Rolls Royce Ghost, Ferrari 458 Italia, McLaren P1, Porsche 911 GT3, Bugatti Chiron, and a Lamborghini Gallardo (Renazzo Vorsteiner edition). [18]The Sun
Tattoos
He has got a portrait of his daughter Emily Cinnamon Alvarez's tattoo inked on his left forearm.
He has got the phrase 'NO BOXING NO LIFE' tattoo inked on his left arm.
He has got 'Eyes' tattoo inked on his left arm.
He has got a portrait of his daughter Maria Fernanda's tattoo inked on his left forearm.
He has got a crown with Roman numerals 'XXIII. XI. MMXIV' tattoo inked on his left forearm; his wife, Fernanda Gomez, has also got the same tattoo inked on her left forearm.
He has got Roman numbers 'XXIX-X-MMV' (the date, i.e., 29 October 2005, when he turned pro) inked on his left shoulder.
He has got 'XII.X.MMVII' tattoo inked on his left forearm.
He has got a Rose tattoo inked on his left forearm.
He has got the date '27-08-2018′ tattoo inked on his left wrist.
He has got the quote quote "Destiny is not a matter of chance It's a matter of choice Life is hard but never give up Keep on fighting & always believe in yourself to achieve your Dreams." tattoo inked on the left side of his back.
He has got the '28 Dic 2017′ tattoo inked on his back.
He has got a 'Lady with Plume' tattoo inked on his left forearm.
He has got 'perseverancia' tattoo inked on the right side of his neck.
He has got 'Cinnamon' tattoo inked on his left arm.
Salary/Income
According to Forbes, Canelo earns tens of millions of dollars for every fight he participates in. In 2021, he stated that he was generating an annual income of approximately $20 million from his real estate ventures and expressed his intention to launch nearly 100 gas stations across Mexico. [19]Forbes
Assets/Properties
He owns multiple residences, among them a lavish mansion located in Guadalajara, Mexico.
Net Worth
According to Forbes, Canelo's net worth stands at $110M as of 16 May 2023. [20]Forbes
Favourites
Facts/Trivia
His boxing trainer Jose "Chepo" Reynoso nicknamed him "Canelo" inspired by his red hair and freckled skin. In Spanish, "Canelo" translates directly to 'little cinnamon.' [21]

Daily Mail His neighbors in the town of Tlajomulco de Zúñiga, located in the Guadalajara Metropolitan Area, affectionately gave him the nickname "Santitos." [22]

Marca His other nicknames are Jícama con Chile, Entomatado, and Enchilado. [23]

La Opinion
After defeating Miguel Vázquez on 20 January 2006, Canelo defeated him again in a rematch on 28 June 2008. On the same night, Canelo and his brothers made history by achieving the record for the most siblings participating in a single professional boxing event, which took place in Zapopan, Mexico. [24]

Guinness World Records
Canelo has a strong love for golf, and in 2020, he declared his intention to engage in daily golfing once he retires. [25]

Independent
Canelo plays a proactive role in boxing promotion through his company, Canelo Promotions, which he co-founded in 2010 in collaboration with his trainers, the father-and-son duo Chepo and Eddy Reynoso. [26]

Primera Hora
In 2023, he made a brief appearance in Creed III, an American sports drama film.
Canelo Alvarez typically starts his day with a breakfast of egg whites, ham, and orange juice. For lunch, he opts for chicken along with vegetables like carrots, squash, broccoli, and cauliflower. As for snacks, he enjoys apples, cucumbers, grapes, and jicama. His dinner typically consists of a carb-free protein shake. [27]

GQ
His hobbies include horseback riding, and playing golf and poker.
As per Canelo's sister, Ana Elda, he was exceptionally energetic, hyperactive, and mischievous during his childhood. According to Ana, when she locked the house's door to prevent the children from going out before finishing their homework, Canelo would utilize the laundry room as a makeshift ladder to climb over the fence and sneak out to play soccer at the Reforma Club.
Canelo had a deep affection for video games, and he also had a fondness for cartoons and horses during his childhood. At the age of eight, he even brought a horse home, although, after a week, he returned it to its original location. According to his family, Canelo's connection with that horse was rekindled when he became a professional boxer, and he later acquired two horses, Dandy and Bombón. [28]

La Opinion
When Canelo was 14, his parents went through a separation. By the time he was 15, he had a stepbrother, and at 17, he became a father for the first time. By the age of 19, he had already participated in 60 fights, and by 23, he aimed to become the world's best boxer. In an interview, his sister, Ana Elda, recounted his journey of growth and his pursuit of a boxing career and said,


I didn't want my little brother to grow up so fast, to leave so quickly, but that's how life is and Saúl always liked to blow it up."