Anthony Rumble Johnson (1984-2022) was an American mixed martial artist, who fought in the light heavyweight category. He was associated with the Ultimate Fighting Championship (UFC), an American MMA promotion company based in Las Vegas, for most of his career. In 2021, he returned to mixed martial arts (MMA) under the Bellator MMA banner. On November 13, 2022, he died of organ failure due to non-Hodgkin's lymphoma and hemophagocytic lymphohistiocytosis.
Wiki/Biography
Anthony Rumble Johnson, also known as Anthony Kewoa Johnson, [1]YouTube- THE ANDY LANDER SHOW was born on Tuesday, March 6, 1984 (age 38 years; at the time of death), in Dublin, Georgia, U.S. His zodiac sign is Pisces.
At the age of 2, his grandparents formally adopted him. Anthony attended West Laurens High School. In his school days, he was good at wrestling and won a wrestling scholarship, through which, he enrolled himself in Lassen College in Susanville, California. While studying in College, Johnson associated himself with the National Junior College Athletic Association and became a junior college national wrestling champion. After pursuing his graduation, Anthony worked as a bouncer for while. When he was 20 years old, he started learning mixed martial arts after a suggestion from a friend.
Physical Appearance
Height (approx.): 6′ 2″
Weight (approx.): 93 Kg
Hair Colour: Black (Semi-Bald)
Eye Colour: Black
Body Measurements (approx.): Chest: 52″, Waist: 34″, Biceps: 18″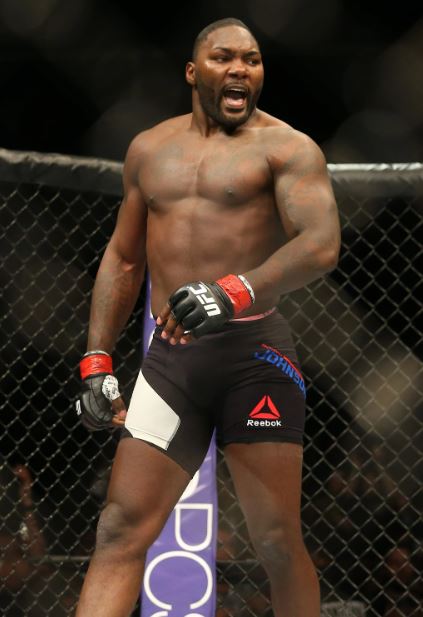 Family
Parents & Siblings
Not much is known about his parents. He had a younger brother.
Wife
He had two children from one of his ex-girlfriends. [2]Bloody Elbow
Mixed Martial Arts
Ultimate Fighting Championship (UFC)
Anthony Rumble Johnson made his UFC debut against Chad Reiner at UFC Fight Night 10. In the bout, he knocked out Reiner in just 13 seconds of the first round. He replaced Steve Bruno, who had torn his rotator cuff, in the match.
Subsequently, he lost to Rich Clementi at UFC 76; Rich defeated Anthony via rear naked choke in round 2. While he was associated with the UFC, Johnson amassed a 13-5 record. Some of his notable victories include a 13-second finish of former UFC champ Glover Teixeira, as well as wins over Alexander Gustafsson, Phil Davis, Andrei Arlovski and Dan Hardy. In 2012, he was released from the promotion for disciplinary reasons, following his overweight weigh-in on the weight day of his bout against Vitor Belfort.
After a gap of two years, on February 4, 2014, Anthony returned to the UFC by signing a four-fight deal with the promotion. After his return, instead of cutting weight to fight in the welterweight division, Johnson chose to fight in the light heavyweight division. Despite being an underdog, Johnson successfully defeated Phil Davis via unanimous decision.
On September 19, 2014, Anthony was suspended from UFC, following a domestic violence case against him by his ex-girlfriend and mother of his two children. After the dismissal of the case, on November 6, 2014, UFC lifted Johnson's suspension. He then fought against several prominent MMA personalities like Alexander Gustafsson, Daniel Cormier, Jan Błachowicz, and Ryan Bader. He has a career record of 23-6. Johnson was ranked number 1 in the heavyweight category in UFC official rankings. Before his retirement in 2017, he was placed at number 2 in the world by Sherdog and ESPN
Titan Fighting Championships
Post his release from the UFC, Anthony Rumble Johnson was scheduled to fight fellow UFC veteran David Branch at Titan Fighting Championships 22 in the middleweight division. However, on the day of the weigh-ins for the fight, Anthony weighed 194.2lb against the 186 lb limit, marking the fourth time in Anthony's MMA career that he weighed more than the permissible weight limit. The fight was later agreed upon as a catchweight bout at 195 lb and was won by Johnson via unanimous decision. On August 24, 2012, Johnson fought against Esteves Jones, former King of the Cage Super Heavyweight Champion, at Titan Fighting Championships 24, marking his light heavyweight debut. Within 51 seconds of the second round of the bout, Johnson won via technical knockout.
Independent Promotions
In 2019, on September 21, Johnson faced Jake Rosholt at Xtreme Fight Night 9 and won the fight by technical knockout in the second round.
World Series of Fighting
On October 3, 2012, Anthony Johnson signed an agreement with World Series of Fighting to fight against fellow sensation D.J. Linderman in a featured light heavyweight (205 pounds) contest at the promotion's inaugural Mixed Martial Arts (MMA) event on November 3, 2012. He won the face-off via knockout in the first round.
On March 23, 2013, he faced Andrei Arlovski at the World Series of Fighting 2 in the heavyweight category and won via unanimous decision. In the World Series of Fighting 5, he was scheduled to fight against Strikeforce vet Mike Kyle on September 14, 2013. However, he could not enter the bout because of an injury. On January 18, 2014, Anthony defeated Mike Kyle at WSOF 8 in Hollywood, Florida, via knockout in the first round.
Bellator MMA
After parting ways with the Ultimate Fighting Championship and retiring from the sport in 2017, Anthony Rumble Johnson came out of retirement and signed a multi-fight contract with Bellator MMA in December 2020. Anthony was scheduled to fight against Yoel Romero in the quarterfinal round of the World Grand Prix Tournament at Bellator 257 on April 16, 2020. However, his bout was moved to Bellator 258 on May 7. Later, the bout was discarded as Romero had failed his pre-fight medical exam. Yoel was then replaced by Jose Augusto whom Anthony faced in the quarterfinal round. After surviving the early scare in the first round, Anthony defeated Augusto via knockout in the tournament's second round. In the semi-finals round of the Grand Prix, he faced Vadim Nemkov.
On October 16, 2021, he was scheduled to take part in the Bellator Light Heavyweight Championship at Bellator 268. However, he was forced to pull out of the bout and the tournament on September 18 due to some unspecified illness. He last fought at Bellator 258 in May 2021, winning over José Augusto Azevedo via a knockout.
Controversies
Accused of Domestic Abuse & Sexual Harassment
Anthony Rumble Johnson was accused of domestic violence and sexual harassment several times. After entering a no-contest plea in 2008, Anthony was found guilty of domestic violence against his girlfriend and was placed on probation for three years. Apparently, he was also charged with property damage for breaking the victim's cell phone. However, the charges were later dropped. Again in March 2014, Anthony was accused of domestic assault against his ex-girlfriend and the mother of his children in Arkansas. According to the police report that was made public in September 2014, Anthony's ex-girlfriend claimed that Johnson physically approached her at work and grabbed her shirt behind the neck. She also claimed that he lifted her off the chair she was seated in and grabbed her right arm and pulled on it several times to bring her closer to him.
Accused of Identity Theft
On May 11, 2021, the New Canaan Police arrested Anthony from Fairfield County, Connecticut, for allegedly booking a flight from Newark, New Jersey, to Fort Lauderdale, Florida, in November 2019 using a stolen credit card. Later, he was released on a $500 bond. [3]Daily Voice
Death
Anthony Rumble Johnson died at the age of 38 on November 13, 2022, after dealing with health issues for around a year. He apparently died from organ failure due to non-Hodgkin's lymphoma and hemophagocytic lymphohistiocytosis, a rare disorder of the immune system. [4]ESPN The news of his death was announced by Bellator, the promotion company Johnson most recently fought for, via a social media post. The official handle of Bellator MMA tweeted,
It is with great sadness we acknowledge the passing of Anthony "Rumble" Johnson. The BELLATOR family is devastated by his untimely passing and we send our condolences to his family and friends during this difficult time."
Many prominent figures from the MMA community also mourned his death. The American MMA referee Big John McCarthy tweeted,
Crushed and devastated to learn that @Anthony_Rumble has passed away. AJ was one of the good guys, he was a great man with a huge heart. God Bless you AJ, I will miss you my brother. RIP Rumble."
In September 2021, Anthony Johnson took to his Instagram account to announce that he was having some serious health issues. He wrote,
Really wish I could go into detail about how ill I truly am. Just know I need as many prayers as I can get and I'll see you in 2022 God willing. Never been this afraid of anything in my life but I've remained strong with the support of friends and family."
A month later, his manager Ali Abdelaziz revealed in an interview that Johnson's health had taken a turn for the worst. He said,
Rumble, he's going through some health problems right now. Very sad. I want everybody to pray for him. Pray for Anthony; he's not doing well. He's very strong, spiritually, but pray for him."
Facts/Trivia
Anthony Rumble Johnson was an avid dog lover. He has a pet dog named Nugget and keeps sharing pictures of several dogs on his Instagram account.
Growing up, he idolised his grandfather and the football player Walter Payton.
Reportedly, Anthony was a partner in Canadian medical marijuana producer Pharm Meds. He was also the founder and ambassador of the CBD oil company Competitive Body Development.
In 2019, Johnson was appointed as the head of fighter relations for the Bare Knuckle Fighting Championship.
In his career as a mixed martial artist, Anthony fought 29 matches, establishing a victory in 23 of them (17 by knockout and 6 by unanimous decision).
Although Anthony mostly fought in the light heavyweight category, he also competed in the heavyweight, middleweight, and welterweight categories.
His reach in mixed martial arts was 78 inches (198 cm) and his stance was orthodox.
Anthony was a part of the Blackzilians team from 2011 to 2017. In 2017, he got associated with Combat Club.