Tori Bowie (1990-2023) was an American sprinter and long jumper, who mainly participated in the long jump, 100-meter, and 200-meter events. One of the fastest women in the world, Tori was a three-time Olympic medalist and a two-time world champion in track and field. She died at the age of 32 at her home in Florida. Her death was confirmed in a statement on May 3, 2023, by U.S.A. Track and Field. [1]The Guardian
Wiki/Biography
Tori Bowie, also known as Frentorish Tori Bowie [2]The New York Times was born on Monday, August 27, 1990 (age 32 years; at the time of death), in Sand Hill, Rankin County, Mississippi, U.S. She grew up in rural Mississippi attending Pisgah High School, where she competed in multiple sports. In an interview, while sharing a childhood memory, she said,
I remember just racing everywhere as a child, like in the trees, wherever … I raced all the time."
In 2007, Tori competed in the 100 m and the long jump events in the Mississippi state high school championships and emerged as a winner. A year later, she won state championships in the 100 m, 200 m, and long jump. She competed in 100 m and 200 m races in school a dozen times. Besides being an athlete, Tori was also a Basketball star in her school days. Tori enrolled herself at the University of Southern Mississippi after securing an athletic scholarship. At the University, she pursued an interdisciplinary degree in psychology and social work. She competed for Southern Miss Golden Eagles and Lady Eagles in NCAA Division I competitions and swept the long jump NCAA championships at indoor and outdoor events in 2011.
Physical Appearance
Height (approx.): 5′ 9″
Weight (approx.): 58 Kg
Hair Colour: Dark Brown
Eye Colour: Dark Brown
Figure Measurements (approx.): 32-26-32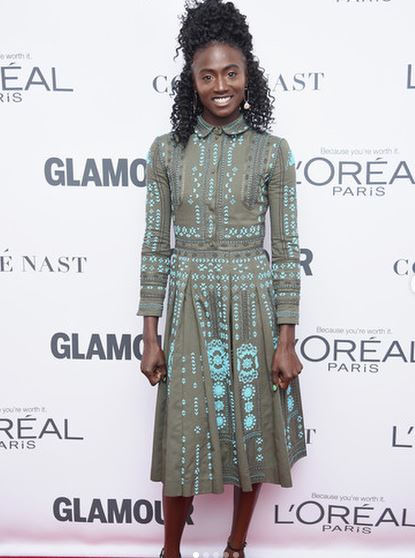 Family
Parents & Siblings
Tori Bowie's father's name is Dennis Smith. She had a sister named Tamarra, who is 11 months younger than her. Tamarra, who was also an athlete in her school days, has founded a law firm named Bowie Law Firm LLC, where she is an attorney. Tamarra is married and has a son named Grant. When Tori was 2 years old, she, along with her sister, was left in foster care by her parents. Later, her grandmother, Bobbie Smith, took their legal custody and raised Tori and Tamarra. Tori used to address her grandmother as her 'mama' and often visited Smith's home in the rural Rankin County unincorporated township of Sandhill. In an interview, while talking about her grandmother, Tori said,
My grandmother has been the role model in my life. She ended up fighting for us, and got custody of us. We didn't have much, but something she did give was a character."
Career
Tori Bowie started her career as a professional track and field athlete in 2013. She competed in the 2013 USA Outdoor Track and Field Championships and finished as a 100 m semi-finalist. She also took part in the long jump event of the championship and finished fourth, failing to secure her position in the long jump team for the 2013 World Championships in Athletics. Subsequently, she competed in long jump events at the Adidas Grand Prix and Herculis meets. In 2014, she competed on the IAAF Diamond League circuit for the first time, taking part in 100 meters and 200 meters events.
Following her graduation in 2014, Tori concentrated on sprinting and distanced herself from long jump events. She continued to enhance her performance, setting indoor bests of 7.14 seconds for the 60 m dash and clearing 6.95 m (22 ft 9+1⁄2 in) for the long jump in Naperville, Illinois, in 2014. Subsequently, she came out as a winner at the New Balance Indoor Grand Prix. She finished second in the long jump at the USA Indoor Track and Field Championships, securing her a place in the team for the 2014 IAAF World Indoor Championships. However, she changed her mind in the qualifying round and was eliminated from the championship, securing rank 14. Soon, she competed in the Adidas Grand Prix event in Randall's Island, New York. She stood first in the BMW Women's 100 m race with a time of 11.07 seconds. Two years later in Rio, she stood second to Elaine Thompson in a time of 10.83 seconds, preventing a Jamaican clean sweep of the 100m medals. Shelly-Ann Fraser-Pryce was placed third in the race.
Tori also bagged a bronze in the 200 m event at the Olympics. In the 4×100 m team challenge, Tori ran the anchor leg with her teammates Tianna Bartoletta, Allyson Felix, and English Gardner. They won gold with their electric performance at the event. A year later, won gold in the 100-meter race at the IAAF World Championships in London, while also retaining Gold for the U.S. in the 100-meter relay.
Tori returned to the long jump in 2019 and finished fourth at the 2019 world championships in Doha, her last appearance on the world stage. She also participated in the 100 m event in the 2019 World Championship. However, she finished 22nd in the event. Tori did not attempt to qualify for the US team at the Tokyo Olympics in 2021. She played her last official competition in June 2022.
Achievements
Personal Bests
60 meters indoor – 7.11 (Portland, OR 2016)
100 meters – 10.78 (+1.0 m/s, Eugene, OR 2016)
200 meters – 21.77 (+1.5 m/s, Eugene, OR 2017)
Long jump – 6.91 m (22 ft 8 in) (+1.0 m/s, Los Angeles, CA 2013)
Long jump indoor – 6.95 m (22 ft 9+1⁄2 in) (Naperville, IL 2014)
Triple jump – 12.65 m (41 ft 6 in) (0.0 m/s, New Orleans, LA 2012)
Triple jump indoor – 13.09 m (42 ft 11+1⁄4 in) (Birmingham, AL 2012)
Circuit Wins (Diamond League)
2014: Eugene Prefontaine Classic (200 m), Rome Golden Gala (100 m), New York Grand Prix (100 m), Monaco Herculis (100 m)
2016: Doha Qatar Athletic Super Grand Prix (100 m), Eugene (200 m)
National and NCAA Titles
USA Outdoor Track and Field Championships: 100 meters (2015, 2017)
USA Outdoor Track and Field Championships: 200 meters (2016)
NCAA Division I Women's Outdoor Track and Field Championships: Long jump (2011)
NCAA Division I Women's Indoor Track and Field Championships: Long jump (2011)
Medals
Olympic Games
Gold in 2016 Rio de Janeiro (4×100 m relay)
Silver in 2016 Rio de Janeiro (100 m)
Bronze in 2016 Rio de Janeiro (200 m)
World Championships
Gold in 2017 London (100 m)
Gold in 2017 London (4×100 m relay)
Bronze in 2015 Beijing (100 m)
Death
Tori Bowie died at the age of 32 at her home in Florida. Her death was announced on May 3, 2023, via a tweet and an Instagram post by her management company, Icon Management Inc., and U.S. Track and Field. Icon Management Inc. wrote in a post,
We're devasted [sic] to share the very sad news that Tori Bowie has passed away. We've lost a client, dear friend, daughter, and sister. Tori was a champion…a beacon of light that shined so bright! We're truly heartbroken and our prayers are with the family, friends, and everyone that loved her.
The company further wrote,
As the story continues to develop, we ask that you please respect our privacy."
USA Track and Field tweeted that it was deeply saddened to hear about the death of Tori. The tweet also read that 'her impact on the sport is immeasurable.' The cause of her death is yet not known. Apparently, it was discovered that Tori was dead when personnel of The Orange County, Fla., sheriff's office went to Tori's house in Winter Garden, Fla., on May 2, 2023, to check on Bowie as she was not seen or heard by anyone from the past few days. In a statement, The Orange County, Fla., said that there were no signs of foul play in Tori's death. [3]The Guardian
Facts/Trivia
She attributes her success to her grandmother, Bobbie Smith.
She walked the ramp for a few fashion shows.
A fitness enthusiast, Tori followed a strict workout regimen.
According to her family and friends, Tori was of a shy nature.
In 2017, Tori was named in Forbes 30 Under 30 list.
Pisgah High School, Mississippi, a school where Tori once studied, has named the lane of her school in Tori Bowie's name.
She was featured on the covers of various magazines including Eastbay, Valentino, Track & Field News, and Vogue. Additionally, she was also featured on the cover of Talon magazine, the school magazine of The University of Southern Mississippi.
After she won three medals at the 2016 Games, November 25 was named 'Tori Bowie Day' by Mississippi in honor of Tori.
After an Olympic win in a 100 m track and field event in 2016 and World Championship win in the same event in 2017, she became the only American woman to achieve the feat after Carmelita Jeter in 2011.