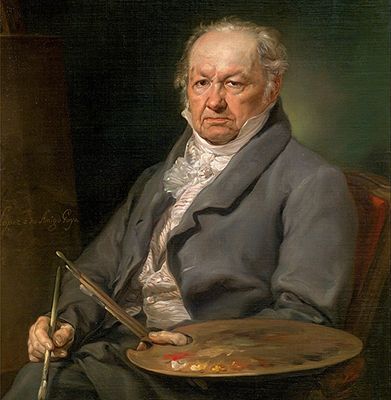 Francisco Goya was a Spanish romantic painter and printmaker. He was one of the great portraitists of his time. He is often referred to as the last of the Old Masters and the first of the moderns.
Wiki/Biography
Francisco Goya was born as 'Francisco José de Goya y Lucientes' on Wednesday, March 30, 1746 (age 82 years; at the time of death), in Fuendetodos, Aragon, Spain.
His zodiac sign is Aries. Before his birth, his family had moved from Zaragoza to Fuendetodos due to his father's transfer. In 1749, his parents were able to return to Zaragoza, where he grew up. Francisco is believed to have studied at Escuelas Pías de San Antón in Madrid, which offered free schooling. He had some knowledge of reading, writing, numeracy, and classics. According to Robert Hughes (an Australian-born art critic, writer, and producer of television documentaries),
Francisco Goya seems to have taken no more interest than a carpenter in philosophical or theological matters, and his views on painting … were very down to earth: Goya was no theoretician."
From the age of 14, he studied painting under José Luzán y Martinez, for whom he copied stamps for 4 years until he decided to work on his own. He moved to Madrid to study with Anton Raphael Mengs, a German painter active in Dresden, Rome, and Madrid.
In Madrid, he had a clash with his master and his examinations were unsatisfactory. In 1963 and 1966, he submitted entries for Real Academia de Bellas Artes de San Fernando, Calle de Alcalá in the heart of Madrid, but was denied entrance. Having failed to get a scholarship, he shifted to Rome, the cultural capital of Europe at that time, at his own expense. Later, he studied with Aragonese artist Francisco Bayeu y Subías. While studying with Francisco Bayeu his painting began to show signs of the delicate tonalities for which he later became famous.
Physical Appearance
Eye Color: Brown
Hair Color: White (semi-bald)
Family & Ethnicity
He was of Basque origin and his ancestors were from Zerain. He was born to a lower-middle-class family.[1]Zerain.com – Archive
Parents & Siblings
He was born to José Benito de Goya y Franque and Gracia de Lucientes y Salvador. His father, José, was a son of a notary (a person legalized to perform legal affairs) and worked as a gilder specialized in religious and decorative craftwork; he oversaw the gilding and most of the ornamentation during the rebuilding of the Basilica of Our Lady of the Pillar (Santa Maria del Pilar), the principal cathedral of Zaragoza. He had an elder sister named Rita (born in 1737), a younger sister named Jacinta (born in 1743), an elder brother named Tomás (born in 1739; guilder), and two younger brothers named Mariano (born in 1750) and Camilo (born in 1753).
Affairs, Wife & Children
He got married to Josepha (nicknamed Pepa by Francisco), sister of Francisco Bayeu, on July 25, 1773.
Their first child, Antonio Juan Ramon Carlos was born on August 29, 1774, and died in infancy. They had other children's: María Pilar Dionisia de Goya Bayeu (born in 1779), Eusebio Ramón de Goya Bayeu (born in 1775), Vicente Anastasio de Goya Bayeu (born in 1777), Francisco de Paula Antonio Benito de Goya Bayeu (born in 1780), and Hermenegilda de Goya Bayeu (born in 1982); all died in infancy. One of his children with Josepha lived past infancy to adulthood; his name was Francisco Javier de Goya y Bayeu who was born on December 2, 1984.
His wife died in 1812. He was said to have an affair with Maria Cayetana de Silva, the Duchess of Alba.
There has been speculation that Francisco was having an affair with Leocadia Weiss, a distant relative and his maid who was 35 years younger than him and lived with him after his wife's death.
Leocadia's daughter, Rosario Weiss Zorrilla (Spanish painter), was Francisco's goddaughter. She was believed to be Francisco's child due to the speculations of Leocadia being Goya's mistress.
Career
Goya's Visit to Italy
Early biographers claim that Francisco traveled to Rome with a gang of bullfighters, where he worked as a street acrobat or worked for a Russian diplomat. It was also claimed that he plotted to abduct a young nun from her convent after he fell in love with her. During his visit to Italy, he made the paintings: Sacrifice to Vesta and Sacrifice to Pan, both dated 1771.
In 1771, he became the second prize winner of a painting competition, which was organized by the City of Parma. Later that year, he returned to Zaragoza and painted elements of the cupolas of the Basilica of the Pillar (including Adoration of the Name of God), a cycle of frescoes for the monastic church Charterhouse of Aula Dei, and the frescoes for the Sobradiel Palace.
Goya in Madrid (1775-1989)
Goya earned a commission for a series of tapestry cartoons for the Royal Tapestry Factory, with the help of his marriage with Francisco Bayeu's sister and Bayeu's 1765 membership of the Real Academia de Bellas Artes de San Fernando and directorship of the tapestry works from 1777. Over five years, he designed some 42 patterns, many of which were used to cover the walls of the residences of the Spanish monarchs, El Escorial and the Palacio Real del Pardo. Designing for tapestries was not prestigious or well paid, but Francisco used it as a medium to bring attention to his work.
His 1779 etching of 'The Garrotted Man' (El agarrotado) was the largest work he had produced to date.
Francisco's other famous works from the period include a canvas for the altar of the Church of San Francisco El Grande in Madrid, which led to his appointment as a member of the Real Academia de Bellas Artes de San Fernando.
As a Court Painter
In 1783, Goya was commissioned by José Moñino, Count of Floridablanca, favorite of King Charles III, to paint his portrait. From there, he grew his connections, becoming friends with the King's half-brother Luis Antonio. He spent two summers working on portraits of both the Luis and his family.
During the 1780s, his connections in the royal family grew to the Duke and Duchess of Osuna, the King, and other notable people of the kingdom, for whom he painted. In 1786, Goya was given a salaried position as a painter to Charles III. In 1989, he was appointed as a court painter to Charles IV  and was made the First Court Painter, the following year. He made many portraits of the royal family, out of which, 'Charles IV of Spain and his Family,' is viewed as satirical amongst the modern interpreters. The painting is regarded as satirical as it is believed to have revealed the corruption behind the rule of Charles IV.
Francisco Goya earned commissions from the highest ranks of the Spanish nobility, including Pedro Téllez-Girón (the 9th Duke of Osuna) and his wife María Josefa Pimentel (12th Countess-Duchess of Benavente), José Álvarez de Toledo (Duke of Alba) and his wife María del Pilar de Silva, and María Ana de Pontejos y Sandoval (the Marchioness of Pontejos). In 1801, he painted the Spanish Prime Minister Manuel de Godoy in a commission to commemorate the victory in the War of the Oranges (1801) against Portugal. Francisco and Godoy were good friends.
The Majas and Caprichos
Godoy is believed to have commissioned 'La maja desnuda' (1790-1800) and 'La maja vestida' (1800-1805). La maja desnuda is described as,
the first totally profane life-size female nude in Western art without pretense to allegorical or mythological meaning."
The identity of the Majas is uncertain but is believed to be either Duchess of Alba or Pepita Tudó, mistress of Manuel Godoy. The paintings were owned by Godoy and were never exhibited publicly during Goya's lifetime. After the exile of Godoy, all his properties were taken by Ferdinand VII (King of Spain from 1808 to 1833), and in 1813, the Spanish Inquisition confiscated both the paintings as 'obscene,' and returned them in 1836 to the Academy of Fine Arts of San Fernando.
Sometime between late 1792 and early 1793, Francisco became deaf due to an undiagnosed illness, which left him withdrawn and introspective as the direction and tone of his work changed. He began working on the series of aquatinted etchings called Caprichos, published in 1799. 80 Caprichos prints were depicted as what Francisco described,
the innumerable foibles and follies to be found in any civilized society, and from the common prejudices and deceitful practices which custom, ignorance, or self-interest have made usual."
It is believed that these paintings were the reflection of Goya's mental trauma.
Goya During the Peninsular War
In 1808, the French army invaded Spain, which led to the Peninsular War of 1808–1814. During this period, Goya was involved in the court of Joseph I, the brother of Napoleon Bonaparte. It is not known that up to what extent was he involved with the French, but he painted works for French patrons and sympathizers. He was neutral during the war and after the restoration of the Spanish king Ferdinand VII in 1814, he denied any involvement with the French. By the time of his wife's death, he was painting 'The Second of May 1808' and 'The Third of May 1808.' The paintings are set in the Calle de Alcalá near Puerta del Sol, Madrid, during the Dos de Mayo Uprising (1808), a rebellion by the people of Madrid against the French troopers. Both paintings were completed in a two-month time frame in 1814.
At the same time, he was also preparing the series of etchings known as 'The Disasters of War' (Los desastres de la guerra). He called the 82 print series as 'caprichos enfáticos.' Art history historians view them as a visual protest against the violence of the Dos de Mayo Uprising, although, the intention of Goya for making the etchings is not clear. They were not published until 1863; the most probable reason is that it might have been considered politically safe to distribute a sequence of artworks, which criticized both the French and restored Bourbons, after years.
The Black Paintings
The records of his later life are relatively little. He suppressed most of his work during this period and started to make paintings in private. He withdrew himself from public life during his final years, although he was a royal painter. From the late 1810s, he lived in near-solitude outside Madrid in a farmhouse converted into a studio. The house came to be known as "La Quinta del Sordo" (The House of the Deaf Man), after the nearest farmhouse that had belonged to a deaf man coincidentally.
Art historians assume that he felt alienated from the social and political trends that followed the 1814 restoration of Bourbon monarchy. At the age of 75, alone and in mental and physical despair, he completed the work of his 14 Black Paintings, all of which were made oil directly onto the plaster walls of his house. He never wanted the paintings to be seen and never wrote an account of them or discussed them. After 50 years of his death, around 1874, the paintings were taken down and transferred to canvas support. During the restoration, many of the works were significantly altered. In the words of Arthur Lubow (a journalist and author) what remains are,
at best a crude facsimile of what Goya painted."
At present, they are on permanent display at the Museo del Prado, Madrid.
Some Other Famous Works
Yard with Lunatics (1793-94): A small oil-on-tinplate painting made by Goya portraying his vision of loneliness, fear, and social alienation. It was one of his first mid-1970s cabinet paintings. It is noted that at the time of the making of the painting, he was undergoing a nervous breakdown and entering prolonged physical illness.
The Burial of the Sardine (usually dated to 1810s): An oil-on-panel painting is a depiction of the Spanish ceremony celebrating the end of carnival and other festivities in Madrid.
The Madhouse (1812-19): An oil-on-panel painting by Francisco de Goya. The Madhouse shows greater variety than Yard with Lunatics, with less mad, less picturesque, more individualized, and more characterized figures, which shows more humanity and markings as poor victims of marginalization and rejection.
La Tauromaquia (1816): A series of 33 prints depicting bullfighting scenes.
Santas Justa and Rufina (1817): Francisco was commissioned by the Sevillian Cathedral Council to make a large canvas to represent the Holy Martyrs of the city, Justa and Rufina, potters who refused to worship the pagan gods receiving martyrdom.
Los disparates (1815-23): A series of twenty-two prints in etching and aquatint, with retouching in drypoint and engraving. The series was not published in his lifetime due to the oppressive political climate and the Inquisition. It was first published by the Royal Academy of Fine Arts of San Fernando in 1864 under the title Proverbios (Proverbs).
The Milkmaid of Bordeaux (1825-27): An oil-on-canvas painting, which is believed to be of either Rosario Weiss or her mother, Leocadia Weiss. The painting was willed to his son, Javier, after his death. Following financial difficulties, Javier sold it to a distant relative named Juan Bautista de Muguiro, whose descendants donated it to Museo Del Prado in 1946.
Earnings and Possessions
As a first court painter, he was salaried with 50,000 reales (unit of currency after mid 14th century in Spain) a year and an allowance of 500 ducats for a coach. In 1812, when he was 66, his house, furniture, possessions, and cash in hand were worthed, about 350,000 reales. In February 1819, aged 73, Goya bought a farmhouse outside Madrid known as La Quinta del Sordo. [2]The Guardian
Signature
In his paintings, Francisco used to leave micro-signatures, which could be a sign, symbol, or stokes to identify his work. They can be observed by detailed analysis with a magnifying lens, going over his paintings centimeter by centimeter.
Illness and Death
Between late 1792 and 1793, he was left deaf due to an undiagnosed illness. A contemporary reported,
The noises in his head and deafness aren't improving, yet his vision is much better and he is back in control of his balance. These symptoms may indicate prolonged viral encephalitis, or possibly a series of miniature strokes resulting from high blood pressure and which affected the hearing and balance centers of the brain. Symptoms of tinnitus, episodes of imbalance, and progressive deafness are typical of Ménière's disease."
It is believed that he suffered from cumulative lead poisoning, as he used massive amounts of lead white, both as a canvas primer and as a primary color, in his paintings. Other postmortem diagnostic assessments indicate paranoid dementia, which was caused possibly due to brain trauma, as evidenced by marked changes in his work after his recovery, which can be seen in the Black Paintings. Goya died on Wednesday, April 16, 1828, in Bordeaux, France. In his will, he left nothing for Leocadia Weiss. After Goya's death, she wrote to the number of friends of her exclusion from the will, but many of her friends were also friends with Goya, and by then were old men or had died. Thus, she did not get a reply. Francisco Goya was buried in Bordeaux. At the turn of century, his remains were unearthed and were taken to Madrid as part of a huge celebration commemorated with a statue of the artist placed at the north entrance of the Prado museum. He was then buried in the Pantheon of Illustrious Men of the Cemetery of San Isidro, and finally, he was laid to rest in the church of San Antonio de la Florida in Madrid in 1929.
Facts/Trivia
At school, he had a close friendship with Aragonese merchant Martín Zapater. Francisco, in his 131 letters to Martin Zapater, talked about his hobbies mainly hunting and listening to music. In his letters, he talked about songs such as tiranas or seguiridillas and watching opera. He also mentioned playing a game of lottery with Martín Zapater.
There are many films made on the life of Goya. A few of them are- The Naked Maja (1958; Italian-French American), Goya or the Hard Way to Enlightenment (1971; German), Goya in Bordeaux (1999; Spanish), Volavérunt (1999; Spanish), Goya's Ghosts (2006; Spanish- American), and Goya: Crazy Like a Genius (2012).

There is also a TV series made on the life of Goya. 'Tiempo de ilustrados' (Time of the Enlightened) segment in the Spanish series 'The Ministry of Time' (2015) feature Francisco Goya (played by Pedro Casablanc), who must repaint 'La maja desnuda' after a cult called the Exterminating Angels destroyed the painting.
In the early 20th century, renowned Spanish masters such as Pablo Picasso and Salvador Dalí took influence from 'Los caprichos' and 'Black Paintings' of Francisco Goya.
In the 21st century, American postmodern painters such as Michael Zansky and Bradley Rubenstein also drew inspiration from Goya's 'The Dream of Reason Produces Monsters' (1796–98) and Black Paintings. Michael Zanksy's 'Giants and Dwarf Series' (1990-2002) of large-scale paintings and wood carvings use imagery from Goya's work.
Many artists and literati drew inspiration from his painting 'The Burial of Sardine,' for an instance, Giannina Braschi (a Puerto Rican writer) dramatized the painting in his novel 'United States of Banana' (2011), Joakim Lindengren (Swedish cartoonist and illustrator) drew a parody of the painting in his comic book version of the 'United States of Banana' (2017), Fernando Arrabal's (Spanish author) novel 'The Burial of the Sardine' was inspired by the painting.
The Russian poet Andrei Voznesensky's 'I Am Goya' was inspired by Francisco Goya's anti-war painting.
In the letters to his friend, Zapater, he also wrote that he doted on his hunting dogs and wished to do hunting for his life. He also talked about becoming rich so that he would not have to paint again.