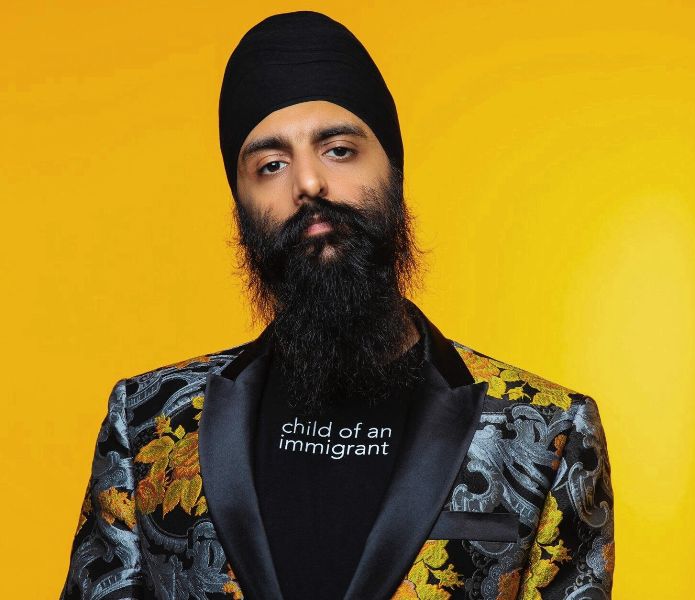 Kanwer Singh Mahl a.k.a Humble The Poet is a Canadian elementary school teacher-turned-creative. The turbaned Sikh is an MC/Spoken Word artist, who has created waves in the industry with his thought-provoking, and socially and politically inspired lyrics. The Punjabi hip-hop rapper calls out racism and homophobia in his songs that he uploads on his YouTube channel, with an aim to make his music available for free to everyone. Humble shot to fame with his debut self-directed video on his YouTube channel, which boasts of over 182k subscribers. Singh also has three self-help books to his name – two of which are international best-sellers. He is also a public speaker, designer, filmmaker, and creative consultant. Humble The Poet lives by the motto – [1]The Indian Express
Shake your ass, shake your heart, and shake your mind."
Wiki/Biography
Humble The Poet was born as Kanwer Singh Mahl on Sunday, 12 July 1981 (age 40 years; as of 2021) with the zodiac sign Cancer. He was born in Mississauga, Ontario in Canada, and brought up in Toronto. [2]Humble The Poet – official website
Physical Appearance
Height (approx.): 5′ 11″
Hair Colour: Black
Eye Colour: Black
Tattoos
Humble likes to express himself via inking his body, and he has more than 12 tattoos inked on different parts of his body. 
Back of the neck to shoulder: Opportunity dances with those already on the dance floor… – Humble's first tattoo
Side of the neck: Map of Punjab before partition- Tribute to his Punjabi heritage
Other side of the neck: Freedom is having nothing to lose
Back of the shoulder: Stand Tall (in the shape of a Giraffe) – Confidence
Upper arm: Love – A remainder for his ability to love that "only he can forfeit"
Other upper arm: Muhammad Ali – Humble Gifted himself the tattoo after the successful launch of #UnLEARN
Lower arm: Warriors are born soldiers are made – A quote by his high school friend
Inner wrist: Rahaao in Gurmukhi/Punjabi script – Pause or stop and reflect, inspired by a #LaurynHill song titled 'Selah'
Outer wrist: Pattern of an Italian resort's wristband – To remember his trip to Italy
Right hand: Now. – Birthday present to himself
Side of the hand: Truth – To remind him of his ability to tell the truth
Right leg: 14 aeroplanes, each decorated by a member of the tour and 26 dashes between the planes – To commemorate his #AT2UI world tour
Family
Humble The Poet belongs to an immigrant Indian Punjabi Sikh family who moved to Toronto, Canada in the early 1970s.
Parents & Siblings
His father has been driving a cab for the past 30 years, and he holds a Master's degree in Economics. Not much information is available about Humble's mother; however, she is often seen with Humble in some of his videos on his Instagram handle. [3]Instagram – Humble The Poet
The youngest one in the family, Humble is the only brother of his two sisters – Navneet Samra and Gurbir Mahl. Gurbir is a consultant, co-owner, and managing Partner of MALTO Group.
Wife & Children
Humble The Poet is unmarried and has no children.
Religion/Religious Views
The turbaned rapper does not practice Sikhism as a religion, and he doesn't view "Sikhi as a religion." According to Humble, he wants to remain in harmony with Mother Nature and the concepts of the supernatural don't appeal to him. [4]Hindustan Times He said in an interview,
I'm a lifelong learner and life is my teacher. I just want to soak in the world as long as I'm here. Sikhism was never meant to be a religion. The writings in Sikhi are very intuitive on the nature of man, and the causes of displeasure, it's not a one size fits all recipe on how to live; that dogma came later."
Address
Humble The Poet can be reached at Kanwer Singh, 6-6150 Highway 7, Suite 226, Woodbridge, Ontario, L4H 0R6, Canada.
Career
Debut
Music Album: Humble The Poet Presents: -00.​05 (2009)
Modelling: Did modelling for designer Raji Aujla at The Fashion & Art's Toronto CitySCAPE event (2012)
Commercial Single: Leh, a song in collaboration with Lilly Singh (2014)
Book: UnLEARN: 101 Simple Truths For A Better Life (2014)
Self-Directed Music Video: H.A.I.R (2017)
Podcast: Humble The Poet Daily'ish Podcast (2021)
MC/Spoken Word
When Humble was still teaching in a school as an elementary teacher, he began going to open mics and started reciting in the spoken word poetry gigs organised in coffee shops, and soon Humble became a member of the Toronto Spoken Word Club. Eventually, Singh started going to various poetry competitions and refined his creative talent to make a career out of it. [5]Desi Today He revealed in an interview:
I started going for open mic nights and poetry slams around Toronto. That is where I nailed my unique sense of identity. I am a Canadian Punjabi. I am not Indian, make no mistake."
In 2008, Kanwer started a YouTube channel with his friends, initially called "Harman the Hater." After a few months in May 2018, Singh posted his independently recorded track "Voice for the Voiceless" on his channel, which instantly became a hit and Kanwer became a YouTube phenomenon overnight. [6]Sikhchic In a year, Kanwer Singh Mahl adopted the stage name 'Humble The Poet.' [7]DesiHipHop
In 2009, Singh released his first mixtape album titled "-00.05," following which he has released more albums that are similarly titled in the countdown series. Next year, Humble – the elementary school teacher, who taught grade 3, left his job to dedicate himself completely to full-time poetry and Spoken Word. On 4 November 2010, the rapper dropped his new album -0.003. The song "Baagi Music" from his album immediately went viral, and Humble soon became popular worldwide; he was appreciated not only by his fans but also by music journalists and South-Asian culture magazines. [8]Sikhchic
Collaboration With YouTuber Lilly Singh
Humble The Poet is close friends with the Canadian-born YouTube superstar Lilly Singh, also known as Superwoman. The two have often collaborated to produce some of the most hit music videos. They first got together in 2014 to release their first track called "#LEH," which went on to fetch more than 18 million views as of 2021. [9]HuffPost
A year later, the Canadian duo came together for their new track #IVIVI (Roman numerals for 416, Toronto's area code as a tribute to the city) with over 4 million views. [10]HuffPost
Humble – The Author
Humble The Poet became Humble – The Author in 2013 with his first self-published e-book "UnLEARN – Butterflies and Lions." Singh also released a music video by the same name. To release his book and video, Humble turned to the crowdfunding medium with the help of the Indiegogo Campaign through which he was able to accumulate $26,129, an amount that was way beyond his actual financial goal. [11]Indiegogo
Next year, Humble returned with his first paperback "UnLEARN: 101 Simple Truths For A Better Life." The book immediately became a Heather's Pick and went on to become an international bestseller. UnLEARN has also maintained its position in the "Globe and Mail best-sellers list" since its release, and the book was again launched in April 2019, this time with Harper Collins Publishers. Humble revealed in an interview that he got inspired by a J.K Rowling quote which motivated him to start posting his ideas and excerpts from his life experiences on his Facebook profile. According to Singh, his Facebook posts laid the foundation for his debut self-help book. [12]The Ikonns A year later, in 2015, Singh rolled out Volume 2 of the book "Beneath The Surface: 101 Honest Truths To Take Life Deeper (UnLEARN) (Volume 2)."
In October 2019, the author published another book "Things No One Else Can Teach Us" which went on to become his second international bestseller.
Other Endeavours
In 2009, Humble launched an online platform "thepoetproject.com," to share his work and of people who inspire him. He also runs his own online clothing line called "brwnppl.com," through which he makes most of his income. [13]DesiHipHop Three years later, the turbaned rapper got a chance to walk on the ramp as a model for designer Raji Aujla at the Toronto CitySCAPE event organised by The Fashion & Art.
In the same year, Humble also got featured in "Picture Day," a documentary in which he played himself. The film was also selected for the 2012 Toronto International Film Festival. [14]Last FM In 2015, Humble featured in the film "Inland" as an artist, which was directed by Deepa Mehta. [15]Waterloo Records Singh was also invited twice on the show "A Little Late With Lilly," which is hosted by his friend and YouTuber Lilly Singh. Humble first appeared on the show with Jay Shetty in April 2020, and he again appeared on the show in May 2021; this time alone. In 2021, Humble also started his own podcast titled "Humble The Poet Daily'ish." [16]Humble The Poet Daily'ish – official website
The Socio-Political Poet
Humble is most popularly known for his hard-hitting lyrics that highlight the social and political issues of the world. Being the son of an immigrant and an Anti-bullying coordinator when he taught at high school, Kanwer strongly speaks up against racism. Singh revealed on his official website that he and his family have been the victim of racism several times since they have moved to Canada. [17]Humble The Poet – official website
In addition to racism, Humble's socially- and politically-inspired hit music videos also talk about the issues of the desi gay community in Canada, domestic violence, the plight of immigrants in Canada, the prison system, Palestine, and more. [18]Sikhchic
Controversies
Disrespectful Remarks About Guru Gobind Singh
In 2012, Humble The Poet attracted controversy for making derogatory remarks on his Facebook profile about the last Sikh Guru, Sri Guru Gobind Singh. Though Humble later deleted his comment, he was already criticised by the Sikh community. [19]Sikh Sangat [20]Sikh24
Accused of Hating India
In 2016, Humble posted on his Instagram that he didn't like Indian food, as he gets sick from certain foods. His comment angered the Indians, with many accusing the Punjabi Canadian of 'perpetuating negative stereotypes and hating India.' Humble took this opportunity to defend himself and express his opinion on the issue by uploading his video "Do I hate India?" on his social media. [21]Instagram – Humble The Poet
Awards, Honours, Achievements
In November 2012, a documentary on Humble titled "Humble The Poet" by Chapman University Director Brendan Naumas won the "Best Short Film" in International Sikh Film Festival and the documentary was also nominated for the 2012 Cecil Award.
Humble got featured in the list of "Top 10 Canadian-South Asian artists to look out for" in the CBC Music blog that was celebrating South-Asian Heritage month in May 2014.
On 20 March 2017, Humble won the CBC Canada Reads, an annual "battle of the books" competition. He chose the book "Fifteen Dogs" by André Alexis.
Singh also got featured in Apple's first Canadian ad spot for their #ShotOnIphone campaign.
He was also a part of the documentary series "The Dewarists" that won Bronze at The Cannes Lions Festival.
Favourites
Book: Autobiography of Malcolm X
Poets: Rupi Kaur, Mustafa The Poet, Ian Kamau, K'naan, and Saul Williams
Artists: Lauryn Hill, André 3000, and Dr Suess
Net Worth
The net worth of Humble The Poet as of 2021 is $5.77K – $34.6K (Rs. 4.2 lakhs – Rs. 25.5 lakhs). [22]YouTubers.Me
Facts/Trivia
Humble was brought up in a liberal household. He revealed that his parents didn't favour music, but they didn't ban it in the house [23]

Hindustan Times Humble added,


My mother's not the biggest fan of the swearing, but both my parents and the rest of my family are extremely supportive of my work."
Singh uses hip-hop and rap to make social and political statements. In an interview, when Humble was asked the reason for his choice of these music genres, he replied,
It's an art form that came from people who didn't have resources, who may not have had the different privileges that others may have had. It was created out of necessity – to give a voice to those people."
The hip-hop artist is also a social media influencer, who boasts of a massive following on social media that is gradually increasing. On his Instagram, Humble has 533K followers as of September 2021, while he has 361.5K followers on Facebook, 115K on Twitter, and over 10K members on Mighty Network. [24]

Humble The Poet – official website
Humble's debut self-directed video H.A.I.R. in collaboration with YouTuber Lilly Singh, which was released on 25 July 2017 on YouTube, garnered over 2.5 million views in four years. The video became the most viewed on YouTube during The Poet's career.