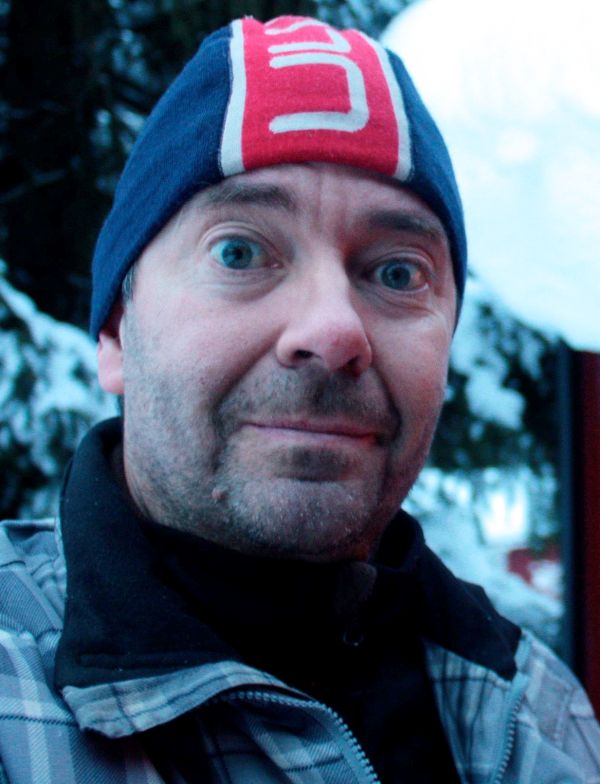 Tor Eckhoff was a Norwegian YouTuber who is known for his bizarre adventurous winter videos, which he uploaded on his channel, Apetor.
Wiki/Biography
Tor Eckhoff was born on Sunday, November 22, 1964 (age 57 years; at the time of death), and he hailed from Kristiansund, Norway. His zodiac sign is Sagittarius. At the age of six, he relocated to Sandefjord, Norway. Thereafter, he lived in Bergen for many years, where he studied Nordic, History, and Philosophy. [1]ISSUU- Vestfold Blad magazine Since adulthood, he traveled extensively throughout the world.
Physical Appearance
Height (approx.): 5′ 11″
Hair Color: Black
Eye Color: Drak Gray
Family
Parents & Siblings
Not much information is available about his parents and siblings.
Wife & Children
His son's name is Johannes.
Career
Before Tor Eckhoff became famous on YouTube, he was a worker in a paint factory in Sandefjord. On October 10, 2006, he started his Youtube channel, Apetor. He uploaded his first video titled "In my boat" on October 11, 2006, in which he filmed himself driving a motorboat. Thereafter, he uploaded various videos on his channel. In his videos, he is often spotted ice skating, swimming in the semi-frozen lakes after cutting a hole through it with an axe, showing scenic views with wildlife, drinking Vikingfjord Vodka, cutting ice donuts with a chainsaw and wearing it on his neck, bathing in a frozen bathtub outdoors, meanwhile, making seal-like noises with his mouth.
Additionally, in his videos, he often licked things he liked e.g., his car, farm machinery parked next to the forest, and his bike. Sometimes, he also ate snow or icicles in his videos. Soon, his videos gained international popularity, notably in Eastern European countries like Poland and Russia and in the United States. In 2011, he came into the limelight with his video titled 'On Thin Sea Ice 2,' which garnered over a million views within a week. His videos have appeared on international television platforms like the American news network CBS in 2011 and on the Australian breakfast show 'Sunrise' in 2016. Tor Eckhoff's videos have also been shown and analyzed on the Discovery Channel. Various experts on the channel believed that high alcohol intake was the reason behind his indifference to the ice baths. Later, while clarifying that alcohol has no contribution towards keeping him warm, Eckhoff said,
That's just nonsense. I only drink a few sips for the sake of the camera, and never much."
He also shared the link of an article in the about section of his YouTube channel which claimed that alcohol does not warm up one's body. In 2021, he had 1.23 million subscribers on his YouTube channel. Later, Eckhoff launched his lifestyle brand 'Apetor,' named after his YouTube channel, an online portal featuring customized apparel and accessories based on famous Apetor videos. In 2021, he made an appearance in the Norwegian film 'Lange flate ballær III.'
Death
On November 27, 2021, Tor Eckhoff died in Oslo University Hospital, Ullevål, following an accident while shooting a video for his Youtube channel. His close friend Tove Skjerven revealed in a Facebook post that Tor Eckhoff was looking forward to ice skating on a frozen lake at Jakobs Dam, located near the town of Kongsberg, Norway, on November 26, 2021. Apparently, Eckhoff ended up in the ice-cold water of the lake, and unlike his previous adventures, he was unable to swim out of the water. After being rescued by some divers, he was rushed by an air ambulance to Oslo University Hospital, Ullevål. As Eckhoff couldn't recover, his life support was turned off. [2]Facebook- apetor Ironically, on November 22, 2021, a few days before his death, the Norwegian YouTuber celebrated his 57th birthday and uploaded his last video on his Youtube channel titled "I Am Not Dead, I Am 57 Today." The comment section of the video flooded with condolences after his death, including comments from notable individuals like popular British-Norwegian DJ Alan Walker.
Facts/Trivia
He was intrigued by evolutionary biology and has always been fascinated by the relationship between humans and monkeys and other living things. [3]

ISSUU- Vestfold Blad magazine
He was frequently seen consuming Vikingfjord Vodka in his YouTube videos. [4]

YouTube channel- Apetor On his channel, he claimed that he had no connection with the vodka brand and that he wasn't promoting it.
He occasionally smoked cigars.
On March 9, 2018, he was diagnosed with rectal cancer. In mid-April, his doctor alerted him that he might die because of his cancer as the disease had spread swiftly. On June 27, 2018, he underwent surgery to cure his rectal cancer. Before he was diagnosed with cancer, he had been suffering from inflammatory bowel disease, ulcerative colitis, for many years.
Tor Eckhoff actively participated in the Holmestrand Marathon for many years.
Once, he posted a bizarre picture of him on his Instagram account, shot in 1990, in which he was licking coke off the floor, which was leaking from a vending machine.