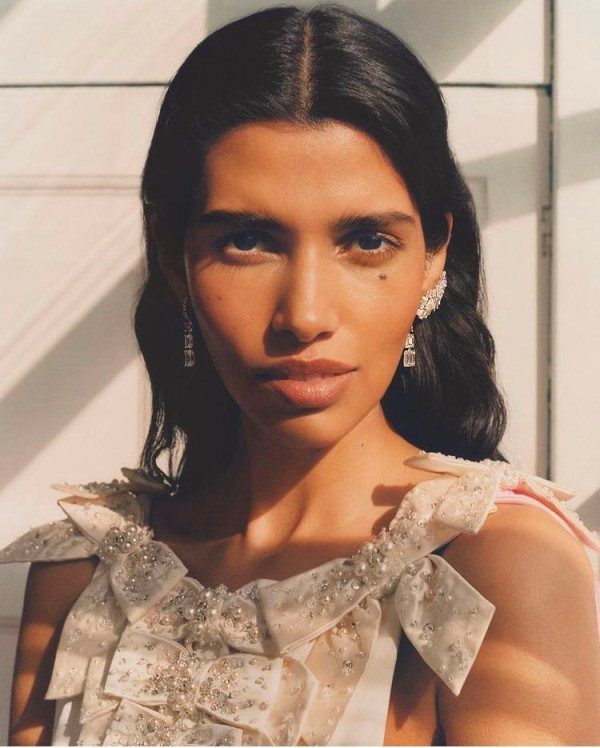 Pooja Mor is an Indian model who is well-known for walking the Louis Vuitton's Cruise runway show in Palm Springs in 2015. She has been featured in various magazines.
Wiki/Biography
Pooja Mor was born on Saturday, 16 November 1991 (age 30 years; as of 2021) in Bareilly, Uttar Pradesh. [1]Hindustan Times She is a scorpion.
She went to Vidya Devi Jindal School, Hisar to complete her schooling and for her graduation, she went to Nirma University, Ahmedabad. [2]Hindustan Times She studied Engineering there. Pooja started gaining interest in modelling when she was in college. She took part in a beauty contest and won the competition. She was afraid to talk to her parents about modelling because they didn't want her to pursue modelling as a career. In an interview, she said,
My parents didn't want me to become a model. They felt that the profession was for the fickle-minded and that it did not promise a sustainable career or source of income."
After Pooja completed her graduation, she went to Delhi and lied to her parents about it. She told them that she was going on a vacation but she actually went to Delhi to pursue modelling. Pooja`s brother Sudhir was the only one who knew about her interest in modelling. He used to help her out by giving money for the portfolios. [3]Rediff
Physical Appearance
[4]Pooja Mor`s- Indian Agency Height: 5′ 9″
Weight (approx.): 60 kg
Hair Colour: Brown [5]Pooja Mor`s- Indian Agency
Eye Colour: Brown [6]Pooja Mor`s- Indian Agency
Body Measurements [7]Pooja Mor`s- Indian Agency: 32-25-35
Family
Parents & Siblings
Pooja`s father`s and mother`s names are not known. Her brother's name is Sudhir and he is a Product Designer.
Career
Modelling
While Pooja was in Ahmedabad, pursuing her graduation, she won the Clean & Clear Ahmedabad Times Fresh Face in 2012. [8]Rediff In 2013, she participated in Indian Princess 2013 but she could not win the competition. In 2014, she joined a Mumbai based agency Amina Creative Management and shifted to Mumbai.
In 2015, she joined a New-York based agency Elite Model Management and moved to New York.
After getting success in modelling, in 2014, she was seen in Grazia magazine, Harper`s Bazaar magazine, Cosmopolitan and Femina magazine.
She was also featured on the covers of Femina, Harper`s Bazaar and Grazia magazine.
She walked for the Louis Vuitton's Cruise runway show in Palm Springs in 2015.
In 2016, she walked the ramp for Givenchy.
In 2016, she appeared on the cover of Vogue Magazine.
She was on the list of 100 most influential in fashion in 2017.
In 2019, she gave a speech at the Ted Talks on the topic 'Adversity can be good for you.'
She was featured on the cover of Vogue Arabia and Vogue with the actor Vicky Kaushal.
She has walked ramps for Stella McCartney, Roberto Cavalli, Louis Vuitton, Givenchy, Alexander McQueen, JW Anderson, Dolce & Gabbana, Prabal Gurung, Altuzarra, Elie Saab and Topshop. [9]The Times of India
Controversy
In 2014, Pooja became a part of an editorial photoshoot for Raj Shetye. The theme of the photoshoot was Delhi Gang Rape. The name of the photoshoot was 'The Wrong Turn'. The photoshoot was criticised internationally. The criticism received was for glamorising the 2012 Delhi gang rape. Nirbhaya`s parents accused the photographer of hurting their sentiments and demanded that the photos should be banned. National Commission for Women also demanded strict action against the photoshoot. Activist Abha Singh stated that it was a crime. Congress MP from Bihar Ranjeet Ranjan said that a notice had been generated in the Lok Sabha for discussion on the issue. [10]

BBC
Awards
Young Achiever of the year award in 2019
Vogue model of the year Award 2016
Favourites
Film Hollywood- Wonder Woman (2017)
Fashion capitals: New York and Paris
Travel Destination: Finland, to see the Northern Lights
Facts/Trivia
Pooja Mor likes to travel, read, watching movies.
She has a tattoo on the right side of her back.
When Pooja went to Delhi, she started working as a freelance model. She faced many difficulties during the shoots. Some of the agents denied giving her the payment after the shoot, she was asked to remove her beauty spots and some of them would threaten her.
She joined the Mumbai based agency so that she could focus on modelling and not on finding contracts for herself. One day, one of her friends working with the Elite Model Management agency in New York posted a photo of Pooja on her Instagram. The agency contacted Pooja and signed a contract. Shen then moved to New York.
While walking the ramp for Givenchy, she fell down after her foot twisted. She immediately got up with a smile and completed her walk. She posted on her blog page [12]

Pooja Mor- Blog Page about where she got the strength to complete the walk, she said,


First, thanks to the two gentlemen who were kindhearted enough to help me get up. Second, my mom always said, If you start something, finish it until the end, be like a straight line reaching towards your goal. So I have never known to quit halfway."
Pooja loves to drink tea and calls herself Chaivinist.
She shared her modelling journey in an interview, she said,


When I started my career, I had no mentors. I would just read up magazines, check videos and do my own thing. I was extremely lucky to find the right kind of people and company. Today I have made enough friends in the industry — designers and models who share their positive criticism and tell me when I do something wrong and how I could improve."
She practices Falun Dafa that is a mind and body self-improvement practice based on three universal principles, truthfulness, compassion, and forbearance.
China had banned the practice and Pooja was against the ban and so she talks about it everywhere.
In an interview, she talked about the difference in modelling in India and in New York. She said,


In India, I think people are always socialising. We used to have chai breaks and all the fun things. Here, people are more professional. You're done with the shoot on time. You're on shoot on time, just break for this much, and done, done, done, like that. Everything is set before you come to the shoot."
During the lockdown, the models were working from home. She shared her experience in an interview and said,


Even though we can only create images from home now, I still try to be creative in scouting places to shoot and arranging decor to create cute looks. I've observed how the sun shines around the house in different times of the day—since light and shadow play a major role in the picture, I mean, I spent half my working life in front of different camera lights, reflectors, and diffusers.Even though we can only create images from home now, I still try to be creative in scouting places to shoot and arranging decor to create cute looks. I've observed how the sun shines around the house in different times of the day—since light and shadow play a major role in the picture, I mean, I spent half my working life in front of different camera lights, reflectors, and diffusers."