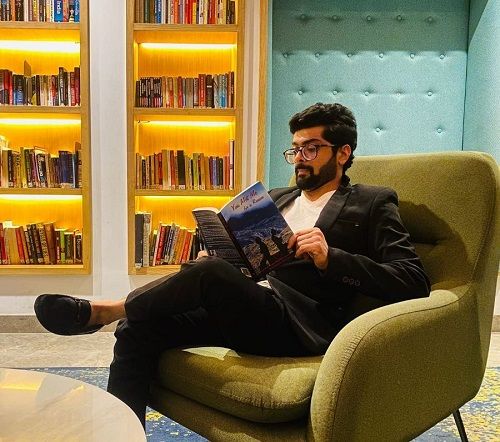 Bhargav Jariwala is an Indian author and is known for his book "You Met Me For a Reason."
Wiki/Biography
Bhargav Jariwala was born on 6 September 1992 (age 29 years; as of 2022) in Surat. He attended Dr S & S. S. Gandhi College of Engineering & Technology to pursue engineering but left the degree in between.
Career
Bhargav Jariwala considers 'travel' to be his first crush. He left engineering to explore new places. He loves to Trek. His heart belongs in the mountains. He has been on several trekking trips, each time coming back with a different, memorable experience. On, one of his trekking trips, a girl fell in love with him and from there he got the inspiration to write his own story. He penned his debut novel "You Met Me For a Reason" to share his true romantic adventurous story from his experience.
After completing the book, it was sent to almost 10 publishers for publishing, but they were all rejected and returned. So he decided to go with the self-publishing house White Falcon Publishing which went on to become a bestseller. With a penchant for not only travelling but also for living in different places, he finds inspiration to live wherever he goes. He successfully completed several treks like the Sour Tal lake trek (Himachal Pradesh), Chaddar frozen trek (Leh), Kedarkantha (Uttarakhand) and many more.
Now, he is an author, trekker, writer, storyteller and traveller. He loves to explore the hidden feelings of the world. It is true that holding a book in our hands and attentively reading it helps us relax. The ups and downs and key times in a person's life are never fully covered in books, yet a book has many feelings and emotions that are left unexplored. And today, if you shine a spotlight on someone who has worked very hard in their lives to enter the period of prosperity, Bhargav Jariwala's name is constantly at the top of the list. He continuously reaches new heights, and success to him is not only making a name for oneself in the present but also upholding the standards of success and serving as an example for others in it. He is currently successful because of his goals and his perseverance.
He is an adventurous person who loves to travel and explore. For him, these activities provide more than just a way to unwind on vacation; they also serve as a catalyst for further global exploration. He uses his travels as an excuse to maintain a positive outlook on life. He used to write poems and reflect on the energies of the natural world. Like others, he has experienced many ups and downs, but he is the type of guy who never completely stops living and instead always steers himself in the direction of positive and optimism. The author now can't wait to explore more genres while still keeping travel or adventure as one of the genres and writing his new and refreshing story that could reach more audiences worldwide.
Facts/Trivia
Various articles have been published on him in leading newspapers and magazines like:
His social media profiles are:
Instagram – @bhargavjariwala
Official Website – www.bhargavjariwala.com