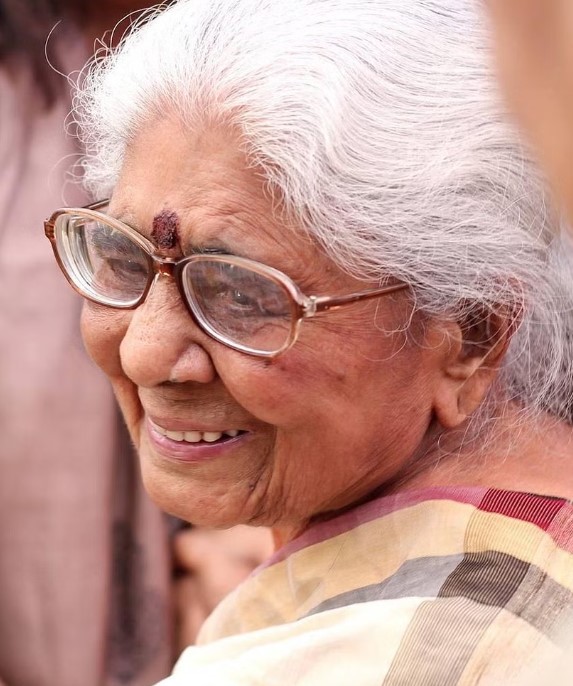 Mannu Bhandari (1931-2021) was a renowned Indian author who wrote books and stories in Hindi. She is best known for her two popular works, "Aap Ka Bunty" and "Mahabhoj," as well as her numerous short stories, novels, and scripts for television and movies. Bhandari was a pioneer of the Nayi Kahani movement, which explored the ideals of the emerging middle class in India. Her writing often reflected the thoughts and feelings of educated and working middle-class women and covered topics such as family, relationships, equal rights, and discrimination in India. Her writings were translated into many Indian languages as well as French, German, and English. She was a notable writer in 21st-century Hindi literature.
Wiki/Biography
Mahendra Kumari [1]Bharat Times was born on Thursday, 2 April 1931 (age 90 years; at the time of death) in Bhanpura, Indore State, British India. Her zodiac sign was Aries. She grew up in Ajmer, Rajasthan. She attained her school education at Savitri Girls High School, Ajmer. In 1949, she completed her graduation at Calcutta University, West Bengal. Later, Mannu Bhandari earned an M.A. degree in Hindi language and literature at Banaras Hindu University, Varanasi, Uttar Pradesh. [2]The Times of India
Physical Appearance
Hair Colour: Grey
Eye Colour: Black
Family
Mannu Bhandari belonged to a Jain family. [3]The Indian Express
Parents & Siblings
Her father, Sukhsampat Rai Bhandari, was a freedom fighter and social reformer. Her mother, Anoop Kumari Bhandari, was a homemaker. She had two brothers named Prasanna Kumar Bhandari (teacher) and Basant Kumar (teacher), and two sisters named Shusheela and Snehlata (school owner in Indore). Mannu Bhandari was the youngest of five siblings.
Husband & Children
On 22 November 1959, Mannu Bhandari got married to a Hindi writer named Rajendra Yadav.
Mannu Bhandari and Rajendra Yadav met while Bhandari was studying at Calcutta University. Despite her father's objections, they married and lived in Tollygunge, Kolkata until 1964. Thereafter, they shifted to Delhi where Bhandari worked as a Hindi literature teacher at Miranda House College, University of Delhi. The couple has a daughter named Rachana Yadav who is a professional Kathak dancer.
In the 1980s, Bhandari and Yadav decided to live separately but did not officially divorce. They remained friends until Rajendra Yadav died in 2013.
Relationships/Affairs
Mannu Bhandari was in a relationship with Rajendra Yadav before marrying him in 1959.
Career
Soon after completing her graduation, Mannu Bhandari began working as a Hindi teacher at Ballygunge Shiksha Sadan, a school for children in Calcutta. In 1961, she joined Rani Birla College in Kolkata as a Hindi lecturer and served in the position till 1965. Between 1992 and 1994, Mannu Bhandari held a special position at Premchand Srijanpith at Vikram University, Ujjain. She began her writing career in 1957 with her first short story, 'Main Har Gayi,' which was later adapted into a popular play performed across India.
Mannu Bhandari, along with her husband, co-wrote a novel titled 'Ek Inch Muskaan' in 1961 and published her first solo novel, 'Aapka Bunty,' in 1971. The book became very popular soon after its release and was translated into different languages, dealing with the theme of a child coping with parental divorce.
Thereafter, she continued writing short stories and published them in Hindi magazines such as Indian Literature and the Journal of South Asian Literature. Mannu Bhandari then compiled several collections of her short stories into books like 'Teen Nigahon Ki Ek Tasvir' in 1959, 'Ek Plate Sailab' in 1962, 'Trishanku' in 1995, 'Yahi Sach Hai' in 2004, and 'Sampoorna Kahaniyan.' One of her stories, 'Yehi Sach Hai,' was adapted into a film titled 'Rajnigandha' in 1974.
In 1977, Mannu Bhandari adapted a story by Sarat Chandra Chattopadhyay into a movie called 'Swami.' However, she disagreed with the ending of the film.
In 1979, Mannu Bhandari wrote another novel titled 'Mahabhoj,' which shed light on the struggles of marginalized communities after an attack by upper-caste landlords in 1977 in Bihar. This book was later adapted into a play that was performed at the National School of Drama in Delhi, becoming a big success.
One of her popular stories was adapted into a 1979 film titled 'Jeena Yahan,' which earned critical acclaim.
In 1985, Mannu Bhandari wrote scripts for a television show called 'Rajani' in collaboration with Indian film director Basu Chatterjee. One episode of this show, which explored the struggles of taxi drivers, became very popular.
In 2007, Mannu Bhandari wrote her autobiography, 'Ek Kahaani Yeh Bhi' in which she discussed her life, writing journey, marriage, and political involvement.
In 2017, she wrote another successful play called 'Bina Deevaron Ke Ghar.'
Controversy
Mannu Bhandari refused to accept the Padma Shri and Sahitya Kala Parishad awards as a protest against the Government of India during the emergency in 1976.
Awards, Honours, Achievements
1980-81
She was honoured with the Uttar Pradesh Hindi Sansthan Award for her novel Mahabhoj.
1982
She earned the Bhartiya Bhasha Parishad award in Kolkata and Kala-Kunj Samman in New Delhi.
1983
She received the Bhartiya Sanskrit Sansad Katha Samaroh award in Kolkata.
1991
She was honoured with the Bihar Rajya Bhasha Parishad award.
2001-02
She earned the Rajasthan Sangeet Natak Akademi award.
2004
She received the Maharashtra Rajya Hindi Sahitya Akademi award.
2006-07
She was felicitated with the Hindi Academy, Dilli Shalaka Samman and Madhya Pradesh Hindi Sahitya Sammelan award at Bhavbhuti Alankaran.
2008
K. K. Birla Foundation honoured Mannu Bhandari with the 18th Vyas Samman for her autobiography 'Ek Kahani Yeh Bhi.'
Death
On 15 November 2021, Mannu Bhandari died at the age of ninety in Gurgaon, Haryana, after suffering from a heart attack. [4]The Times of India
Facts/Trivia
She is also known by the names Mannu Bhandari Yadav and Mannu.
Mannu Bhandari's father was reportedly the first person to translate English to Hindi and English to Marathi dictionaries. He was a follower of Arya Samaj. In her autobiography, Mannu Bhandari mentioned that her father often made fun of her dark skin.
Bhandari was often involved in politics during her school days. In 1946, she organized a strike when two of her friends were expelled from school for being part of Subhash Chandra Bose's Indian National Army.
Many of Bhandari's stories were adapted into movies and plays for television, and her work was shown on Doordarshan, the BBC, and the National School of Drama in India.
In 1971, while writing 'Aapka Bunty,' Mannu Bhandari spent a month in the Miranda House hostel to focus on her writing.
Following her passing, The Indian Express called her a "doyenne of the Hindi literary world" in one of their publications.