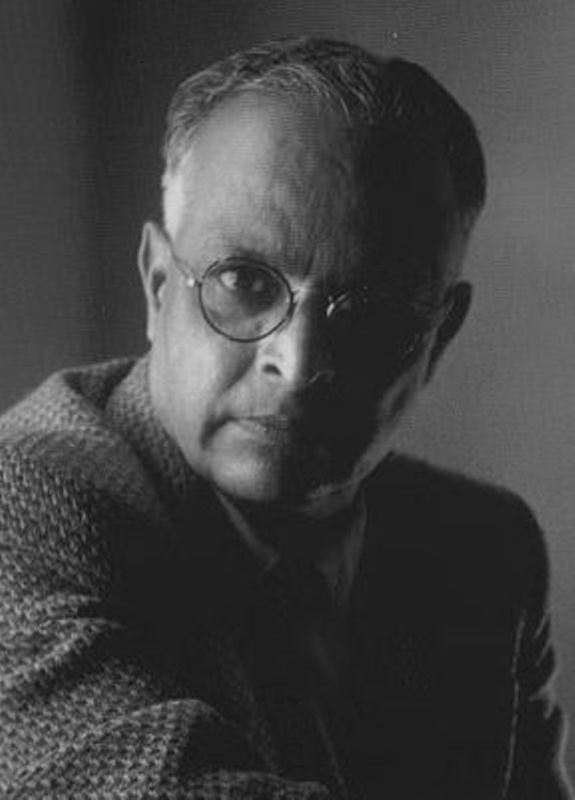 R. K. Narayan (1966-2001) was an Indian writer and novelist. He was one of the renowned authors of the early Indian literature in English like Raja Rao and Mulk Raj Anand. He was also a short story writer, essayist, journalist, critic, memoirist, and an editor. He mainly wrote fiction, non-fiction, and mythology. His first published work was a book review of the Development of Maritime Laws of 17th-Century England. His first novel was 'Swami and Friends (1935), and his last work was Grandmother's Tale (1923). His written works include themes like myths, tradition and modernity, ancient India, and women's position in society. R. K. Narayan died on 13 May 2001.
Wiki/Biography
Rasipuram Krishnaswami Iyer Narayanaswami was born on Wednesday, 10 October 1906 (age 94 years; at the time of death) in Madras, British India (now, Chennai, India). While living with his grandmother, R. K. Narayan attended several schools in Madras like Lutheran Mission School in Purasawalkam, C.R.C. High School, and Christian College High School. After completing high school, Narayan could not pass the university entrance examination and spent a year at home reading and writing. In 1926, he successfully passed the examination and enrolled in the B.A. program in English at Maharaja College, Mysore. It took him four years to complete his bachelor's degree. After his father's death in 1937, he held a job as a school teacher for a short period of time. He was aware of the value of education and criticized the educational system that colonialism had put. In his novel 'The English Teacher,' he talks about the education system and stated,
This education has reduced us to a nation of morons; we were strangers to our own culture and camp followers of another culture, feeding on leavings and garbage . . . What about our own roots? . . . I am up against the system, the whole method and approach of a system of education which makes us morons, cultural morons, but efficient clerks for all your business and administration offices."
Family
R. K. Narayan belonged to a Tamil Brahmin family.
Parents & Siblings
His father was a school headmaster, and due to his frequent transfers in his job, R. K. Narayan was sent to his maternal grandmother, Parvati, who taught him arithmetic, mythology, and Sanskrit. His grandmother used to call him by the nickname Kunjappa. In 1937, R. K. Narayan's father died. R. K. Narayan was the third child in a family of eight children. His youngest brother, Laxman, became a cartoonist, and Ramachandran, his younger brother, became an editor at Gemini Studios.
Wife & Children
During his visit to his sister's house in Coimbatore, R. K. Narayan fell in love with a 15-year-old girl, Rajam. Narayan got married to her in 1934. In 1939, Rajam died of typhoid. R. K. Narayan and Rajam had a daughter named Hema.
Signature/Autograph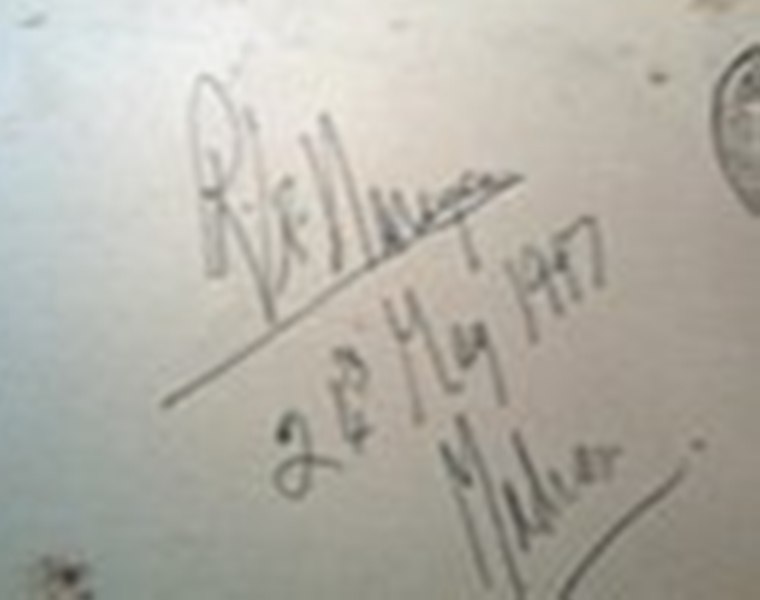 Career
In 1934, R. K. Narayan became a reporter for a Madras-based paper, The Justice, which was dedicated to the rights of non-Brahmins. R. K. Narayan's next novel was The Bachelor of Arts (1937). His third novel, The Dark Room (1938), was based on a theme of domestic disharmony. His perspective of seeing the world was unique. He once said in his book 'The Guide"-
In a world where we are accustomed to rivalries over possession, authority, and borders, and people clashing over the issue, "Ours," or "Mine, not yours," it is rather strange to find two people debating whose the kingdom is not, and asserting: "Yours, not mine."
In his book 'Malgudi Days,' R.K. Narayan wrote,
We are a flawed, weak species, he gently reminds us in these pages, focusing his attention, clearly and without sentiment, on those who will stoop low, those who will stop at nothing. What makes us care for such frequently pathetic characters is that they, like most of the rest of us, are strivers, driven by hopes for a slightly better life."
Novels
Swami and Friends (1935, Hamish Hamilton)
The Bachelor of Arts (1937, Thomas Nelson)
The Dark Room (1938, Eyre)
The English Teacher (1945, Eyre)
The Financial Expert (1952, Methuen)
Waiting for the Mahatma (1955, Methuen)
The Guide (1958, Methuen)
The Man-Eater of Malgudi (1961, Viking)
The Vendor of Sweets (1967, The Bodley Head)
The Painter of Signs (1977, Heinemann)
A Tiger for Malgudi (1983, Heinemann)
Talkative Man (1986, Heinemann)
Non Fiction Books
Next Sunday (1960, Indian Thought Publications)
My Dateless Diary (1960, Indian Thought Publications)
Reluctant Guru (1974, Orient Paperbacks)
The Emerald Route (1980, Indian Thought Publications)
A Writer's Nightmare (1988, Penguin Books)
A Story-Teller's World (1989, Penguin Books)
Mythology Books
Gods, Demons and Others (1964, Viking)
Short story collections
Malgudi Days (1942, Indian Thought Publications)
An Astrologer's Day and Other Stories (1947, Indian Thought Publications)
Lawley Road and Other Stories (1956, Indian Thought Publications)
A Horse and Two Goats (1970)
Under the Banyan Tree and Other Stories (1985)
Awards
In 1960, R. K. Narayan won the Sahitya Akademi Award for his book The Guide (1958). Later, a film with the same name, starring Dev Anand and Waheeda Rahman, was made over this book for which R. K. Narayan received the Filmfare Award for the best story.
In 1964, R. K. Narayan was awarded the Padma Bhushan during Republic Day.
In 1980, he received the AC Benson Medal from the British Royal Society of Literature.
In 1986, R. K. Narayan was honoured by Rajyotsava Prashasti from the Government of Karnataka.
In 2000, he was awarded the Padma Vibhushan.
Death
On 13 May 2001, he died of cardio-respiratory failure at the age of 94 in Chennai.
Facts/Trivia
In 1982, R. K. Narayan was elected an honorary member of the American Academy of Arts and Letters.
On R. K. Narayan's 108th birthday in 2014,  Google featured a doodle of R. K. Narayan with his book Malgudi Days.
In 2016, R. K. Narayan's house, which was built in 1952 in Yadavagiri, Mysuru, was converted into a museum in his honour.
In 1980, R. K. Narayan was nominated to the Rajya Sabha.
In 1986, an Indian television series, Malgudi Days, was aired on Doordarshan; it was filmed in both English (13 episodes) and Hindi (54 episodes). The television show was based on the 1943 short story collection with the same title by

R. K. Narayan

.
His short stories are often compared to Gue de Maupassant and William Faulkner for using a fictional town, humour, and compassion to showcase ordinary life.
R. K. Narayan's mentor and friend Graham Greene was instrumental in getting publishers for Narayan's first four books.
Miss Malini (1947) was the only film for which R. K. Narayan wrote the story. Sampat (1952) is an Indian satirical film, which is based on R. K. Narayan's novel Mr. Sampat (1949).
This National Award-winning Kannada-language film Banker Margayya (1983), was based on the novel written by R. K. Narayan titled The Financial Expert (1952).
In an interview, when asked how he conceived his work as a writer, he said,


The actual writing of a book may not take much time, but its subject and scope take time to grow and settle in. Of course you don't regard the story or characters separately, only as a totality if I may use that slightly pompous word." [1]India Today
In 1968, his book The Guide was adapted into a Broadway play and was staged at Hudson Theatre. He was not happy with the film Guide, and he wrote a column in Life magazine titled The Misguided Guide.
BBC chose Swami and Friends, the first of trilogy of novels written by R. K. Narayan (1906–2001), as one of 100 novels That Shaped Our World.
R. K. Narayan's first income from writing was nine rupees and twelve annas.
His first novel, 'Swami and Friends,' which he wrote in 1930, was rejected by several publishers.