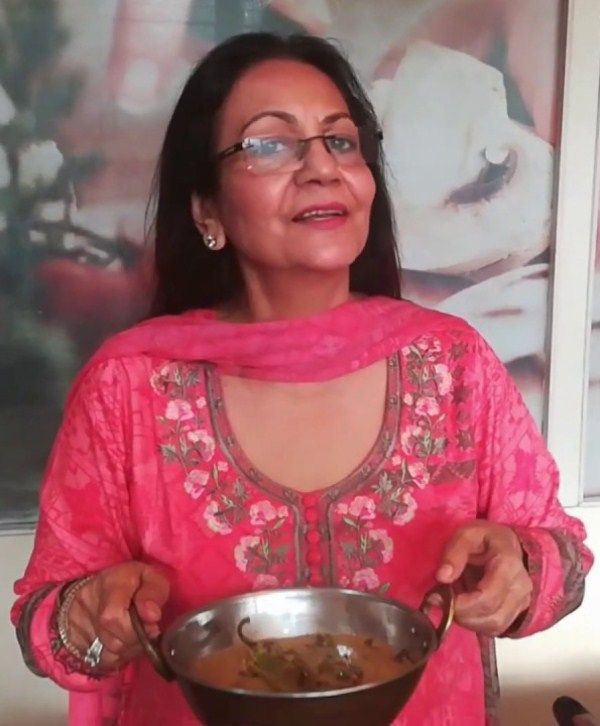 Nita Mehta is a chef, author and restaurateur. She is commonly known for writing cooking books, conducting online classes and judging cooking shows.
Wiki/Biography
Nita Mehta was born on Friday, 12 January 1952 (age 69 years; as of 2021). She completed her schooling at St. Joseph's Convent School, Bhopal. Since her teenage years, she has been interested in cooking. Talking about her passion for cooking, in an interview she said,
I was interested in cooking since my teenage days. As a little girl, I would bake cakes and cookies with my neighbour aunts. My passion for cooking carved my path."
According to the media, Nita is a cooking and nutrition expert. She has written around 400 cookbooks. The names of some of her books are Indian Cooking With Olive Oil, Vegetarian Chinese, Zero Oil Cooking, Diabetes Delicacies, 101 Recipes for Children, and The Best of Chicken and Paneer. Her family and friends always supported her and loved her recipes. They insisted her to write a book on her recipes.
Physical Appearance
Height (approx.): 5′ 3″
Weight (approx.): 75 kg
Hair Colour: Black
Eye Colour: Black
Family
Siblings
She has one brother and his name is Anil Kshetrapal.
Husband & Children
Nita Mehta`s husband`s name is Subhash Mehta who is a former project manufacturing engineer at Burroughs Corporation.
They got married on 7 September 1973. Her son`s name is Anurag Mehta and her daughter`s name is Bhavna Mehta.
Career
Cooking
In 2001, Nita started her culinary academy in New Delhi. The name of her academy is Nita Mehta Culinary Academy.
She has opened her own publishing house and most of her books are published in her own production house. The name of the production house is SNAB Publishers.
She opened her first restaurant in 2012, in Ludhiana. The name of the restaurant is Kelong.
In 2004, Nita was invited to an event for Panasonic that was organised by Coimbatore. In 2007, Nita was invited as a judge in a contest run by Kurkure. In 2020, she was offered to make new desserts and mocktails for Rooh Afza made by Hamdard Laboratories. She was also asked to prepare a menu for the students of the school 'Step by Step' in the same year. In 2011, she judged the shows Mallika-e-Kitchen in Chandigarh and MasterChef India.
In 2016, she introduced her own brand of spices named Nita Mehta spices.
Awards
She was the winner of the Best Asian Cookbook Award for 'Flavors of Indian Cooking' at the World Cookbook Fair in Paris (1999).
Facts/Trivia
Nita is a non-vegetarian.
She likes to bake cupcakes with her grandchildren and watch movies with her husband.
Nita`s husband has helped Nita in converting her recipes into books.
In her academy, she teaches how to cook fast food, traditional Indian meals, picnic packs, low-calorie snacks, salads, desserts, chocolates, confectionery and "healthy heart" meals. Many International cuisines are also taught in the academy that includes Burmese, Lebanese, Japanese and Singaporean.
In an interview, she talked about her academy and said,


I started cooking classes for fun and to pass my time at home. I wanted to keep an eye on my growing children as well as do something. Cooking classes, I thought was a good option. I enjoyed taking classes at home as it was a good social outlet for me. I enjoyed meeting people from all walks of life — there were Doctors, lawyers, housewives etc. attending my classes. Soon I realized this hobby can be turned into a profession and then I opened my first formal culinary academy. After that there was no looking back."
Initially, she started taking cooking classes at her home in Delhi for Rs. 100 from each student for four days.
Nirula`s was an ice-cream parlour that served different flavours of ice-creams. People were keen to learn the recipes of these ice-creams. So, Nita started teaching the recipe to her students.
She informed about her first restaurant in an interview and said,


My first restaurant is "Kelong" in Ludhiana which is a multi-cuisine restaurant. We offer Indian & oriental cuisine, all cooked with fresh ingredients. I try my best to see that the food served is tasty, healthy and hygienic. We opened another restaurant 'Lemon Grass' which offers Thai & Mexican food."
Nita shared her experience as a judge and said,


Judging competitions is pretty tough. The first thing that I see is the flavour. The texture of food, I mean cooked just right is very important too. A little overcooking or undercooking can alter the taste a lot. I like the food to be garnished simply. Sometimes the contestant over garnish the food, taking eyes away from the real food."
Nita believes that cooking is a science that anybody can learn.
She informed that the most unhealthy things that Indians eat are namkeens and unhealthy oils like palm oil and too much sugar in tea/coffee.
On being asked about bringing innovation to her recipes, she said in an interview,


I travel a lot, visit restaurants and try out new dishes. I never hesitate to ask about a particular dish because I believe that learning is never-ending. Many times, I collect ingredients lying in the kitchen and try to create something interesting with them. Cooking is a very creative art, but technical too. If you understand food well, you can create endless recipes."
In an interview, she talked about her range of spices and said,


I have never used readymade masalas and always prefer grinding and mixing my own spices, but over time I figured it is not possible for everybody to do this tedious task all the time. My range of masalas has the same ingredients that I use at home. They bring out the essence of each recipe."
 She also gave advice about changing fast food habits into healthy habits and said,


Reinvent fast food recipes to make them healthy by adding super food. Change way of cooking from frying to pan grilled. Also make the food look attractive so that the child feels like trying it."