Manoj Patil is an Indian bodybuilder and model who won Mr. India Men's Physique Overall Championship in 2016. On 16 September 2021, he attempted suicide by eating some pills at his residence in Oshiwara, Mumbai.
Wiki/Biography
Manoj Patil was born on Sunday, 1 November 1992 (age 29 years; as of 2021) in Kolhapur, Maharashtra. His zodiac sign is Scorpio.
He did his schooling at Dnyansagar Vidhyalaya, Jogeshwari West, Mumbai. Later, he attended the University of Mumbai, Mumbai, Maharashtra. [1]Facebook- Manoj Patil
Physical Appearance
Height (approx.): 5′ 6″
Weight (approx.): 85 kg
Hair Colour: Black
Eye Colour: Black
Body Measurements (approx.): 48-34-20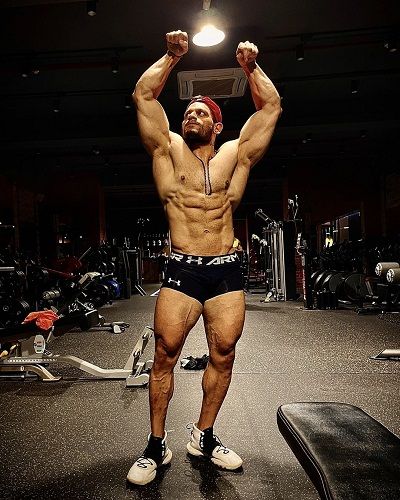 Family
Parents & Siblings
Manoj was born in a middle-class family. [2]Hindustan Times His father's name is D. A. Patil, and his mother's name is Seema Patil. As per his Instagram account, he has two sisters, and one of his sisters' name is Aarti Patil.
Wife & Children
Manoj Patil is married.
Career
When he was 13 years old, he started doing various odd jobs to meet his basic financial expenses. Some of the jobs he did were selling milk, distributing newspapers, and washing cars. After almost three years, he started working out in the gym with the motive to gain more weight. At the age of 18, he started participating in various bodybuilding competitions. With intense training and hard work, he won his first gold medal at the Junior Mr. Mumbai competition in bodybuilding at the age of 21.
He continued his training and won many bodybuilding competitions like:
Mr. India Men's Physique title in 2016
Represented the country at Mr. Olympia Amateur
Silver medal at National Championship 2017
Silver at Olympia India 2018
Bronze at Olympia Italy 2018
Silver at Olympia China 2019
According to Manoj, his biggest achievement was when he won Sheru Classic IFBB (International Federation of Bodybuilding) Pro Card in the overall Men's Physique category in 2019. With his increasing popularity, many Indian celebrities did their fitness training under him. Some of his Indian celebrity clients are Himansh Kohli, Neha Kakkar, and Shahid Kapoor.
Controversy
In 2021, Manoj filed a harassment case against the former Indian actor and fitness trainer Sahil Khan at the Oshiwara Police Station, Mumbai. Sahil has posted many videos on his Instagram account in which he has targeted Manoj and has passed various derogatory comments on Manoj. In one of the Instagram videos, Sahil mocked Manoj and posted a video titled, "Manoj Steroid Wala Kaun hai? Any Idea! Believe it or not. For more watch my story." Reportedly from 2020, a tiff started between Manoj Patil and Sahil Khan. [3]India Today
View this post on Instagram
Suicide Attempt
On 16 September 2021, at around 12:30 am, Manoj attempted suicide by eating some pills, and he was immediately rushed to the Cooper Hospital, Mumbai. A suicide note was recovered from his residence in which he said that the Indian bodybuilder Sahil Khan was responsible for his suicide. [4]India Today His suicide note read (originally in Marathi, translated to English),
I am Mr. India Manoj Patil, an Indian sportsperson and represent India in bodybuilding. There is an actor named Sahil Khan, who is targeting me and my nutritionist's shop through Instagram and social media. Because of this, I and my family have to suffer. I am from a middle-class family. Sahil Khan is jealous of my progress. A lot has been said on social media about me and my business. I have also been given many threats that I will end your career. He has also come under my building, I don't know what was the reason behind it. I have to go to America to participate in Mr. Olympia, he intends to take advantage of the feud between me and my wife, divert her mind and end my entire career. My family and I have been very upset seeing all this, I am the only earning member of my household, my father is 65 years old retired man and my mother is a housewife. Due to all these circumstances, I am being encouraged to commit suicide, if this continues, I will take some big steps in the coming days, this the responsibility of all this will be of the government, police and Sahil Khan, not only this Sahil Khan Has done the same thing in the past with 2-3 players whose details are also in Oshiwara police station. He further wrote, I am an Indian player and all this is happening to me, so what to expect from the common man."
In the police statement, his manager Pari Naaz said,
Manoj was being harassed for over a year. His phone number had been made viral. And last night he was with his friends and on his way home he went to a chemist shop and bought the pills. His friends weren't aware of what he took but when he reached home he didn't even have dinner and fell unconscious. We then rushed him to hospital."
While talking to the police officials, his mother said,
My son told me that he was being mentally harassed by Sahil Khan. It came to a state where he said 'I feel like ending my life' and he tried to take his life."
During an interview, the local MNS (Maharashtra Navnirman Sena) leader Suraj said,
Manoj Patil had approached me for help and I had promised him to take him to Raj Thackeray as well. He told me how he had been facing problems for months. Till the time it was restricted to professional rivalry it was ok but for some time Sahil Khan started targeting his personal life and commented about his wife and also threatened that his visa would be cancelled which made him take this step."
Later, Sahil Khan held a press conference to give clarification on the whole incident. He said,
The case has nothing to do with me. The whole thing is between Manoj Patil and a person named Raj Faujdar. First of all, committing suicide is a crime in India. Manoj should understand that. Raj has transaction receipts of Rs 2 lakhs with Manoj's name mentioned on it and not mine. If I come and sell drugs outside your house and if you put that up on social media, would I be able to say that you are bullying me? I have spoken the truth, that which Raj Faujdar shared with me. I have just uploaded that on my social media."
Facts/Trivia
Manoj loves playing cricket, football, and running.
He was featured in the print advertisements of various fitness and bodybuilding products.
He has got a tattoo of 'Champ' inked on the left side of his neck.
He is a spiritual person and has a deep faith in Lord Hanumana.
In an interview, while talking about his journey as an athlete, he said,
It took me more than 10 years to reach where I am but I am still a work in progress. I have faced many failures but did not give up on my dreams. If someone like me, who did not even have the money to buy eggs, could make it till here, then all of you can do it, just have that dedication and a never-give-up attitude. As an athlete, my outlook is not limited to just being IFBB Pro or Mr. India. I love my country and I would do anything that is required to keep it safe from the inside. I may not be in the Army but I will always remain my country's loyal soldier."
Manoj Patil owns a Maruti Suzuki car.
He is often spotted drinking alcohol at parties and events.
Manoj is an avid animal lover and often posts pictures with dogs on his social media accounts.