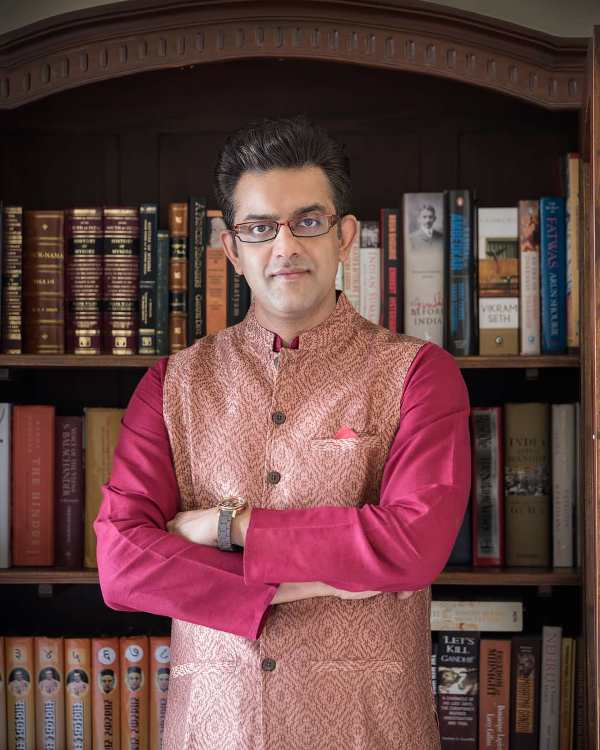 Vikram Sampath is an Indian author and historian. He is also a curator and musician. Some of the books that earned him acclaim are Wadiyar Dynasty (2008), and Gauhar Jaan (2012); the latter is a biography of the first classical musician of India. He received both positive and negative reviews for his biographical work on Vinayak Damodar Savarkar.
Wiki/Biography
Vikram Sampath was born in Bangalore, Karnataka, India. [1]Deccan Herald He did his schooling at Sri Aurobindo Memorial School and Bishop Cotton Boys' School in Bengaluru. When he was 5 years old, his parents decided to train him in Carnatic music under the tutelage of Jayanthi Kumaresh and Bombay Jayashri.
He completed his graduation with a degree in electronics engineering and post-graduation with a master's degree in mathematics at BITS Pilani. His professors wanted him to do PhD in Topology, but Vikram had planned something else for himself. He went on to pursue an MBA degree in finance at the S.P. Jain Institute of Management and Research.
Family
Parents & Siblings
Vikram belongs to a wealthy Tamil Hindu family from Bangalore. His father was a banker, and his late mother was a homemaker.
Career
Corporate Job
For 8 months, Vikram worked at GE Capital in Gurgaon in 2005, he then moved to Bengaluru, where he joined Citibank's Global Decision Management Team and worked till 2008. Later, he joined Hewlett-Packard (HP) as a financial analyst, where he worked till July 2013. [2]Deccan Herald He kept his desire to become an author on hold till he received the scholarship for a PhD in ethnomusicology from the School of Music at Queensland University, Australia.
Author
Vikram is renowned for his biographies and history-related books. He is known for his books 'Wadiyar Dynasty,' 'My Name Is Gauhar Jaan: The Life and Times of a Musician,' 'Voice of the Veena: S Balachander- A Biography,' and 'Savarkar: Echoes from a Forgotten Past.'
Wadiyar Dynasty
In 2008, he published his first book titled 'Wadiyar Dynasty,' which was based on the history of the Wadiyar Dynasty of Mysore. [3]Outlook India He wanted to write about Wadiyars after he watched the Indian historical drama 'The Sword of Tipu Sultan' and found that the show had depicted the Wadiyars inappropriately. His deep and complex research before writing this book was one of the qualities that made the book very famous and impressive. Arun Shourie and Ramachandra Guha were his claimed inspiration, but he did not write the book with the outlook of a historian. The book received positive reviews from readers.
My Name Is Gauhar Jaan: The Life and Times of a Musician
His second book, "My Name Is Gauhar Jaan: The Life and Times of a Musician," was a biography that was based on the life story of Gauhar khan, a dancer and singer from Kolkata who was the first classical musician from India to record on the gramophone, which was published in 2012. To research vividly and know more about the singer, he established a trust with the help of funding from T.V. Mohandas Pai to digitize vintage gramophone recordings. [4]Telegraph India The book was praised by many authors and readers for giving a rare insight into Gauhar Jaan's life and her passion for music. [5]The Telegraph
Voice of the Veena: S Balachander- A Biography
In 2013, he published his third book, 'Voice of the Veena: S Balachander- A Biography,' under Rupa publications which portrays the history of Padma Bhushan awardee Sundaram Balachander, who was a famous Indian veena player and filmmaker. When people got to know about the book, Vikram had to face lots of hatred as Balachander is considered a controversial figure, but he did not stop writing the book. According to him, S. Balachander was a notorious genius. S. Balachander's family helped Vikram a lot in providing every minute detail about Balachander. T.M.Krishna, who is an Indian Carnatic vocalist, author, and activist reviewed the work to be captivating, elaborated, and according to him, the book depicted Balachander's life's different phases in a sparse manner. Others found the book a well-researched and detailed portrayal of the Carnatic music artist. [6]India Today
Savarkar: Echoes from a Forgotten Past
Biography of V. D. Savarkar was the fourth book released by Vikram titled 'Savarkar: Echoes from a Forgotten Past.' The book was published in two parts by Penguin Books, the first part was released in 2019 and the second one in 2021. According to Vikram, he decided to write a book on Savarkar as he wanted to give a tribute to Savarkar and there was less detailed information available about him and his presence in Indian politics. The book faced both appreciation and criticism. A professor at Gothenburg University, Swati Parashar, said that everyone must read the book, on the other hand, an associate professor of Indian history at the University of California, Janaki Bakhle, said that it lacked crucial information regardless of the subtle and extensive research. [7]Frontline [8]The Wire
Controversy
Plagiarism
On 11 February 2022, Audrey Truschke, Rohit Chopra, and Ananya Chakravarti wrote a letter to the president of the Royal Historical Society, denouncing Vikram for plagiarism and requesting that his membership and scholarship should be taken into reconsideration. He was convicted of paraphrasing from the creations of Vinayak Chaturvedi and Janaki Bakhle for his fourth book on V. D. Savarkar. He was even accused of copying one paragraph entirely from an undergraduate student's thesis and not citing others' work appropriately. Both Vinayak and Janaki were disgusted for copying and not giving credit to the work of others. [9]The Wire They wanted him to apologise for his mistake and take back the publication of his book. [10]The Hindu Vikram clearly denied all the charges against him, and he even prosecuted a defamation suit of Rs 2 Crore ($269,000) in the Delhi High Court. He stated that because of a common source, the biography paragraph was quite similar. To which other authors replied that it was unprofessional to refer to a publication to freely reproduce content. A restraining order was issued by the court on the first hearing to prevent Audrey Truschke and others to release any slanderous article or letter. Violating the order, several tweets were posted that were later on asked to be removed.
Awards & Honours
Yuva Puraskar in English Literature for 'Gauhar Khan' by Sahitya Akademi, India
Excellence in Historical Research Award by Association for Recorded Sound Collections
He was chosen as a fellow at the Royal Historical Society
Vikram received a visiting fellowship from Berlin Institute for Advanced Study
He is the founder-director of the Bangalore Lit Fest and ZEE Group's ARTH: A Culture Fest
Vikram has been a former senior fellow at the Nehru Memorial Museum and Library
In 2014, Vikram was chosen to be the Executive Director of the Bangalore regional centre of Indira Gandhi National Centre for the Arts
Facts/Trivia
Vikram is an animal lover and has a pet dog named Leo.
Feeding these lovely animals after an elaborate #Navratri puja was blissful. Compassion to all beings is the greatest religion one can aspire for! pic.twitter.com/YOhEQjeIX1

— Dr. Vikram Sampath, FRHistS (@vikramsampath) April 5, 2022
He likes to stroll on the beach and watch the sunsets.