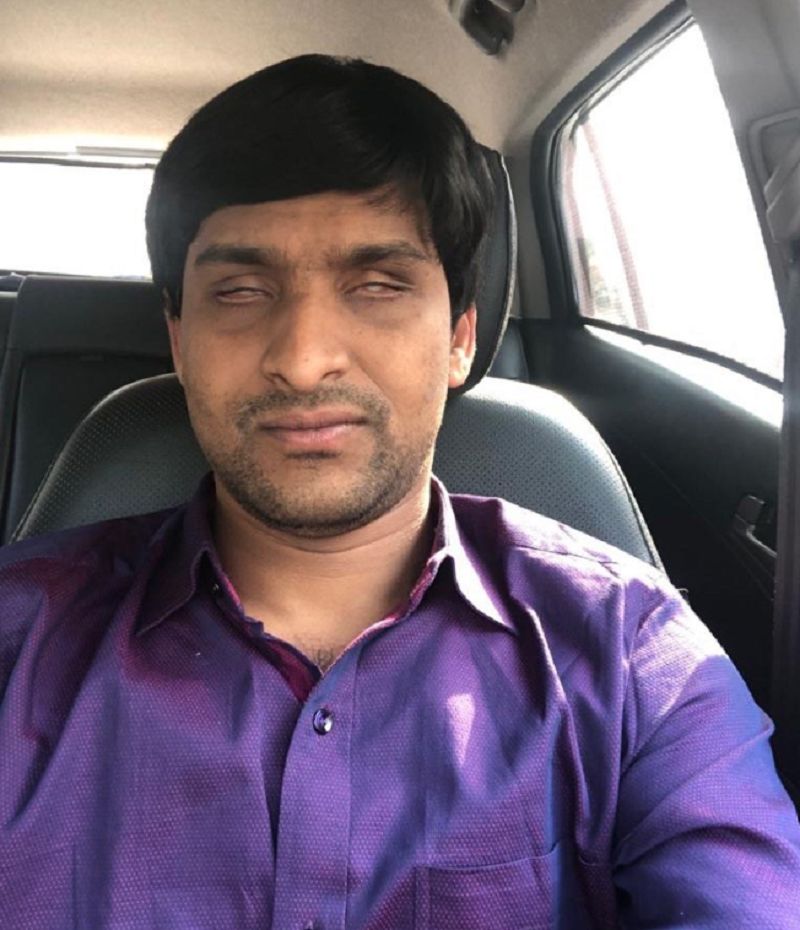 Srikanth Bolla is an Indian visually impaired entrepreneur and the Chairman and CEO of Bollant Industries, a company worth Rs. 1,200 crore. He was born blind and even after facing a lot of hardships, he set up a company that provides jobs to people with disabilities like him.
Wiki

/Biography

Srikanth Bolla was born on Sunday, 7 July 1991 (age 32 years; as of 2023) in Seetharamapuram, Machilipatnam, Andhra Pradesh. His zodiac sign is Cancer. He attended Devnar School For The Blind, Hyderabad from 1998 to 2007 and Royal Junior College, Hyderabad from 2007 to 2009. In 2009, he enrolled at Massachusetts Institute of Technology to pursue a bachelor's degree in business management. [1]Srikanth Bolla – Linkedin When Srikanth was born, some people in his neighbourhood advised his parents to either kill him or leave him at an orphanage because they believed he wouldn't be valuable in the future. However, his parents didn't pay attention to those suggestions and provided him with everything they could afford from their earnings as farmers. At the age of six, he would walk many kilometres to school with the help of his brother and classmates. As he grew up, he faced many challenges. His schoolmates would often avoid talking to him because of his blindness. In one interview, he mentioned that for two years, no one interacted with him at school, and he was made to sit on the last bench. Additionally, he wasn't allowed to join physical education classes. When he turned eight, he enrolled in a boarding school in Hyderabad. During his time there, he learned to swim, play chess, and play cricket using a ball that made a sound, helping him locate it easily. Srikanth became part of the Andhra Pradesh State Blind Cricket Team and took part in various chess and cricket competitions at the state, regional, and national levels and earned several awards. He is also known as a nationally-ranked chess player in India. After finishing his matriculation, he wanted to study science, but his school didn't permit it, thinking it was illegal due to his disability. They believed teaching him graphs and diagrams would be a challenge. He felt really upset about this, and with one of his teacher's help, he filed a case in the High Court of Andhra Pradesh to change this law. After six months, a school in Hyderabad finally allowed him to study. Eventually, he also won a lawsuit against his previous school. During his twelfth board exams, he came first in his class with a score of 98%. He converted all the textbooks into audiobooks, studied hard, and received 98% in his board exams. After he finished his twelfth class, he first learned Braille, then English, and later how to use a computer. After he finished his schooling, he wanted to attend a coaching institute to prepare for the Indian Institute of Technology for engineering studies. However, he was not allowed admission due to his disability. He applied to other institutions as well and got admission to the Massachusetts Institute of Technology (MIT). In an interview, he mentioned that when he first arrived in the United States, he faced difficulty adapting to the culture. During that time, he only ate French fries and fried chicken fingers for about a month. While he was in college, he volunteered for community service and also participated in sports like archery and baseball.

When he was studying in the United States, he had the chance to work for big companies, but he wanted to work in India. Many people including his parents asked him why he didn't take a job offer in the States and wanted to start his own business.
Physical Appearance
Height (approx.): 5′ 9″
Hair Colour: Black
Family
Parents & Siblings
Srikanth's father's name is Bolla Damodar Rao, who worked as a farmer. His mother's name is Bolla Veera Venkateshwaramma.
He has a brother.
Wife & Children
Srikanth got married to Veera Swathi, who is a homemaker on 23 April 2022.
Career
In 2009, he worked at The Sinha Lab for Developmental Research at the Massachusetts Institute of Technology as an undergraduate research assistant. In 2010, Srikanth did a three-month project internship at General Electric India Innovation Centre, Hyderabad where he learned the strategic design, culture, and political lenses of GE IIC. In 2011, he did a three-month summer internship at Infosys LTD where he was taught about building smarter teams. In 2012, he did an INSTEP internship at Infosys, Hyderabad for two months.
Entrepreneurship
In 2012, when he came back to India from the US, he started Bollant Industries. This company makes products from areca nuts and provides jobs to many people with disabilities.
Ratan Tata, along with others like The Indus Entrepreneurs, SP Reddy, a serial entrepreneur, Srini Raju of Peepul Capital, Satish Reddy of Dr Reddy's, Kiran Grandhi of GMR Group, and Arun Alagappan of TI Cycles. supported his startup by investing in it. He founded the company because he saw that there weren't enough people like him who had guidance and support to fight the challenges he faced in his life. As a result, he provided jobs to over 600 individuals, with half of them being visually impaired.
Bollant makes environmentally friendly Kraft paper from waste paper or used paper, packages things from recycled paper, creates disposable items from natural leaves and recycled paper, and transforms discarded plastic into useful products. The initiative solved problems related to jobs, the economy, and the environment. The company has five factories- Andhra Pradesh, Telangana, Karnataka, and Sri City in Andhra Pradesh. It also sells 10-15% of its products in the United States, Australia, and Germany.
Awards, Achievements
Distinguished Youth Service Award
2015: Entrepreneur of the Year Award at NDTV Indian of the Year Award
2016: Emerging Leadership Award by ECLIF Malaysia
2016: Leadership Energy Award at LESA
2016: Emerging Entrepreneur of the Year Award by CII
2016: 2nd Place at the 93rd India Science Congress
2018: Youth Excellence Award by the Telugu Fine Arts Society of New Jersey
2018: Emerging Winner in SME – Pride of Telangana Awards
2018: Business Line Young Change Maker Award
2019: Entrepreneur of the Year Award by One Young World
2019: National Entrepreneurship Award by the Government of India
2019: Nava Nakshatra Sanmanam Award by TV9
2021: Young Global Leaders Award
Favourites
Actor: Daggubati Venkatesh
Cricketer: Sourav Ganguly
Facts/Trivia
In 2005, he served as a youth leader and became part of the Lead India 2020: The Second National Youth Movement. Lead India 2020 was initiated by former President of India, Dr. A.P.J. Abdul Kalam, to contribute to India's development by solving issues like poverty, illiteracy, and unemployment.
In 2006, Srikanth was one of the students who attended a speech given by India's former President, Dr. APJ Abdul Kalam.
In 2009, after enrolling at the Massachusetts Institute of Technology (MIT), he became the first blind international student in Management Science at MIT.
In 2011, while studying at MIT, he advised the people at MIT's Public Service Center about his plan to start a centre. They gave him a fellowship. He made a plan, got five computers, rented a building, hired a teacher, and started 10-week computer classes. At first, he worked as a Student Tech caller and later became the executive director.
In 2011, Bolla started the Samanvai Center for Children with Multiple Disabilities. In this centre, he set up a Braille printing press and provided different services like teaching, job training, financial help, and rehabilitation to students with multiple disabilities. The aim was to help them become self-reliant and self-sustaining.
Srikanth is the director of the Surge Impact Foundation, which was established in September 2016. This organization's goal is to help schools and individuals in India work towards achieving Sustainable Development Goals by the year 2030.
In April 2017, Forbes magazine included Bolla in the list of 30 under 30 across all of Asia. He was one of just three Indians on that list.
In 2019, there were reports that he planned to join the YSR Congress, which was the main opposition party in Andhra Pradesh.
In 2022, a biographical film titled 'Sri,' with Rajkummar Rao playing the role of Srikanth Bolla was announced.
His hobbies include swimming and playing chess.
In an interview, he said that he wanted to become the first blind President of India.