Abhishek Ray is an Indian fashion designer, entrepreneur, and academician. In the field of fashion designing, Abhishek Ray works as a teacher and mentor in the recognised universities and institutes of India. As an entrepreneur, he deals in Indian Ethnic, Couture and Menswear clothes having special embroidery craftworks, surface ornamentation, and a mixture of trendy silhouettes with traditional textiles. On 3 July 2022, he hit the news headlines after he got married to his gay partner Cheitan Sharma in Kolkata. The marriage ceremony was intimate and was attended by their close friends and family members. This marriage was regarded as the first public gay marriage in Kolkata and was completed with all Hindu rituals and lavish ceremonies. The pictures of marriage celebrations went viral in the media soon after it was completed.
Wiki/Biography
Abhishek Ray celebrates his birthday every year on 13 September and was born in Kolkata, India. His zodiac sign is Virgo. Soon after completing his school education, Abhishek Ray attended St. Xavier's College in Kolkata to pursue a Bachelor of Arts degree in English Honors from July 1999 to June 2002. He then attended the National Institute of Fashion Technology in Kolkata to earn a Diploma of Education in Fashion Designing from July 2002 to June 2005. [1]Abhishek Ray's LinkedIn Account
Physical Appearance
Height (approx.): 5′ 7″
Weight (approx.): 65 kg
Hair Colour: Black
Eye Colour: Black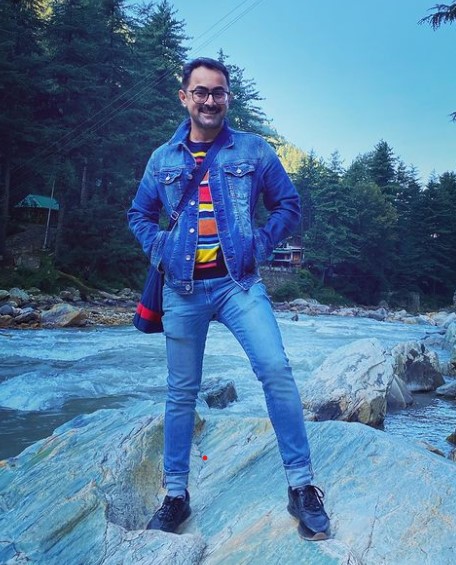 Family
Abhishek Ray belongs to a Bengali family. [2]India Times
Parents & Siblings
The names of his parents are not known.
He has a sister named Nandina Ray Sengupta.
Gay Partner
Abhishek Ray got married to his gay partner Cheitan Sharma on 3 July 2022. Cheitan Sharma is a digital marketing professional at Gurugram, India.
Sexual Orientation
Relationships/Affairs
Abhishek Ray was in a relationship with Cheitan Sharma before getting married to him.
Career
Abhishek Ray started working with Ekru Alluring Designs as its Creative Head in June 2005. and he worked there till July 2014. In September 2010, Abhishek Ray joined the National Institute of Fashion Technology, Kolkata as a Freelance Guest Faculty, and he served the position till December 2010. He then joined Ruceru Couture Private Limited, Kolkata – IndiaMART in August 2014 as an Executive Design Head in Bridals and Trousseau and served the position till October 2016. Abhishek Ray established his own brand and showroom Abhishek Ray Creations in July 2014 and started working as its Creative Head along with his business partner Abhilasha Shaw Arora.
Abhishek Ray joined INIFD as a freelance Guest Faculty at its Indore, Bhopal, and Kolkata branches in May 2017. He worked with INIFD till May 2018. Abhishek Ray started working as Adjunct Faculty in the Amity School of Fashion Technology department of Amity University, Kolkata in July 2019. Later, he left the position and joined the Gurukul School of Design as a Freelance Guest faculty in March 2021. Abhishek Ray served this position till May 2021. He then joined the NSHM Knowledge Campus as a Guest Faculty at Kolkata, West Bengal in January 2020 and worked there till July 2021.
In a Gay Relationship
On 3 July 2022, Abhishek Ray got married to his gay partner Cheitan Sharma, a digital marketer and software engineer. During their wedding, Abhishek Ray donned a dhoti-kurta and was dressed up like a traditional Bengali groom while his gay partner was wearing a sherwani.
In a media conversation, Abhishek Ray talked about his relationship with Cheitan Sharma. He said that before getting married, they had been friends on Facebook for a long time. They met each other in person in 2020. He further added that soon after their first meeting, they went on a small trip to Agra, where his partner proposed to him in front of the Taj Mahal. Abhishek Ray continued by saying that he was so excited about the filmy-style proposal, and it was like dream come true moment for him. Ray described,
We made a trip to Agra, where he proposed to me, in a very filmi way, right in front of the Taj Mahal. Because, casually, I had told him I am a very Bollywood-y person and that it was my dream to see the Taj Mahal with my partner."
In another interview with a media reporter, Abhishek ray expressed on his wedding day that both of them knew very well that their marriage was not legally acceptable and recognised in India, but he was happy that he married Cheitan Sharma publicly. He told,
I like to call it a wedding ceremony. I can't call myself lawfully wedded but yes, I am wedded and Chaitanya is my husband."
His gay partner Cheitan Sharma also participated in the discussion and appealed to every member of the LGBTQ+ community to fight for their rights and desires. Cheitan commented that Abhishek Ray was a kind person and he was lucky to have him in his life as a husband. Cheitan spoke,
I feel blessed and luckiest to have Abhishek as my husband, life partner and best friend. He is a very kind and amazing person. What else can I expect from a partner?"
Facts/Trivia
He follows a non-vegetarian diet.
Abhishek Ray enjoys drinking alcohol occasionally.
Abhishek Ray often smokes cigarettes at various get-togethers and functions.
Abhishek Ray's clothing showroom deals in pret, luxury-pret, and couture.
Abhishek Ray is a fitness fanatic. He regularly goes to the gym and posts videos and pictures of his workout sessions on social media.
In a media conversation with a media house, Abhishek Ray narrated that his family members from his father's side are successful sports academicians, chartered accountants, and lawyers, and on the other side, his maternal family members are well-known North Kolkata zamindars.
Abhishek Ray is a compassionate animal lover. The name of his pet dog is Hippie. He often posts snaps of his pet dog Hippie on various social media platforms.
Abhishek Ray's clothing collections are often displayed on noted fashion shows including Lakme and Wills Fashion Weeks. In a media conversation, Abhishek Ray talked about his desire to become a fashion designer since childhood. He stated that he cherished the dressing sense of veteran Indian actresses Sharmila Tagore, Helen, and Bindu. Abhishek Ray expressed that at a very young age, he liked to assist his school and family friends in designing their ethnic garments. He said,


The vamps of Indian cinema like Helen, Bindu and Aruna Irani enthralled me as much as the bouffant-decked Sharmila Tagore who oozed a certain urbanity and chic. Suchitra Sen was another classy actress who knew how to carry what she wore. I used to even help my school friends design their ethnic attire."
Several well-known Indian newspapers often feature Abhishek Ray in their articles.
According to Abhishek Ray, he adores the works of Alexander McQueen, John Galliano, and Sabyasachi in the fashion industry.
In a media interview, Abhishek Ray revealed that during his wedding celebration arrangements with his gay partner Cheitan Sharma, the biggest hurdle and challenge was to find a priest from the Bengali and Marwari clan. [4]

Telegraph India
Abhishek Ray remains very active on Instagram and Facebook with the name 'abhishekraycreations.' Over 13k people follow his Facebook page, and more than 3k people follow his Instagram handle. On his official social media accounts, Abhishek Ray regularly displays pictures and videos of his clothing designs. Several well-known Indian models and actors exhibit his clothing collection on social media.