Tanya Gyani is a globally known Indian figure in the world of interior design. She is known for her floral designs, home decor and styling, interior designs, and product designs.
Wiki/Biography
Tanya Gyani was born on Saturday, 5 July 1980 [1]Parminder Singh Gyani – Facebook (age 42 years; as of 2022) in Chandigarh, India. [2]India Today Her zodiac sign is Cancer. She grew up in Bangalore and went to a design school in India. She graduated in Accessory Design from the National Institute of Fashion Technology (NIFT), New Delhi, India and moved to Italy, where she pursued a master's degree in Interior Design at Florence Design Academy in Florence and won the Elite Student Award. Later, she attended The Vitra Design Museum, in Weil am Rhein, Germany. [3]India Today She has also done an Entrepreneurship Course at Cambridge University. [4]Coroflot After completing her studies in the field of designing, she started working as an interior designer and worked in Dubai (UAE), Hong Kong, and India. In 2014, she moved to the USA. According to Tanya Gyani, she has a special connection with flowers as she feels calm and has a sense of self-care while arranging them. Tanya considers herself a person who is drawn more toward nature. In an interview, she talked about this and said,
When I am stuck I just take a walk in the park. Nature has the best colour combinations ever and my idea of a perfect living space is very organic. So it's all zen with spa colours and a lot of natural elements for me." [5]India Today
According to Tanya, travelling and working in different countries has helped her gain knowledge about different cultures and get experiences in her life which always turns out to be fruitful for her work ideas. The flowers' beauty, fragrance, and delicacy do magic to her. She feels so attracted to nature that she incorporates mostly natural things in her design brands.
Physical Appearance
Height (approx.):  5′ 4″
Hair Colour: Dark Brown
Eye Colour: Brown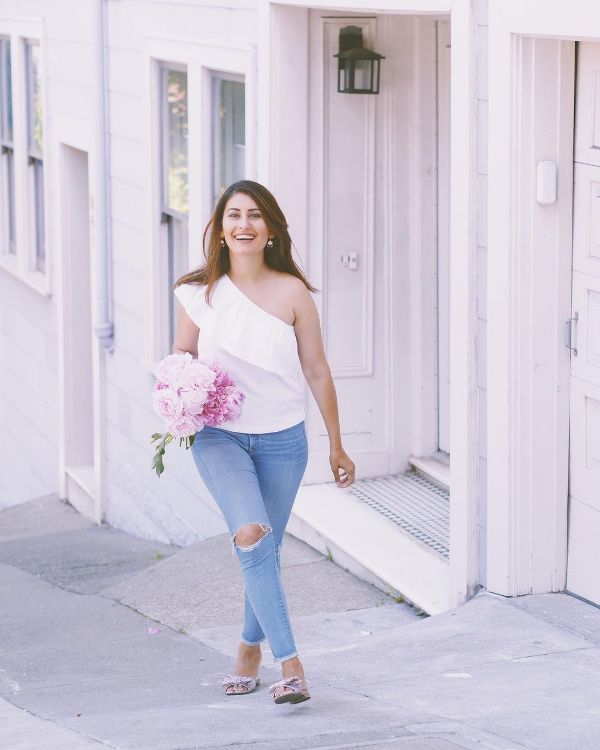 Family
Tanya Gyani's father's name is Parminder Singh Gyani, and her mother's name is Nina Gyani. She has a brother named Arjun Gyani.
Signature
Career
After completing her studies in design, she started working as a product designer. [6]India Today Her background of designing is in interior designing and home styling. In an interview, Tanya talked about working in different countries like Italy, Dubai, etc., and how it helped her design her products with different ideas. She said,
Each city has its own distinctive style. I was in Florence when the minimalist movement was at its peak. Dubai tends to go for the opulent. Designing homes in such varied cities teaches you to come up with your own balanced take."  [7]India Today
Floral Designer
Designer Tanya Gyani does magic with flowers in her work. She provides her designs to selected and smaller groups of clients through her boutique firm, 'Tanya Gyani Design,' located in Palo Alto, California.
Interior Designer
Tanya Gyani has designed for an award-winning company named Indigo Living for nearly a decade. Indigo Living provides its interior design and home furniture services as a retailer. She has also worked as the Chief Interior Design Consultant for Delhi Land & Finance (DLF Limited).
Product Designer
Tanya Gyani is famous for her creations of product designs as well. She has created admirable designs for various retailers like Michael Aram, Crate & Barrel, Pottery Barn, etc. Her design excellence can be seen in the form of scented candles, wall art, gallery frames, trays, mirrors, boxes, and faux botanicals.
Awards
She was awarded as one of India's Top 20 Creative Futures by the British Council in 2006. [8]India Today
Favourites
Colour(s): All shades of green and purple
Dessert: A fresh fruit pastry or a fruit tart
Beverages: Masala chai and warm apple cider
Cocktail bars (in Tulum, Mexico): Be Tulum Hotel, ARCA Tulum in Quintana Roo, and Todo Santos Bar
Cafe: Mademoiselle Colette in Palo Alto, California
Facts/Trivia
She has a Holland Lop bunny and an English Cream Retriever, Hugs Bunny and Bear respectively.
She finds arranging flowers a kind of self-care as it is calming and therapeutic.
Her favourite part of every design project is creating a Moodboard.
She grew up reading the collection of work of English Children's writer Enid Mary Blyton. His creation 'The Enid Blyton Book of Fairies' had a great influence on her.
Black and white are a big no for her designs.
She never works with the 'less is more' approach.
Each work/arrangement of hers is handmade.
She has also given shape to the residences on Palm Island, which is famous for being a location where many huge events tend to happen.
She often shares her baking skills on social media, where she also talks about preparing refreshing drinks including cocktails and mocktails.