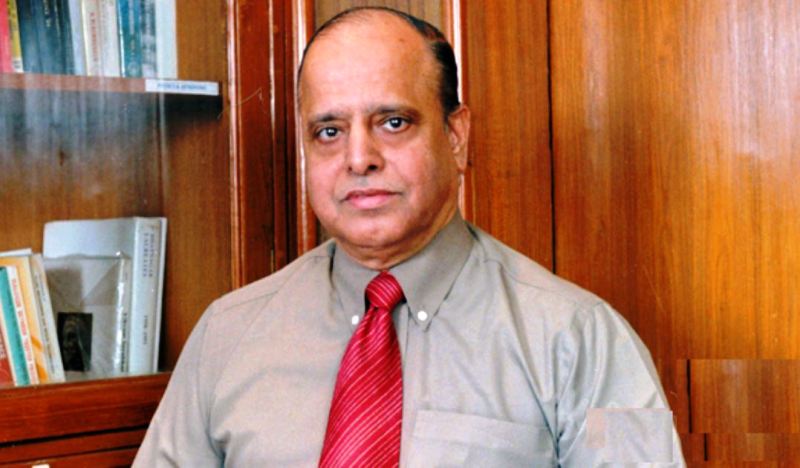 Krishnaswamy Kasturirangan is an Indian astrophysicist and space scientist who headed the Indian Space Research Organisation (ISRO) from 1994 to 2003.
Wiki/Biography
Krishnaswamy Kasturirangan was born on Thursday, 24 October 1940 (age 82 years; as of 2022) in Ernakulam, Kochi, Kerala. His mother died when he was young. Thereafter, Kasturirangan and his brother, Ananthanarayan (Ravi), grew up at his grandparent's house in Ernakulam, meanwhile his father remarried and lived in Bombay (now Mumbai). At first, he attended a girls-only school, which admitted boys in the first two standards. Subsequently, he enrolled in Sree Rama Varma High School in Ernakulam. While describing equality that prevailed in his school days in an interview, he said,
In our class, a few tables were kept apart for the members of the Cochin Royal family. These boys used to come in a limousine, and enter the class just a minute before the lessons. This was to keep a level of separation between the children of Royal family and commoners"
When Kasturirangan was 10, his grandfather died after which he moved to Bombay, where he continued his schooling at South Indian Education Society High School, Matunga. Thereafter, he joined Ramnarain Ruia Autonomous College, Matunga, where he pursued B. Sc. (Hons.) in Physics (primary subject) and mathematics (secondary subject).
He pursued a Master of Science in Physics at the University of Bombay (University of Mumbai), which he completed in 1963 with electronics as an elective subject. He applied for the fellowship at Physical Research Laboratory, Ahmedabad, after coming across a newspaper advertisement. He did his PhD in cosmic X-rays under Vikram Sarabhai, who is regarded as the Father of the Indian Space Program. [1]VSSC
Physical Appearance
Height (approx.): 5′ 6″
Hair Colour: Black (Half bald)
Eye Colour: Black
Family
Krishnaswamy Kasturirangan belongs to a Tamil Brahmin family. [2]Google Books- Space and Beyond: Professional Voyage of K. Kasturirangan Many centuries ago, his forefathers moved to Kerala from Tamil Naidu. His maternal grandfather, Sri Ananthanarayana Iyer completed his school and college education and became a sanitary inspector in Ernakulam. His paternal grandfather's name is Chalakudy Manikam Iyer.
Parents & Siblings
His father, C. M. Krishnaswamy Iyer, pursued his graduation in chemistry at Maharaja's College, Ernakulam. He worked in a variety of administrative capacities at Tata Airlines and retired as a senior accountant officer at the Indian Airlines Corporation (now Indian Airlines).
Kasturirangan's mother, Visalakshi, died when he was young. After the death of their mother, Kasturirangan and his brother, Ananthanarayan (Ravi), grew up with his grandparents in Ernakulam. Meanwhile, his father remarried Alamelu Ammal. Together, they had two children, Subbaram and Subbalakshmi.
Wife & Children
In 1969, shortly before he completed his PhD, he got married to Lakshmi, who passed away in August 1991. He has two sons, Rajesh and Sanjay.
Career
In 1969, when Krishnaswamy Kasturirangan was completing his doctoral thesis, he witnessed the birth of the Indian Space Research Organisation (ISRO), where he was offered the position of scientist by Vikram Sarabhai in 1971. His first project at ISRO was to build the Rohini satellite. He was also the Project Director for India's first two experimental earth observation satellites, Bhaskara-I and II. For over 9 years until 2003, Dr Kasturirangan steered the Indian Space programme as Chairman of the Indian Space Research Organisation. He also served as the Chairman of the Space Commission and Secretary to the Government of India in the Department of Space, before laying down his office on 27 August 2003. Under his leadership, ISRO witnessed various successful operations including the launching and operationalisation of the Polar Satellite Launch Vehicle, the Geosynchronous Satellite Launch Vehicle, civilian remote sensing satellites IRS-1C and 1D, new generation INSAT communication satellites, and ocean observation satellites IRS-P3/P4. He made prominent contributions to studies of Cosmic x-ray and gamma ray sources and the effect of cosmic x-rays in the lower atmosphere. These efforts have put India as a pre-eminent space-faring nation among the handful of six countries that have major space programmes. He has served as an Honorary Professor of Physics, at the Physical Research Laboratory, Ahmedabad and the Jawaharlal Nehru Centre for Advanced Research in Bengaluru. He has chaired some of the prestigious international committees, such as the International Committee on Earth Observation Satellites (CEOS), Panel for Space Research in Developing countries of COSPAR/ICSU, and the committee meeting at the senior official level of UN-ESCAP, that led to the adoption of the "Delhi Declaration" by the Ministers of the region (1999-2000). He is a Fellow of the Indian Academy of Sciences, Indian National Science Academy, National Academy of Sciences of India, Indian National Academy of Engineering, Astronautical Society of India, National Telematics Forum, Indian Meteorological Society, Third World Academy of Sciences, Indian National Science Academy. He is a Distinguished Fellow of the Institution of Electronics and Telecommunications Engineers, Founder Member of the Astronomical Society of India, Life Member of the Indian Physics Association, Indian Science Congress Association and Indian Society of Remote Sensing and Honorary Fellow of the Aeronautical Society of India, Kerala Academy of Sciences, and Cardiff University, UK. He has published more than 200 papers, both in international and national journals in the areas of astronomy, space science, and space applications and has edited 6 books. In 2021, he was appointed as the head of a 12-member steering committee responsible for developing a new National Curriculum Framework (NCF). This committee was given an assignment term of 3 years for the development of textbooks, syllabi, and teaching practices of schools across the country.
Other Positions Held
Director of the National Institute of Advanced Studies (NIAS) at Bangalore (2004-2009)
Member of Upper House of Indian Parliament (2003-2009)
Member (Science) with the Planning Commission of India (now defunct)
Vice President of the International Academy of Astronautics
Member of the International Astronomical Union
President of Indian Academy of Sciences (2001-03)
President of Indian National Academy of Engineering (2005-06)
Academician of the Pontifical Academy of Sciences, Vatican City
General President of the Indian Science Congress
Chairman of the UN Centre for Space Science & Technology Education (UN-CSSTE)
Chancellor of Jawaharlal Nehru University
Chairman of Karnataka Knowledge Commission
Chancellor of Central University of Rajasthan
Chancellor of NIIT University
Member of the board of trustees of the Raman Research Institute Trust, Bengaluru
Awards, Honours, Achievements
Brock Medal of International Society of Photogrammetry and Remote Sensing (2004)
Allan D Emil Memorial Award of the International Astronautical Federation (2004)
Theodore Von Karman Award by the International Academy of Astronautics (IAA) (2007),
Shanti Swarup Bhatnagar Award in Engineering
Lifetime Achievement Award of Asia-Pacific Satellite communications Council, Singapore
Aryabhata Medal by Indian National Science Academy (2000)
Asutosh Mookerjee Memorial Award by the Indian Science Congress, Award of Jewel of Ruia, Ruia College Alumni Association, 2007
Maharana Udai Singh Award 2007-08 by Maharana of Mewar Charitable Foundation, Udaipur, 2008
Rajayogindra Award, Maharaja of Mysore, Mysore, 2008
Vikram Sarabhai Memorial Gold Medal, Indian Science Congress, Shillong, 2009
Facts/Trivia
As a member of Rajya Sabha, he donated Rs 1 crore to his school from his Member of Parliament Local Area Development (MPLAD) fund for the construction of an additional academic block.
Since childhood, he had a voracious appetite for reading. Conan Doyle, Victor Hugo, and Alexandre Dumas are his favourite writers.
He was felicitated with the "Jewel of Ruia" award in 2007, presented to alumni of Ramnarain Ruia Autonomous College, Matunga.
Dr Krishnaswamy Kasturirangan headed the team that drafted the New Education Policy (NEP) 2020, which introduced a 5+3+3+4 structure, flexible examinations, and opening up vocational education training at younger levels in the education structure of India.