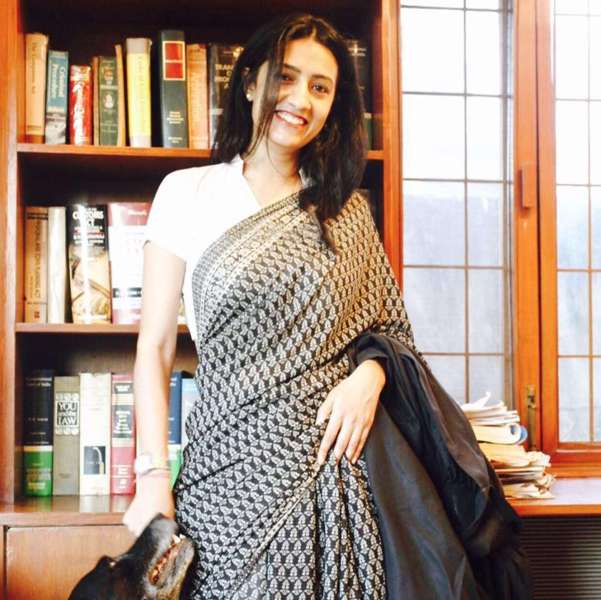 Karuna Nundy is an Indian lawyer at the Supreme Court of India who is known for working for human rights. She is known for her contribution in drafting India's 'anti-rape bill,' which followed the 2012 Delhi gang-rape case. Constitutional law, commercial litigation and arbitration, media law, and legal policy are her key working areas. Nundy has served as a lawyer in the United Nations, International Tribunals, and New York. Karuna Nundy is predominantly concerned with the Indian constitutional work as well as commercial arbitration and bilateral investment treaty work. She extensively advocates for the rights of women, and she is also known for her consistent fight against the atrocities against women.
Wiki/Biography
Karuna Nundy was born on Sunday, 4 January 1976 (age 45 years; as of 2021) in Bhopal, Madhya Pradesh. Her zodiac sign is Capricorn. Karuna did BA(Hons.) in Economics at St.Stephen's College, Delhi University, India from 1993 to 1997, and she pursued BA, MA (Law) at Cambridge University, England from 1997 to 2000. Further, she did LL.M at Columbia University, New York from 2000 to 2001. [1]Karuna Nundy's LinkedIn Profile
Physical Appearance
Hair Colour: Black
Eye Colour: Black
Height(approx): 5'6″
Family
Parents
Karuna Nundy's father worked at Harvard Medical School (Medical school in Boston, Massachusetts). In India, he worked at AIIMS for some time and left the job to work at a public hospital. Her mother, Mita Nundy, is a winner of a history prize from the London School of economics. Mita Nundy started a 'Spastics Society of Northern India' after knowing that Karuna's cousin was born with cerebral palsy (a congenital disorder of movement, muscle tone, or posture).
Career
Karuna worked as a TV journalist for a short time after completing her education at St. Stephen's College, Delhi University. Karuna Nundy said in an interview that she immediately returned to India after completing her studies in the US because she wanted to contribute to the upliftment of the status of Indian women through her legal work. She said-
Growing up in a society with both extreme poverty and riches, I realised early on how unfair life was. Certain things that happened in my childhood—molesters just grabbing you on the streets, an incident in my school where the principal went into victim-blame mode—made me think about how I could bring about change and gain the power to fix things most effectively."
Karuna stated in an interview with the Huffington Post (an American news aggregator and blog) that as a part of the Indian judicial system she desired to work for human rights in common Indian societies and as a general lawyer too. She mentioned-
I felt that here is where I could make the biggest contribution—not just in human rights work, but also as a general lawyer. I felt this is where the need was. I have a visceral understanding of these various layers [here], in terms of language, in terms of nuance, and information…It is also a court of ideas, as much as it is a court of facts. It has been quite a leader when it comes to economic and social rights."
Liberator for Bhopal Gas victims (1984)
Karuna Nundy actively fought for the welfare and justice of the Bhopal gas tragedy victims. The Bhopal Gas tragedy happened in 1984. She was involved in scrutinizing the major commercial legal policies of the tragedy. Karuna challenged the local government and corporate officials in Bhopal by demanding safe drinking water for the people in affected areas. She demanded chemical-free drinking groundwater in these areas. She made a plea to the local court to provide better medical and healthcare facilities for the local poor people in Bhopal.
Contribution to Indian Anti-Rape Bill (2013)
Karuna Nundy dedicatedly engaged in framing the laws dealing with anti-rape bills and sexual harassment of Indian women in 2013. It was the major turning point in her law career. She was indulged in the Nirbhaya Rape Case– a horrific incident that gained a rage both within India and across the world. Karuna was appointed to review India's anti-rape laws that were earlier established by the government of India, and she was consulted to draft the Verma Committee Report. In the beginning, the anti-rape law did not get the attention of the general public of India, but in 2013, it was a victory to the efforts of the committee that eventually paved the way to pass the Criminal Law (Amendment)2 Act, 2013– "the anti-rape bill." In 2015, Nundy fought on behalf of the People's Union for Civil Liberties (PUCL), an NGO that defends civil liberties and human rights in India, and brought down the section 66A of the Information Technology, 2000 (that dealt with issues of freedom of speech and censorship). It was known as the case of Shreya Singhal v. Union of India.
Combat for the differently-abled
Nundy fought for Jeeja Ghosh in the case against SpiceJet Airlines in 2016. Ms Ghosh had cerebral palsy and took a flight from Kolkata to Goa. Ghosh was asked by the airline staff to leave the plane as she didn't see well because of the disorder. They claimed that the airlines would not be responsible for her condition if it worsens later on. Ms Ghosh sued SpiceJet in the Supreme Court. She stated that the staff of SpiceJet treated physically challenged passengers imperfectly. SpiceJet was fined by the Supreme Court of India to pay Rs. 10 Lakh to Jeeja Ghosh and appealed to SpiceJet to train its staff on the requirements and care of differently-abled passengers.
Women Messenger
In March 2019, Nundy organized a workshop on legal rights with ITC Vivel for 100 colleges and posted a message on her social media account. The main focus of this workshop was to persuade Indian women into working.
In March 2020, Karuna Nundy worked on the 'Right to Food' drafting committee with Reetika Khera, Jeam Dreze, and Aruna Roy.
International Contributions
In 2013, in an interview, Karuna explained her international contributions as a lawyer in commercial arbitrations and bilateral investment treaty work. She said that she drafted the parts of the interim constitution of Nepal and conducted workshops with the senate of Pakistan, and also worked with the government of Bhutan. She elucidated-
My international experience includes commercial arbitrations and bilateral investment treaty work as well as constitutional work. I helped draft parts of the interim constitution of Nepal, where we specifically included women's and children's rights, conducted workshops with the senate of Pakistan on legislating constitutional rights, and worked with the government of Bhutan on compliance with international treaties."
Awards, Honours, Achievements
2000: At Cambridge University, she was rewarded with Emmeline Pankhurst Prize, the Amy Cohen Awards, and the Becker Studentship.
 2001: She was awarded a Columbia full-time fellowship at Columbia University.
2017: Economic Times jury cited her as 'famous in the corporate world for her expertise in commercial law.'
2017: She received the Femina award for her contribution in her respective field.
2020: Forbes Magazine named Karuna on their list of "Self Made Women."
Favourite Things
Facts/Trivia
Karuna Nundy supports Aam Aadmi Party.
According to The Times of India (an Indian English-language daily newspaper), Karuna Nundy is among the top three Indian feminists, who are prevailing a new wave to elevate the status of Indian women, along with Arundhati Roy and Vrinda Grover
As per an Indian financial daily newspaper, Mint, Karuna Nundy is an "Agent of Change," and she is regarded as a "Mind that Matters" by Forbes magazine.
In 2013, in an interview, Karuna explained Article 14 of the Indian constitution and its right to equality for all citizens in India. Nundy further said that Dr B.R. Ambedkar had drafted the constitution of India in 1947, and he did complete justice with the rights and duties mentioned in it. She stated that the Indian constitution was earlier outlined by the upper-caste and upper-class men of India that showed patriarchy. [2]

Live Mint She said-


Our Constitution was framed predominantly by upper-caste, upper-class men, but the main architect of that Constitution—brilliant Dr B.R. Ambedkar—was in many ways a man who understood gender justice, and had a good handle on substantive and formal equality. So we have Article 14 which speaks about equality of all people before law, but there is also Article 15, which recognizes that the playing field is not level and says that nothing will come in the way of making special provisions for women and children."
An Economic Times Jury included Karuna Nundy on a list of 'Corporate India's Fastest Rising Women Leaders' in India in January 2017. It mentioned Karuna as 'famous in the corporate world for her expertise in commercial law.'
Karuna was against declaring the instant Triple Talaq in Muslims as an offence and a criminal conspiracy. In 2017, Karuna made a public statement that such a declaration by the Supreme Court of India is against the freedom of speech in India. She said-


Saying Talaq Talaq Talaq is same as saying – Mein apko divorce de raha hoon.  In such a situation, are you going to criminalize that?  How can that be criminal? Isn't that against free speech ? Since marriage is valid only when adults are involved, and since that makes child marriages void ab initio, that child marriages shouldn't be criminalized?"
In April 2018, in a conversation with a media person, Karuna said that she chose 'Law' as a profession because she wanted to make a contribution to change the status of women in Indian society on a priority basis. However, she chose only those cases that must have a long-term effect on Indian society. She admitted that she loved her profession, and her clients were not just clients, they made an equal contribution as partners while fighting the case.
Karuna spoke on the status and upliftment of Indian women in India at the 20th Beti FLO GR8 Awards in 2018 at J W Marriot Hotel, Juhu, Mumbai.
In 2019, Karuna won the global Trust law Award in London.
Karuna greeted and attended the meeting with German chancellor Angela Merkel in November 2019, during Merkel's two-day visit to India. According to Karuna, Angela Merkel inspired her a lot, and her courageous leadership traits has motivated everyone.
Karuna Nundy has often seen sharing her experiences on many interactive programs, talk shows, and discussions. She actively posts updates of her experiences on her social media accounts. The main focus of her programs and speeches is women's upliftment in India and the basic human rights for all.
Karuna has featured in many special issues of various renowned magazines and tabloids with her achievements as a lawyer.
In March 2020, on International Women's Day, Karuna requested all the people of India through an interview with a magazine, to pledge to fight against the violence in India and to raise hands for the welfare of Indian women. She said,


All people, pledge to work all year 'round against the violence, disrespect and barriers hat persist against women. Within us and without. Bit by ugly bit. Let's pledge to stand by the citizenship of Muslim women, to help rebuild their lives, to end the structural oppression of Bahujan women, to include disabled women."
In 2020, Karuna protested against the CAA [The Citizenship Amendment Act (Bill)] bill, that was presented by the government of India, at Shaheen Bagh in Delhi.
Karuna Nundy is a dog lover. She often posts pictures of her pet dog on her social media accounts.
Karuna often raises her voice against the demolition of civil rights in India. According to Karuna Nundy, she believed and trusted the democratic form of government. She quoted in an interview-


I'm a great believer in deliberative democracy; where you speak, but you also listen. You come through the other side with differences intact, but you also come through together in important ways."
In 2010, a campaign led by Lord David Neuberger and Amal Clooney in a UK panel, in England was supported by Karuna Nundy.
In an interview with NDTV in 2020, Karuna expressed her views that she wanted to promote the law called 'Cancel Culture' in India. She said that she was against the prevalent cultural system in Indian society. She indicated that the so-called culture must be boycotted to get culture-free independence. She conveyed that the history of boycotts has a resonance in India