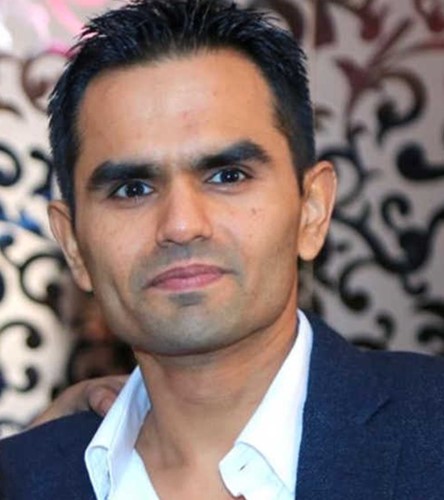 Sameer Wankhede is an Indian Revenue Service officer who is serving as the zonal director of the Narcotics Control Bureau (NCB). He is known for conducting several raids and drug busts in Mumbai and the surrounding areas.
Wiki/Biography
Sameer Wankhede was born on Friday, 14 December 1979 (age 42 years; as of 2021) in Mumbai, Maharashtra. His zodiac sign is Sagittarius. He completed his formal education and earned a degree in B.A. (History Hons.). [1]CBIC Further, he prepared for the UPSC examination. He cleared the exam and passed out in 2008, joining the Indian Revenue Services (IRS).
Physical Appearance
Height (approx.): 5′ 10″
Eye Colour: Black
Hair Colour: Black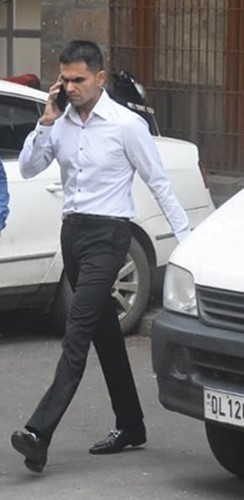 Family & Caste
Sameer Wankhede belongs to the Scheduled Caste. [2]CSEplus
Parents & Siblings
Sameer's father's name is Dayandev Wankhede, and he is a retired police officer. He has a younger sister, Yasmeen Wankhede, who is a criminal lawyer, and his mother's name is Zaheda Wankhede.
Wife & Children
Sameer got married to the Marathi actress Kranti Redkar in March 2017 in a private ceremony. They together have twin daughters- Zyda and Ziya.
Career
After completing the training, Sameer's first posting was at the Mumbai Airport as the Deputy Commissioner of the Air Intelligence Unit (AIU). Being a part of the customs team at the airport, Sameer busted several people who tried to evade paying tax on goods and cash brought from another country. Sameer was known for not giving clearance to any person irrespective of their status in society until they disclosed the goods and paid the tax on those goods. After serving the AIU, Sameer was appointed as the additional SP of the National Investigation Agency (NIA), and further, he became the Joint Commissioner of the Directorate of Revenue Intelligence (DRI). In 2019, he was appointed as the zonal director of the Narcotics Control Bureau, and since then, his team has managed to seize drugs and other substances worth Rs. 17,000 crore. He was the leading officer in the investigation of the suicide of the Bollywood actor Sushant Singh Rajput, and he managed to figure out a drug angle in the case in which several big celebrities of Bollywood were allegedly involved. Reports said that Sameer personally interrogated the actress Rhea Chakraborty and her brother, Showik Chakraborty, for their involvement in the 'Bollywood drugs nexus.'
Awards & Honours
Jamadar Bapu Lakshman Lamkhade award for 'Most Outstanding Contribution in Public Service'
Directorate General Disc in August 2019
Controversy
Amid the cruise drug case that involved Shah Rukh Khan's son Aryan Khan, Wankhede had to face many serious allegations from Maharashtra cabinet minister Nawab Malik who accused him of using a forged scheduled caste certificate to clear the UPSC examination. After an independent witness in the cruise drug case told the agency that some investigators in the case were involved in extortion, Wankhede had to face a departmental vigilance probe. In November 2021, an SIT took the drug case and five other cases from the Mumbai unit, and Wankheded had to step down from investigating the cruise drug case. [3]The Times of India
Facts/Trivia
Sameer Wankhede started working in the Maharashtra Service Tax Department in 2010, and he booked over 2,500 people, including almost 200 celebrities, for tax evasion. The raids conducted by his team helped in collecting and adding revenue of Rs. 87 crore in the exchequer.
In 2011, the 2011 Cricket World Cup trophy was seized by the customs department at the Mumbai airport as it was made up of gold. Sameer Wankhede, who was in charge, made sure that the tax amount was paid to allow the trophy to enter the country.
In 2013, Sameer detained the famous Punjabi pop singer Mika Singh for almost four hours for carrying foreign currency while he was returning from Bangkok. Mika had $11,000 and Rs. 2.75 lakh cash with him along with liquor bottles valued at Rs. 53,000. According to the law, any individual flying back to India with more than $5,000 is supposed to declare the amount.
During his time in IT Department, Sameer Wankhede raided the properties of Bollywood actor Vivek Oberoi, who was charged for tax evasion of Rs. 40 lakh. Similarly, Anurag Kashyap was under the scanner of the IT Department, and a tax evasion notice of Rs. 55 lakh was issued in his name.
After the discovery of drug angle in the Sushant Singh Rajput suicide case, NCB started conducting more frequent raids in the city, and in one such incident, Indian comedian Bharti Singh and her husband, Haarsh Limbachiyaa, were arrested by the NCB for the consumption and possession of cannabis in November 2020. The arrest was made under the Narcotics Drugs and Psychotropic Substances Act, 1985, and the team recovered 86 grams of cannabis from their home.
On 22 November 2020, Wankhede and his team were attacked by a mob of sixty drug peddlers. In this incident, Sameer escaped the attack with minor scratches; however, two of his team members were injured badly.
@narcoticsbureau team attacked.

Attacked by the Drug Peddlers

2 NCB officers injured…

NCB Zonal Director Sameer Wankhede attacked..

Attackers arrested..

We want to see the End… We will not stop.. We the People of India is with u team NCB#SSRCulpritsRoamingFree pic.twitter.com/FXYC3o5Zhz

— 💫🦋💥Debleena (SSRF)💓 (@itsdeleena) November 23, 2020
In June 2021, Sameer Wankhede and his team arrested Harris Khan, a drug supplier who was operating in the Bandra region. The reports said that he had worked for Dawood Ibrahim's aide Chinku Pathan. The accused had over twenty-one criminal cases registered against him.
In June 2021, NCB carried out a raid at a bakery in Mumbai, where they found a batch of cannabis-based brownies and 35 grams of marijuana. With this, they were able to catch three people, including a woman and the supplier Jagat Chaurasia. On further investigation, the NCB team found 125 grams of marijuana from his house.
In July 2021, after an anonymous tip, Sameer Wankhede and his team raided the house of a professional psychologist Rahmeen Charaniya, who was involved in the process of baking and selling cannabis-infused brownies. He was working with a well-known Mumbai hospital, and he used to supply these brownies after work. He would take orders through social media platforms and then personally deliver the brownies. After the raid, NCB found 10 kgs of hashish brownies, 350 gm opium, and Rs. 1.7 lakh in cash in his house.
In October 2021, Shah Rukh Khan's son Aryan Khan was nabbed by the NCB after the team led by Sameer Wankhede raided a cruise ship in Mumbai and busted a high-profile drug party. The cruise ship was on its way from Mumbai to Goa when the NCB team raided the party at the port. The team found cocaine, hash, MD, and other drugs on the cruise ship. Along with Aryan, two of his friends, Arbaaz Merchant and Munmun Dhamecha were arrested by the NCB team.
After the arrest, Sameer faced backlash from SRK's fans and other members of the industry, saying that NCB was targeting only celebrities, and they were not focused on the bigger picture. Sameer gave a statement to The Times of India and said-


We are doing our job. There is a rule and it should be followed by everyone. It is the same for all. Everyone is equal in front of the law and just because someone is famous we should let them go free. Why should celebrities don't follow those rules and why should they walk away scot-free? Famous doesn't give them the right to violate the rules? If we see a famous person breaking the law, we shouldn't do anything about it? Should I only run after the drug peddlers and conduct my operations and raids in slums alone? This year we've made more than 310 arrests. How many of those are celebrities? We've seized illegal substances worth Rs 150 crores this year. Has anyone spoken about that?"

Sameer also talked about the whole incident, and he mentioned the IPC charges under which Aryan Khan and his friends were arrested. He further said-


In further development in Cr 94/21, the three accused namely Aryan Khan, Arbaz Merchant and Munmun Dhamecha were arrested today on 03-10-2021 u/s 8 (c) r/w section 20 (b), 27, 28 & 29 of NDPS Act and were produced before the honorable holiday court today after their medical."

Despite the negative comments and trolling on social media, Sameer's wife, Marathi actress, Kranti Redkar, gave an interview to the ETimes TV and said-


Sameer has always been a hard worker. His operations and cases were there even before too. Today, he is dealing with Bollywood-related drug probe cases, which is why it is getting highlighted. I give him his space when he is investigating or working on operations. He sometimes gets so busy that he can't even sleep. He works 24/7. He barely sleeps for 2 hours. I never interfere or get involved when he is talking over the phone about a certain case. He does secret operations on an everyday basis, and he is not even allowed to reveal anything related to that with his family. Our twin babies sometimes miss him at home, which is obvious. They are three-year-old, and missing their father at home is obvious for them. But Sameer knows I am there at home to take care of his family, kids and he does not have to worry about anything. I am so proud that Sameer is sacrificing his personal life, kids and family for the nation."

While the majority of sources have stated his batch as 2008, several sources have written that Sameer passed out in 2004 batch. [4]

India Today