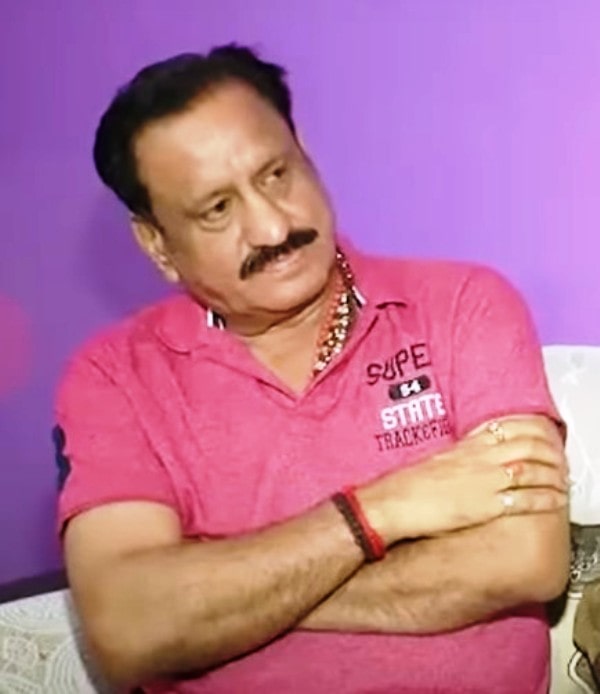 Avinash Mishra is a 1982-batch UP Police officer, who served in the Uttar Pradesh Police from 1985-2019. Avinash is well-known as an encounter specialist who, as of 2019, has encountered 150 gangsters and mafias. He hit the headlines in May 2023 after Randeep Hooda portrayed his character in the web series Inspector Avinash.
Wiki/Biography
Avinash Mishra was born in Hamirpur, Uttar Pradesh, India. He holds a master's degree in physical education. After completing his formal education, Avinash appeared for the Uttar Pradesh Public Service Commission's Provincial Civil Services (PCS) exams and passed following which he joined the U.P. Police Academy in Moradabad, where he underwent police training from 1982 to 1985.
Physical Appearance
Height (approx.): 5′ 8″
Hair Colour: Black
Eye Colour: Dark Brown
Family
Avinash Mishra belongs to a Hindu family in Uttar Pradesh.
Parents & Siblings
His father was a freedom fighter.
Wife & Children
Avinash Mishra is married and has two kids, a son named Varun Mishra, and a daughter named Smarika Mishra. Varun Mishra is an engineer who is the founder of a production house named Finetic Media. Smarika is a doctor.
Religion
Avinash Mishra follows Hinduism and is an ardent follower of Lord Shiva. [1]Zee Uttar Pradesh UttaraKhand – YouTube
Career
After completing his police training in 1985, Avinash Mishra was posted at Meerut as an Assistant Sub Inspector (ASI). There, he neutralised three dreaded gangsters within a year of his posting. Later, he was posted at Mhow from where he was sent to Lucknow in 1998 to track down a notorious gangster named Prakash Shukla. Avinash Mishra, along with some other policemen, established the Special Task Force (STF) in the same year. He later went to Nepal, on a tip-off, to capture Prakash; however, Prakash managed to flee from the country and go to Bihar. In an interview, Avinash talked about it and said,
We almost had him in Nepal, where I had gone with my team after a tip-off. But the Nepalese police intervened in the matter as a result of which, Shukla managed to run away. We also had him in Bihar, but we were unable to get him as the relations back then between the governments of UP and Bihar was unstable."
On 11 September 1998, Mishra and the STF travelled to Delhi, where they encountered a dreaded gangster named Munna Bajrangi. During the encounter, Munna was shot several times and declared dead by the cops; however, the mortuary staff, where he was taken for a post-mortem, found him to be alive. In an interview, Mishra talked about it and said,
It was very embarrassing. We had already announced in the media that he was dead and now he was suddenly declared alive. This went on to prove Jaakho Raake Saaiyan, Maar Sake Na Koi."
On 22 September 1998, Mishra and the STF went to Indirapuram in Ghaziabad, where a firefight between the STF and Shukla broke out that ultimately led to Shukla's demise. According to Mishra, Shukla's location was pinpointed by the STF after he turned his mobile phone on while he was paying a visit to his girlfriend at her house in Ghaziabad.
In 2002, the STF, under Mishra's leadership, encountered Chhota Rajan's close associates Sattu Pandey and Guddu in Lucknow. Reportedly, Sattu was carrying a cash reward of Rs. 1 lac over him and was wanted for the murder of a UP-based businessman named Vivek Srivastava as well as for the robbery of a garment store in Aminabad. Thereafter, he encountered many notorious gangsters and mafias like Sachin Pahadi, Awadhesh Shukla, Ashok Singh, Mahendra Fauji, Nirbhay Gurjar, and Hasan Pudia. In 2009, Avinash Mishra was posted to the UP Police Anti-Terrorist Squad (ATS); he served there till 2018. He took retirement from the police as a deputy superintendent of police in 2019.
Police Medal
Following the 1998 encounter of Prakash Shukla, Avinash Mishra received the President's Police Medal.
Facts/Trivia
According to Avinash Mishra, his father was against his decision of joining the police force.
During a media interaction, Avinash Mishra revealed that his son established his production company so that he could tell about Avinash's work as a cop to the public.
As per Avinash, he took a keen interest in field sports as a result of which he pursued his higher education in physical education.
Avinash was referred to as Guruji by his colleagues in the Mumbai Police.
He has known the director Neeraj Pathak since his early days.
According to Avinash, the UP government withdrew the cops allotted for protecting Avinash without informing him of a valid reason.
He occasionally consumes alcoholic beverages.
In May 2023, Inspector Avinash, a web series based on the real-life events of Avinash Mishra, was released.