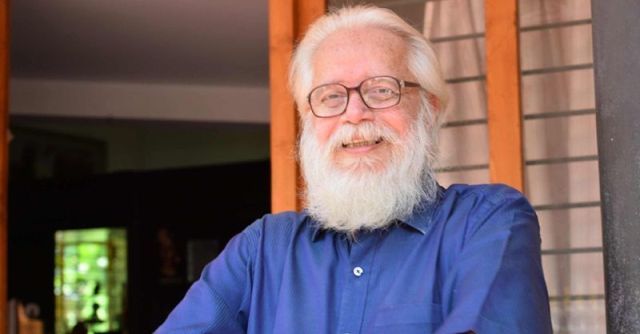 S. Nambi Narayanan is a former Indian Space Research Organisation Scientist. He was one of the senior officials at ISRO.
Wiki/Biography
Nambi Narayanan was born on 12 December 1941 (age 80; as of 2021) in Kerala, India. His hometown is Nagercoil in Kanyakumari district of Tamil Nadu. He was educated at DVD Higher Secondary School, Nagercoil. He completed his bachelors in Mechanical Engineering from Thiagarajar College of Engineering, Madras University, Madhurai. On 12 September 1966, Narayanan, along with the 20-member team, started working at Thumba Equatorial Rocket Launching Station (TERLS), Thumba in Thiruvananthapuram. In 1969, he received NASA fellowship. Narayanan completed his Master's in Chemical Rocket Propulsion from  Princeton University, New Jersey. Though NASA offered him US citizenship, Narayanan was determined to pursue research in India. In 1994, he was falsely accused of espionage in ISRO spy case.
Family, Wife
&
Caste
Nambi Narayanan was born into a Hindu Family. He lost his father while he was pursuing his bachelors in Madhurai. His mother felt sick after the loss of his father. He had two sisters.
Nambi Narayanan is married to Meena Nambi. The couple has a son, Sankara Kumar Narayanan (Businessman) and a daughter, Geetha Arunan (Montessori school teacher in Bangalore).
Career
Narayanan joined ISRO in 1966. In the early 1970s, Narayanan predicted the need for liquid-fueled engines in ISRO's future civilian space programmes. He designed the first thrust liquid propellant motors of around 600kg and introduced the liquid fuel rocket technology in India while A.P.J. Abdul Kalam and his team worked on solid motors. Narayanan's project was greatly supported by the then ISRO chairman Satish Dhawan and U. R. Rao. He was in charge of the cryogenics division, which is the production of materials at low temperature.
Narayanan, with the help of French assistance, became one of the chief architects and developed an engine named Vikas, which was used in several ISRO rockets including the Polar Satellite Launch Vehicle(PSLV). The engine 'Vikas' helped in the missions like Chandrayaan-1 and Mangalyaan. Vikas was also used in the second and the fourth strap-on stages of Geo-Synchronous Satellite Launch Vehicle.
Controversies
In 1992, India made an agreement with Russia for ₹235 Crore to transfer technology in the development of cryogenic fuels. However, the deal was cancelled due to pressure from the US and France, who intended to offer Russia the same technology for around ₹950 crore and ₹650 respectively. Subsequently, India made a fresh agreement with Russia to manufacture four cryogenic engines by a global tender without the transfer of technology. But the deal was also cancelled due to the false espionage scandal that surfaced in 1994.
In 1994, Narayanan along with his fellow scientist, D Sasikumaran, and two Maldivian women named Mariam Rasheeda and Fauzia Hassan was falsely charged for leaking vital defence secrets which included confidential pieces of information related to flight test data. The other accused persons were ISRO's contractor S.K. Sharma and a Russian space agency official K. Chandrasekhar.
Narayanan was arrested on the charges of espionage and the case was transferred to the Intelligence Bureau. He was held in the custody for 50 days. While in custody, he was mentally and physically tortured by the IB officials. He was made to stand for around 30 hours until he collapsed and was hospitalized.
In 1996, CBI dismissed the charges against Narayanan citing lack of evidence and he was found not guilty. Subsequently, in 1998, the Supreme Court of India dismissed his case and erased all the allegations against him.
In one of his interviews, Narayanan revealed a reply from one of the IB officials stating that "Sir, we are doing our duty. If what you are saying is the truth and you are vindicated, you can slap us with your slippers."
Facts
As a scientist, he worked in close association with the other prominent scientists like Satish Dhawan, Vikram Sarabhai, Dr APJ Abdul Kalam, U.R. Rao, and many others.
As stated by the then chairman of ISRO Krishnaswamy Kasturirangan, "ISRO could not interfere in a legal matter;" Narayanan did not get any support from the organisation.
In 2001, the National Human Rights Commission (NHRC) ordered the State Government of Kerala to pay a compensation of ₹1 crore to Narayanan.
In 2012, the Kerala High Court ordered the State Government of Kerala to pay a compensation of ₹10 Lakhs to Narayanan based on the appeal from NHRC.
In 2013, Narayanan made a discussion with media seeking justice in his case and wanted to expose the persons or officials behind the plot of spy allegations.
In one of his interviews, Narayanan stated that while the allegations of espionage were charged on him, he and his family suffered extreme mental cruelty. One such incident as told by him was that his wife, Meena, was once forced to get out of an autorickshaw she was travelling in when the driver realised who she was.
He also stated that "People would come to our house and burn my effigy, call me names, and shout slogans. My family suffered a lot. My children were agitated and would fight back. But my wife slipped into depression and stopped talking."
On 23 October 2017, an autobiography on Narayanan, 'Ormakalude Bhramanapatham' revealed the ISRO espionage case. It also disclosed that the accused persons were subjected to third-degree tortures.
In 2018, a bench led by Justice Dipak Misra ordered a compensation of ₹75 Lakh to be paid by the State Government of Kerala to Nambi Narayanan for the mental cruelty implicated on him and defaming his reputation.
In 2018, the Supreme Court's three-judge bench led by Justice Dipak Misra granted compensation of ₹50 Lakh to Narayanan for being "unnecessarily arrested and harassed" by the Kerala police.
The three-judge bench who granted compensation of ₹50 Lakh also stated that "We can direct compensation to be paid by persons involved in the investigation… We will require the state to recover the compensation from their properties. Let them sell their houses and pay. We are not concerned. We will clarify in our order that his reputation was dented… by this judgment, his reputation is reinstated."
On 25 January 2019, Narayanan was conferred the third-highest civilian award in the Republic of India, Padma Bhushan award by the Government of India.
His hobbies include reading and travelling.
In 2019,  an Indian biographical drama movie titled Rocketry: The Nambi Effect was released, which was based on the life of Nambi Narayanan. The role of Narayanan was played by R. Madhavan. The was released in theatres on 1 July 2022.
In 2019, he was honoured with Padma Bhushan by the President of India, Ram Nath Kovind.